Meanwhile, China's Stock Market Has Been Crashing For The Past Month
In the past month, the Chinese stock market has lost more than 1/3 of its value.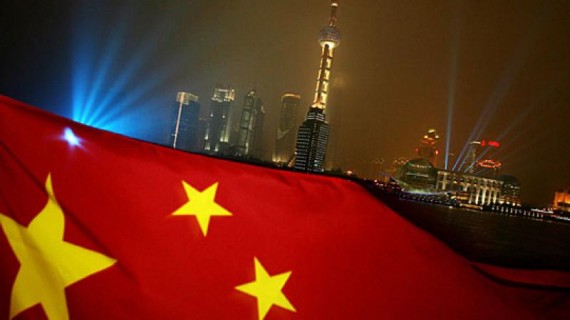 While the world's attention is focused on Greece, China's stock market has been crashing for the past month:
SHANGHAI — Stock prices in mainland China fell sharply again on Wednesday, despite another series of government measures meant to restore confidence and stabilize a market that has grown increasingly turbulent in the last month.

The sell-off is putting pressure on the government to take swift action, as losses pile up for the millions of ordinary investors that piled into the market. Just days after Beijing introduced a number of bold measures to prop up share prices, regulators announced new initiatives Wednesday, including allowing insurers to invest more money in stocks and creating a fund to buy up shares in small and midsize companies.

But the slump, which is defying the efforts by Beijing to prop up stocks, presents a serious challenge for the leadership. If stocks continue to fall, it could erode consumer confidence, further weighing on the economy.

The social and political repercussions could also be significant for the government. Many ordinary investors have poured their savings into the stocks, making them especially vulnerable to the market volatility.

The losses have been brutal. And the full extent of the pain may be even steeper, since nearly half of the stocks have stopped trading.

Even after the big sell-offs, though, stock prices in China are still considerably higher than they were a year ago. The Shanghai composite is still up 74 percent from mid-2014, and the Shenzhen composite is up 84 percent since then.

On Wednesday, the main Shanghai index plunged 5.9 percent, and the Shenzhen index fell 2.5 percent. Over all, the Shanghai index is down 32 percent and the Shenzhen is off 40 percent from the highs reached in mid-June.

In Hong Kong, which had escaped much of the mainland market's rout, the Hang Seng index fell 5.8 percent.

The sell-off has also spread to other parts of the Asia-Pacific region. In Japan, the Nikkei 225-stock average dropped 3.1 percent, Australian stocks were down 2 percent and South Korean shares fell 1.2 percent.

Fear is gripping the markets after a phenomenal bull run in which mainland China's major stock indexes doubled, tripled and even quintupled over the last few years. Sentiment has turned down too sharply and investors have lost confidence, analysts said, and because buying shares with borrowed money was a critical part of the increase in prices, there is now pressure to sell.

"China's stock market remains under stress, as investor confidence will take some time to recover," Li Wei, the China economist at the Commonwealth Bank of Australia, wrote in a report to investors.

Panic selling may also be extending the downturn because each day trading is suspended for hundreds of stocks after they drop by 10 percent, under exchange rules. Some companies are even asking that their shares be temporarily suspended, hoping to ride out the downturn.

Since late June, on almost every trading day, there have been more than 900 stock trading suspensions, according to Xinhua, China's official news agency. On Tuesday and Wednesday, 900 to 1,700 stocks were suspended from trading. That means that among the approximately 3,000 listed companies on the two major exchanges, up to half may have been suspended during the first two days of the week.
This chart makes clear the extent of the market decline:
In The Wall Street Journal, Ruchir Sharma argues that what's going on in China is much scarier than what's going on in Greece:
Since the June 12 peak, nearly $3 trillion in value has been erased, as Beijing takes increasingly desperate measures to arrest the price collapse. The authorities have cut interest rates and transaction fees. They have directed mutual funds and state pension funds to buy stocks. Over the weekend they panicked and reversed course by suspending new initial public offerings, suddenly choking off a source of the new corporate funding they had been trying to create. This comes when the real cost of corporate borrowing is high. Any further reduction in interest rates could accelerate the outflow of capital, after a record $300 billion has already left China this year.

The continuing crisis is viewed, locally and globally, as a test of China's control over the economy. The "Beijing put"—a perception that Chinese economy and markets are backstopped by the government—is under threat. That perception has underpinned the widespread belief that Chinese growth won't fall much below 7%, because that is the government's desired target and Beijing is omnipotent.

Looming over all of this is China's massive run-up in debt, which has increased by over $20 trillion—to around 300% of GDP—since the global financial crisis in 2008. All along, the bulls argued that Beijing has successfully managed every challenge to its three-decade economic boom, and that it could overcome the threat this debt represents. At a minimum, the argument went, China's financial woes would be smaller than those of other countries with high levels of borrowing. This faith in Beijing encouraged many global hedge funds to pile into Chinese stocks.

But if Beijing can't stop the market's tumble, there could be a sudden shift in the perception of exactly how far economic growth might fall under the weight of too much debt. If that floor crumbles and the Chinese economy spirals downward, it will make the drama surrounding Greece feel like a sideshow. China has been the largest contributor to global growth this decade; Greece's economy is about the size as that of Bangladesh or Vietnam.
It's worth noting at the outset that even with this decline, China's markets are still higher than they were at the start of 2015. If nothing else, that seems to be an indication that there had been a massive speculative bubble building and that it just popped of its own accord starting last month. Given how things have gone, though, and the fact that the government in Beijing presently seems to be doing everything exactly wrong, it's entirely probably that we'll see the markets over there decline even further and wipe out all of the gains that have been made this year, and more. Indeed, given the fact that the fundamentals that have been driving the markets in China down all months are still in place, it seems logical to assume that we will see further losses regardless of what the government does.
The big question, of course, is what this means for China's economy as a whole and, by extension, the rest of the world. For some time now, analysts have been wondering if and when we'd get to the point that China's skyrocketing growth over the past decade, which included both a booming stock market and a booming real estate market, were headed for a correction of some kind. Given the natural course of economies throughout history, such an event would seem inevitable at some point. In the 19 Century alone, the United States experienced several financial panics that were related as much as to the fact that a quickly growing economy was becoming overheated as anything else, and even today its natural to expect that there will be another recession here at some point in the future. China, though, seemed to be avoiding a lot of that thanks largely to the government's manipulation of the markets and economic statistics that made it impossible for outsiders to determine what the state of the Chinese economy actually was at any given time. Now, we may be reaching the point where those corrective measures no longer work, in no small part because China is much more connected to the world economy than it used to be. So, if this stock market crash does have wider implications for the Chinese economy, it's likely to be felt elsewhere in the world, and it's likely to have a much bigger impact than anything going on in Greece.