Trump Threatens New Tariffs Against China As Deadline Looms
As the Friday deadline for trade talks with China approaches, President Trump is threatening even more tariffs.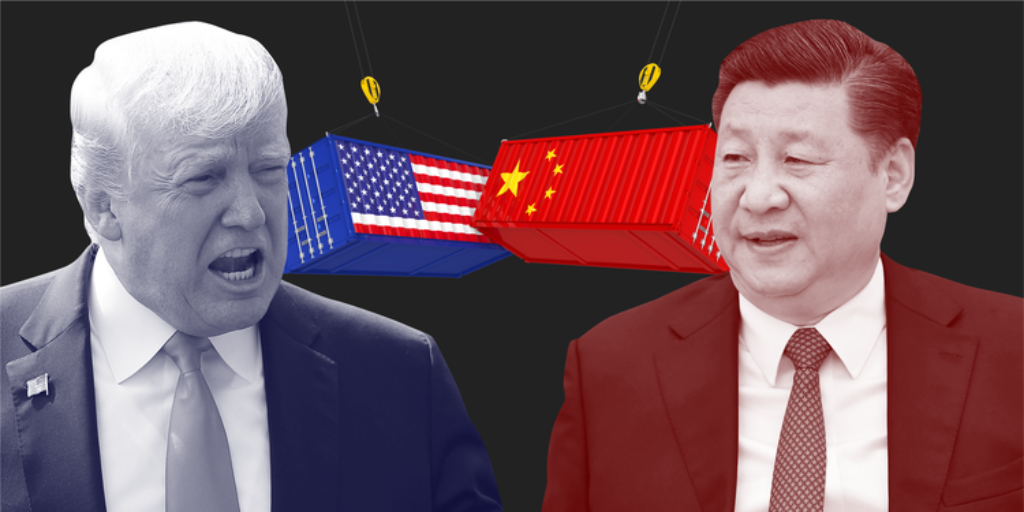 Over the weekend, President Trump once again raised the specter of increasing tariffs on Chinese goods as negotiations between Washington and Beijing appear to have hit an impasse:
WASHINGTON — President Trump, emboldened by a strong American economy and wary of criticism that an evolving trade deal with China would not adequately benefit the United States, threatened on Sunday to impose more punishing tariffs on Chinese goods in an attempt to force additional concessions in a final agreement.

Mr. Trump, in a tweet, warned that he would increase tariffs on $200 billion in Chinese goods at the end of this week and "shortly" impose levies on hundreds of billions of dollars of additional imports. Dozens of high-level Chinese officials are arriving in Washington this week for what was expected to be a final round of negotiations toward a trade agreement, at least in principle.

Mr. Trump's threat caught Chinese officials by surprise. On Monday morning in Beijing, they were trying to decide whether Vice Premier Liu He should go ahead with his visit later this week to Washington, said people familiar with the talks who insisted on anonymity because they were not authorized to comment publicly on the negotiations.

President Trump's tweets come after Chinese officials took a tough line in high-level trade negotiations last week in Beijing, two of the people said. Chinese negotiators said they were reluctant to make any agreement that would require China's legislature to approve changes to current law. The legislature in March already approved a new foreign investment law that added protections for foreign companies who fear they will be forced to transfer their technology and know-how to Chinese firms, but business groups and Trump administration officials said it didn't go far enough.

Mr. Trump's tweet fit a familiar pattern. He has routinely turned to tariffs to help speed negotiations and win concessions from America's trading partners. The president has already hit Mexico, Canada, Europe and Japan with steel and aluminum tariffs and threatened to impose auto tariffs if they do not acquiesce to demands on trade and other matters. Mr. Trump has already imposed tariffs on $250 billion worth of Chinese goods and is now threatening to tax nearly all of the products China exports to America.


But it remains to be seen whether Mr. Trump's threat will produce a beneficial trade agreement for the United States — or whether his attempts to pressure China will backfire by pushing already-tense relations past the breaking point. While the United States believes it has leverage over China, huge swaths of the American economy depend on access to the Chinese market for materials, products and sales.


Some of the recent strengthening of the American and Chinese economies — which has helped to quell fears of a possible recession — stems from expectations that the United States and China could soon end their monthslong trade war. Stock markets have recovered on expectations of an agreement and the Federal Reserve chairman, Jerome H. Powell, at a meeting last week, cited "reports of progress in the trade talks between the United States and China."


The sudden hitch could change that. Asian markets opened broadly lower on Monday. Shares in China were down more than 5 percent in late morning trading.


Treasury Secretary Steven Mnuchin, who made a quick trip to Beijing last week, has expressed optimism about the trade talks, which he said are in "final laps." And outside advisers to the White House have said a deal is more likely this week than not.

But in a tweet on Sunday, Mr. Trump said talks were progressing "too slowly" and suggested that the Chinese were trying to "renegotiate" the deal. Mr. Trump repeated a threat to raise the rate on existing tariffs to 25 percent and tax $325 billion worth of China's exports to the United States that aren't already subject to levies.

Mr. Trump had previously threatened more tariffs, but delayed that increase as he cited "substantial progress" in trade talks, which had moved far enough along that Mr. Trump predicted a signing ceremony with Xi Jinping, China's president, at some point soon.


But while the two sides have talked for months, Chinese negotiators have continued to resist some of the more structural economic changes that the administration wants and insisted that Mr. Trump remove all of the tariffs he placed on $250 billion worth of Chinese goods.
The Wall Street Journal, meanwhile, reports that China has responded to this latest threat of additional tariffs by pulling out of the ongoing trade talks altogether.
Here are the Presidents tweets on the matter:

All of this, of course, is just the latest development in a trade war that began with the steel and aluminum tariffs that President Trump announced in March of last year, but its roots go back much further. From the moment he entered the race for President, Trump was attacking President Obama and his predecessors for what he claimed were a number of "bad trade deals" that were hurting American businesses while benefiting overseas competitors, and he singled out China as the focus of his attacks on this issue. This mirrors almost exactly the rhetoric that Trump used in the 1980s and 1990s when he was first becoming a "celebrity." The only difference between then and now is that his target back then was Japan rather than China. Given that this was a time when Japan was proving to be a strong competitor and, much to the chagrin of people like Trump, Japanese investors were buying up real estate in Manhattan and other locations that he was seeking to do business. While the target was different there was really no difference between what Trump was saying back then and what he's saying now, and in both cases, it is utterly economically illiterate.
In any case, it didn't take long for the Chinese to retaliate against Trump's steel and aluminum tariffs, and it didn't take long after that for the U.S. economy to start feeling the impact of the tariffs and the President's widening trade war. For example, just two months after the steel and aluminum tariffs were announced, The Wall Street Journal reported that prices for both foreign and domestic steel and aluminum were increasing and this was having a negative impact on manufacturers that rely on these raw materials for their products. Other reports have indicated that American pork farmers were increasingly nervous about their overseas business with nations like China due to the fact that Beijing was threatening to hit American agriculture with retaliatory tariffs. In Iowa, it was reported that Chinese retaliation for the tariffs could cost soybean farmers $624 million this year alone, with the prospect of larger losses if the retaliation continues beyond this year. This has led many leaders in Iowa and elsewhere, including Senator Chuck Grassley to express concern about the impact of the trade war on Republican fortunes in the fall. This is especially true given the fact that the tariffs seem to be expressly targeted toward Trump voters and middle-class Americans. In the time since then, we have also seen that the tariffs have had a negative impact on other American businesses, and has even led an iconic American brand like Harley-Davidson to announce that they are moving some production overseas in response to the retaliatory tariffs imposed by the European Union. In August, Trump announced a new round of tariffs on Chinese goods and the Chinese responded immediately with another round of retaliatory tariffs. Finally, and most recently, the Administration announced yet another expansion of the trade war, and of course, the Chinese responded accordingly.
Since then, both the United States and China have sought to find a way to resolve the issues that led to the trade war given the fact that, in the end, it will only serve to have a negative impact on the economies of both nations. As a result, some of the tariffs announced by both sides have been put on hold as American and Chinese negotiators shuttle back and forth between Washington and Beijing seeking to resolve their disputes. While there have been some signals in the past that a deal, which apparently would be capped off by a visit to the United States from Chinese President Xi Jinping to sign a final agreement, was closer than some of the external signs might indicate, so far that agreement has proven to be elusive. Currently, there is a self-imposed deadline of Friday to reach an agreement after which the tariffs that have been held in abeyance would be put into effect and, if the President's tweets are to be believed, additional tariffs will be imposed.
Not surprisingly, these Sunday tweets from the President did not go over well with investors in the world's stock markets. Markets in Asia and Europe were markedly down overnight, and the U.S. stock markets opened sharply lower, although at this hour they have recovered some of their early losses. In any case, it's possible that what we're witnessing here is simply a negotiating tactic and that we will ultimately see a deal before Friday. It's also possible, though, that there will be no deal and that we'll end up heading back into trade war that nobody can win.