Responding To Trump's Trade War, Harley-Davidson To Move Manufacturing Overseas
Once touted as an example of his deal-making prowess, Harley-Davidson sent a rebuke to President Trump by announcing it was moving some manufacturing to Europe to counteract the impact of his ongoing trade war.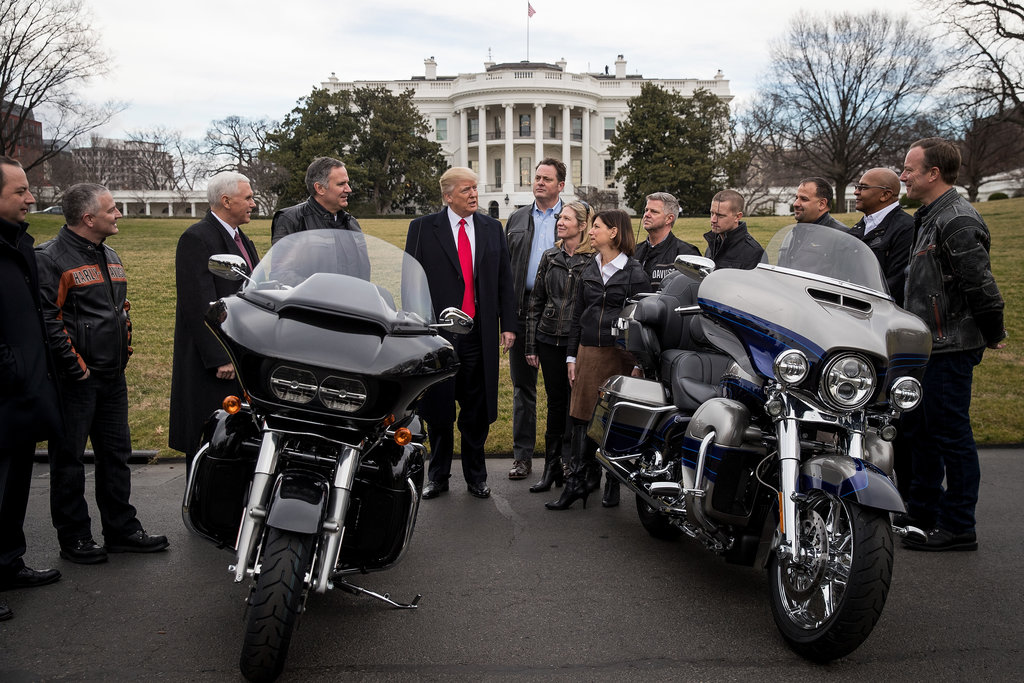 Once lauded by President Trump as an example of the success of his deal-making skills and economic policy, Harley-Davidson has announced that they will be moving some production outside the United States in response to the trade war that President Trump has started:
Harley-Davidson, the American motorcycle manufacturer, said on Monday that it would shift some production of its iconic bikes overseas to avoid retaliatory tariffs imposed by the European Union in response to President Trump's trade moves.

The decision, announced in a public filing, is the latest and most high-profile example of how Mr. Trump's trade war is beginning to ripple through the United States economy as domestic companies begin struggling with a cascade of tariffs both here and abroad. While Mr. Trump says his trade policy is aimed at reviving domestic manufacturing, Harley-Davidson's decision shows how the administration's moves could have the unintended effect of reducing employment and economic growth in the United States.

Last week, the European Union hit back against Mr. Trump's steel and aluminum tariffs with penalties on $3.2 billion worth of American products, including bourbon, orange juice, playing cards and Harley-Davidsons. On Monday, the Wisconsin-based company said that European tariffs on its motorcycles had increased to 31 percent from 6 percent and estimated that would add about $2,200, on average, to every motorcycle exported from the United States to the bloc.

Rather than pass that cost along, the company said it would shift production to its overseas facilities to avoid the European Union tariffs.

"Harley-Davidson believes the tremendous cost increase, if passed on to its dealers and retail customers, would have an immediate and lasting detrimental impact to its business in the region, reducing customer access to Harley-Davidson products and negatively impacting the sustainability of its dealers' businesses," the company said in the filing.

Harley's decision carries huge significance given Mr. Trump's frequent championing of the Wisconsin company as an American icon and a successful American manufacturer that is creating jobs in the United States. Mr. Trump hosted Harley-Davidson executives at the White House in February 2017, where he called the firm a "true American icon" and thanked it "for building things in America."
As Peter Eavis notes in The New York Times, this decision stands as a good example for other American corporations that rely on foreign markets for a substantial part of their sales:
Corporate America has largely avoided sticking its head over the parapet in the trade war. That's going to become harder as the bellicose rhetoric transforms into action.

Case in point Harley-Davidson: The company on Monday announced it was planning to shift some production out of the United States to lessen the cost of tariffs that the European Union imposed in response to those put in place by the Trump administration.

Harley-Davidson's move reveals the uncomfortable choices companies face as they navigate escalating trade tensions. The company, by making more motorcycles beyond its United States factories, could draw criticism from President Trump and his supporters. But if Harley-Davidson does not adapt to the rising trade barriers, it stands to sell fewer motorcycles, which could harm its profits.

So far, large companies have mostly left it to their trade groups to speak out against Mr. Trump's trade policies. But when financial pain threatens to become consequential, public companies are obliged to publicly quantify it. Almost by default, then, they are forced to enter the fight. And as more companies do what Harley-Davidson did, the debate over trade wars will focus on the nitty-gritty.

(…)

[N]egative corporate announcements bring a jarring specificity to trade wars that can spread through financial markets and the wider economy. Harley-Davidson's stock was down over 7 percent on Monday. The Standard & Poor's 500-stock index was down 1.8 percent. The benchmark is now only up 1.1 percent since the end of 2017 and down 5.9 percent from its all-time high. The trade war appears to have halted the Trump rally. And there are a lot more Harley-Davidsons on the stock market.
The editors at The Wall Street Journal put it this way:
Donald Trump's trade war has been an abstraction for most Americans so far, but the retaliation has now begun in earnest and the casualties are starting to mount. The President's beloved stock market took another header Monday on news of more restrictions on investment into the U.S., and the Dow Jones Industrial Average is now down for 2018. But the biggest losers Monday were the American workers who make Harley-Davidson motorcycles whose jobs will soon be headed overseas thanks to the Trump tariffs.

Last year Mr. Trump commended Harley-Davidson for "building things in America," calling the company "a true American icon, one of the greats." And he proclaimed last week at a rally in Duluth, Minnesota, "We're bringing back our jobs from other countries." Awkward timing, Mr. President. On Monday the motorcycle company announced it will shift more production out of the United States.

(…)

The only response White House press secretary Sarah Sanders could muster on Monday to the Harley news is that "the European Union is trying to punish U.S. workers by engaging in unfair trade practices." But the Harley harm is made in America—that is, the White House.

Mr. Trump threw the first punch with his steel and aluminum tariffs, which have already driven up the cost of Harley's raw materials by $15 million to $20 million this year, CFO John Olin said in an April earnings call. Mr. Trump also killed the Trans-Pacific Partnership, which would have cut tariffs on American-made motorcycles. U.S. withdrawal forced Harley to pursue its "Plan B" and build a plant in Thailand to avoid Asian tariffs.

(…)

The list of job casualties will continue to grow. A June report by the economic consulting firm Trade Partnerships Worldwide estimates a net loss of 400,445 jobs over the next three years because of the steel and aluminum tariffs, quotas and retaliation. That's 16 jobs lost for each steel or aluminum job gained.

The damage is likely to have political consequences, as the retaliatory tariffs target industries in swing states. Wisconsin produces more than 90% of America's ginseng, and 95% of that comes from Marathon County. The county went for Mr. Trump in 2016, but it's now wrestling with the consequences of China's new 15% retaliatory tariff. Mr. Trump is also going to have some explaining to do to Wisconsin cranberry farmers, Florida orange-juice producers, and Iowa soy and corn growers.

Good luck to Republicans running on the Trump tariffs in November.
Predictably, Donald Trump lashed out at the company on Twitter yesterday and again this morning:
Surprised that Harley-Davidson, of all companies, would be the first to wave the White Flag. I fought hard for them and ultimately they will not pay tariffs selling into the E.U., which has hurt us badly on trade, down $151 Billion. Taxes just a Harley excuse – be patient! #MAGA

— Donald J. Trump (@realDonaldTrump) June 25, 2018
Early this year Harley-Davidson said they would move much of their plant operations in Kansas City to Thailand. That was long before Tariffs were announced. Hence, they were just using Tariffs/Trade War as an excuse. Shows how unbalanced & unfair trade is, but we will fix it…..

— Donald J. Trump (@realDonaldTrump) June 26, 2018
….We are getting other countries to reduce and eliminate tariffs and trade barriers that have been unfairly used for years against our farmers, workers and companies. We are opening up closed markets and expanding our footprint. They must play fair or they will pay tariffs!

— Donald J. Trump (@realDonaldTrump) June 26, 2018
….When I had Harley-Davidson officials over to the White House, I chided them about tariffs in other countries, like India, being too high. Companies are now coming back to America. Harley must know that they won't be able to sell back into U.S. without paying a big tax!

— Donald J. Trump (@realDonaldTrump) June 26, 2018
….We are finishing our study of Tariffs on cars from the E.U. in that they have long taken advantage of the U.S. in the form of Trade Barriers and Tariffs. In the end it will all even out – and it won't take very long!

— Donald J. Trump (@realDonaldTrump) June 26, 2018
A Harley-Davidson should never be built in another country-never! Their employees and customers are already very angry at them. If they move, watch, it will be the beginning of the end – they surrendered, they quit! The Aura will be gone and they will be taxed like never before!

— Donald J. Trump (@realDonaldTrump) June 26, 2018
The response to the President's second tweet, of course, is that Harley-Davidson specifically stated in the filing yesterday that it was planning the move to Europe specifically in response to the President's tariffs and the response that inevitably came from the European Union. By contrast, the announcement of the move to Thailand was largely due to a desire to move some production to Asia to more efficiently respond to markets over there where demand for its products are increasing. Obviously, building motorcycles in Asia will make it easier to cater to markets in China, Japan, Vietnam, and other countries where demand for Harley products are increasing because it helps to cut down on shipping costs, as well as delays in meeting demand caused by having to ship motorcycles from the United States to Asia. That's not the case here. In this case, it's clear that the move to Europe is being made precisely because of the trade war the President started, and the fact that the President has chosen to tweet about it six times since yesterday afternoon is seeming proof that he realizes that this is bad public relations for him.
Harley-Davidson's announcement came in the wake of an announcement last week from the European Union that it was raising the tariffs it imposes on imports from the American manufacturer from its current level of 6 percent to 31 percent, an increase of more than 400 percent that would raise the price of a Harley made in the United States and exported to Europe by at least $2,200. Initially, Harley-Davidson responded to these retaliatory tariffs by stated that it would decline to raises prices to cover the tariff increase and would instead absorb the cost itself. Given the fact that estimates suggest that this could end up costing the company as much as $100 million per year, though, it seemed inevitable that a decision like this would be made in the interest of the long-term health of the company and the interests of the company's shareholders.
This all started back in March when the President announced a series of tariffs on foreign-made steel and aluminum in the name of "national security. Initially, waivers from those tariffs were given to America's allies in Europe as well as Mexico and Canada. In late May, though, the President announced that those waivers were being revoked, again in the name of "national security" and that steel and aluminum from Europe, Mexico, and Canada. Needless to say, this didn't go over very well with our allies in Europe and elsewhere. Canada's Foreign Minister called the new tariffs "absurd," for example, and European Union officials announced retaliatory tariffs against American goods. Things got even more bizarre in this regard as Trump exchanged harsh words with Canadian Prime Minister Justin Trudeau prior to the G-7 Summit. Once he was at the summit, Trump essentially did everything he could to alienate America's closest allies, thereby seemingly achieving a goal that Russia and, before it, the Soviet Union had only dreamed of, driving a wedge between the United States and its allies. Finally, it was reported at the same time that the President was considering what would effectively be a ban on German-built luxury automobiles. The new tariffs announced last week by the European Union, which prompted this response from Harley-Davidson, were the latest round in this ongoing war that, in the end, will have no winners.
The decision that Harley-Davidson announced yesterday, which admittedly could be culled back if this current idiotic trade war comes to an end and the previously announced tariffs are revoked, is something that should have been predictable from the moment the President decided to start this war. While the company can probably afford to absorb the costs that the additional tariffs that are being imposed by the E.U. in the short-term, that certainly won't be true if this lasts for an extended period of time or if it expands beyond the level that it has reached already. Eventually, the costs of essentially paying out of pocket to cover the additional $2,200 per motorcycle the tariffs are expected to cost are going to start biting into the company's bottom line, which will displease shareholders and impact the company's overall ability to compete here in the United States and worldwide. That's why it makes sense for the company to move at least some of its manufacturing overseas in order to avoid the tariffs, and we'll see more of it from other companies if this continues. Once again, it's worth remembering that President Trump once said that trade wars are good and easy to win. It's only been three months since he started this war and we're already finding out just how wrong he is about that.