Trump Is Achieving Putin's Goal Of Driving A Wedge Between The U.S. And Its Allies
Thanks to Donald Trump, the happiest man in the world right now is Vladimir Putin.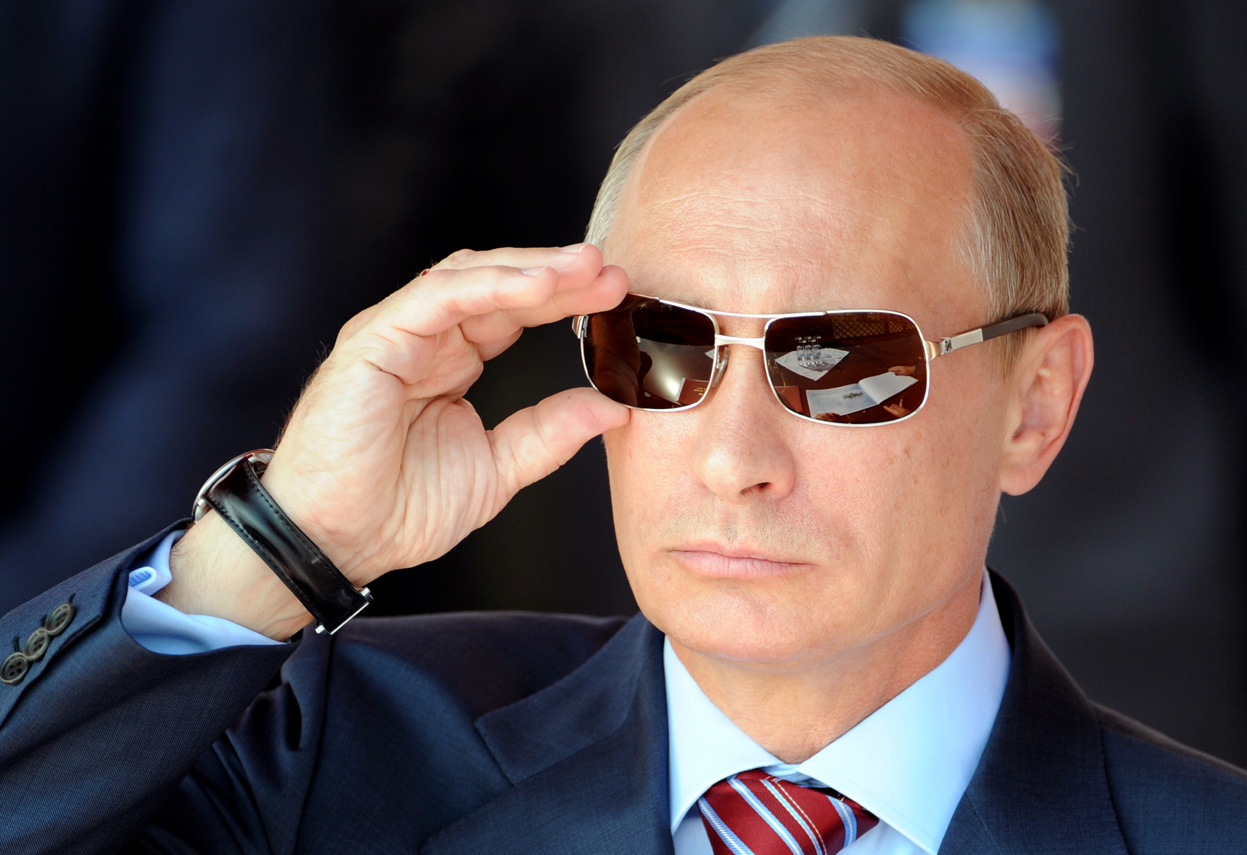 In a post that was written before the events of this weekend, Jonathan Chait notes that President Trump is accomplishing something that Vladimir Putin, and before him the leaders of the Soviet Union, has long wanted:
One of Russia's principal foreign-policy goals for decades has been to split the United States from is allies. Whether by accident or by design, President Trump appears intent on bringing that dream to fruition.

The most immediate theater of Western disarray is today's G7 meeting in Canada. Trump has been fomenting a trade war, hurling wild and largely groundless accusations at America's allies. "Why isn't the European Union and Canada informing the public that for years they have used massive Trade Tariffs and non-monetary Trade Barriers against the U.S. Totally unfair to our farmers, workers & companies," he demands. "Take down your tariffs & barriers or we will more than match you!"

(…)

But trade is merely a symptom of a larger rearrangement of American alienation from its partners. The West has attempted to prevail upon Trump to retain, in some form, a series of agreements he inherited: the Trans-Pacific Partnership, the Paris climate agreement, and the Iran nuclear deal. In every instance the negotiations foundered on Trump's allergy to compromise and immunity to reason. You can't negotiate a climate plan with a person who considers climate science a Chinese hoax any more than you can negotiate a trade deal with somebody who believes Canada must be punished for the War of 1812.

The mutual loathing contains both a personality component and a structural component. One by one, Trump's personal relationship with the leader of each major U.S. ally has been fatally poisoned. Angela Merkel, whom Trump had repeatedly taunted and likened to Hillary Clinton during his campaign, was the first major leader to give up on Trump. "It's difficult to overstate just how enraged Germany is about Trump," reports Matthew Karnitschnig. Trump's allies tell one British newspaper he "has grown frustrated with Theresa May's 'school mistress' tone." (May publicly corrected Trump's circulation of fake videos blaming Muslims for violence.) Trump "has griped periodically both about German Chancellor Angela Merkel — largely because they disagree on many issues and have had an uneasy rapport — as well as British Prime Minister Theresa May, whom he sees as too politically correct," his advisers tell the Washington Post.

Macron, who has bent over backwards to flatter and placate Trump, has found his efforts unrewarded. A recent phone call between the two was "terrible," a source tells CNN. "Macron thought he would be able to speak his mind, based on the relationship. But Trump can't handle being criticized like that."

It's not as if Trump is unable to get along with anybody. He has drawn our country closer to a variety of despots: in the Gulf states, North Korea, China, and of course Russia. There is an element of personality involved here. Trump admires strongmen. "Who are the three guys in the world he most admires?" a Trump adviser told the Post last year. "President Xi [Jinping] of China, [Turkish President Recep Tayyip] Erdogan and Putin. They're all the same guy."

Relatedly, strongmen have the ability to deal with Trump in what is euphemistically described as "transactional" terms. China spent hundreds of millions of dollars enhancing the value of a Trump property, and in turn was quickly granted a reprieve for a telecommunications firm that had broken American law. "Those regimes take a transactional approach. Many American allies have relied on appeals to reason, data and shared values," reports Politico, which also quotes a former Trump official helpfully explaining, "If you're not a despot, you can't really be transactional." This clarifies the euphemism, because of course a democratic leader can be transactional. Democratic countries negotiate transactions all the time. What they can't do is hand out bribes.

(…)

"Senior government officials in Washington, London, Berlin, and other European capitals" tell Susan Glasser "they now worry that Trump may be a greater immediate threat to the alliance than even authoritarian great-power rivals, such as Russia and China." Trump might be a greater threat to the West than Putin. Worse, he might be, in a sense, the very same threat.
To be fair, of course, driving a wedge between the United States and our allies has been something that leaders of the nation now known as Russia have dreamed about, and worked for, long before Vladimir Putin came along. Virtually from the beginning of the Cold War, the Soviet Union did everything it could to foment division between the United States and Western Europe. They did this via propaganda, surreptitiously supporting left-leaning political parties, and helping to foment protest movements in Europe at various times throughout the years between the beginning of the Cold War and the end of the Soviet Union. Often, they were able to do it by exploiting the mistakes that the United States made on the world stage, such as the Vietnam War, which led to as many widespread protests in Europe as it did in the United States. In the 1980s, we saw it manifest itself in the form of protests that attempted to block the installation of medium-range nuclear missiles in Europe to counter a threat already presented by the introduction of such weapons by the Warsaw Pact. Throughout it all, the Soviets tried to do everything they could to undermine the NATO alliance and the ties between the United States and Europe.
As it turns out, of course, those efforts proved to be unsuccessful. Though they have been tested at times, the alliances that the United States developed with Western Europe, Asian nations such as Japan and South Korea, and, of course, our neighbor to the north in Canada proved resilient. Ultimately, those alliances prevailed over a Warsaw Pact that was built and maintained by a combination of dictatorship and fear that the Soviets would act as they did in Hungary in 1956 and Czechoslovakia in 1968 and over a Soviet Union that was held together by essentially the same forces. While many wondered what would happen to this international order after the end of Cold War, it has, if anything, proven to be even more resilient over the years, and that has benefited the United States both economically in the form of international trade and in terms of our national security. As I've pointed out before, the number of times that our allies have supported us over the years is incalculable, with perhaps the two greatest examples of that coming during the Persian Gulf War and the response to the terrorist attacks of September 11th.
As the events of this weekend in Canada show, though, Donald Trump is succeeding where the Soviets failed, and, intentionally or not, he's handing a gift to Vladimir Putin and, to no small extent, Xi Jinping. Far better than any Soviet-era propaganda campaign could have hoped, Donald Trump has succeeded in opening a chasm not only between the United States and Europe, but between the United States and Canada thanks to a tariff scheme that is, if anything, even more idiotic and ill-advised than the infamous Smoot-Hawley Tariff Act that preceded the Great Depression. His abandonment of the Trans-Pacific Partnership brought an end to what should have been a successful effort to create an economic community that could resist dominance by China. And his twin decisions to walk away from the Paris Climate Accords and the nuclear deal with Iran have created yet another stark area of dispute between the United States and our closest and, until now, most loyal allies.
For those who wondered why Russia may have wanted to interfere in the 2016 election in a way that helped Donald Trump, we now have our answer. In seventeen months, Donald Trump has done more damage to America's international alliances than the Soviets could have ever dreamed of, and it will inevitably inure to the benefit of Russia and China. Meanwhile, as I noted this morning, we're left wondering if these alliances we've built up since the end of World War Two will be there the next time we need them. The way Trump is going, the answer to that question is only becoming increasingly doubtful.