Trump Blows Up The G-7
Hurricane Trump hit the G-7 this weekend, and the damage it left behind will take years to clean up.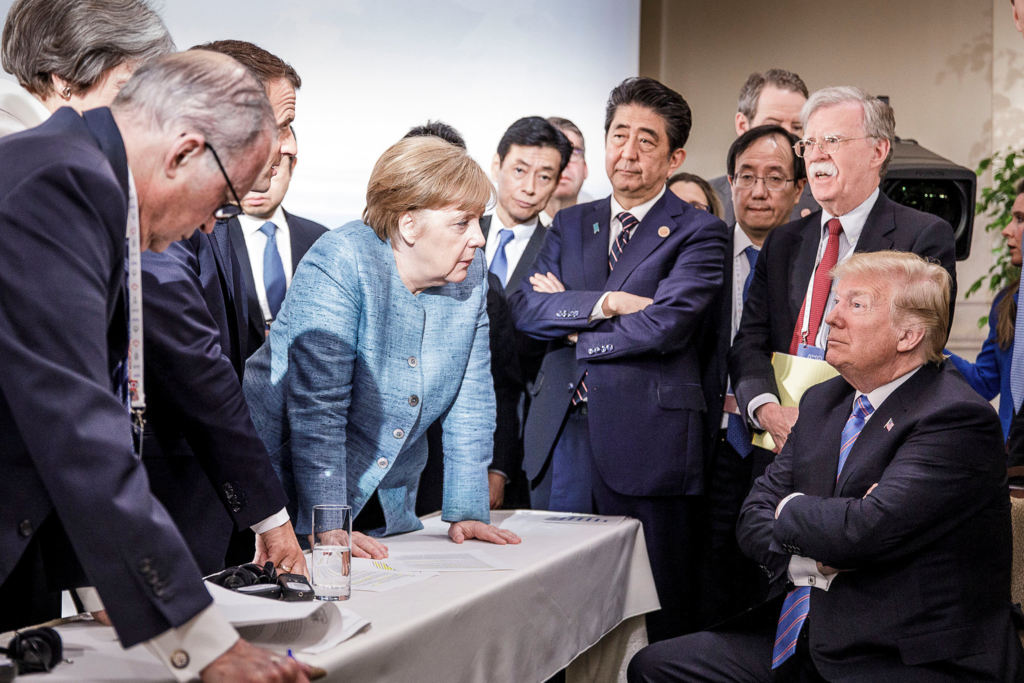 The G-7 Summit in Canada only lasted two days, and President Trump ended up departing early rather than  participate in discussions on climate change and other issues, but in his wake it seems clear that he's done real damage to America's relationship with our most important and most loyal allies that will take years to fix even if he only spends one term in office:
QUEBEC CITY — President Trump upended two days of global economic diplomacy late Saturday, refusing to sign a joint statement with America's allies, threatening to escalate his trade war on the country's neighbors and deriding Canada's prime minister as "very dishonest and weak."

In a remarkable pair of acrimony-laced tweets from aboard Air Force One as he flew away from the Group of 7 summit toward a meeting with North Korea's leader, Mr. Trump lashed out at Justin Trudeau. He accused the prime minister, who hosted the seven-nation gathering, of making false statements.

Literally moments after Mr. Trudeau's government proudly released the joint statement, noting it had been agreed to by all seven countries, Mr. Trump blew apart the veneer of cordiality that had prevailed throughout the two days of meetings in a resort town on the banks of the St. Lawrence River.

"Based on Justin's false statements at his news conference, and the fact that Canada is charging massive Tariffs to our U.S. farmers, workers and companies, I have instructed our U.S. Reps not to endorse the Communique as we look at Tariffs on automobiles flooding the U.S. Market!" Mr. Trump wrote.

A few hours earlier, Mr. Trudeau said the seven nations had reached broad agreements on a range of economic and foreign policy goals. But he acknowledged that deep disagreements remained between Mr. Trump and the leaders of the other nations, especially on trade.

Mr. Trudeau had sought to play down personal clashes with Mr. Trump as he wrapped up the summit, calling the meeting "very successful" and saying he was "inspired by the discussion." But he also pledged to retaliate against the United States tariffs on steel and aluminum products in defense of Canadian workers.

Mr. Trump, who apparently saw Mr. Trudeau's news conference on television aboard Air Force One, was clearly enraged.

"PM Justin Trudeau of Canada acted so meek and mild during our @g7 meetings," Mr. Trump said in a second tweet, "only to give a news conference after I left saying that, 'US Tariffs were kind of insulting' and he 'will not be pushed around.' Very dishonest & weak. Our Tariffs are in response to his of 270% on dairy!"

Not long after, John Bolton, the president's national security adviser, tweeted out a dramatic photo of Mr. Trump, arms crossed and scowling, looking defiant as the leaders of the other nations stood in a circle around him.

Just another #G7 where other countries expect America will always be their bank," Mr. Bolton wrote as the president's plane stopped for refueling at Souda Bay on the Greek island of Crete. "The President made it clear today. No more."

Mr. Trudeau's office responded to the president's Twitter barrage with a carefully worded statement.

"We are focused on everything we accomplished here at the summit," said Cameron Ahmad, a spokesman for Mr. Trudeau. "The prime minister said nothing he hasn't said before — both in public, and in private conversations with the President."

The president's outburst had been foreshadowed for days leading up to the Canada summit, with Mr. Trump and his counterparts trading sharp-edged barbs that included threats of punches and counterpunches on tariffs. President Emmanuel Macron of France accused Mr. Trump of being willing to remain isolated from the world.

That was followed by 48 hours of tense and often confrontational closed-door discussions between Mr. Trump and the leaders of America's closest allies — France, Britain, Canada, Japan, Italy and Germany — in the hopes of resolving a brewing trade war among friends.

Instead, the gathering apparently served to further inflame Mr. Trump's belief that the United States is being treated unfairly by countries with which prior presidents had long ago negotiated trade agreements for the flow of goods and services.

The result was a slow-rolling collapse of the fragile alliances that officials at the summit — and even Mr. Tump's own White House advisers — insisted throughout the day could be maintained in the face of fundamental disagreements.

(…)

Mr. Trump, speaking to reporters at the end of the contentious meeting, said that eliminating all trading barriers would be "the ultimate thing." He railed about what he called "ridiculous and unacceptable" tariffs on American goods and vowed to end them.

"It's going to stop," he said, "or we'll stop trading with them. And that's a very profitable answer, if we have to do it." He added, "We're like the piggy bank that everybody's robbing — and that ends."

The other six leaders were defiant in the face of Mr. Trump's threats.

"I have made it very clear to the president that it is not something we relish doing, but it is something that we absolutely will do," Mr. Trudeau said. "As Canadians, we are polite, we're reasonable, but also we will not be pushed around."

Mr. Macron said the trade debates at the summit were "sometimes quite heated." Asked who won the tug-of-war with Trump, Mr. Macron said: "There is no winner, there are only losers when you take that strategy."

Theresa May, the British prime minister, blasted Mr. Trump's tariffs. She said she had registered "our deep disappointment at the unjustified decision" and that the loss of trade through tariffs would "ultimately make everyone poorer."

The president's public comments on trade Saturday echoed the complaints he made directly to the leaders from Canada, Japan and Europe in private sessions on Friday. Mr. Trump confronted several of the leaders individually, giving examples of how, in his view, each of their countries had mistreated the United States, whether it be through trade barriers or security commitments, according to a European official.

The president delivered a running monologue in one of the closed-door meetings, one person familiar with the discussion said. One minute, he slammed Germany for taking advantage of the United States by selling so many cars there. The next, he talked about how his grandfather was German and how much he loved Europe.

Several of the leaders responded aggressively to Mr. Trump's demands — as they have repeatedly done in public — listing their own complaints about American tariffs and other trade measures, the official said. Several countries have said that they will retaliate against the United States' new steel and aluminum tariffs with increased tariffs of their own.

"If they retaliate, they're making a mistake," Mr. Trump said on Saturday
More from The Washington Post, which notes that the President's refusal to sign the tradition joint communique that is typically used to top off these meeting is not being well-received by our allies in Europe:
President Trump's last-minute refusal to sign a joint statement with America's closest allies was met with shock but also resignation in Europe, where leaders have grudgingly accepted an increasingly isolated U.S. presence on the world stage.

Trump's decision — announced in a pair of tweets as he sped away in Air Force One from the annual G-7 summit, held this year in Quebec City — directly contradicted an announcement by Canadian Prime Minister Justin Trudeau moments before. Trudeau had announced that all seven member-states had signed the joint statement, a document Trump then said he ordered American representatives "not to endorse."

The abandonment of America's closest allies began long before the G-7, and European heads of state are now accustomed to a U.S. administration that shows little regard for its historic partners and the postwar order that has governed transatlantic relations since 1945.

Trump's abandonment of the Paris climate accord and the Iran nuclear agreement and his decision to impose protectionist tariffs on European steel and aluminum products have established an unprecedented level of animosity between the United States and Europe.

For many in Europe, the question is now about how best to preserve any kind of multilateral cooperation. Dealing with Trump's whims and last-minute changes of mind has proven a procedural nightmare, political analysts said.

"How is it possible to work this way if once you have agreed to something, two hours later the guy decides he doesn't agree with what he agreed with?" said François Heisbourg, a former French presidential national security advisor.

"Is there any space for a multilateral order under these circumstances?"

But there were signs, among otherwise frustrated European leaders, that they see Trump and his "America First" agenda as an aberration and not necessarily as expressive of a new reality that will never change.

French President Emmanuel Macron, who among all European leaders arguably enjoys the strongest personal rapport with Trump, did not hesitate to voice his disappointment and displeasure at several moments the summit. But he also emphasized his belief that Trump's vision of America was at odds with American values.

"President Trump saw that he had a united front before him," Macron said via Twitter. "To find itself isolated in a concert of nations is contrary to American history."

Macron, who lobbied Trump unsuccessfully to preserve the Iran nuclear deal earlier this spring, also noted on Saturday that Trump's decisions do not speak for a unified United States.

"The importation of steel and aluminum does not pose a threat to U.S. domestic security!" Macron said in a tweet. "The basis of the U.S. decision raises doubts, including in the U.S. Congress and the U.S. administration."

Britain's Prime Minister Theresa May preferred tact to confrontation, even after Trump allies allegedly told the Telegraph newspaper that the U.S. president had grown weary of May's "school mistress tone" and attention to details.

Asked Saturday evening by the press whether she "liked working with him," May responded, "We have a very good relationship with President Trump."

May did, however, allow that she and Trump had "a very frank discussion" about trade. May is not only hoping that Trump lift new tariffs on European aluminum and steel, but that he will promise a favorable pro-Brexit trade deal with the United Kingdom after it leaves the European bloc.

In Germany — Europe's biggest economy and a top target of Trump's ire on trade — there was indignation over the outcome of the G-7 summit. But there was little shock.

"It was not a surprise," said Norbert Röttgen, chair of the foreign affairs committee in Germany's parliament, the Bundestag. "The president acted and reacted in the childish way he could be expected to."
Here are the tweets the President sent regarding the summit both before leaving Quebec City and as he was flying in Air Force One ahead of his summit this week with North Korean leader Kim Jong Un:
Just left the @G7 Summit in beautiful Canada. Great meetings and relationships with the six Country Leaders especially since they know I cannot allow them to apply large Tariffs and strong barriers to…

— Donald J. Trump (@realDonaldTrump) June 9, 2018
…U.S.A. Trade. They fully understand where I am coming from. After many decades, fair and reciprocal Trade will happen!

— Donald J. Trump (@realDonaldTrump) June 9, 2018
The United States will not allow other countries to impose massive Tariffs and Trade Barriers on its farmers, workers and companies. While sending their product into our country tax free. We have put up with Trade Abuse for many decades — and that is long enough.

— Donald J. Trump (@realDonaldTrump) June 9, 2018
Based on Justin's false statements at his news conference, and the fact that Canada is charging massive Tariffs to our U.S. farmers, workers and companies, I have instructed our U.S. Reps not to endorse the Communique as we look at Tariffs on automobiles flooding the U.S. Market!

— Donald J. Trump (@realDonaldTrump) June 9, 2018
PM Justin Trudeau of Canada acted so meek and mild during our @G7 meetings only to give a news conference after I left saying that, "US Tariffs were kind of insulting" and he "will not be pushed around." Very dishonest & weak. Our Tariffs are in response to his of 270% on dairy!

— Donald J. Trump (@realDonaldTrump) June 9, 2018
To say that this summit meeting, which at least in the past has maintained an air of cordiality and recognition of mutual self-interest in the past, ended in a disaster is an understatement. Over the course of fewer than forty-eight hours, Donald Trump has undone what it has taken decades for the United States and its allies in the United Kingdom, France, Germany, the rest of Europe, Canada, and Japan to build up. There are very few things that have been more stable over the past seventy years since the end of World War Two than the relationship between the United States and these allies, except perhaps the NATO alliance itself. These are alliances that have served the interests of the United States and our partners well, both on issues such as international trade and in national security matters. Indeed, it is worth remembering that the collective defense provision has only been enacted once, and that was in the wake of the September 11th attacks when America's European allies stood together with us in the face of the threat of international terrorism and, in many cases, sent troops to Afghanistan to fight and die alongside American troops. Since becoming President, Trump has done everything he can to undermine these relationships.
In both cases, though, this President has spent the first seventeen months of his Presidency doing everything he can to undermine these relationships. It started, of course, with his decision to withdraw from the international agreements such as the Trans-Pacific Partnership and the Paris Climate Accords, leaving the United States as the only nation in the world who has not signed on to what is essentially a voluntary compliance agreement in any case. During his first year in office, his two visits to Europe not only did little to assuage the doubts about his commitment to the existing international order in general and the NATO alliance specifically but expanded those doubts. With the exception of French President Emmanuel Macron, he developed exceedingly bad relations with the leaders of allies such as the United Kingdom and Germany that seemed guaranteed to lead to the disaster that unfolded in Canada Friday and Saturday. Finally, once he became President Trump continued to double down with the "America First" rhetoric that marked his campaign, rhetoric that may play well with his base but which ignores the realities
It's been over the course of the first half of 2018, though, that this President has done particularly bad damage to our international alliances. Whether it's his decision to withdraw from the nuclear deal with Iran, which was strongly opposed by our three closest allies in the United Kingdom, France, and Germany or his decision to slap tariffs on aluminum and steel from Canada, Mexico, and Europe on the absurd ground that they are somehow a threat to our national security. There have also been reports that the President is also taking other radical trade-related steps such as essentially banning the importation of German luxury automobiles Leaving aside the utter insanity of these actions , such tariffs, if they continue, are only going to serve to set off a trade war that will be disastrous for everyone and which will further erode the relationship between the United States and its allies.  The consequences of that for our future efforts to gain support from the U.K., France, or Germany for their cooperation in other areas seem rather obvious. At some point in his Presidency, Donald Trump is going to find himself in a situation where he needs the support and assistance of these allies. If he finds them unwilling to rally to his side, he'll have nobody but himself to blame.