Yes, Immigration Reform Is Dead, Probably Until 2015 At The Earliest
The prospect of Congressional action on immigration before the midterms just got a whole lot less likely.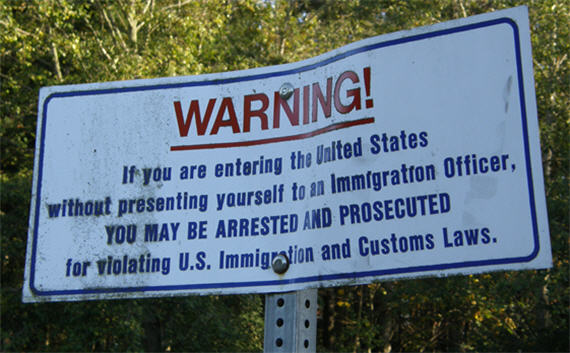 It's been several months since the Senate voted, on a somewhat bipartisan basis, to pass a comprehensive Immigration Reform bill that included, among other things, provisions covering the status of people in the country illegally and a reform of the nation's guest worker program that would have legalized tens of thousands of migrant farm workers and others who come to the United States temporarily for employment. Even as that bill was making it through the Senate, though, it was clear that any kind of immigration bill would have a much tougher time in the House. For one thing, the very idea of immigration reform was quickly opposed by pretty much every activist group on the right, including Tea Party groups who have long claimed that their only concern was with issues concerning government spending on the debt. Indeed, Marco Rubio, once the darling of the Tea Party has seen his stock far precipitously merely because he dared to work across the aisle to craft an immigration bill that took Republican concerns into account. For another, the group of Congressman that had come together to come up with some kind of House bill quickly started to fall apart over disagreements between the members. Given all of this, it was no surprise that the issue sat on the shelf in the House throughout the summer and, thanks to the joint issues of Syria and the shutdown showdown, has been mostly ignored since Congress got back from its August recess.
With the shutdown at least temporarily behind us, there have been some signs that President Obama and the Democrats would attempt to bring the issue back to the front burner. However, there's very little that they can do about the matter right now. The next legislative step is up to the House of Representatives and it's been relatively clear for some time that the Senate bill was not going to be considered by the House. Instead, those in Congress who are intent on some kind of reform package, such as Judiciary Committee Chairman Robert Goodlatte, have been talking about a more piecemeal approach to the issue via bills directed at specific parts of the immigration issue, such as a bill that would cover the children of people here illegally. It now appears, however, that there won't be any movement on the issue in the House at all in the immediate future:
House Republican leadership has no plans to vote on any immigration reform legislation before the end the year.

The House has just 19 days in session before the end of 2013, and there are a number of reasons why immigration reform is stalled this year.

Following the fiscal battles last month, the internal political dynamics are tenuous within the House Republican Conference. A growing chorus of GOP lawmakers and aides are intensely skeptical that any of the party's preferred piecemeal immigration bills can garner the support 217 Republicans — they would need that if Democrats didn't lend their votes. Republican leadership doesn't see anyone coalescing around a single plan, according to sources across GOP leadership. Leadership also says skepticism of President Barack Obama within the House Republican Conference is at a high, and that's fueled a desire to stay out of a negotiating process with the Senate. Republicans fear getting jammed.

Of course, the dynamics could change. Some, including Majority Leader Eric Cantor (R-Va.), are eager to pass something before the end of the year. Speaker John Boehner (R-Ohio) has signaled publicly that he would like to move forward in 2013 on an overhaul of the nation's immigration laws. If Republicans win some Democratic support on piecemeal bills, they could move forward this year. But still, anything that makes its way to the floor needs to have significant House Republican support

And Obama is also ramping up his messaging on immigration reform. "It's good for our economy, it's good for our national security, it's good for our people, and we should do it this year," Obama said Thursday. That same afternoon his chief of staff Denis McDonough met with business CEOs to strategize on immigration reform. Attendees included representatives from the U.S. Chamber of Commerce and the National Association of Manufacturers.

(…)

"I think there are a lot of folks who are concerned about this issue not getting solved, and I think legitimately so," Rep. Mario Diaz-Balart (R-Fla.) told POLITICO. "Because I do think that every day that goes by, it makes it more and more difficult."

Other prominent immigration supporters like Sen. Marco Rubio (R-Fla.) have also backed off any deal, saying the Obama administration has "undermined" negotiations by not defunding his signature health care law. Rep. Raul Labrador (R-Idaho) went further, saying Obama is trying to "destroy the Republican Party" and that GOP leaders would be "crazy" to enter into talks with Obama.

That rhetoric combined with signals in private conversations with lawmakers and staff has led some immigration advocates to say they see the writing on the wall and they aren't going to invest heavily until there's more momentum.
Given that Congress is only scheduled to meet for nineteen more legislative days this year, it's hard to believe that there would be anywhere near enough time to push any kind of immigration reform bill through the House, especially given how politically contentious the issue is likely to become if the attempt is made. That leaves us with 2014 for any kind of reform to make it through the 113th Congress before it leaves office at the end of next year. It wouldn't be without historical precedent for an immigration bill to become law in a mid-term election year, of course.
The last major immigration bill was passed by a bipartisan majority in Congress in 1986, and signed into law by President Reagan mere days after the 1986 elections themselves. However, these are far different times than those, and the odds of House Republicans, or even just the House GOP Leadership, being able to get a substantive immigration bill through the House in an election year seem pretty slim. If it were to happen, it would have to occur after the danger of primary challenges had passed, and it's worth noting that the final votes on the 1986 bill were taken in the time between the primaries and the General Election. Even that, however, would require a lot more enthusiasm for the issue than Republicans have shown up until now. Yes, there are certain members of the party who have argued passionately that the party can't afford to be left behind, and the Chamber of Commerce and other and other business groups have been at the forefront of arguments in favor of reform. For the most part, though, the GOP as a whole, especially in the House has been decidedly blase about the entire issue. That seems to make it unlikely that they'll be all that eager to do much of anything. Of course, if there's no action in 2014, then the entire process will have to start all over again, with the added bonus of everyone starting to tee up for the 2016 Presidential election.
The obvious question, of course, is what the prospect of blocking immigration reform for as much as another four years will mean for Republican electoral prospects. In 2012, President Obama got 71% of the Latino vote, compared to just 27% for Mitt Romney.  How bad will it get in 2016 if they once again are perceived as the party preventing even minor progress from being made on what everyone with a brain agrees is a serious issue that needs to be dealt with?
Update: Greg Sargent posits one scenario under which we might see some kind of immigration reform package out of the House:
The premise is that — with business, evangelical, and pro-reform conservative groups set to mount major pressure campaigns — it isn't as easy for House GOP leaders to avoid voting on reform as many claim it is. House Republicans end up holding piecemeal votes before the end of the year on border security and E-Verify, and on, say, the Kids Act, which could perhaps get a majority of House Republicans. Those pass, but there's no vote on any politically difficult proposal to legalize the 11 million.

House GOP leaders adamantly declare there will be no conference negotiations under any circumstances, Goddammit! They insist defiantly that Dems have a choice: Either take the Kids Act or leave it. Democrats are cornered! Or maybe not. Meanwhile, pro-reform GOP Senators quietly approach House Republicans who want reform to actually happen, and later, after most of the House GOP primary deadlines have passed, real talks take place, perhaps followed even by a House vote on something approximating comprehensive reform.

Of course, even that optimistic scenario means that the House GOP approach will be shaped largely around not alienating the hard right. As we've known all along, we're not getting reform unless House GOP leaders and mainstream House Republicans are willing, at some point, to anger the folks who won't ever, ever, ever accept any immigration solution of any kind.
Possible I suppose. As I noted above, the key votes on the 1986 occurred after primary election dates had passed. Like I said, though, it's a different time now.