Obama, Democrats To Push Immigration Reform Next?
Immigration reform may be the next big battle on Capitol Hill, but it's going to be far different from the one that just concluded.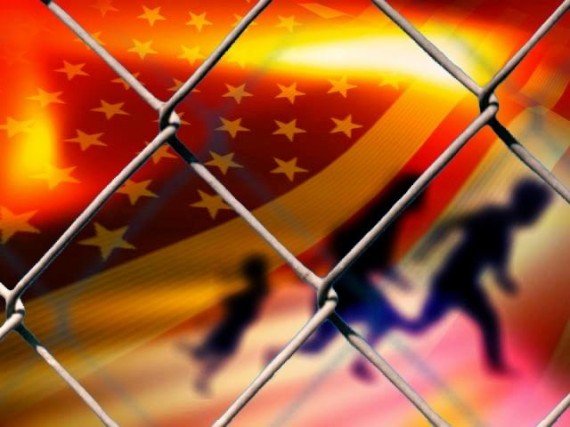 With the shutdown/debt ceiling debate behind them, and most observers and the polls seemingly agreeing that it ended up being a net political win, President Obama and the Democrats are apparently looking to push immigration reform as the next big legislative battle:
As the fiscal crisis subsided and the government went back to work this week, President Obama and other leading Democrats were quick to say that an immigration overhaul should be back on the agenda in Congress.

Mr. Obama raised the issue in his first comments after lawmakers reached a deal to reopen the government, and on the night the shutdown ended the three top Senate Democrats said they hoped to extend the bipartisan moment that produced the compromise by taking up immigration.

"Let's move on," said the Senate majority leader, Harry Reid of Nevada. He added that he hoped "the next venture is making sure we do immigration reform."

But the possibilities for progress on the issue will be determined in the House of Representatives, where many conservative Republicans are fuming with frustration over their meager gains from the two-week shutdown and turning their ire against Mr. Obama, saying he failed to negotiate with them. It will be up to Speaker John A. Boehner of Ohio to discern whether relations with the White House are simply too raw for House Republicans to consider legislation on an issue the president has made a priority.

Many Democrats and some Republicans are arguing that passing a broad immigration bill could be a way for Republicans to come back from the bruising they took in the polls during the shutdown. "When the Republican polling numbers are at 20 percent, there's a pretty strong argument to do something to get those poll numbers up, and immigration is a good way to do that," said Senator Charles E. Schumer, Democrat of New York.

The effort to repair the immigration system has attracted support across the political spectrum, including from traditional Republican allies like business, agriculture and evangelical Christians. The Senate passed a sweeping bill in June on a bipartisan vote. But lawmakers on both sides agreed that the window for action on immigration is narrow, most likely limited to the remaining months of this year, before the next fiscal deadlines, or maybe to early next spring.

Mr. Boehner would like to make progress this year on immigration, a spokesman said Friday. "The speaker remains committed to a step-by-step process to fix our broken immigration system," said the spokesman, Michael Steel.

But House Republican leaders are waiting to gauge the intensity of distrust of the White House among fractious conservatives in their caucus.

"The president's attitude and actions over the past few weeks have certainly made getting anything done on immigration considerably harder," a senior Republican aide said.

Several Republicans who had been working on immigration bills before the shutdown said they no longer believed Mr. Obama would negotiate fairly.

"I think what he has done over the last two and a half weeks, he's tried to destroy the Republican Party," Representative Raúl R. Labrador, Republican of Idaho, said Wednesday. "I think that anything we do right now with this president on immigration will be with that same goal in mind, which is to destroy the Republican Party and not to get good policies."

If the House takes any action, it will probably be on smaller measures that emerged earlier this year from the Judiciary and Homeland Security Committees. The Judiciary Committee, led by Representative Robert W. Goodlatte of Virginia, approved four bills that deal with enforcement, agricultural guest workers and high-skilled visas. A homeland security bill would tighten border security.

Republican lawmakers, including Mr. Goodlatte and Representative Eric Cantor of Virginia, the House majority leader, have been working on a bill to give legal status to young immigrants who came here illegally as children. But no bill has been introduced and no decisions have been made on who would introduce it, Republican aides said Friday.

House Democrats predicted Republicans would be spurred on by an interest in showing skeptical voters that they can produce results.
As noted, President Obama spoke about this even before the shutdown showdown was over:
President Obama says he hasn't given up on an immigration bill, and will push it after the government shutdown and debt ceiling disputes are resolved.

"Once that's done — you know, the day after — I'm going to be pushing (Congress) to say, call a vote on immigration reform," Obama told the Los Angeles affiliate of Univision, the Spanish language television network.

Obama's immigration hopes figure to continue hitting opposition in the Republican-run House, where members describe a proposed path to citizenship as amnesty for lawbreakers.

The Senate passed an immigration bill earlier this year, but the House has not voted.

As he has during shutdown and debt ceiling impasses, Obama placed the blame on House Speaker John Boehner, R-Ohio.

"We had a very strong Democratic and Republican vote in the Senate," Obama told Univision. "The only thing right now that's holding it back is, again, Speaker Boehner not willing to call the bill on the floor of the House of Representatives."
The reality, of course, is that immigration reform pretty much died after that Senate vote. The House hasn't taken the bill up at all, and the proposals that are being tossed around at the Committee level don't match the Senate bill in any significant respect, not the least because they don't take the comprehensive approach that the Senate bill does but instead approach the issue in a piecemeal fashion. Even before the Senate vote, though, it was clear that any kind of immigration reform that was going to make it through the House would be far less than what the Senate wanted, and likely wouldn't include much of anything to address the status of the 11 million or so people who are in the country illegally. Instead, House Republicans appear to be looking at things like "border security" and measures that deal with the issue of the children of people who are in the country illegally, which falls far short of what President Obama and those Senate Republicans who did support the Senate bill are aiming for.
Evidently, Democrats and the White House are counting on the momentum of their recent "victory" in the shutdown showdown to give them some kind of momentum on the immigration front. It's far from self-evident, though, that such momentum actually exists, or that it would be at all easy to force Republicans in the House to bend on an issue where, at least in some respects, polling shows the public almost equally divided. Republicans, who are already saying that the Obama Administration would be foolish to believe that they can push anything resembling the Senate bill through the House, seem unlikely to bend on an issue like this unless there's something in it for them. Additionally, while Speaker Boehner has made it clear that he would like to pass an immigration bill this year, it strikes me as unlikely that he would be willing to put his weight behind something that is strongly opposed by his caucus, especially after the manner in which the shutdown showdown ended. It's one thing to push a bill that even the people who opposed it agreed was necessary to prevent financial panic and electoral disaster. It's quite another to try to push through a bill that many Republicans see as little more than a Democratic wish list.
Of course, there may well be a political motive behind the President's decision to try to shift to focus to immigration even if it's unlikely that he'll be able to succeed. One of the many reasons that President Obama did so well in the 2012 elections is because he garnered an amazingly high 71% of the Latino vote. We've noted here before the fact that this vote is only going to become more and more important in the years to come, but that's only going to be true to the extent that Latino vote actually comes out. Historically, this is a voting demographic that votes in lower percentages than most others, which in part means that we really haven't felt the true impact of their growing clout in many parts of the country. If Democrats can keep immigration at the top of the political agenda heading into 2014, then that could make a difference in the House and Senate races coming up next years.
As a policy matter, I tend to support something resembling the Senate immigration bill. Among other things, it seems to deal with the reality of the 11 million undocumented immigrants in a realistic and humane manner while at the same time avoiding the problem of providing such people with an advantage over people who have been standing in line to gain resident alien status legally. Additionally, it addresses the long un-addressed issue of migrant farm workers and guest workers, which is something that we've needed to deal with for a long time now. Finally,  I agree that it makes far more sense to deal with this issue in a comprehensive manner than the piecemeal manner in which House Republicans wish to. That said, however, I don't think the President or the Senate should let the perfect (and the Senate bill is far from perfect to begin with) be the enemy of the good on an issue like this. If the House can come up with a number of piecemeal bills that fix specific aspects of the system, then those bills ought to be considered and perhaps enacted into law. It would be a compromise, but given that these same legislators are also going to be spending the next three months trying to hammer out a budget, it strikes me that another partisan political fight on Capitol Hill isn't really going to help things. It's been quite some time since we've addressed immigration at all in this country, the last comprehensive effort was all the way back in 1986, and getting something seems to me to be far better than getting nothing at all.