House GOP Rejects Comprehensive Immigration Reform, Likely Killing Any Reform
The latest House GOP pronouncements on immigration reform make it exceedingly unlikely that any bill will pass this year.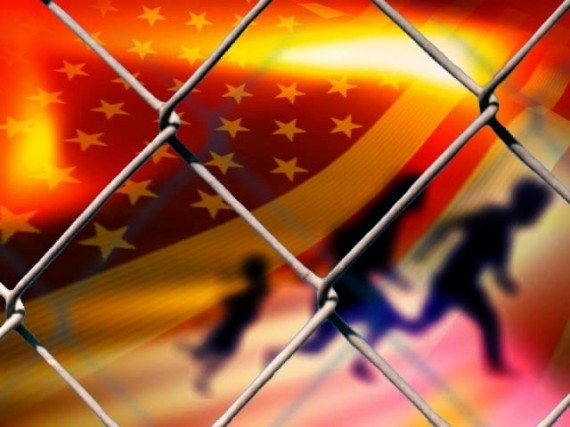 Yesterday, the House GOP Caucus met behind closed doors in what was, by all accounts a contentious meeting meant to discuss how the House should proceed with respect to the immigration reform bill recently passed by the Senate as well as the general subject of immigration reform itself. It's always been very clear that getting anything through the House that resembled the Senate bill would be difficult if not impossible, especially if the House GOP Leadership decides that the only way that the Senate bill would come up for a vote is if had the support of a majority of the House GOP Caucus. Last week, Speaker John Boehner said exactly that and it was already clear by then that the required GOP majority to satisfy the so-called Hastert Rule, meaning that the Senate bill is effectively dead in the House absent the unlikely event of a successful Discharge Petition. After yesterday's House GOP Caucus meeting, though, one has to wonder if anything related to immigration is going to get done this year at all:
House Republicans huddled in a crucial two-and-a-half-hour session in the basement of the Capitol as their leaders tried to devise some response to the demand for immigration legislation, especially the Senate provision that would grant a path to citizenship for the 11 million undocumented immigrants already in the country. The bill also mandates tough border security provisions that must be in place before the immigrants can gain legal status.

The bottom line was clear: The Republican-controlled House does not plan to take up anything resembling the Senate bill, which many believe is bad policy and smacks of an amnesty strongly opposed by the conservatives who hold sway over much of the rank and file. The House also does not intend to move very quickly, and some Republicans are wary of passing any measure at all that could lead to negotiations with the Senate, talks that could add pressure to the House to consider a broader plan.

(…)

House Republican leaders struck a defiant tone after the meeting, issuing a joint statement declaring the Obama administration "cannot be trusted to deliver on its promises to secure the border and enforce laws as part of a single, massive bill like the one passed by the Senate." Mr. Boehner repeatedly reassured Republicans that he would pass nothing through the House that did not have the support of a majority of his party, and lawmakers left the meeting certain that nothing significant would move through the House until September — and possibly much later.

" 'Comprehensive' has always been a swear word in the House of Representatives, but having a step-by-step approach that deals with the issue comprehensively, I don't think that's dead," said Representative Raúl Labrador, Republican of Idaho, a Hispanic legislator who until recently had been part of a bipartisan group in the House working on a broad immigration proposal.

Instead, House Republicans will consider a piecemeal approach, passing several individual bills rather than one large package, as the Senate did. Any immigration proposal, members said, is likely to concentrate on border security and enforcement; a path to legalization or citizenship, they stressed, must come later — if at all.

Though they may pass one or two modest bills before the August recess, many members said they felt no urgency to deal with an immigration overhaul, with the fall likely to be dominated by fights over the budget and the federal debt ceiling.
Many of the comments that were made both at and at the meeting reflect the conflicting political pressures that Republicans face on this issue, a subject that I've written about before. On the one hand, there are the broad national pressures that consist of polling that shows broad national support for immigration reform, including the so-called "path to citizenship," and the growing force of Latino voters in the United States. On the other hand, there is the strong voice of the GOP base that remains vehemently opposed to nearly every element of what is commonly called "immigration reform" with the exception "border security" and the enhanced enforcement of existing laws against illegal immigration. Given the fact that huge numbers of Republican House members represent districts where there is a bigger threat of being challenged from the right in a primary than there is of being seriously challenged in a General Election, it's easy to see why Republicans in the House are far more hard line on this issue than their Senate colleagues, as some of the comments from yesterdays meeting:
"Is this an issue that people care about? Yes. Is it one that keeps them up at night? Probably not," said Representative Charlie Dent, Republican of Pennsylvania, who is among the more moderate Republicans who could be part of a compromise.

Representative Paul D. Ryan of Wisconsin, a respected voice in the Republican Party who has been working behind the scenes to help push an immigration overhaul, spoke during the meeting in favor of immigration generally. He said fixing the nation's broken system would be good for both economic growth and national security.

Emotions ran high, with members lining up 10 deep at each of two microphones waiting to speak their piece. Representative Mo Brooks, Republican of Alabama, read an obscure line from "America the Beautiful" to make his point that respect for the rule of law must be inviolable: "Confirm thy soul in self control, thy liberty in law," he intoned.

Participants portrayed a Republican conference still divided over the question of citizenship. Some said they were open to a path to citizenship, or at least legal status; others said they worried about even going to negotiations with the Senate, where, they fear, any bill to emerge would constitute amnesty.

Representative Steve King, Republican of Iowa, took the lead for stalwart opponents of any legislation that could lead to what they view as amnesty. "You can't separate the Dream Act kids from those who came across the border with a pack of contraband on their back, and they can't tell me how they can do that," Mr. King said, referring to the undocumented immigrants brought here by their parents as young children and known as "Dreamers."

"Once you start down that line you're destroying the rule of law." But the response to his pitch was not as robust as it had been in the past: "It was not a standing ovation," he conceded.
The House GOP Caucus released this statement after the conference:
Today House Republicans affirmed that rather than take up the flawed legislation rushed through the Senate, House committees will continue their work on a step-by-step, common-sense approach to fixing what has long been a broken system. The American people want our border secured, our laws enforced, and the problems in our immigration system fixed to strengthen our economy. But they don't trust a Democratic-controlled Washington, and they're alarmed by the president's ongoing insistence on enacting a single, massive, Obamacare-like bill rather than pursuing a step-by-step, common-sense approach to actually fix the problem. The president has also demonstrated he is willing to unilaterally delay or ignore significant portions of laws he himself has signed, raising concerns among Americans that this administration cannot be trusted to deliver on its promises to secure the border and enforce laws as part of a single, massive bill like the one passed by the Senate.
For all intents and purposes I'd suggest that this means that immigration reform is effectively dead. As First Read notes, the piecemeal approach that the GOP is going to take will likely begin with a "border security" bill and, possibly, some version of the DREAM Act that probably wouldn't go into effect until it was verified that the border is "secure" in some respect, a standard that essentially makes the bill meaningless in all important respects. There would be no addressing the 12 million people who are here illegally, and, most likely, no addressing the issue of expanding work visas, no issue of what to do about migrant farm workers. In other words, it would be an "immigration bill" in name only.What's clear is that all of these issues are interrelated and that the only politically viable way to deal with them is to deal with them all at once. The piecemeal approach that the House GOP wishes to take is pretty much a guarantee that each particular element will be pecked apart by opponents. And, perhaps, that's exactly what those elements in the House GOP pushing this approach want.
Even if the House does manage to pass some of its piecemeal bills, though, it's hard to see where things go from there. It's unlikely that any of them would have much luck of succeeding in the Senate on and up-and-down vote, for example, and there has already been an indication that House GOPers would not agree to the establishment of a House-Senate Conference Committee to try to iron out the differences between the two Chambers. With no Senate action and no Conference Committee, it's unlikely that anything will pass this year and even less likely that anything will pass next year when Republicans will start worrying even more about primary challenges.