Tea Party Apparently Now Considers Stopping Immigration Reform Most Important Issue
Forget about the budget deficit and spending. The Tea Party apparently now considers stopping immigration reform to be its most important task.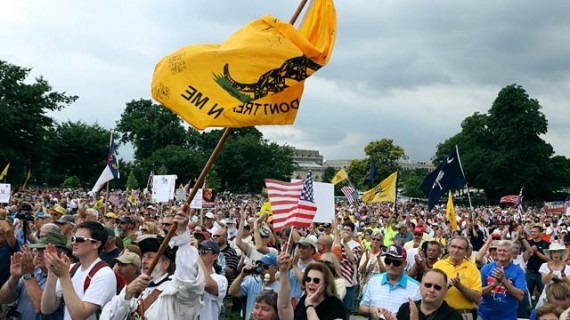 The Tea Party, a loose organization of groups supposedly founded around the ideas of low taxes, smaller government, lower deficits, and opposition to the President's health care reform plan, has apparently turned itself into an organization primarily concerned with blocking immigration reform:
Activists are promising to spend the congressional recess reminding lawmakers who support the Gang of Eight legislation what the base is capable of. Think loud town halls, jammed phone lines and primary challenges down the road — echoes of Obamacare three years ago.

"The anger is more intense now than it was in 2010," said Judson Phillips, founder of Tea Party Nation. "They are more upset about the amnesty bill than they were about Obamacare."

But conservatives aren't united against immigration reform the same way they opposed Obamacare. Some tea party and GOP-affiliated groups including Grover Norquist's Americans for Tax Reform, American Conservative Union and Faith and Freedom Coalition have expressed support for the Senate's bill, while acknowledging that the House will have to make some changes. Another group, TheTeaParty.Net, is supporting efforts toward immigration reform, but not the Senate bill, based on concerns of whether how border security provisions will be enforced.

Still, the majority of conservative groups are looking to replicate protests of previous years driven by Obamacare, the 2008 financial bailout, the stimulus bill, cap-and-trade bill and other Obama administration policies, which propelled the Republican House takeover in 2010. But after seeing President Barack Obama win re-election last year and GOP senators negotiate with Democrats, part of what's driving the tea party is disappointment with the result of their electoral efforts and disenchantment with the Washington crowd.

"Some of these people have been up there so long and have been insulated and live in this bubble and aren't connected to to the real world," said Amy Kremer, chairwoman of Tea Party Express. "It's this attitude of: They know better."

Former Rep. Allen West, who has hinted he might challenge Sen. Marco Rubio in 2016, pointed to hidden details in the Gang of Eight bill that could cause the conservative base to lose trust in their lawmakers.

"When you get down into it, you see a lot of waivers and sweeteners and then it's politically driven," West said.

Kremer predicted that Republican lawmakers will avoid public appearances and other opportunities that might lead to an earful from an angered conservative base when they go back home this summer. Taped town halls became a hallmark of politics in previous summers, as lawmakers were filmed facing angry crowds or uncomfortable questions on both policy and topics like Obama's birth certificate.
Objectively speaking, it's hard to see what opposition to immigration reform has to to with any of the supposed founding principles of the so-called Tea Party, which grew out of a commentary about mortgage bailouts by CNBC's Rick Santelli that went viral on the Internet in a matter of hours in the first months of President Obama's first year in office and morphed into a movement that was, at least according to its rhetoric, based on fiscal conservatism, liberty, and limited government. Where, exactly, does opposition to immigration reform fit into that mix? Quite honestly, I don't see that it does. Of course, I've doubted for quite some time that the "Tea Party movement" is really anything more than another name for the base of the Republican Party. It may have been something different in the beginning, perhaps, but almost as soon as it began to take shape I began to hear reports from fellow libertarians that they were being shunned from the movement due to their unwillingness to sign on to the GOP agenda on issues like abortion and, indeed, immigration and to essentially agree in the end to become good little Republicans when election time came around.
At some point, then, the "Tea Party," whatever it was, became nothing more than the activist wing of conservative groups, many of them based in Washington ironically, intent on pushing the Republican Party in a certain direction. The heavy involvement of groups like Freedomworks and Americans for Prosperity would seem to confirm that fact. Whatever concept that Tea Partiers had of being some independent political force died off long ago, they're conservative Republican and, as such, its not at all surprising that they're repeating the same old tired ideas about immigration that have been coming from that wing of the GOP since the last time we discussed immigration reform in this country.
As for the immigration issue itself, I've written elsewhere about the political forces competing for the attention of Republican politicians on that issue. This would be an example of the first force, the activist GOP base intent on punishing anyone who dares to stray from orthodoxy on an issue even where, as here, doing so makes sense not just for the country as a whole but for the GOP itself in the long run. We stand right now on the precipice where the fate of immigration reform, perhaps for the remainder of President Obama's term, will be decided. If Republicans listen to the Tea Party and like-minded forces and block the bill, then they will be paying the political consequences of that decision for a long time. However, given the incentives they face, and the continued apparent power of "Tea Party" activists inside the GOP, it seems far more likely they will listen to them than that they will attempt to craft an immigration reform alternative that (1) actually solves the problems facing the country, and (2) has a chance of becoming law. Thus, in the end, the "Tea Party" is likely to end up harming the GOP far more than it would help it if the party becomes as intransigent on immigration as it has on other issues.
Photo via ABC News