Americans Support The Substance Of Obama's Immigration Policy, Not How He Implemented It
A new poll shows that a majority of Americans support the President's changes to deportation policy, but don't like that he acted unilaterally.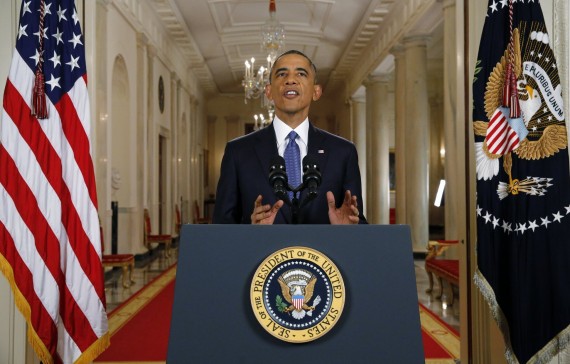 A new CNN/ORC International poll finds that a majority of Americans support the substance of the President's immigration executive action, but oppose the method he went about to achieve this policy goal:
Washington (CNN) — President Barack Obama's policy of halting deportations for the undocumented parents of children born in the U.S. is popular — but his method for implementing it is not.

Only 26% of Americans think Obama's plan for those immigrants goes too far, while 50% called it about right and 22% said it doesn't go far enough, according to a CNN/ORC poll out Wednesday of 1,045 adults, conducted Nov. 21-23 and with a margin of error of plus or minus 3 percentage points.

However, when asked for their stance on Obama using an executive order to make those changes, just 41% said they favor the move, while 56% said they oppose it.
Republicans looking for good news in those numbers, though, aren't likely to be very encouraged:
It's "a classic case of good news/bad news for both the President and the Republicans in Congress," CNN Polling Director Keating Holland said of the results.

Just 16% of Americans are angry about Obama's immigration move — though another 27% said they are displeased. Nearly one-quarter of Americans say it doesn't matter, and 41% say they're pleased or enthusiastic about it.

Support for a GOP lawsuit against Obama over his executive order comes from just 38% of Americans, while 60% say Republicans shouldn't challenge the move in court.

Instead, 76% said the GOP should spend more time passing immigration reform legislation — something Obama repeatedly prodded his Republican critics, especially in the House, to do — while just 21% said the party should focus on overturning Obama's policies.

The results come as Republican lawmakers and governors grapple with how they'll respond. Greg Abbott, the incoming Texas Republican governor, said he's likely to announce a legal challenge to Obama's executive order in about two weeks. And House members could push to limit funding for government agencies affected by Obama's action as they debate budget measures in December.

The poll found that 49% of Americans say Obama has the legal authority to loosen deportation policies on his own, while 48% say he doesn't.

Obama, meanwhile, got a boost from young people and minorities for his handling of immigration after he announced his executive order last week. Approval of his handling of immigration jumped to 65% from 50% in September among non-whites, and from 39% to 52% among those between ages 18 and 34.

His overall marks on immigration also jumped, with 34% of Americans approving of how he's handling the issue in September and 44% approving after last week's announcement.
These numbers come one day after the release of a Quinnipiac poll that show that the nation is divided on the issue of immigration, but his poll did not ask the same sort of questions about the details of the action that the President announced last Thursday:
Americans are split over President Barack Obama's latest immigration move, but they've become less sympathetic to immigrants here illegally over the past year, a new nationwide poll finds.

According to the poll, conducted by Quinnipiac University and published Tuesday, just 45 percent of Americans believe Obama should issue an executive order to address the immigration issue if Congress fails to act, while 48 percent oppose such a move.

The number of Americans who believe those here illegally should be allowed to stay and given a path to citizenship has dropped since last November, however — now, only 48 percent believe they should stay, compared to 57 percent who said the same in 2013.

And the number of Americans who say illegal immigrants should leave the U.S. is at an all-time high in the new poll. Thirty-five percent of respondents said they should be required to leave, up from 26 percent last year.

But while Americans might be split on how to tackle the country's immigration problem, they agree on one thing — that shutting down the government is not an appropriate response to Obama's move, a tactic floated by some Republicans.

Americans oppose such a move 68-25 percent.

Still, Obama's unilateral action has likely contributed to his strikingly low approval rating in the survey. With just 39 percent of Americans approving of his job performance in the latest Quinnipiac poll, he's nearing his all-time low approval rating of 38 percent. Fifty-four percent disapprove of the job he's doing.

And Americans now trust Republicans in Congress more to do what's best for the nation than Obama, by 47-42 percent.
The Quiinipiac poll is consistent with the CNN/ORC poll in two respects, of course. Both polls show that a slight plurality of Americans are opposed to the idea of using executive action an immigration policy goal that cannot be achieved via the normal legislative process, even when that policy is something that a majority seems to clearly support, and possibly even favor expanding beyond what the President has advocated. Additionally, the polls both show that the public stands strongly opposed to the idea that of Republicans responding to the President with actions like a lawsuit or an attempted government shutdown, and would prefer the GOP to pass its own immigration plan once it gains control of Congress in January. In order for that last part to happen, of course, Republicans would have to have something resembling a coherent plan and, at least so far, there's absolutely no sign that they do or that they are the least bit interested in coming up with one. If that remains the case, then one has to wonder what will happen with these poll numbers. Given the weight of the majority on the side of the idea of the parties working together to solve the nation's immigration problems, one suspects that the inaction by the GOP will ultimately inure to the President's benefit but that's just a guess on my part at this point. After all, these polls also demonstrate what I spoke of prior to the President's announcement last week, namely the tremendous political risk that he was taking in engaging in unilateral action rather than working with the new Congress. If the perception grows that the President is being as stubborn as the GOP in that regard, then the fact that the public largely supports when he announced last week may not end up mattering at all.
As things stand, of course, it's much more likely that Republicans will end up losing any showdown with the President over immigration than the other way around. To a large degree, that is how things have turned out in most of the political showdowns that we've seen between the two sides ever since the GOP gained control of Congress in January 2011. It's worth noting, though, that those showdowns largely focused on budgetary matters and the issue of keeping the government functioning. In this case, we're dealing with an issue where there some rather obvious deep public divides over what the appropriate immigration policy ought to be. On some aspect of the issue, Democrats have a decided advantage, on others it's the GOP. In a showdown over immigration policy in and of itself its hard to say which side would come out the winner. As I noted above, though, for such a showdown to take place, Republicans are going to have to start coming up with some ideas of their own. If they don't then they are going to basically cede the ground to the President and his party by default.  In the short term at least, though, it seems clear that the President has a slight advantage in the battle for public opinion in that there's general majority support for the substance of what he has done. The fact that he did so unilaterally, though, gives Republicans an opening that could allow them to turn public opinion to their advantage.