Republicans Would Be More Credible On Immigration If They Had A Plan Of Their Own
The fact that Republicans lack anything approaching a coherent immigration plan makes it hard to take their criticism of the President seriously.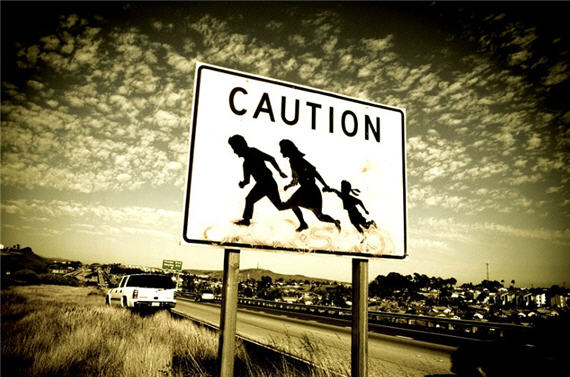 While the media focuses on the President's newly announced executive action on immigration, and Republicans focus on how they might respond to it, Ezra Klein notes, correctly, that the Republican Party does not have a coherent immigration policy of its own:
There's one way President Obama's executive action on immigration has been a boon to Republicans. Instead of coming up with their own immigration policy, the've been able to just unite against Obama's. But fury isn't a policy. And, as is clear, fury isn't going to stop Obama's policy.

But there is a simple way out of this immigration mess for Republicans: pass a bill that President Obama can sign.

Not a bill, mind you, that Obama necessarily wants to sign. It doesn't even have to be a bill Obama does sign. It can be a bill Obama will loathe. Republicans can propose the most militarized border this side of the DMZ. They can erase the Senate bill's path to citizenship. They can electrify the fence. They can wall unauthorized immigrants off from social services. Hell, they can even pass a bill authorizing funds to deport all 11 million unauthorized immigrants living in the US.

But one way or another, Republicans need to decide what to do with the 11 million unauthorized immigrants living in the country now. They need to take away Obama's single strongest argument — that this is a crisis, and that congressional Republicans don't have an answer and won't let anyone else come up with one.

(…)

The good news for Republicans is that they don't have to suffer the total defeat Democrats endured in 2011. They could support a bill many in their party really like. They could pass the Senate immigration bill without a path to citizenship. Maybe Obama wouldn't sign it. But if he didn't, it would be much harder for him to argue that he has no choice save for sweeping executive action. Republicans would have turned his argument against him.

And what are their alternatives? Impotent rage? A government shutdown? A slow-moving lawsuit? A disastrous impeachment effort? A solemn vow that whatever damage Obama does to the constitutional order, Republicans will double it when they retake the White House? All of these are likelier to wound the GOP than Obama. None of these are likely to benefit the party in 2016. And none of them solve the underlying problem.

Nor does continued confusion around immigration help Republicans. Just ask Mitt Romney, who tried to split the difference between restrictionists and reformers by endorsing "self-deportation". That worked well enough that Reince Priebus, chair of the Republican National Committee, came out after the election to make clear that "it's not our party's position." But that's only because his party doesn't have a position.
Klein is obviously coming at this from a partisan position of his own, but he also happens to be correct about it. During the second term of George W. Bush's Administration when an initial bipartisan stab was taken on immigration reform, there were Senators such as John McCain and Lindsey Graham who were very closely involved in the process, but the backlash that they received from even starting the process of trying to reach across the aisle to put a bill together has largely scared off Republicans individual Republicans, such as Marco Rubio in the Senate and Raul Labrador, Mario Diaz-Balart, and others in the House have advocated ideas about dealing with the problems plaguing the immigration system, either in the form of a comprehensive bill like the one that the Senate passed in June 2013 or in the form of the more piecemeal approach that some House Republicans were considering, and then abandoned in the face of failed negotiations, in the months that followed the passage of that bill, the party as a whole has been remarkable silent on the issue.
To the extent that one hears Republicans talk about immigration reform these days, it is limited to largely meaningless terms like "border security" which become even more meaningless when you realize just how phony an issue the "insecure" southern border actually turns out to be when you examine it closely. According to studies, illegal entries to the United States are at 40 year lows, and overall immigration from Mexico has hit 60 year lows. Last year, we learned that net immigration from Mexico to the U.S. may be below zero. As for enforcement, President Obama is on a pace to have more deportations under his watch than President Bush did in his eight years. Given those numbers, and even taking into account the Central American migrant crisis that erupted over the summer, which largely consisted of people turning themselves over to border agents rather than trying to sneak across, the idea that making the border more secure is the most important item on the immigration reform checklist is silly, and the insistence of so many conservatives that it is an issue of such importance that it must be resolved before anything else can be addressed can only be taken as evidence that they don't want to deal with the real problems with our immigration systems notwithstanding their protestations to the contrary.
To pick just one example, opponents of comprehensive immigration reform on the right will consistently say that they favor legal immigration, and even increasing legal immigration, but oppose illegal immigration. Taking them at their word, one would expect to see some kind of coherent plan to reform an obviously broken legal immigration system that forces people to wait far too long to process applications, keeps families apart for no rational reason, and unduly restricts the entry of highly-qualified immigrants of all types for no rational reason whatsoever. Some of these problems could be addressed by something as simple as increasing the budget of the relevant agencies processing the applications. Additionally, they could make changes to the H1-B and other guest worker programs that would make it easier for people who want to come here and contribute to America, and fill demand for jobs in the high tech industry that apparently isn't being met by current supply. They could make changes to deal with the deplorable state of the migrant farm workers program. And, most of all, they could make it easier overall for people to come to the United States legally. The fact that Republicans haven't even attempted to introduce a single piece of legislation covering on any of those issues, I would submit, tends to put the lie to the "I like legal immigration, I don't like illegal immigration" excuse.
Of course, no immigration reform plan would be worthy of the name if it failed to deal with the one issue that most conservatives refuse to address with any seriousness, the question of what to do with the roughly 11 million undocumented workers in the United States. To listen to most people on the right, the only acceptable option for this group is to either round them all up and deport them, a "solution" which ignores the reality of just how difficult, time consuming, and expensive that would be not to mention the extent that it would break up families for no rational reason at all, or to basically force them to "self-deport" in the famous words of Mitt Romney, who was awarded with the lowest percentage of the Latino vote of any GOP Presidential candidate in decades for his hard line positions on immigration. The reality, of course, is that most, if not all, of the people who are undocumented are not appropriate candidates for deportation and that attempting to do so would be impractical and inhumane. In the end, the only practical solution to the problem of these 11 million will have to be something akin to the June 2013 Senate bill, which allowed these people to apply for legalization upon the payment of fees and back taxes, a background check to ensure that they did not have a criminal record, and payment of an appropriate penalty for the fact that they had broken the law. Additionally, to the extent that they would be allowed to apply for citizenship at some point in the future, they would have to wait for some appropriate delay period, say seven years at least and then have to wait in line behind everyone who had come here legally.
There could be other ways to deal with these issues that might better appeal to conservatives, of course, but we won't know what they are unless they start talking about immigration reform seriously. Right now, they aren't doing that at all and, because of that, it's hard to take them seriously on this issue.