Mitch McConnell: No Immigration Reform While Obama Is President
The Senate Majority Leader says there will be no immigration reform while Obama is President. This is unlikely to help the GOP's already serious problems with Latino voters.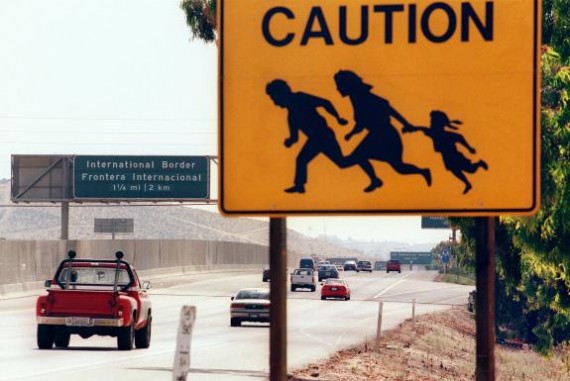 Senate Majority Leader Mitch McConnell that there will be no immigration bill while Barack Obama is President:
President Barack Obama won't get to sign an immigration bill, per Senate Majority LeaderMitch McConnell, R-Ky.

"Not in this Congress," McConnell said when asked about the prospects for immigration legislation.

"I think when the president took the action he did after the 2014 election he pretty much made it impossible for us to go forward with immigration reform this Congress. The concern that we expressed on this was validated: he is currently under a court order with what he decided to do."
This news is hardly surprising, of course. While the Senate passed an immigration reform bill in 2013 when it was still under control of the Democrats on a somewhat bipartisan vote, Republicans have given no indication at all that they are interested in pursuing the idea. After that Senate bill was passed, it was essentially declared Dead On Arrival in the Republican-controlled House of Representatives. Notwithstanding pressure from Republican business groups such as the Chamber of Commerce, evangelical groups, and many in the Republican Party itself who were calling on House Republicans to put together a bill of their own, the efforts by a small group of House Republicans to come with a counter to the Senate's bill ended up falling apart spectacularly. At that point, it was clear that the call of the GOP base for resistance to anything that resembled "amnesty" and an insistence on some amorphous idea of "border security" was more important to House Republicans than anything else. Once Republicans took control of the Senate, things hardly got better. Almost immediately after the elections, President Obama told Congress that if they didn't act on immigration reform, he would undertake whatever action he could using his executive powers. As I noted at the time, the threat was politically unrealistic to the extent that Obama expected a lame duck Congress to deal with an issue as controversial as immigration reform, and potentially would only serve to poison the well if he actually went forward with his threat. Of course, the President did exactly what he had threatened and, in addition to several lawsuits challenging the Constitutionality of his actions, there has been no sign of action by the GOP on this issue and, based on McConnell's statement, no chance that anything will happen. While it's true that Republican complaints about the President's policies would ring less hollow if they had an immigration policy of their own, it's also manifestly true that President Obama's threats and executive action utterly failed to prompt Congress to act and likely guaranteed that there would be no such action before he leaves office.
While the reaction of the Republicans in Congress may be predictable and even understandable, it still carries with it some tremendous political risks as we head into the 2016 election season. Already, the GOP is finding itself having to deal with the controversies surrounding the vitriolic rhetoric of Donald Trump when it comes to immigration and Latinos, and of course we saw in 2012 that Mitt Romney received the smallest portion of the Latino vote of any Republican Presidential candidate in recent memory. While this led several Republicans such as Jeb Bush and Marco Rubio to call on the party to be more inclusive and to put forward its own ideas regarding immigration reform, those calls have largely fallen on deaf ears. Rubio, for example, was once the darling of the Tea Party movement only to see his star fall significantly after he became part of the bipartisan group that created the 2013 Senate immigration bill. Since then, the Florida Senator has tried fight his way back by shifting his focus to foreign policy and largely repudiating much of what he was advocating during the immigration debate in the Senate. Now, we have the Majority Leader of the Senate saying that immigration reform is dead until the next President is in office. This can't possibly be good for Republican fortunes with Latino voters, and that will be just one more problem that the eventual Republican nominee will have to deal with next fall.