Trump Endorses Plan To Cut Legal Immigration By Half
The President has endorsed a bill that would cut legal immigration in half.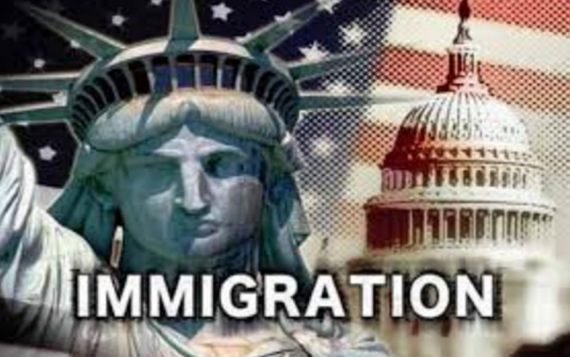 Yesterday, President Trump endorsed a bill being put forward by two Republican Senators that would change the criteria under which legal immigrants can enter the United States, with the primary impact of reducing the amount of legal immigrants allowed into the country by more than fifty percent:
WASHINGTON — President Trump embraced a proposal on Wednesday to slash legal immigration to the United States in half within a decade by sharply curtailing the ability of American citizens and legal residents to bring family members into the country.

The plan would enact the most far-reaching changes to the system of legal immigration in decades and represents the president's latest effort to stem the flow of newcomers to the United States. Since taking office, he has barred many visitors from select Muslim-majority countries, limited the influx of refugees, increased immigration arrests and pressed to build a wall along the southern border.

In asking Congress to curb legal immigration, Mr. Trump intensified a debate about national identity, economic growth, worker fairness and American values that animated his campaign last year. Critics said the proposal would undercut the fundamental vision of the United States as a haven for the poor and huddled masses, while the president and his allies said the country had taken in too many low-skilled immigrants for too long to the detriment of American workers.

"This legislation will not only restore our competitive edge in the 21st century, but it will restore the sacred bonds of trust between America and its citizens," Mr. Trump said at a White House event alongside two Republican senators sponsoring the bill. "This legislation demonstrates our compassion for struggling American families who deserve an immigration system that puts their needs first and that puts America first."

In throwing his weight behind a bill, Mr. Trump added one more long-odds priority to a legislative agenda already packed with them in the wake of the defeat of legislation to repeal and replace President Barack Obama's health care program. The president has already vowed to overhaul the tax code and rebuild the nation's roads, airports and other infrastructure.

But by endorsing legal immigration cuts, a move he has long supported, Mr. Trump returned to a theme that has defined his short political career and excites his conservative base at a time when his poll numbers continue to sink. Just 33 percent of Americans approved of his performance in the latest Quinnipiac University survey, the lowest rating of his presidency, and down from 40 percent a month ago.

Democrats and some Republicans quickly criticized the move. "Instead of catching criminals, Trump wants to tear apart communities and punish immigrant families that are making valuable contributions to our economy," said Tom Perez, the chairman of the Democratic National Committee. "That's not what America stands for."

The bill, sponsored by Senators Tom Cotton of Arkansas and David Perdue of Georgia, would institute a merit-based system to determine who is admitted to the country and granted legal residency green cards, favoring applicants based on skills, education and language ability rather than relations with people already here. The proposal revives an idea included in broader immigration legislation supported by President George W. Bush that died in 2007.

More than one million people are granted legal residency each year, and the proposal would reduce that by 41 percent in its first year and 50 percent by its 10th year, according to projections cited by its sponsors. The reductions would come largely from those brought in through family connections. The number of immigrants granted legal residency on the basis of job skills, about 140,000, would remain roughly the same.

(…)

The legislation would award points based on education, ability to speak English, high-paying job offers, age, record of achievement and entrepreneurial initiative. But while it would still allow spouses and minor children of Americans and legal residents to come in, it would eliminate preferences for other relatives, like siblings and adult children. The bill would create a renewable temporary visa for older-adult parents who come for caretaking purposes.

The legislation would limit refugees offered permanent residency to 50,000 a year and eliminate a diversity visa lottery that the sponsors said does not promote diversity. The senators said their bill was meant to emulate systems in Canada and Australia.

The projections cited by the sponsors said legal immigration would decrease to 637,960 after a year and to 539,958 after a decade.

"Our current system does not work," Mr. Perdue said. "It keeps America from being competitive and it does not meet the needs of our economy today."

Mr. Cotton said low-skilled immigrants pushed down wages for those who worked with their hands. "For some people, they may think that that's a symbol of America's virtue and generosity," he said. "I think it's a symbol that we're not committed to working-class Americans, and we need to change that."

But Senator Lindsey Graham, Republican of South Carolina, noted that agriculture and tourism were his state's top two industries. "If this proposal were to become law, it would be devastating to our state's economy, which relies on this immigrant work force," he said. "Hotels, restaurants, golf courses and farmers," he added, "will tell you this proposal to cut legal immigration in half would put their business in peril."

Cutting legal immigration would make it harder for Mr. Trump to reach the stronger economic growth that he has promised. Bringing in more workers, especially during a time of low unemployment, increases the size of an economy. Critics said the plan would result in labor shortages, especially in lower-wage jobs that many Americans do not want.
On paper, the idea of encouraging more immigration based on job-skills, or from people seeking to come to the United States to start businesses that would end up employing Americans, is not a bad one. That's one of the many things that various proposals for comprehensive immigration reform that have been proposed since the Bush Administration have sought to do. Additionally, there have been those who have suggested ideas such as making it easier for students from foreign countries that come here to study in fields such as science and technology to stay in the United States after graduation and contribute to the growth of some of the most important and fastest-growing segments of the economy. Such reforms, though, have not sought to make overall legal immigration more difficult or to seriously impact the ability of people who are here legally to sponsor family members who wish to come to this country. Indeed, most past proposals for legal immigration reform, even from Republicans, have focused on the idea of making legal immigration easier as a means of giving people an alternative to coming here illegally. Trump, along with Senators Cotton and Perdue, is instead seeking to do precisely what opponents of illegal immigration have always denied wanting to do, to make it harder for people to come here legally. The fact that this is would have the ironic impact of increasing the incentives for people to take the risk of entering the country illegally or overstaying their visa, which is a bigger source of "illegal immigration" than the border crossing that Trump's "border wall" rhetoric addresses.
The fundamental problem with the Cotton-Perdue proposal, of course, is the idea that it's based on entirely faulty premises regarding the impact of immigration on the economy and wages. In their speeches promoting the legislation yesterday, both the Senators and President Trump made the claim that our current immigration system results in wages for low-skilled workers being pushed down due to increased competition that Americans allegedly face from immigrants willing to work for less money. This is another variation on the old and rather easily disproven idea that immigration results in immigrants taking jobs that would otherwise go to American citizens. As numerous studies have shown, the reality is that immigrants more often than not end up taking the kind of labor-intensive, lower-wage jobs that most Americans would decline to do regardless of how high the wages were. For example, when states like Georgia and Alabama passed laws intended to crack down on "illegal immigration" earlier in this decade, farmers quickly found it far more difficult to find people to pick the vegetables and other crops in their fields no matter how much they offered for the job. The result was that crops ended up rotting unpicked in the field and local economies were adversely impacted as a result.
Examples like this are one of the many reasons why economists from across the ideological spectrum say that proposals like this proposed legislation would be a "grave mistake". Additionally, as The Washington Post Editorial Board points out today, the kind of war on legal immigration that Trump is backing would be bad for the economy as a whole:
Halving the number of legal immigrants would deprive an array of businesses of oxygen in the form of labor — exactly the opposite strategy required for growth in an economy where productivity is stagnant and unemployment is extremely low. By drastically constricting the supply of legal immigrants, Mr. Trump's program would also sharply intensify the demand for undocumented immigrants, for whom no wall would be an effective deterrent.

In economic terms, therefore, the legislation makes little sense, which explains why Stephen Miller, the White House senior adviser for policy, repeatedly justified it by saying that ordinary Americans would support it in a poll. (Mr. Miller also made a point of mentioning that the poem summoning the tired, huddled masses to America was not on the original Statue of Liberty but added later. Touché!)

Mr. Miller is correct that as a percentage of the country's population, foreign-born residents are near their highest level in almost a century. That stark fact is a major cause of the nativist, anti-immigration backlash that helped propel Mr. Trump's candidacy and that sustains the hard core of his political base even after a calamitous first six months in office.

Yet with the U.S. birthrate at a historic low, and baby boomers starting to retire, it is a simple truth that the United States will need an infusion of immigrant labor to maintain economic growth, let alone expand it. To bar immigrants while the birthrate dips is to emulate Japan, whose own fading economic prospects are a direct result of precisely such conditions and policies.
Rather than depressing wages and hurting the economy as Trump, Cotton, and Perdue have asserted, the truth of the matter is that openness toward immigration has been one of the most important factors that led to the rise of the United States as a major economic power and our continued growth even as other parts of the West face slower economic growth and higher unemployment. Throughout our history, immigrants have reinvigorated the nation and helped sustain economic growth. Their descendants have been the people who have founded companies that have spanned the world and turned the United States into the kind of nation that it is today. Yes, it's sometimes been true that assimilating new immigrants has been something that has led to pushback from nativists and those clinging to a past that never really existed, but we've always been able to survive those stresses and strains and our culture has benefited greatly from the contributions of people from all the regions of Europe as well as Latin America, Africa, and Asia, the last of which is quickly becoming the fastest-growing segment of the next wave of immigrants. Cutting that source of strength off as Trump and his supporters are seeking to do would end up hurting the economy and the long term growth of the country in ways that we can't even foresee at this point. The entire proposal is a short-sighted attempt to benefit from the nativist and anti-immigrant coalition that Trump cultivated during the 2016 campaign, and it seems clear that Trump's main purpose in backing it is to pander to that base in an effort to distract people from the fact that his Administration is about to hit the 200 day mark without any significant accomplishments to point to.
Realistically speaking, it doesn't seem likely that this bill has much of a chance of becoming law. Since the House is out of session and the Senate is apparently wrapping up its pre-recess business today, there's been limited public reaction from either Republicans or Democrats to yesterday's announcement. What we have seen, though, has been largely negative, and it seems clear that it would be very difficult for Republicans to get the sixty votes necessary to get a bill like this to a final vote. In fact, it's likely that many Republicans would refuse to back the package altogether. The bill's fate in the House also seems unclear given that the large block of GOP Congressman from states with a significant agricultural sector, as well as GOP moderates such as the Tuesday Morning Group, would likely oppose the measure. Nonetheless, the fact that something like this is even being proposed, and now has a Presidential endorsement is something that everyone who supports legal immigration should be concerned about.