No, Immigrants Aren't Taking Your Job
A new study debunks an old idea.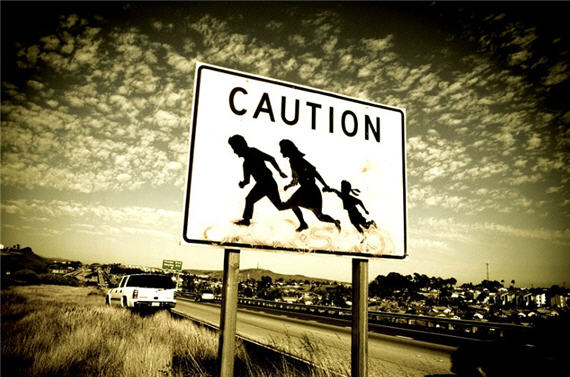 A new study challenges a conclusion at the center of the anti-immigration passions that have propelled Donald Trump's campaign for President. the idea that immigrants take jobs away from Americans:
Do immigrants take jobs from Americans and lower their wages by working for less?

The answer, according to a report published on Wednesday by the National Academies of Sciences, Engineering and Medicine, is no, immigrants do not take American jobs — but with some caveats.

The question is at the heart of the furious debate over immigration that has divided the country and polarized the presidential race. Many American workers, struggling to recover from the recession, have said they feel squeezed out by immigrants.

Donald J. Trump, the Republican nominee, has called for a crackdown on illegal immigrants, saying they "compete directly against vulnerable American workers." He promises to cut back legal immigration with new controls he says would "boost wages and ensure open jobs are offered to American workers first."

Hillary Clinton, his Democratic rival, takes an upbeat view, saying immigrants contribute to the economy whether they are here legally or not, by providing labor for American employers and opening businesses that create jobs for Americans rather than taking them.

The report assembles research from 14 leading economists, demographers and other scholars, including some, like Marta Tienda of Princeton, who write favorably about the impacts of immigration and others who are skeptical of its benefits, like George J. Borjas, a Harvard economist. Here's what the report says:

• "We found little to no negative effects on overall wages and employment of native-born workers in the longer term," said Francine D. Blau, an economics professor at Cornell University who led the group that produced the 550-page report.

• Some immigrants who arrived in earlier generations, but were still in the same low-wage labor markets as foreigners just coming to the country, earned less and had more trouble finding jobs because of the competition with newer arrivals.

• Teenagers who did not finish high school also saw their hours of work reduced by immigrants, although not their ability to find jobs. Professor Blau said economists had found many reasons that young people who drop out of high school struggle to find work. "There is no indication immigration is the major factor," she said.

• High-skilled immigrants, especially in technology and science, who have come in larger numbers in recent years, had a significant "positive impact" on Americans with skills, and also on working-class Americans. They spurred innovation, helping to create jobs.

"The prospects for long-run economic growth in the United States would be considerably dimmed without the contributions of high-skilled immigrants," the report said. It did not focus on American technology workers, many of whom have been displaced from their jobs in recent years by immigrants on temporary visas.
These conclusions shouldn't really come as much of a shock to anyone who's paid attention to this issue over the years, of course. While the traditional populist opposition to immigration has centered on the idea that people who come to the United States, whether legally or illegally, are taking jobs away from Americans due to their willingness to work for lower wages and in more physically demanding jobs than most Americans. In reality, it is readily apparent that immigrants end up taking jobs that Americans are unwilling to do at any price, but which are nonetheless essential to the economy in one way or the other. We learned this lesson several years ago when Georgia and Alabama followed Arizona's example and passed laws purporting to crack down on illegal immigrants. The result was that even legal immigrants became fearful of how they would be treated under the new law and many immigrants of both classes ended up leaving those respective states rather than risk confrontations with the law. The result was predictable. Farmers found it difficult to hire people to pick crops no matter how much they offered for the work, the people they did hire to replace the immigrants who had been performing the work were not nearly as reliable as the immigrants who had previously had the job, and in many cases crops were left to rot in the field unpicked because there was nobody willing to do farm work which must still be done by hand. The restaurant industry also found itself impacted by the new laws, especially when it came to finding workers willing to work long hours in the kitchen or as dishwashers or in similar positions. And this was happening in the wake of the Great Recession when the unemployment rate was still at or near double digits. If Americans aren't willing to take jobs like this even in dire circumstances, it's hardly surprising that employers would turn to immigrants, legal or illegal, to get the job done. (See my coverage of the Georgia and Alabama story here, here, here, and here.)
Of course, this doesn't mean that immigrants have no impact on employment or that there aren't some economic groups impacted by the role they place in the economy. People at the bottom of the labor market, especially those with few or no marketable skills or no High School Diploma, In reality, though, this group has always been the most vulnerable to economic pressures and social changes that have an impact on the economy so it seems rather unfair to pick immigrants out as the one group most responsible for this group's plight. Furthermore, to some extent this group has only itself to blame for its predicament(s), especially to the extent that the reason for their presence at the bottom of the economic ladder is due to something like failure to stay in school and obtain a diploma. Choices have consequences, and that is the lesson the economy is teaching them. In the long run, though, and as far as the economy as a whole is concerned it seems clear that immigrants are a net plus to the economy even for the workers they may end up competing against. In part this is because they force some people to improve their skills and qualifications so they can compete more effectively, and in part it's because these new workers help to increase consumer demand in the economy as a whole.
The report is available for purchase, or free download in PDF form, at this link.