November Jobs Growth Falls Short Of Expectations
Jobs Growth in November was healthy but fell short of expectations.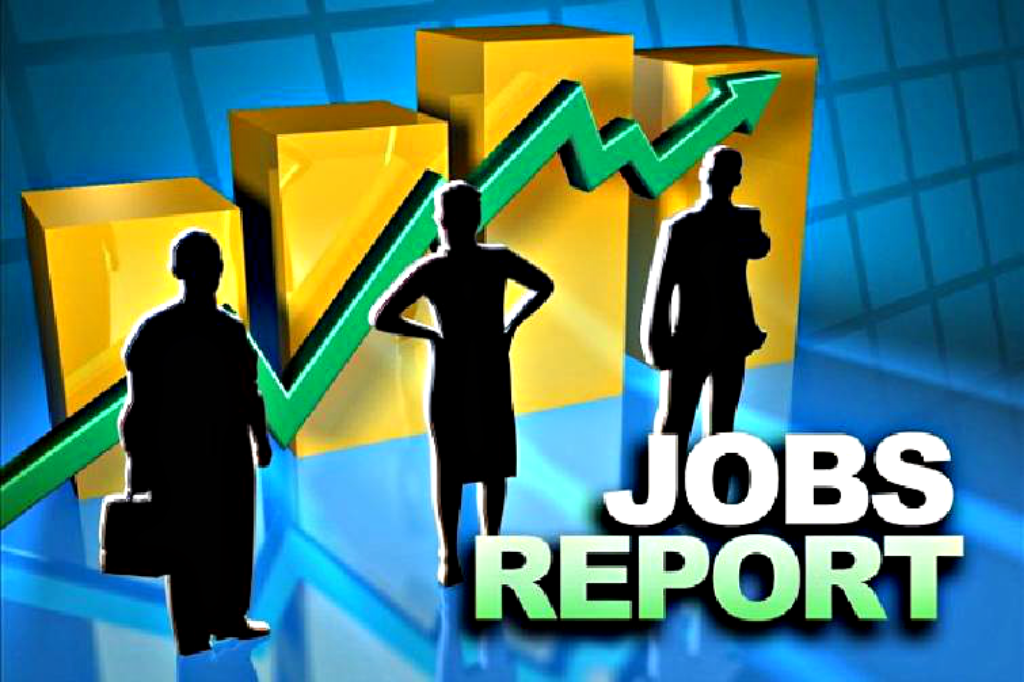 So far this year, the word governing the jobs market has been "inconsistent." In January and February we saw numbers that, notwithstanding the fact that most of the nation was undergoing a cold and harsh winter, were fairly strong, suggesting that 2018 could be a good year for jobs growth notwithstanding the fact that we are rather late in the recovery from the Great Recession and nearing a point in the jobs market where we've typically seen equilibrium in the past. The following two months, though, March and April, turned disappointing as net jobs growth missed even modest target numbers by wide margins, The job situation improved slightly in May, but even those numbers were about the same as what we saw for most of the final two years of the Obama Administration, numbers which are more consistent with a mature recovery reaching what economists refer to as "full employment." The same was true for the report for June which was somewhat better than where expectations had been set. The July Report, though, fell short of expectations, and the August report was slightly ahead of expectations. Then, in September's jobs report, we saw jobs growth fall below expectations while the top-line unemployment number dipped to 3.7%, level we have not seen in about 50 years. Finally, we got a relatively good jobs report last month that included both solid jobs growth and a jump in wage growth that had eluded analysts for most of the year.
Rather than the jobs number, though, most analysts have been keeping an eye on wage growth, which has remained stubbornly lagging for the better part of the past two or three years. At an annualized rate, for example, wages have been growing at roughly 2.7%, which is slowly starting to be not enough to keep up with an inflation rate that has quietly increased as the economy has heated up. With the pool of eligible worker shrinking somewhat and unemployment at rates that are generally considered to be "full employment," there should be more movement on wages as employers seek to attract workers. So far, though, that hasn't been happening. This has left some analysts wondering if, thanks to increases in worker productivity and investments in automation, employers are no longer seeing the need to raise wages, something that could have a real impact on workers if prices continue to rise. This is especially important given the fact that other economic statistics are showing that inflation at the wholesale and consumer levels was starting to increase at a faster rate than we've seen in the past and that, without more rapid wage growth, Americans would effectively see real wages decline in terms of their purchasing power.
In any case, heading into today's release of the November Jobs Report, the expectation of analysts and traders was that we would see roughly +198,000 new jobs, with the U-3 Unemployment Rate staying at the 3.7% rate it hit two months ago. In reality, the November job creation number ended up being a significant miss:
Total nonfarm payroll employment increased by 155,000 in November, and the unemployment rate remained unchanged at 3.7 percent, the U.S. Bureau of Labor Statistics reported today. Job gains occurred in health care, in manufacturing, and in transportation and warehousing.

In November, the unemployment rate was 3.7 percent for the third month in a row, and the number of unemployed persons was little changed at 6.0 million. Over the year, the unemployment rate and the number of unemployed persons declined by 0.4 percentage point and 641,000, respectively. (See table A-1.)

Among the major worker groups, the unemployment rates for adult men (3.3 percent), adult women (3.4 percent), teenagers (12.0 percent), Whites (3.4 percent), Blacks (5.9 percent), Asians (2.7 percent), and Hispanics (4.5 percent) showed little or no
change in November. (See tables A-1, A-2, and A-3.)

The number of long-term unemployed (those jobless for 27 weeks or more) declined by 120,000 to 1.3 million in November. These individuals accounted for 20.8 percent of the unemployed. (See table A-12.)

Both the labor force participation rate, at 62.9 percent, and the employment-population ratio, at 60.6 percent, were unchanged in November. (See table A-1.)

The number of persons employed part time for economic reasons (sometimes referred to as involuntary part-time workers), at 4.8 million, changed little in November. These individuals, who would have preferred full-time employment, were working part time because their hours had been reduced or they were unable to find full-time jobs. (See table A-8.)

In November, 1.7 million persons were marginally attached to the labor force, an increase of 197,000 from a year earlier. (Data are not seasonally adjusted.) These individuals were not in the labor force, wanted and were available for work, and had looked for a job sometime in the prior 12 months. They were not counted as unemployed because they had not searched for work in the 4 weeks preceding the survey. (See table A-16.)

Among the marginally attached, there were 453,000 discouraged workers in November, essentially unchanged from a year earlier. (Data are not seasonally adjusted.) Discouraged workers are persons not currently looking for work because they believe no jobs are available for them. The remaining 1.2 million persons marginally attached to the labor force in November had not searched for work for reasons such as school attendance or family responsibilities. (See table A-16.)

(…)

Total nonfarm payroll employment increased by 155,000 in November, compared with an average monthly gain of 209,000 over the prior 12 months. In November, job gains occurred in health care, in manufacturing, and in transportation and warehousing. (See table B-1.)

Health care employment rose by 32,000 in November. Within the industry, job gains occurred in ambulatory health care services (+19,000) and hospitals (+13,000). Over the year, health care has added 328,000 jobs.

In November, manufacturing added 27,000 jobs, with increases in chemicals (+6,000) and primary metals (+3,000). Manufacturing employment has increased by 288,000 over the year, largely in durable goods industries.

Employment in transportation and warehousing rose by 25,000 in November. Job gains occurred in couriers and messengers (+10,000) and in warehousing and storage (+6,000). Over the year, transportation and warehousing has added 192,000 jobs.

In November, employment in professional and business services continued on an upward trend (+32,000). The industry has added 561,000 jobs over the year.

Retail trade employment changed little in November (+18,000). Job growth occurred in general  merchandise stores (+39,000) and miscellaneous store retailers (+10,000). These gains were offset, in part, by declines in clothing and clothing accessories stores (-14,000); electronics and appliance stores(-11,000); and sporting goods, hobby, and book stores (-11,000).

Employment in other major industries–including mining, construction, wholesale trade, information, financial activities, leisure and hospitality, and government–showed little change over the month.
In addition to the numbers above, the Bureau of Labor Statistics reported that total nonfarm payroll employment for September was revised upward from +118,000 to +119,000 and the number for October was revised downward from +250,000 to +237,000. These revisions made for a net downward revision of -12,000 for those two months. Combined with this month's jobs numbers, this puts the average jobs growth for the past three months at +170,300 net jobs created per month, a rather significant decrease from where the three-month average stood last month. So far in 2018, we've seen a total of 1,724,000 new jobs created in 2018 as a whole for an average of +169,728 net new jobs created per month since the start of the year, which is a slight decrease from where we stood last month. Combined with the final jobs numbers for 2017, this means we've seen a total of 3,479,000 new jobs created since January 1, 2017, a period that has largely coincided with Donald Trump's tenure as President, for a monthly average over that period of +151,261 new jobs created, which is a slight decrease from where this average stood as of last month. As I have been saying since the start of the year, these numbers are most certainly not ones that indicate an imminent massive increase in hiring by employers.
During his campaign for President, Donald Trump promised to create 25,000,000 jobs during his Presidency. That would require the creation of 3,125,000 per year over an eight-year term for an average of 261,000 new jobs per month. Over a four-year term that would require 6,250,000 per year, for an average of 521,000 new jobs per month. Based on the average growth rate we have seen since the start of 2017 it would take nearly twelve and one-half years to reach that goal. Based on the average for 2018 to date, it would take roughly ten years to reach the goal. Based on the average jobs growth for the year to date, it would also take roughly twelve years to reach that goal. Based on the average for the past three months, it would also take roughly ten years to reach Trump's goal. All of this, of course, assumes that we don't have even a mild recession during that period. Needless to say, it is unlikely that we're going to see sustained average jobs growth over the next three to seven years that would put us close to the President's goal absent a significant change in the nature of the jobs market.
Looking deeper into the numbers, the average workweek across the board was increased by 0.1 hours to 34.4 hours while average hourly earnings rose 6 cents to $27.35. Over the year, average hourly earnings have risen by 81 cents or an annualized rate of 3.1%. This is a stronger wage growth number than we've seen in recent months, but it's worth noting that it comes off several months when wage growth was essentially stagnant, so this may just end up being a statistical blip. As I've said before, the relatively slow growth we've seen in wage growth could be a sign we're hitting an equilibrium point in the jobs market that will preclude big jumps in either hiring or hourly earnings on a sustained basis. Also on the positive side is the fact that labor force participation rose while long-term unemployment dropped a bit is a positive sign that more people are entering the jobs market on the belief that there's more opportunity out there.
The Wall Street Journal highlights the numbers:
WASHINGTON—U.S. employers slowed their pace of hiring in November, but wage growth matched the highest rate in nearly a decade and unemployment held at a very low level, showing the labor market remains a pillar of strength even as the stock market and other economic signals flash caution.

U.S. nonfarm payrolls increased a seasonally adjusted 155,000 in November, the Labor Department said Friday. The unemployment rate held steady at 3.7% last month, matching the lowest rate since December 1969. Year-over-year wage growth matched the prior month's 3.1% pace as the best rate since 2009.

Economists surveyed by The Wall Street Journal had expected 198,000 new jobs in November and a 3.7% unemployment rate.

Revised figures show employers added 237,000 jobs in October and 119,000 jobs in September, a net downward revision of 12,000. Some economists said October's robust job growth in part reflected a payback from a softer September, when Hurricane Florence may have delayed some hiring.

So far this year, employers have added an average of 206,000 jobs a month, running ahead of last year's pace of 182,000 a month, despite a tighter labor market. More broadly, U.S. payrolls have grown for 98 straight months, by far the longest stretch of steady hiring on record.

n November, the pace of hiring increased in the retail, transportation and warehousing and manufacturing sectors, but payrolls rose more slowly in construction, leisure and hospitality and businesses services. Payrolls at all levels of government fell by 6,000 last month.

Somewhat weaker overall hiring last month comes against a backdrop of mixed signals for the U.S. economy. Equity markets are well down from early October, bond yields have fallen in recent weeks, businesses are showing caution in making big-ticket investments, and concerns over global growth are mounting. But the driver of the U.S. economy—consumer spending—remains strong. And that is likely supported by improved wages and low unemployment.

Average hourly earnings for all private-sector workers increased 6 cents last month to $27.35. It is the second straight month hourly wages rose better than 3% from a year earlier. That had not previously occurred since the recession ended more than nine years ago. However, the average workweek was slightly shorter, causing weekly wages to decline on the month.

The unemployment rate has held at or below 4% since April, creating a long stretch of historically low joblessness. That has resulted in more job opportunities for those with lower levels of education and rising incomes at the bottom of the pay scale.

Take Darlene Lee, 32, who was released from jail in 2015 after serving time on drug-related charges. With a high school diploma and a checkered past, the only work she could find was as a housekeeper. But she pursued training as phlebotomist, and earlier this year Johns Hopkins Medicine hired her as a technician. The Baltimore-based health system targets those with criminal records for employment to meet the growing demand for medical staff.

Working 40 hours a week or more at $14 an hour, Ms. Lee was able to purchase a home in June for her two children.

"I feel there's no limitation on what I can accomplish," she said. "I've overcome a lot, and I want to build a better foundation for my children."

A broader measure of unemployment, including those too discouraged to look for work, plus Americans stuck in part-time jobs but who want to work full-time, rose to 7.6% from 7.4% the prior month. The rate, known as the U-6, has trended this year at the lowest level in 18 years. But it remains slightly above the rate recorded last time the headline unemployment rate stayed near 4%, suggesting there may still be some slack in corners of the labor market.
This chart shows how both the topline U-3 Unemployment Rate and the broader U-6 rate have declined over time: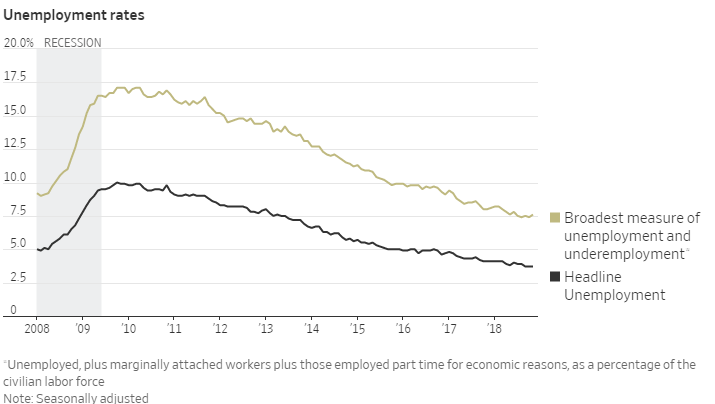 The New York Times, meanwhile, is noting that the stock market, which had been concerned of late that a too-strong economy would lead to larger interest rate increases, is likely to react positively to this report notwithstanding the fact that it failed to meet expectations and also quotes analysts who see some positive news in these numbers:
After a week when the stock market suffered from motion sickness and presidential tweets caused trade tensions to flare, a weaker-than-expected jobs report may have disappointed some quarters. But faulty forecasts do not mean that the labor market has suddenly stalled. For the 98th month in a row, employers increased payrolls, and monthly job gains are still averaging above 200,000 this year.

"It's obviously an economy that is well in expansion mode but that is coming off the boil after a strong second and third quarter," said David Donabedian, chief investment officer of CIBC Private Wealth Management. "So the state of the job market is good. It's just that the pace of job creation is slowing a little bit."

Yearly wage growth remained at 3.1 percent for the second month in a row, a level not seen since the recession. "If you have solid wage growth while productivity is improving, that is the best of both worlds," Mr. Donabedian said.

Friday's report is unlikely to discourage policymakers at the Federal Reserve from raising benchmark interest rates when they meet on Dec. 18 and 19.

Nonetheless, the report is being seen as a warning flag on some fronts. The recent volatility in the stock market and an increase in the monthly average number of people applying for unemployment benefits has worried people, said Chris Rupkey, chief financial economist at MUFG.

General Motors said last month that it would idle five plants and cut about 14,000 jobs in North America in part because of a slowdown in auto sales. In October, Ford announced plans to trim its work force.

Still, Mr. Rupkey labeled the report "pretty darn good," and said it should help calm the markets.

Uncertainty about trade policy is the primary source of anxiety. "The ball is in the president's court to make sure the China deal is still on," he said. "That is the biggest impediment now."

In the meantime, the labor market is mostly delivering. The unemployment rate and new claims for jobless benefits are at or near record lows. And the average monthly increase in payrolls this year is more than enough to keep the jobless rate below 4 percent.

"People who are working in finance are looking at the stock market," said Martha Gimbel, research director at the job-search site Indeed. "The typical worker just wants to find a good job with hours and rising wages."

That search has been getting easier and easier.

Ms. Gimbel said sectors that have had a particularly hard time hiring — like nursing and retailing — are now posting more full-time than part-time jobs, a sign that employers are struggling to find workers.

"Even now," she added, "at this point in the recovery, one of the fastest-growing jobs search terms on Indeed is people looking for 'full-time work.'"

The labor shortage has also finally started benefiting workers who were hit hardest during the recession: minimum-wage earners, African-Americans, Latinos and Americans with fewer skills and less education.

Gartner, a research and consulting firm that conducts a quarterly survey of 20,000 employees at companies valued at $100 million or more, found that most workers were extremely optimistic about their ability to find new jobs.

At the same time, years of sluggish wage growth and fewer opportunities for advancement have made some workers dissatisfied with their current employers.

"Employees who say they are willing to go above and beyond at work has declined," said Brian Kropp, vice president for human resources at Gartner. One out of four employees used to say they were giving their work an extra oomph — something Gartner calls "discretionary effort." Now, it's closer to one in six.

The reason, Mr. Kropp said, is simple: Workers are not being rewarded for their efforts. "One of the things we've seen is that it's harder for employees to get promoted nowadays," he said. In 2006, for example, it took an average of about two and a half years to get a promotion, compared with four and a half years today.
In any case, while disappointingly lower than consensus estimates, there's no question that this is a positive number and one that continues to indicate that the recovery, which now represents the second longest in American history behind only the expansion that lasted from March 1991 to March 2001. The difference, though, is that this expansion has been significantly less robust. While the recovery of the 1990s saw average annual jobs growth of +2.0% and Gross Domestic Product growth of +3.6%, the current recovery has average employment growth of just 1.4% per year and GDP growth of +2.2% (Source). For the time being at least, it also indicates that things should continue moving in a positive direction. At some point, though, we're likely to hit a point where things start heading south, especially if the President's trade war continues. How strong the economy will remain at that point will be an important thing to watch for going forward.