November Job Growth Beats Expectations
November saw much higher jobs growth than economic analysts were expecting, but it could just be a statistical blip.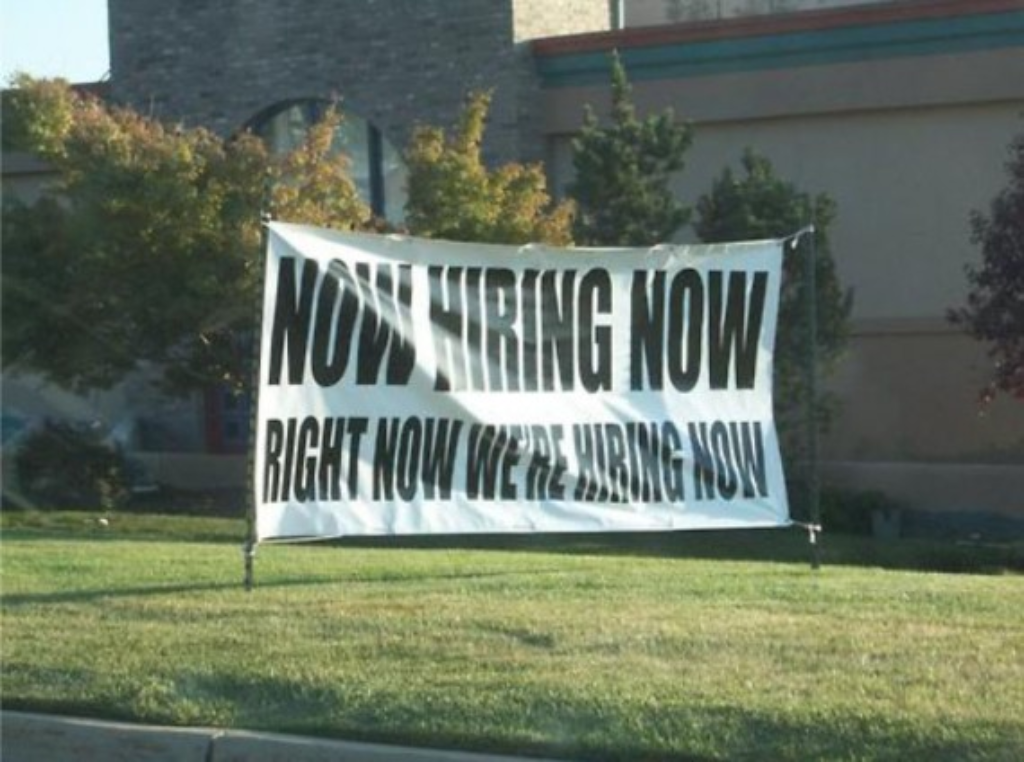 With the economy sending mixed signals about its future direction other than to make clear that a recession within the next year seems unlikely, Wall Street traders, politicians, and analysts have been looking to the Jobs Report to give us an idea on where the economy might be headed, at least in the short-term. Throughout most of 2018 we experienced solid, albeit not spectacular, jobs growth, which led many analysts to wonder if we had entered a new phase of "full employment" where jobs growth would slow down somewhat as employer and employees both assess that we've reached a point where new job opportunities are going to be rarer than they were when the post-Great Recession recovery was still young. Additionally, many analysts have turned their attention away from the employment numbers themselves and are paying attention to wage growth, which has remained somewhat stagnant in a range of 2.5% to 3.0% annual growth for the past several years.
The new year, though, seemed to open with a bang thanks to a much better than expected January jobs report that defied even being impacted by the five-week government shutdown that did not end until late January. That enthusiasm was scaled back to some degree in February, which saw largely disappointing job numbers during the shortest month of the year. Things bounced back in March, though, with the Department of Labor reporting the creation of 196,000 jobs, although the unemployment rate itself remained stable. There were also some slight upward revisions for January and February, but nothing substantial. In April, we ended up with stronger than expected job growth as well as some continued positive signs of wage growth, which had been lagging for much of 2018. Then came May with a report of much lower than expected job growth numbers, which actually caused stock markets to rise at the time in hope that it would spur interest rate cuts from the Federal Reserve Board. Continuing with the see-saw effect we've seen in the report all year, though, June bounced back with higher than expected job growth while the topline unemployment number remained unchanged. After that, the July report came in slightly higher than expectations as the topline U-3 unemployment rate remained unchanged. The August report came in with a disappointing and below estimates, reporting an additional 130,000 jobs for the last full month of summer, and September's report came back with 136,000 jobs created while the U-3 Unemployment Rate remained at historic lows. Finally, the October report was largely consistent with the previous two months, with the Bureau of Labor Statistics reporting 128,000 new jobs created.
Heading into today's release of the November jobs report, though, the expectation was that we would see the jobs market reflecting a slowdown with the creation of roughly 180,000 new jobs, This would be substantially higher than the numbers reported by ADP on Wednesday which indicated that an anemic 67,000 new jobs had been created during the month. This morning, the Bureau of Labor Statistics reports that the jobs number came in higher than expected and that there were significant revisions to the previous two months:
Total nonfarm payroll employment rose by 266,000 in November, and the unemployment rate was little changed at 3.5 percent, the U.S. Bureau of Labor Statistics reported today. Notable job gains occurred in health care and in professional and technical services. Employment rose in manufacturing, reflecting the return of workers from a strike.

(…)

Both the unemployment rate, at 3.5 percent, and the number of unemployed persons, at 5.8 million, changed little in November. (See table A-1.)

Among the major worker groups, the unemployment rates for adult men (3.2 percent), adult women (3.2 percent), teenagers (12.0 percent), Whites (3.2 percent), Blacks (5.5 percent), Asians (2.6 percent), and Hispanics (4.2 percent) showed little or no change in November. (See tables A-1, A-2, and A-3.)

The number of long-term unemployed (those jobless for 27 weeks or more), at 1.2 million, was essentially unchanged in November and accounted for 20.8 percent of the unemployed. (See table A-12.) The labor force participation rate was little changed at 63.2 percent in November.

The employment-population ratio was 61.0 percent for the third consecutive month. (See table A-1.)

(…)

Total nonfarm payroll employment rose by 266,000 in November. Job growth has averaged 180,000 per month thus far in 2019, compared with an average monthly gain of 223,000 in 2018.

In November, notable job gains occurred in health care and in professional and technical services. Employment also increased in manufacturing, reflecting the return of workers from a strike.

Employment continued to trend up in leisure and hospitality, transportation and warehousing, and financial activities, while mining lost jobs. (See table B-1.)

In November, health care added 45,000 jobs, following little employment change in October (+12,000). The November job gains occurred in ambulatory health care services (+34,000) and in hospitals (+10,000). Health care has added 414,000 jobs over the last 12 months. Employment in professional and technical services increased by 31,000 in November and by 278,000 over the last 12 months.

Manufacturing employment rose by 54,000 in November, following a decline of 43,000 in the prior month. Within manufacturing, employment in motor vehicles and parts was up by 41,000 in November, reflecting the return of workers who were on strike in October.

In November, employment in leisure and hospitality continued to trend up (+45,000). The industry has added 219,000 jobs over the last 4 months.

Employment in transportation and warehousing continued on an upward trend in November (+16,000). Within the industry, job gains occurred in warehousing and storage (+8,000) and in couriers and messengers (+5,000).

Financial activities employment also continued to trend up in November (+13,000), with a gain of 7,000 in credit intermediation and related activities. Financial activities has added 116,000 jobs over the last 12 months.

Mining lost jobs in November (-7,000), largely in support activities for mining (-6,000). Mining employment is down by 19,000 since a recent peak in May.

In November, employment in retail trade was about unchanged (+2,000). Within the industry, employment rose in general merchandise stores (+22,000) and in motor vehicle and parts dealers (+8,000), while clothing and clothing accessories stores lost jobs (-18,000).

Employment in other major industries–including construction, wholesale trade, information, and government–showed little change over the month.
In addition to the numbers above, the Bureau of Labor Statistics reported that total nonfarm payroll employment for September was revised upward from +180,000 to +193,000 and the number for October was revised up from +128,000 to +156,000 for total net revisions for the two months at +41,000. Combined with this month's job numbers, this puts the average job growth for the past three months at +205,000 net jobs created per month, which is an increase from the previous three-month average.
Based on these new numbers, we've seen total job growth in 2019 of 1,759,000 jobs created, for an average of +159,909‬ jobs created per month so far this year. By way of comparison, 2018 saw 2,024,000 new jobs created in 2018 as a whole for an average of +167,500 net new jobs per month. Combined with the final jobs numbers for 2017 and 2018, this means we've seen a total of ‭4,711,000‬ new jobs created since January 1, 2017, a period that has largely coincided with Donald Trump's tenure as President, for a monthly average over that period of +134,600 new jobs created, which is a slight increase from where this average stood as of last month and roughly similar to what we saw during the final four years of the Obama Administration.
During his campaign for President, Donald Trump promised to create 25,000,000 jobs during his Presidency. That would require the creation of 3,125,000 per year over an eight-year term for an average of 261,000 new jobs per month. Over a four-year term that would require 6,250,000 per year, for an average of 521,000 new jobs per month. Based on the average growth rate we have seen since the start of 2017 it would take nearly sixteen years to reach that goal. Based on the average for 2019 to date, it would take roughly thirteen years to reach that goal. Based on the average for the past three months, it would also take roughly thirteen years to reach Trump's goal. All of this, of course, assumes that we don't have even a mild recession during that period. Needless to say, it is unlikely that we're going to see sustained average jobs growth over the next three to seven years that would put us close to the President's goal absent a significant change in the nature of the jobs market.
Looking deeper into the numbers, the average workweek across the board was unchanged at 34.4 hours while average hourly earnings rose seven cents to $28.29. Over the year, average hourly earnings have risen at an annualized rate of 3.q%. It's worth noting, though, that this comes off several months when wage growth was essentially stagnant, so this may just end up being a statistical blip.
As Patricia Cohen notes in The New York Times, at least part of this month's gain is attributable to the resolution of the General Motors strike but that still leaves us with a pretty strong number for the month:
The return of tens of thousands of striking workers to their jobs at General Motors helped supercharge hiring totals last month.
The reassuring jobs report, released Friday morning by the Labor Department, offered a counterpoint to renewed anxieties about an escalating trade war and a weakening global economy.

President Trump stoked trade tensions this week by imposing new tariffs on steel and aluminum from Brazil and Argentina, suggesting that the feud with China could continue for another year and threatening European allies with import taxes.

The White House's unpredictable trade policy has unsettled businesses and cramped investment. They have also helped heighten concerns about a faltering manufacturing sector.

Still, the American economy has a firm footing as consumers spend and employers hire.

"We still see pretty healthy underlying labor market conditions," said Robert Rosener, an economist at Morgan Stanley. The number of people applying for unemployment benefits remains at historically low levels, and Americans continue to show a willingness to quit their jobs. "That tells you that consumers are still pretty confident of labor market conditions," he said.

Another 41,000 jobs were added to September and October's employment totals after revisions. Another measure of unemployment, which includes part-timers who would prefer full-time jobs and people who are too discouraged to look for work, inched down to 6.9 percent.

The health of the manufacturing sector has been somewhat clouded by the 40-day G.M. strike this fall and disruption in the aerospace industry stemming from the crash of two Boeing airplanes. Friday's report showed a gain of 54,000 jobs in that sector, reversing last month's losses, but did not signal a significant upturn.

Among businesses, worries about the economy seemed to peak this summer. Since then, there have been signs that the slowdown was diminishing, said Joe Galvin, chief research officer of Vistage, an association of small-business owners and executives.

Roughly 60 percent of the 654 employers surveyed in November by Vistage said they planned to expand head count next year. Just 4 percent are planning cuts.

(…)

In a newsletter this week, David Kelly, chief global strategist at JPMorgan Funds, compared recent hiring to squeezing one more glob of toothpaste out of a seemingly empty tube. "Over the last few years," he said, "an apparently fully tapped-out labor market has yielded a surprising number of new workers."

The buffet of available job postings has drawn many Americans back to work. Employers have widened their scope, recruiting people with disabilities or criminal records. Older baby boomers are working past retirement age and stay-at-home parents are switching to paid employment.

The labor force participation rate inched up through most of the spring and fall, driven in part by an increase in women 25 to 34 getting jobs or starting to look for work. Over the last year, nearly 1.7 million people joined the ranks of workers.

Mr. Kelly does not expect the historically low unemployment rates to fall much more. "Gains in employment going forward will have to come from an increase in the labor force," he wrote.

Economists are engaged in a vigorous debate about how tight the labor market is and how many more people are available to work. Mr. Trump's more restrictive immigration policies have significantly shrunk the supply of foreigners who could come to work in the United States.

Employment agencies say they are often unable to find candidates to fill the jobs that are open. "At every level of employment, it's been super tight," said Yvonne Rockwell, owner of an Express Employment Professionals agency in Santa Clarita, Calif. "I truly believe that anybody who wants to work is working."
It's worth noting that this is only the second month this year when job growth has been above 200,000 new jobs. Additionally, average job growth this year is far below where it was in 2018 or 2017, suggesting that the jobs sector, typically a lagging indicator of the state of the economy, is slowing down. Among other things, this means that we can expect jobs growth further down the line to slow down or at least not significantly increase from the levels we've seen over the past several years.
A tighter labor market also means that we should be seeing better wage growth than what we have been seeing so far as employers do what they can to keep employees from straying elsewhere. One of the reasons that may not be happening is that employers may be incentivizing workers through means not measured by wage growth such as better benefits and other enhancements to the working environment. An additional factor at play here is increased productivity due to increases in the use of technology that make a longer workweek or increased hiring unnecessary.
As we get further into the 2020 election cycle, of course, numbers such as this will become more significant. We've already begun to see signs of economic slowdowns in the manufacturing and global trade segments of the economy and that is reflected in the most recent job numbers. Other areas showing signs of downturn include the retail industry, which has been losing jobs all year. Whether this is a precursor of an impending downturn is as yet unclear, but it's something that the Federal Reserve Board, in particular, is keeping an eye on as it formulates policy. That being said, it's worth noting that President Trump's job approval on the economy, which had been trending negatively over the summer, is once again back on the positive side of the ledger. Depending on where the economy goes in the next year, this could have a huge impact on the outcome of the election.
As far as these numbers go, though, there's no denying that these are positive numbers. It's unlikely though that this is the beginning of a jobs boom. Instead, we're likely to find in future months that job growth will return to the averages we've been seeing for this year and for the majority of the Trump Administration. Those numbers have been decent, but they also haven't been much better than what we sw during the final years of the Obama Administration. Even if the economy remains solid, there's no reason to believe this is going to change.