June Jobs Numbers Bust Past Expectations But Uncertainty Remains
June's jobs report brought in stronger than expected numbers but the fact that these numbers have not been consistent all year makes one wonder what the state of the economy really is.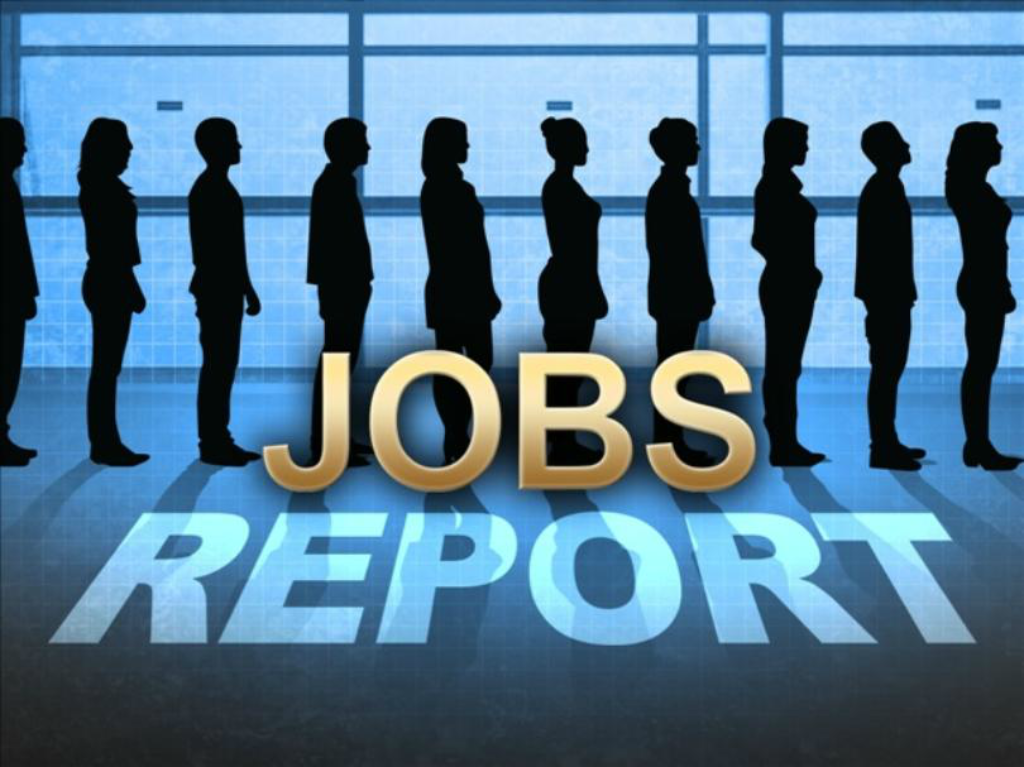 With some concern that economic growth may be slowing, many Wall Street traders, politicians, and analysts have been looking to the Jobs Report to give us an idea on where the economy might be headed, at least in the short-term. Throughout most of 2018 we experienced solid, albeit not spectacular, jobs growth, which led many analysts to wonder if we had entered a new phase of "full employment" where jobs growth would slow down somewhat as employer and employees both assess that we've reached a point where new job opportunities are going to be rarer than they were when the post-Great Recession recovery was still young. Additionally, many analysts have turned their attention away from the employment numbers themselves and are paying attention to wage growth, which has remained somewhat stagnant in a range of 2.5% to 3.0% annual growth for the past several years.
The new year, though, seemed to open with a bang thanks to a much better than expected January jobs report that defied even being impacted by the five-week government shutdown that did not end until late January. That enthusiasm was scaled back to some degree in February, which saw largely disappointing jobs numbers during the shortest month of the year. Things bounced back in March, though, with the Department of Labor reporting the creation of 196,000 jobs, although the unemployment rate itself remained stable. There were also some slight upward revisions for January and February, but nothing substantial. In April, we ended up with stronger than expected jobs growth as well as some continued positive signs of wage growth, which had been lagging for much of 2018. Then came May with a report of much lower than expected jobs growth numbers, which actually caused stock market to rise at the time in hope that it would spur interest rate cuts from the Federal Reserve Board.
Heading into today's release of the June jobs report, though, the expectation was that we would see the jobs market bounce back a little bit with the creation of roughly 165,000 new jobs but also indicating more of the same slowing that would spur Federal Reserve action. Other signals also suggested a weak number for June, with payroll processing firm ADP reporting just 102,000 new jobs for the month. As it turned out, June's numbers were far above expectations, raising questions of exactly where the jobs market is heading in 2019:
Total nonfarm payroll employment increased by 224,000 in June, and the unemployment rate was little changed at 3.7 percent, the U.S. Bureau of Labor Statistics reported today. Notable job gains occurred in professional and business services, in health care, and in transportation and warehousing.

Both the unemployment rate, at 3.7 percent, and the number of unemployed persons, at 6.0 million, changed little in June. (See table A-1.) Among the major worker groups, the unemployment rates for adult men (3.3 percent), adult women (3.3 percent), teenagers (12.7 percent), Whites (3.3 percent), Blacks (6.0 percent), Asians (2.1 percent), and Hispanics (4.3 percent) showed little or no change in June. (See tables A-1, A-2, and A-3.)

The number of long-term unemployed (those jobless for 27 weeks or more) was little changed at 1.4 million in June and accounted for 23.7 percent of the unemployed. (See table A-12.) The labor force participation rate, at 62.9 percent, was little changed over the month and unchanged over the year. In June, the employment- population ratio was 60.6 percent for the fourth month in a row. (See table A-1.)

(…)

Total nonfarm payroll employment increased by 224,000 in June. Employment growth has averaged 172,000 per month thus far this year, compared with an average monthly gain of 223,000 in 2018. In June, notable job gains occurred in professional and business services, in health care, and in transportation and warehousing. (See table B-1.)

Professional and business services added 51,000 jobs in June, following little employment change in May (+24,000). Employment growth in the industry has averaged 35,000 per month in the first half of 2019, compared with an average monthly gain of 47,000 in 2018.

Employment in health care increased by 35,000 over the month and by 403,000 over the past 12 months. In June, job growth occurred in ambulatory health care services (+19,000) and hospitals (+11,000).

Transportation and warehousing added 24,000 jobs over the month and 158,000 over the past 12 months. In June, job gains occurred among couriers and messengers (+7,000) and in air transportation (+3,000).

Construction employment continued to trend up in June (+21,000), in line with its average monthly gain over the prior 12 months.

Manufacturing employment edged up in June (+17,000), following 4 months of little change. So far this year, job growth in the industry has averaged 8,000 per month, compared with an average of 22,000 per month in 2018.

In June, employment rose in computer and electronic products (+7,000) and in plastics and rubber products (+4,000).

Employment in other major industries, including mining, wholesale trade, retail trade, information, financial activities, leisure and hospitality, and government, showed little change over the month.
In addition to the numbers above, the Bureau of Labor Statistics reported that total nonfarm payroll employment for April was revised downward from +224,000 to +216,000 and the number for May was revised downward from +75,000 to +71,000. These revisions made for a net downward revision of -11,000 for those two months.
Combined with this month's jobs numbers, this puts the average jobs growth for the past three months at +170,033 net jobs created per month, which is an increase from the previous three-month average. Based on these new numbers, we've seen total job growth in 2019 of 1,038,000 jobs created, for an average of +173,000 jobs created per month so far this year. By way of comparison, 2018 saw 2,024,000 new jobs created in 2018 as a whole for an average of +168,667 net new jobs per month. Combined with the final jobs numbers for 2017, this means we've seen a total of 3,990,000 new jobs created since January 1, 2017, a period that has largely coincided with Donald Trump's tenure as President, for a monthly average over that period of +133,000 new jobs created, which is a slight increase from where this average stood as of last month and roughly similar to what we saw during the final four years of the Obama Administration.
During his campaign for President, Donald Trump promised to create 25,000,000 jobs during his Presidency. That would require the creation of 3,125,000 per year over an eight-year term for an average of 261,000 new jobs per month. Over a four-year term that would require 6,250,000 per year, for an average of 521,000 new jobs per month. Based on the average growth rate we have seen since the start of 2017 it would take nearly sixteen years to reach that goal. Based on the average for 2019 to date, it would take roughly thirteen years to reach that goal. Based on the average for the past three months, it would also take roughly thirteen years to reach Trump's goal. All of this, of course, assumes that we don't have even a mild recession during that period. Needless to say, it is unlikely that we're going to see sustained average jobs growth over the next three to seven years that would put us close to the President's goal absent a significant change in the nature of the jobs market.
Looking deeper into the numbers, the average workweek across the board was unchanged at 34.4 hours while average hourly earnings rose 6 cents to $27.90. Over the year, average hourly earnings have risen at an annualized rate of 3.1%. This is a stronger wage growth number than we've seen in recent months, and it's consistent with the increase we saw last month but it's worth noting that it comes off several months when wage growth was essentially stagnant, so this may just end up being a statistical blip.
As I've said before, the relatively slow growth we've seen in wage growth could be a sign we're hitting an equilibrium point in the jobs market that will preclude big jumps in either hiring or hourly earnings on a sustained basis. Looking at other numbers, labor force participation, the long-term unemployment rate inched upward but was relatively stable compared to the previous two months.'
Ben Casselman at The New York Times notes that takeaways from the report:
The job market rebounded last month after a dismal May, easing fears that the record-setting economic expansion could be running out of steam.

The rebound from May's disappointing figure was stronger than economists had predicted, suggesting that trade tensions and cooling global growth have done little to sap the job market's fundamental strength. Unemployment is near a five-decade low, wage growth is solid and employers have added jobs for 105 consecutive months, easily a record.

"There's lots of talk about uncertainty, and maybe that's going to lend itself to a weakening in hiring, but we haven't actually seen it happen yet," said Michelle Meyer, chief economist at Bank of America Merrill Lynch.

That resilience is good news for workers, who are benefiting from what is now, at least unofficially, the longest economic expansion on record. But it could complicate the decision facing Federal Reserve policymakers, who are weighing whether to cut interest rates to forestall a downturn, a jolt of stimulus that investors were expecting.

Even with June's healthy growth, there are signs the job market has cooled since last year. Employers have added an average of 171,000 jobs per month over the past three months, down from 223,000 per month for all of 2018. Wage growth was disappointing in June, and has stalled in recent months.

June marked the 10th anniversary of the official end of the Great Recession. And unless a new recession has begun (something economists often don't know for several months), the expansion is now the longest on record.

The recovery has been more remarkable for its durability than for its strength. Hiring has been slower than in many past rebounds, and wage growth has been anemic until recently. Only lately have the gains extended to black and Hispanic workers, the less-educated, and those facing discrimination or other barriers to employment.

The job market picked up last year, at least partly because of tax cuts and government spending increases that provided a short-term boost to economic growth. But those effects are fading. Still, the expansion has repeatedly defied predictions that it was nearing an end.

"We have seen rapid declines like that in this recovery before," said Martha Gimbel, an economist at the job-search site Indeed. "I think it's really hard to figure out. Is this just another rapid decline that's going to go away, or is this a decline we need to start worrying about?"

(…)

Policymakers at the Federal Reserve will be examining the report closely as they weigh whether to take steps to bolster the economy.

Jerome H. Powell, the Fed chair, has resisted calls from Mr. Trump and other critics — and even from some Fed officials — to cut interest rates. But he has signaled that he is prepared to act if the economy slows further. Investors have interpreted those comments to mean that the Fed will cut rates when it meets this month, although Mr. Powell has stopped short of promising to do so.

Friday's report contained mixed signals for policymakers. On the one hand, job growth was strong, suggesting companies remain confident enough to keep hiring even without the central bank's assistance. But many Fed officials will probably focus on the weakness in hourly earnings, which means wages are unlikely to put upward pressure on inflation.
CNBC is similarly optimistic, proclaiming that strong jobs growth is back:
Payroll growth rebounded sharply in June as the U.S. economy added 224,000 jobs, the best gain since January and running contrary to worries that both the employment picture and overall growth picture were beginning to weaken. The unemployment rate edged up to 3.7% as labor force participation rose, according to the Labor Department.

Economists surveyed by Dow Jones had expected nonfarm payrolls to rise by 165,000 and the unemployment rate to hold steady at 3.6%. May's initially reported growth of 75,000 had raised doubts about the durability of the record-setting expansion that began a decade ago. The May count was revised lower to 72,000.

Federal Reserve policymakers have been watching the jobs numbers closely.

Markets have been widely anticipating that the central bank will cut its benchmark interest rate later this month, regardless of what the June payrolls count showed.

The stock market opened lower as investors contemplated what the report might mean for expectations that the central bank will be cutting interest rates later this month in an effort to stave off a widely expected economic slowdown through the year. Government bond yields surged, with the benchmark 10-year note up close nearly 10 basis points to about 2.05%.

The report "would seem to make a mockery of market expectations" for a quarter- or half-point cut at the July 30-31 meeting of the Federal Open Market Committee, said Andrew Hunter, senior U.S. economist at Capital Economics. The level of job growth, he added, "is still much stronger than the levels that have usually prompted the Fed to cut rates in the past and, although we do still expect the weakening economy to prompt the Fed to loosen policy, the first rate cut will probably be delayed until September."


Market reaction shifted abruptly following the Bureau of Labor Statistics release. Traders moved the possibility of a 50-basis point cut to 8% from nearly 30% though 100% expectations for a quarter-point cut remained firmly in place. Overall, the jobs report allayed fears that the labor market was weakening significantly; a release earlier this week from ADP and Moody's Analytics had indicated private payroll growth of just 102,000, which was well below the government's count of 191,000. Government job gains of 33,000 accounted for the balance of June's rise.

(…)

Overall, the jobs report allayed fears that the labor market was weakening significantly; a release earlier this week from ADP and Moody's Analytics had indicated private payroll growth of just 102,000, which was well below the government's count of 191,000. Government job gains of 33,000 accounted for the balance of June's rise.

Manufacturing activity of late has been showing signs of contracting as corporate executives complain of increased prices due to tariffs the U.S. has imposed against its trading partners.

"Today's jobs report shows the U.S. economy continues to create jobs at a strong pace even as we enter the longest period of economic expansion on record," said Tony Bedikian, head of global markets at Citizens Bank.

"The bounce back in the June jobs number may splash cold water on the notion of an imminent Fed rate cut. We will have to see whether the equity markets can shrug that off when balanced against other macroeconomic factors, such as the hope of a China trade truce."

In addition to the downward revision for the May report, April's count fell to 216,000 from 224,000.
The Dow Jones Industrial Averages and other measures of stock market activity are actually down on this news due to the fact that the unexpectedly good numbers make it less likely that the Federal Reserve Board will lower interest rates this month. While that's possible, it's worth noting that the jobs numbers so far this year have been wildly eratic, defying expectations one month and falling well short the next. Something that can seen in this chart from CNBC: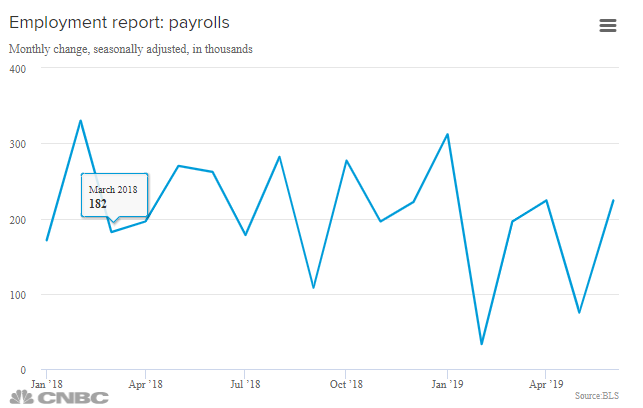 What is one to make of numbers like this, except perhaps as an indication that employers are unsure of the state of the economy in the short term? While these numbers are good news for job seekers this month, they contrast sharply with what we saw in May, and it's entirely possible that July will follow the same pattern and we'll see a drop in job creation. Given the fact that we're now heading into the 11th year of the recovery that began in 2009, making it the longest in post World War Two history, this could be a sign that the economy is starting to sputter. Until we can get more than a month-to-month picture, we can't be sure.