Jobs Growth Falls Below Expectations In April While Wages Remain Stagnant
The unemployment rate hit a point unseen since Bill Clinton was President in April, but jobs and wage growth remain tepid at best.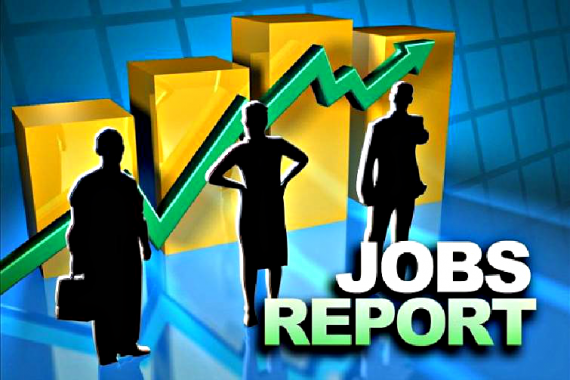 For the first three months of the year, jobs growth in the United States has been, at best, somewhat disjointed and generally disappointing. We saw relatively robust jobs growth in both January and February, but the numbers for March were all-around disappointing and the revisions that were issued for previous months poured some cold water on the optimism that had come with the good numbers at the start of the year. Heading into this morning, the expectations were that the economy would gain something in the neighborhood of 190,000 to 195,000 new jobs, not exactly an exciting number but certainly a bounce back from the disappointing numbers of the previous month. Nonetheless, the expectation was that jobs growth would continue to be positive even if it weren't spectacular, Indeed, as I noted in my post about the December report, the jobs market seems to be at the point where expecting massive increases in job creation are probably out of the question. Instead, we're likely to see modest but healthy jobs growth, but not anything spectacular. As it turned out, the April numbers came back lower than expectations, although the unemployment rate did dip below 4.0% for the first time since the Clinton Administration:
Total nonfarm payroll employment increased by 164,000 in April, and the unemployment rate edged down to 3.9 percent, the U.S. Bureau of Labor Statistics reported today. Job gains occurred in professional and business services, manufacturing, health care, and mining.

In April, the unemployment rate edged down to 3.9 percent, following 6 months at 4.1 percent. The number of unemployed persons, at 6.3 million, also edged down over the month. (See table A-1.)

Among the major worker groups, the unemployment rate for adult women decreased to3.5 percent in April. The jobless rates for adult men (3.7 percent), teenagers (12.9 percent), Whites (3.6 percent), Blacks (6.6 percent), Asians (2.8 percent), and Hispanics (4.8 percent) showed little or no change over the month. (See tables A-1, A-2, and A-3.)

Among the unemployed, the number of job losers and persons who completed temporary jobs declined by 188,000 in April to 3.0 million. (See table A-11.)

The number of long-term unemployed (those jobless for 27 weeks or more) was little changed at 1.3 million in April and accounted for 20.0 percent of the unemployed.  Over the year, the number of long-term unemployed was down by 340,000. (See
table A-12.)

Both the labor force participation rate, at 62.8 percent, and the employment-population ratio, at 60.3 percent, changed little in April. (See table A-1.)

(…)

Total nonfarm payroll employment increased by 164,000 in April, compared with an average monthly gain of 191,000 over the prior 12 months. In April, job gains occurred in professional and business services, manufacturing, health care, and mining. (See table B-1.)

In April, employment in professional and business services increased by 54,000. Over the past 12 months, the industry has added 518,000 jobs.

Employment in manufacturing increased by 24,000 in April. Most of the gain was in the durable goods component, with machinery adding 8,000 jobs and employment in fabricated metal products continuing to trend up (+4,000). Manufacturing employment has risen by 245,000 over the year, with about three-fourths of the growth in durable goods industries.

Health care added 24,000 jobs in April and 305,000 jobs over the year. In April, employment rose in ambulatory health care services (+17,000) and hospitals (+8,000).

In April, employment in mining increased by 8,000, with most of the gain occurring in support activities for mining (+7,000). Since a recent low in October 2016, employment in mining has risen by 86,000.

Employment changed little over the month in other major industries, including construction, wholesale trade, retail trade, transportation and warehousing, information, financial activities, leisure and hospitality, and government.
In addition to the numbers above, the Bureau of Labor Statistics reported that total nonfarm payroll employment for February was revised downward from +326,000 to +324,000 and the number for March was revised upward from +103,000 to +135,000. This represents a net upward revision for the two months combined of +30,000 jobs. Combined with this month's jobs numbers, this puts the average jobs growth for the past three months at +207,667 net jobs created per month, a small improvement from where we stood a month ago but still not entirely impressive. This represents a total of 799,000 new jobs created in 2018 as a whole for an average of 199,750 net new jobs created since the start of the year.  Combined with the final jobs numbers for 2017, this means we've seen a total of 2,510,000 new jobs created since January 1, 2017, a period that has largely coincided with Donald Trump's tenure as President, for an average over that period of +169,000 new jobs created, a respectable but not entirely robust number. As I said last month, this number is most certainly not one that indicates an imminent massive increase in hiring by employers.
During his campaign for President, Donald Trump promised to create 25,000,000 jobs during his Presidency. That would require the creation of 3,125,000 per year over an eight-year term for an average of 261,000 new jobs per month. Over a four-year term that would require 6,250,000 per year, for an average of 521,000 new jobs per month. Based on the average growth rate we have seen since the start of 2017 it would take nearly twelve and one-half years to reach that goal. Based on the average for 2018 to date, it would take roughly ten years to reach the goal. Based on the average for the past three months, it would also take roughly ten years to reach Trump's goal.Needless to say, it is unlikely that we're going to see sustained average jobs growth over the next three to seven years that would put us close to the 25,000,000 mark absent a significant change in the nature of the jobs market.
Looking deeper into the numbers, the average workweek across the board was once again unchanged at 34.5  hours while average hourly earnings rose 4 cents to $26.84. Over the year, average hourly earnings have risen by 67 cents or 2.6%. These are positive numbers, but slightly less so than what we saw in January and February. As I've said before, this slow wage growth could mean that we're hitting some sort of equilibrium in the jobs market that will preclude big jumps in either hiring or hourly earnings for the time being. This seems to be supported by the fact that the topline U-3 unemployment rate dropped below 4.0% for the first time in nearly two decades. Realistically speaking, there likely isn't much chance that we will see the number drop far below this level going forward. In the meantime, the unemployment/underemployment number, meanwhile, was essentially unchanged and both the labor force participation rate and employment/population ratio were also largely unchanged.  As has been the case for the better part of the past year, the biggest concern in the numbers isn't the jobs numbers but wage growth, which remains tepid at best.
Natalie Kirtoff at The New York Times interprets the numbers:
American employers continue to find reasons to expand their payrolls. April marked the 91st consecutive month of job gains, far and away the longest streak of increases on record. The average monthly gain has declined each year since 2014, but that's normal for an economy that's been in recovery for such an extended period.

"We've continued to add jobs routinely every month for so long, and the unemployment rate we have reached is amazing," said Catherine Barrera, chief economist of the online job site ZipRecruiter. "It's very incredible."

The drop in the unemployment rate may be partly explained by a contraction in the labor force last month. Still, the jobless rate is reaching historically low levels. In the last 60 years, there has been only one sustained period where unemployment stayed below 4 percent: the late 1960s.

Ms. Barrera said it was too early to worry about whether the economy is overheating. When the jobless rate hit these levels right before the dot-com bubble burst, the labor-force participation rate was significantly higher than it is today.

"It's easy to try to analogize and say that's what we should preparing ourselves for right now," Ms. Barrera said. That kind of thinking might prompt some employers to cut back on investments or hiring, which could begin to slow growth.

President Trump's flirtation with a trade war has thrust uncertainty into the overall economic picture. The White House has offered little clarity about whether its newly imposed steel and aluminum tariffs will extend to allies like Mexico, Canada and the European Union, and it seems no closer to smoothing over economic tensions with China.

Economists say it is too soon to tell how employers may change their staffing or expansion plans in response to the tariffs on Chinese goods, or to Beijing's retaliation. But there are signs that companies that buy metals are feeling the effects already. The Institute for Supply Management said this week that manufacturing activity grew in April at its slowest pace since last July.

(…)

Economists expect that low unemployment will lead to increasingly big pay bumps for workers as employers fight over a dwindling number of candidates. But this recovery has so far bucked that conventional wisdom. The change in hourly earnings varied from month to month last year, but hovered around 2.5 percent, barely keeping up with inflation.

A year-over-year increase of 3 percent in hourly earnings is considered the trip wire that could prompt the Federal Reserve to raise its benchmark interest rate more aggressively than it has signaled.

"Wage growth picking up would suggest the labor market is tightening and that the Fed could have to move more aggressively," said Matthew Luzzetti, a senior economist at Deutsche Bank. Projections released at a Fed meeting this week suggested that officials were leaning toward a total of three rate increases this year. But strong wage growth could fan fears of an uptick in inflation, pushing them toward a fourth increase, Mr. Luzzetti said. "It means borrowing costs will be moving higher for typical consumers."
CNBC similarly focuses on the wage numbers and the puzzling fact that they remain stubbornly stable:
The lack of wage pressure likely will be the one takeaway for Federal Reserve officials. Central bankers are on a pace to continue raising rates, but the lack of inflation could augur for a more patient pace than some in the market anticipate.

"It really defies the law of supply and demand," Amy Glaser, senior vice president at Adecco Staffing, said of the muted wage inflation. Employers "are seeing an increase in turnover and they're really weighing whether they need to increase wages."

Glaser thinks that pressure continues to build in the wage pipeline and could increase dramatically as the year goes on.

"As we near toward the retail peak season, as we start looking to fiscal quarter three, companies are going to be forced to make that change," she said. "I'm also seeing with clients that I'm dealing with, when they do choose to make wage increases, they're not just doing 2 or 3 percent, they're doing it with a big bang, 10 or 20 percent."
The Washington Post, finally, is largely positive in its review of the numbers:
The U.S. economy added 164,000 jobs in April, and the unemployment rate fell to 3.9 percent — the lowest point since 2000, federal economists reported Friday.

The average hourly wage rose by 2.6 percent year-over-year, maintaining a slow pace of growth, according to the Bureau of Labor Statistics.

President Trump celebrated the news in a tweet.

For the past six months, the jobless rate had clung to 4.1 percent, the longest it had gone without budging since the late 1960s. (The record to beat: nine months.) The streak defied the expectations of economists, who said the nation's prolonged hiring blitz was bound to drive the figure down.

Women seemed to propel April's drop. The share of unemployed female job seekers sank to 3.5 percent last month, down from 3.8 percent in March. Other worker groups — men (3.7 percent), whites (3.6 percent), blacks (6.6 percent), Hispanics (4.8 percent) — showed little to no change.

Other government data suggest fewer people are facing layoffs: Initial claims for state unemployment benefits hit 211,000 during the last week of April, the lowest level since March 1973.

"It's an exciting headline for the worker," said Josh Wright, Chief Economist at iCIMS, a software company. "A real Goldilocks number, with job growth being great."

But pay stayed flat, so the Federal Reserve won't likely feel pressure to raise rates before June. In other words, Wright said, the markets should respond favorably.

"What we're seeing here is steadiness," he said.

If the expansion further gains steam, analysts at the Fed said the unemployment rate could reach 3.7 percent this year, a figure not seen since 1969.

(…)

Economists say the tightening labor market should accelerate wage growth.

"The longer the economy burns hot, the more workers are in the driver's seat negotiating with companies," said Andrew Chamberlain, chief economist at Glassdoor, a jobs site.

That should bring "not spectacular, but slowly building" raises as employers struggle to fill vacancies.

A demographic shift partly explains why employers are having trouble finding talent. Baby boomers, which today represent a third of the workforce, are retiring in droves, said Joe Brusuelas, chief economist at RSM, an international consulting firm. Younger workers aren't replacing them.

And although millennials constitute 35 percent of America's workers, they're more likely than previous generations to have attended college — and less likely to have picked up a trade at vocational school. They're less likely to take jobs in construction and manufacturing. (Employers in both sectors have turned to raises and high school recruiting to shrink their gaps.)

"We are in a demographically induced tight labor market," Brusuelas said.

Companies across the country have already made adjustments to account for the dearth of applicants. More employers, including blue-collar firms, are offering larger bonuses (which do not show up in the government's wage data). They're ramping up on-the-job training, which economists say will play a larger role in the economy as technology advances.
In the end, I think it's fair to say that there's good news here but that it's tempered at best. The fact that jobs continue to grow as they have for the past seven-and-a-half years is certainly a good sign, but we're getting to the point where it's not clear where new hiring is going to come from. Additionally, the fact that wage growth remains flat at best tends to defy expectations given the fact that a tight labor market should mean that wages go up as employers start to compete for workers in an ever smaller pool. Part of the issue seems to be that, at least in some fields, employers are having trouble finding qualified workers and are having to resort to on-the-job training, which increases labor costs and could be putting some downward pressure on wages. At the very least, though, there are no signs of this changing at any point in the near future, which is why the phrase "Goldilocks economy" may be the most apt description of our current situation.