December Jobs Report Falls Short Of Expectations
Contrary to expectations, jobs growth in December was relatively modest.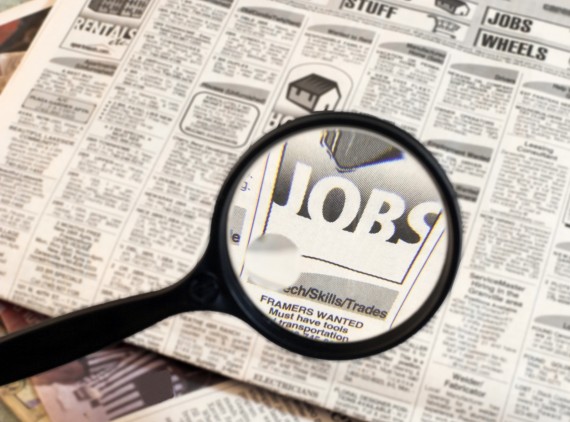 In advance of the release of the December Jobs Report this morning, the consensus was that we would see something in the arena of 190,000 new jobs created last month, a number somewhat below what is considered ideal but still not entirely bad. Instead, the number that came in was lower than that and, in the end somewhat disappointing:
In December, the unemployment rate was 4.1 percent for the third consecutive month. The number of unemployed persons, at 6.6 million, was essentially unchanged over the month. Over the year, the unemployment rate and the number of unemployed persons were down by 0.6 percentage point and 926,000, respectively. (See table A-1.)

Among the major worker groups, the unemployment rate for teenagers declined to 13.6 percent in December, offsetting an increase in November. In December, the unemployment rates for adult men (3.8 percent), adult women (3.7 percent), Whites (3.7 percent), Blacks (6.8 percent), Asians (2.5 percent), and Hispanics (4.9 percent) showed little or no change. (See tables A-1, A-2, and A-3.)

Among the unemployed, the number of new entrants decreased by 116,000 in December. New entrants are unemployed persons who never previously worked. (See table A-11.)

The number of long-term unemployed (those jobless for 27 weeks or more) was little changed at 1.5 million in December and accounted for 22.9 percent of the unemployed. Over the year, the number of long-term unemployed declined by 354,000. (See table A-12.)

The labor force participation rate, at 62.7 percent, was unchanged over the month and over the year. The employment-population ratio was unchanged at 60.1 percent in December but was up by 0.3 percentage point over the year. (See table A-1.)

(…)

Total nonfarm payroll employment rose by 148,000 in December. Job gains occurred in health care, construction, and manufacturing. In 2017, payroll employment growth totaled 2.1 million, compared with a gain of 2.2 million in 2016. (See table B-1.)

Employment in health care increased by 31,000 in December. Employment continued to trend up in ambulatory health care services (+15,000) and hospitals (+12,000). Health care added 300,000 jobs in 2017, compared with a gain of 379,000 jobs in 2016.

Construction added 30,000 jobs in December, with most of the increase among specialty trade contractors (+24,000). In 2017, construction employment increased by 210,000, compared with a gain of 155,000 in 2016.

In December, manufacturing employment rose by 25,000, largely reflecting a gain in durable goods industries (+21,000). Manufacturing added 196,000 jobs in 2017, following little net change in 2016 (-16,000).

Employment in food services and drinking places changed little in December (+25,000). Over the year, the industry added 249,000 jobs, about in line with an increase of 276,000 in 2016.

In December, employment changed little in professional and business services (+19,000). In 2017, the industry added an average of 44,000 jobs per month, in line with its average monthly gain in 2016.

Employment in retail trade was about unchanged in December (-20,000). Within the industry, employment in general merchandise stores declined by 27,000 over the month. Retail trade employment edged down in 2017 (-67,000), after increasing by 203,000 in 2016.

Employment in other major industries, including mining, wholesale trade, transportation and warehousing, information, financial activities, and government, changed little over the month.
In addition to the numbers above, the Bureau of Labor Statistics reported that total nonfarm payroll employment for October was revised downward from +244,000 to +211,000 and that the number for November was revised upward from +228,000 to +252,000. This represents a net downward revision for the two months combined of -9,000 jobs. Combined with this month's jobs numbers, this puts the average jobs growth for the past three months at +204,000 net jobs created per month, an improvement from where we stood a month ago but still not entirely impressive. For the year to date, we've seen a total of +1, 929,000 net jobs created for a monthly average of +160,750 (rounded) net jobs created per month. This is lower than the average for the year we saw last month thanks in no small part to the disappointingly low number reported for December. At the very least, this number is most certainly not one that indicates an imminent massive increase in hiring by employers. During his campaign for President, Donald Trump promised to create 25,000,000 jobs during his Presidency. That would require the creation of 3,125,000 per year over an eight-year term for an average of 261,000 new jobs per month. Over a four-year term that would require 6,250,000 per year, for an average of 521,000 new jobs per month. At the current three-month average, it would take roughly 10 years to get to Trump's goal. At the current average for the year-to-date, it would also take nearly 13 years. And that assumes no recessions in the intervening period. It's also worth noting that job growth for this first year of Donald Trump's Presidency has been slower than it was during the final year of Barack Obama's Presidency. It's also worth noting that average jobs growth for 2017 was lower than it has been since 2010 when the economy was still shaking off the impact of the Great Recession. The final numbers for 2017 won't be clear until we get the final revision for December in March, but at least for now it's clear that the Trump Presidency hasn't changed the jobs market all that significantly.
Looking deeper into the numbers, the average workweek across the board was unchanged from November at 34.5 hours while average hourly earnings rose 9 cents to $26.63. Over the year, average hourly earnings have risen by 65 cents or a relatively modest 2.5%. Additionally, while the topline U-3 unemployment rate was unchanged from last month, the long-term unemployment/underemployment number, meanwhile, increased slightly to 8.1% while both the labor force participation rate and employment/population ratio remained relatively unchanged for the month. As has been the case for the better part of the year, the biggest concern in the numbers isn't the jobs numbers but wage growth, which remains tepid at best. This could be an indication that, at least for now, employers don't see any reason to increase wages to either attract new labor or keep current employment from straying out into a stronger job market where they could find better-paying jobs.
In its report on the numbers, The New York Times concentrates on the disappointing wage numbers, which were sluggish throughout 2017:
Perhaps the most closely watched number in the report was the change in wages from the previous December. Year over year, earnings increased by around 2.5 percent.

"We don't see our clients being willing to commit to wages increases on a permanent basis," said Bill Ravenscroft, a senior vice president at Adecco Staffing USA. The agency employs around 60,000 workers, hiring more during the holiday season, and places many in distribution centers and warehouses often used by e-commerce giants.

Those companies have increased pay for workers in hot warehouse markets, such as Memphis or the Inland Empire in Southern California, where they are competing with many other companies crowded into the same area, Mr. Ravenscroft said.

But instead of increasing salaries across the board, employers are vying for pickers, packers and shippers by offering new perks. Logistics companies have begun providing on-site child care, or reimbursing employees who need to put their children in day care while they work.

Some companies are entering workers in raffles every week to win laptops, televisions and tablets, or are bringing food trucks to their warehouses and paying for employees' lunches.

"These types of benefits in the past, you associated them with Silicon Valley, start-up companies, they weren't synonymous with your traditional employers," Mr. Ravenscroft said. "We aren't seeing them saying we are going to take a long-term, universal approach to raising wages."

There are signs beneath the surface, though, that more widespread wage growth may be around the corner. In areas where unemployment has dipped below the national rate, pay has begun to accelerate.

Cities where joblessness is 3.5 percent or lower have also witnessed an impressive 4 percent year-over-year increase in earnings, said Ian Shepherdson, chief economist of Pantheon Macroeconomics.

Bob Peterson, the chief executive of Melton Truck Lines, said he had no choice but to increase pay for his 1,600 drivers this year.

"With unemployment this low, anyone worth their salt has got a job and probably a darn good one," Mr. Peterson said. Melton operates in 48 states and has offices in five.
Outside of the wage numbers, perhaps the most surprising item in the December report was the rather disappointing number for the retail industry. Typically, November and December see employment in this sector undergo at least a temporary increase as retailers bulk up their staffs for the holiday season. Last month, though, only saw only modest growth in that area notwithstanding what seemed as though it was a successful and busy holiday shopping season for retail. Given the fact that Thanksgiving was earlier in November than it typically is this year, it's possible that some of the holiday-related growth in that area was covered in the November numbers. Even those numbers weren't all that impressive, though, and overall the retail sector of the economy was rather weak compared to other sectors of the economy. In part, of course, this is likely due to the fact that more and more Americans are shopping online rather than going to bricks and mortar locations. As that continues, and as stores such as Sears continue closing locations nationwide, retail is likely to fade as a significant source of employment compared to other sectors.
In any case, Decembers numbers were rather disappointing and don't indicate that the Trump Presidency has led to significant jobs growth as of yet. As we head into 2018 and the midterm elections, that is likely to become a political hot potato.