March Jobs Report Falls Short Of Expectations
March's Jobs Report fell far short of expectations.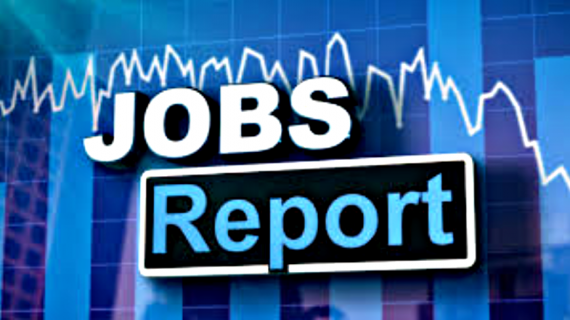 After two months of relatively robust jobs growth in January and February, the expectations heading into this morning's release of the employment report for the month of March was for somewhat more modest growth from what we saw earlier in the year but still a respectable number that would show the economy going to at least maintain stability. As of this morning, for example, consensus forecasts were for jobs growth somewhere between +179,000 and +187,000 new jobs for the month and a topline unemployment rate that either remained stable or actually went down a tick to 4.0%. One reason for the optimistic expectations was the fact that, like February, March saw much more moderate weather across the country than what we saw in January, and that typically causes an uptick in both hirings and in people actively looking for work. Additionally, as I noted in my post about the December report, the jobs market seems to be at the point where expecting massive increases in job creation are probably out of the question. Instead, we're likely to see modest but healthy jobs growth, but not anything spectacular. As it turned out, though, March fell far short of expectations, but it's unclear what this might mean for the economy as a whole:
In March, the unemployment rate was 4.1 percent for the sixth consecutive month, and the number of unemployed persons, at 6.6 million, changed little. (See table A-1.)

Among the major worker groups, the unemployment rates for adult men (3.7 percent), adult women (3.7 percent), teenagers (13.5 percent), Whites (3.6 percent), Blacks (6.9 percent), Asians (3.1 percent), and Hispanics (5.1 percent) showed little or no change in March. (See tables A-1, A-2, and A-3.)

At 1.3 million, the number of long-term unemployed (those jobless for 27 weeks or more) was little changed in March and accounted for 20.3 percent of the unemployed. Over the year, the number of long-term unemployed was down by 338,000. (See table A-12.)

The labor force participation rate, at 62.9 percent, changed little in March, and the employment-population ratio held at 60.4 percent. (See table A-1.)

The number of persons employed part time for economic reasons (sometimes referred to as involuntary part-time workers) was little changed at 5.0 million in March. These individuals, who would have preferred full-time employment, were working part time because their hours had been reduced or because they were unable to find full-time jobs. (See table A-8.)

In March, 1.5 million persons were marginally attached to the labor force, little different from a year earlier. (The data are not seasonally adjusted.) These individuals were not in the labor force, wanted and were available for work, and had looked for a job sometime in the prior 12 months. They were not counted as unemployed because they had not searched for work in the 4 weeks preceding the survey.
(See table A-16.)

Among the marginally attached, there were 450,000 discouraged workers in March, essentially unchanged from a year earlier. (The data are not seasonally adjusted.) Discouraged workers are persons not currently looking for work because they believe no jobs are available for them. The remaining 1.0 million persons marginally attached to the labor force in March had not searched for work for reasons such as school attendance or family responsibilities. (See table A-16.)

(…)

Total nonfarm payroll employment edged up by 103,000 in March, following a large gain in February (+326,000). In March, employment grew in manufacturing, health care, and mining. (See table B-1.)

In March, employment in manufacturing rose by 22,000, with all of the gain in the durable goods component. Employment in fabricated metal products increased over the month (+9,000). Over the year, manufacturing has added 232,000 jobs; the durable goods component accounted for about three-fourths of the jobs added.

In March, health care added 22,000 jobs, about in line with its average monthly gain over the prior 12 months. Employment continued to trend up over the month in ambulatory health care services (+16,000) and hospitals (+10,000).

Employment in mining increased by 9,000 in March, with gains occurring in support activities for mining (+6,000) and in oil and gas extraction (+2,000). Mining employment has risen by 78,000 since a recent low in October 2016.

Employment in professional and business services continued to trend up in March (+33,000) and has risen by 502,000 over the year.

Retail trade employment changed little in March (-4,000), after increasing by 47,000 in February. In March, employment declined by 13,000 in general merchandise stores, offsetting a gain of the same size in February. Over the year, employment in retail trade has shown little net change.

In March, employment in construction also changed little (-15,000), following a large gain in February (+65,000).

Employment changed little over the month in other major industries, including wholesale trade, transportation and warehousing, information, financial activities, leisure and hospitality, and government.
In addition to the numbers above, the Bureau of Labor Statistics reported that total nonfarm payroll employment for January was revised downward from +239,000 to +176,000 and that the number for February was revised upward from +313,000 to +326,000. This represents a net downward revision for the two months combined of -50,000 jobs. Combined with this month's jobs numbers, this puts the average jobs growth for the past three months at +201,667 net jobs created per month, an improvement from where we stood a month ago but still not entirely impressive. This represents a total of 605,000 new jobs created in 2018 as a whole. Combined with the final jobs numbers for 2017, this means we've seen a total of 2,510,000 new jobs created since January 1, 2017, a period that has largely coincided with Donald Trump's tenure as President, for an average over that period of +167,000 new jobs created, a respectable but not entirely robust number. To say the least, this number is most certainly not one that indicates an imminent massive increase in hiring by employers.
During his campaign for President, Donald Trump promised to create 25,000,000 jobs during his Presidency. That would require the creation of 3,125,000 per year over an eight-year term for an average of 261,000 new jobs per month. Over a four-year term that would require 6,250,000 per year, for an average of 521,000 new jobs per month. Based on the average growth rate we have seen since the start of 2017 it would take nearly 12 1/2 years to reach that goal. Based on the average for the past three months, it would take roughly ten years to reach Trump's goal.Needless to say, it is unlikely that we're going to see sustained average jobs growth over the next three to seven years that would put us close to the 25,000,000 mark absent a significant change in the nature of the jobs market.
Looking deeper into the numbers, the average workweek across the board was unchanged at 34.5  hours while average hourly earnings rose 8 cents to $26.82. Over the year, average hourly earnings have risen by 71 cents or 2.7%. These are positive numbers, but slightly less so than what we saw in January and February. As I've said before, this slow jobs growth is potentially a sign that the jobs market is becoming competitive enough that employers are finding it necessary to increase wages and hours to retain or attract workers, but so far those increases have been relatively modest. Combined with the low jobs growth numbers for the month that could mean that we're hitting some sort of equilibrium in the jobs market that will preclude big jumps in either hiring or hourly earnings for the time being. Additionally, the topline U-3 unemployment rate was unchanged from last month, the long-term unemployment/underemployment number, meanwhile, was essentially unchanged and both the labor force participation rate and employment/population ratio were also largely unchanged.  As has been the case for the better part of the past year, the biggest concern in the numbers isn't the jobs numbers but wage growth, which remains tepid at best but seems to be showing signs of picking up.
Over at The New York Times Neil Irwin takes what might seem like something of a contrarian look at what are clearly disappointing numbers:
The March employment numbers were a disappointment, but only relative to extremely optimistic expectations. The basic story of a robust United States job market remains very much intact — though with an important asterisk.

Sure, the United States added only 103,000 jobs in March, down from the blockbuster 326,000 in February. Yes, the unemployment rate was unchanged rather than declining further as forecasters had expected. Did the size of the labor force shrink by 158,000, partly reversing a sharp February rise? You bet it did.

But the weak job creation number surely reflects some reversion to the mean after that extraordinary February number. The United States has added an average of 202,000 jobs a month in the first three months of 2018, which probably reflects the true underlying trend better than either February or March in isolation.

Weather may be a factor — a mild February may have goosed that month's numbers while a more dismal (or even just normal) March depressed the most recent reading.

The unemployment rate may not have fallen further, but 4.1 percent is a comfortably low level, and it may well be that future improvement in the job market will show up in the form of a rising labor force rather than shrinking unemployment. One plausible path for the job market would be for the jobless rate to stay roughly where it is while people who previously weren't even looking for a job decide to seek work — and find it quickly.

And speaking of the labor force, the good news is that most of the extraordinary improvement in February was maintained. There was a gain of 806,000 Americans either working or looking for work in February; the March number gave back less than one-fifth of that.

Relatedly, the ratio of the adult population that was employed soared from 60.1 percent in January to 60.4 percent in February, then held that level in March.

So taken together, these numbers are fully consistent with the view that the United States labor market — and economy as a whole — are in sound shape, expanding steadily and putting more people to work despite an expansion nearing its nine-year anniversary.

With average hourly earnings rising only 2.7 percent over the last year, there is not much evidence of the kind of inflationary pressure that might make the Federal Reserve more inclined to tap on the brakes. There is nothing in the March job numbers that is likely to make the Fed rethink its direction one way or the other.

Which brings us to the asterisk.

This report wasn't as bad as the headline numbers might suggest, but it does take a bit of the shine off the idea that the economy in 2018 is in some period of extraordinary growth. The soft numbers are evidence that the United States is not in some radically different economic position than it has been for the last several years.

Rather, there has been gradual improvement underway for many years that continues apace.

In a few weeks, the Commerce Department will release its first estimate of first-quarter growth in gross domestic product, and analysts are expecting it to be nothing special. Macroeconomic Advisers' most recent tracking estimate was 1.5 percent growth; the Federal Reserve Bank of Atlanta's "GDPNow" forecasting model has it at 2.3 percent. Either of those numbers would look more like the expansion Americans have grown to know these last nine years than some new economic world.
If Irwin is correct, and I think there is substantial evidence that he is, then what we're likely to see going forward is an economy that basically sputters along at roughly the same pace that it has over the past several years. It's unlikely, though, that we will see anything approaching the 3.5 to 4.5% (or higher) growth rates that President Trump and several of his economic advisers, including his new Director of the National Economic Council Larry Kudlow, have forecast we would see based on policies such as the tax cut that Congress passed in December. This is especially true in light of the Administration's recent moves to raise tariffs on numerous products imported from nations such as South Korea, China, and elsewhere, steps which are far more likely to retard economic growth than they are to cause to shift into a new phase of massive growth. Finally, the fact that we are in the ninth year of the recovery from the Great Recession suggests that such high growth rates are unlikely. Historically, our economy generally only sees such numbers in the early years of a recovery while later years tend to see lower rates of growth since there isn't nearly as much room for growth.
All of this is important because much of the spending and tax plans that have passed Congress over the past year are based on economic assumptions of growth that are now appearing to be overly optimistic. Lower than forecast economic growth will likely mean that revenues will be below those forecasts, which will mean higher budget deficits and more massive increases in the national debt. This is likely to put upward pressure on interest rates regardless of what action the Federal Reserve takes. This, in turn, would likely lead to a slowdown in economic growth. In other words, the economy is likely to end up sputtering along at the current pace for the time being, but the danger that we'll be pushed over the line into even a mild recession are growing.