Federal Government Sues California Over "Sanctuary Cities" Laws
The Federal Government has fired another shot in the ongoing war over so-called "sanctuary cities."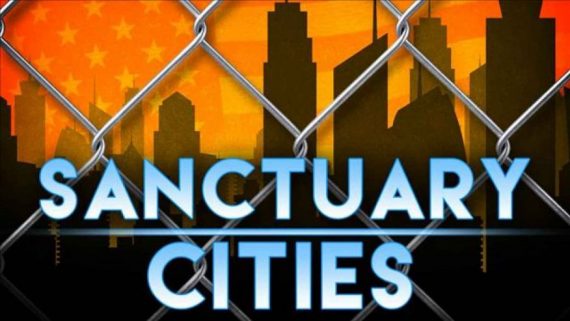 The Federal Government has filed a lawsuit against California arguing that several new laws passed by the legislature and signed into law by Governor Jerry Brown impose an impermissible block against the ability of the Federal Government to enforce immigration laws:
WASHINGTON — The Trump administration escalated what had been a war of words over California's immigration agenda, filing a lawsuit late Tuesday that amounted to a pre-emptive strike against the liberal state's so-called sanctuary laws.

The Justice Department sued California; Gov. Jerry Brown; and the state's attorney general, Xavier Becerra, over three state laws passed in recent months, saying they made it impossible for federal immigration officials to do their jobs and deport criminals who were born outside the United States. The Justice Department called the laws unconstitutional and asked a judge to block them.

The lawsuit was the department's boldest attack yet against California, one of the strongest opponents of the Trump administration's efforts to curb immigration. It also served as a warning to Democratic lawmakers and elected officials nationwide who have enacted sanctuary policies that provide protections for undocumented immigrants.

"The Department of Justice and the Trump administration are going to fight these unjust, unfair and unconstitutional policies that have been imposed on you," Attorney General Jeff Sessions planned to say on Wednesday at a law enforcement event in Sacramento, according to prepared remarks. "I believe that we are going to win."

The battle pits President Trump and Mr. Sessions, immigration hard-liners, against Mr. Brown and Mr. Becerra, who have emerged as outspoken adversaries who have helped energize opposition to Mr. Trump and vowed to preserve the progressive values that they believe California embodies.

The lawsuit claims that the statutes "reflect a deliberate effort by California to obstruct the United States' enforcement of federal immigration law." It also says the laws regulate private entities that want to cooperate with the federal authorities and "impede consultation and communication between federal and state law enforcement officials."

Mr. Brown called the lawsuit a "political stunt."

"At a time of unprecedented political turmoil, Jeff Sessions has come to California to further divide and polarize America," Mr. Brown said in a statement. "Jeff, these political stunts may be the norm in Washington, but they don't work here. SAD!!!"

California began battling the Trump administration even before Mr. Trump took office, standing in opposition on a number of issues, including marijuana, environmental regulations and taxes. But immigration has proved to be the most contentious fight, with local officials assuring undocumented immigrants that they would do all they could to protect them.

Last year, California enacted the sanctuary laws, which restrict when and how local law enforcement can cooperate with federal immigration enforcement officers.

(…)

The lawsuit filed on Tuesday evening in Federal District Court in Sacramento is the first against a local or state government over its immigration policies filed by the Justice Department under Mr. Sessions. Department officials said that they would not rule out the possibility of other lawsuits against local governments whose policies interfere with the federal government's authority on immigration. Colorado, Illinois, New Mexico, Oregon and Vermont have state sanctuary laws, as do cities and counties in more than a dozen states, according to the Center for Immigration Studies.

One, the California Values Act, strictly limits state and local agencies from sharing information with federal officers about criminals or suspects unless they have been convicted of serious crimes. The law, which took effect Jan. 1, was the centerpiece of the State Legislature's effort to thwart the Trump administration's immigration policies.

Soon after the law was enacted, Thomas D. Homan, the acting director of United States Immigration and Customs Enforcement, said that the state should expect to see "a lot more deportation officers" and that elected officials who support the policy should be arrested.

"We've got to start charging some of these politicians with crimes," he said. "These politicians can't make these decisions and be held unaccountable for people dying. I mean, we need to hold these politicians accountable for their actions."

Mr. Homan and three other immigration and border protection officials filed declarations with the suit claiming that California's laws had already negatively affected their work.

"The administration is just angry that a state has stood up to them — one that embraces diversity and inclusivity and is the sixth-largest economy in the world thanks to the hard-working immigrants who want to become American citizens," said Kevin de León, the leader of the California State Senate who wrote one of the sanctuary city laws named in the suit.

State lawmakers also passed the Immigrant Worker Protection Act, which prohibits local business from allowing immigration to gain access to employee records without a court order or subpoena. Mr. Becerra warned that anyone who violated the new law would face a fine of up to $10,000.

In the state budget bill, California lawmakers prohibited new contracts for immigration detention in the state and gave the state attorney general the power to monitor all state immigration detention centers.

The state and several local governments including the cities of San Francisco and Sacramento have also set up legal defense funds to help defend immigrants during deportation proceedings.

"I'm worried about the 'Dreamers,' hard-working immigrant families and law-abiding people who are just trying to make their way like the rest of us," Mayor Darrell Steinberg of Sacramento said this year when asked about the state's sanctuary legislation. "Civil disobedience is a respectful way to show your love for country."
This lawsuit is, of course, the latest shot across the bow in a conflict between the Federal Government and states and localities regarding the enforcement of Federal immigration law and, specifically, the question of the detention of people who may or may not be in the country legally for the benefit of Federal immigration authorities. The conflict began with announcements by the Justice Department that it was cutting off certain Federal aid programs to the states related to law enforcement to states that purported to create or protect so-called "sanctuary cities" that had made the choice not to cooperate with Federal immigration authorities. It began with an Executive Order that President Trump signed in the early days of his Administration which included provisions directing the appropriate Federal agencies to issue policies to withhold grant money to states or localities that refuse to comply with Federal laws regarding the detention of suspected undocumented immigrants. This includes 8 U.S.C. s. 1373, which purports to say that a state "may not prohibit, or in any way restrict, any government entity or official from sending to, or receiving from, the Immigration and Naturalization Service information regarding the citizenship or immigration status, lawful or unlawful, of any individual." In July, Attorney General Jeff Sessions took that Executive Order a step further by announcing new restrictions that would be placed on Federal aid to such cities, and new conditions that they must meet if they want to continue receiving those funds.
This action led to lawsuits being filed against the Federal Government by Santa Clara County and San Francisco and by the City of Chicago. All three of these lawsuits raised essentially the same claims regarding the effort by the Federal Government to use Federal grant money as a cudgel to force states and localities to act in a certain manner by restricting funds that are otherwise available without condition. Suffice it to say that the Federal Government has not fared well in those lawsuits as Federal Judges in both California and Illinois have issued orders finding the Trump Executive Order and the subsequent Justice Department action to be impermissible based on principles of Federalism and on a series of Supreme Court opinions that have severely restricted the ability of the Federal Government to punish states for pursuing policies at odds with Federal law or for refusing to enforce Federal law in a given area. In both cases, the Judges in question have issued injunctions preventing the policy changes from being put into effect. Those decisions are both, of course, under appeal but the injunctions remain in effect at this time.
In this case, the Federal Government takes the existing argument into new and largely uncharted legal territory, as The Washington Post's Amber Phillips explains
Immigration experts on both sides say this kind of lawsuit takes the sanctuary-cities debate into uncharted territory, and it's not clear what the result will be — other than a likely escalation to the Supreme Court.

"There is real uncertainty about who will win it," said Ilya SomAnother California law prohibits employers from letting federal immigration officials raid a workplace without a court order. There, Somin said, California isn't specifically violating a federal law, but there is a way to interpret a Supreme Court decision that says federal immigration law generally preempts most state immigration law. "So there is no federal law which specifically says private employers must allow ICE immigration raids anytime ICE wants one," he said.in, law professor at George Mason University.

That's in part because the legal landscape on federal vs. state rights, especially when it comes to immigration, is a choose-your-own-adventure. Lower courts have split on whether it is legal for the federal government to require local law enforcement to hand over immigrants. There are also intersecting and sometimes contradictory laws about state rights and immigration.

The Justice Department argues that California is violating the Constitution's supremacy clause, which says that federal law is the supreme law of the land. "Federal law determines immigration policy," Attorney General Jeff Sessions told Fox News, in an interview that will be aired Wednesday night. "The state of California is not entitled to block that activity."

California officials counter that they have the constitutional right to govern their state as they see fit. "States and local jurisdictions have the right to determine which policies are best for their communities," California Attorney General Xavier Becerra (D) told The Washington Post's Matt Zapotosky on Tuesday night after the lawsuit dropped.

Jessica Vaughan, policy director at the conservative-leaning Center for Immigration Studies, said the government has a good chance to knock down California's policies, which are some of the most defiant laws on the books.

She points to a case conservatives recently lost to prove her point. When the Supreme Court knocked down most of a controversial Arizona immigration law in 2012, the justices upheld the government's broad authority to enforce federal immigration law. That could prove a powerful precedent in the California case by underscoring that federal law outweighs state law, Vaughan said. And that could have a chilling effect on other states that are considering laws like California's.

I think they are very likely to succeed, ultimately, and that it will help resolve the issue of sanctuary cities once and for all," she said.

But Somin isn't so sure the government has a strong case.

Take one of California's new laws, which limits what state law enforcement officials can tell federal officials about some suspected undocumented immigrants. U.S. law prohibits state governments from instructing their officials to not share immigration status with the federal government. But, Somin said, at least one court has decided that the federal law is unconstitutional, violating the 10th Amendment, which restricts the federal government's commandeering of state and local governments.
The other risk that the Administration takes, of course, is that the courts will rule against the Trump Administration and uphold the California laws. In addition to handing the Trump Administration yet another legal loss similar to those it has seen on issues that have included all three iterations of the Muslim Travel Ban. the Administration's efforts to ban transgender soldiers from openly serving in the military, and the President's order to end the Deferred Action For Childhood Arrivals program. It would also likely encourage other states and localities to enact or expand upon their own sanctuary jurisdiction laws and policies. Additionally, as Phillips notes above, even if the Justice Department succeeds it doesn't mean that the entire sanctuary city idea is a dead letter, it would simply mean that California could not enforce the three state laws at issue in the lawsuit. The outcome of this case would also not have any impact on the enforceability of the Federal Government actions that remain on hold as a result of the aforementioned orders from Federal Judges in California and Illinois.
Given the uncertain nature of the law in this area, it's not at all easy to predict the fate of this lawsuit this early in the case. On the one hand, the Federal Government's claim that the state laws in question violate the Constitution's Supremacy Clause in that they are attempting to hinder the ability of a Federal agency from enforcing immigration laws. On the other hand, California's apparent defense based on Federalism and the Tenth Amendment appears on the surface to be equally strong. Finally, as Law Professor Josh Blackmun argued last year, there is a very strong case that the underlying Federal statute requiring local law enforcement to comply with requests from Federal immigration authorities is itself unconstitutional. If that's the case, then the Federal Government's argument that Federal law compels the states and localities to act in a certain manner falls completely apart. If courts end up handing down rulings that reach that issue, then the Justice Department could end up regretting filing this lawsuit.
Here's the Complaint:
United States v. California Et Al by Doug Mataconis on Scribd