Haiti's Cholera
The cholera outbreak in Haiti continues unabated; riots against UN peacekeepers have broken out.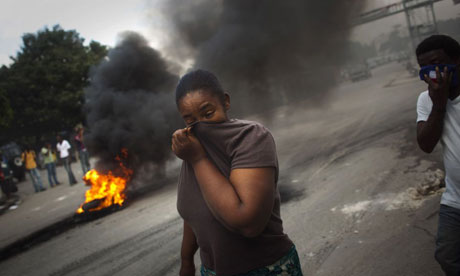 The cholera outbreak in Haiti that has been going on since October 20th continues to garner more victims:
Health officials in Haiti are warning the deadly cholera outbreak, which has killed more than 900 people, is intensifying.

The disease has also infected at least 14,000 more people in the past month, but officials say that number could rise exponentially now the disease has reached the capital, Port-au-Prince.

Hundreds of thousands of survivors from the January earthquake are still living there in makeshift accommodation.

So far only 27 people have died in the capital, but Medicins Sans Frontieres (MSF) says the epidemic shows no sign of abating.
The disease, which until this outbreak had not been seen in Haiti in living memory, may have spread to the Dominican Republic:
A first case of cholera has been detected in the Dominican Republic, which shares the island of Hispaniola with Haiti.

The death toll in Haiti from a recent outbreak of cholera has climbed past 1,000.

The patient is a 32-year-old Haitian-born man named Wilmont Lowel. His condition was said to be stable.

Mr Lowel is a construction worker who had been at home in Haiti on holiday before returning to the Dominican Republic last Friday.

Dominican authorities have tightened border controls and stepped up health checks in an attempt to stop the disease from spreading from Haiti.

Authorities say they have detained 170 people suspected of trying to get across the border without proper documentation.

'This really is a serious danger,' a Dominican Medical Board official said. 'Cholera could become a pandemic if it spreads on this side of the island. We must avoid a disaster of that scope.'
Haitians are blaming the outbreak on the UN mission there. This has resulted in several days of rioting against UN peacekeepers:
Haiti's president, René Préval, has warned that violence will not be tolerated after demonstrators turned on UN peacekeepers as Haitians blamed Nepalese troops for being the source of the current cholera outbreak.

"Those who are creating the violence, who are looting warehouses, who are destroying other citizen's wealth, you should be reminded that no serious government will tolerate the state of disorder you are creating," Préval said in a statement. "The food you are pillaging so that you can do your own business belongs to schoolchildren, sick people in hospitals, the poor."

The president sought to restore calm after two days of demonstrations in Cap-Haitien, the country's second largest city. Protesters erected barricades of burning tyres and threw stones and bottles at UN peacekeepers. At least two demonstrators have died, one of them shot by a member of the UN force, which has been in Haiti since 2004.

During a second day of rioting yesterday, local reporters said a police station was set on fire in Cap-Haitien and stones were thrown at UN bases. A UN world food programme warehouse was looted and set ablaze.
The background of the attribution of the outbreak to the UN mission is that the particular strain of cholera that is killing people in Haiti is most prevalent in South Asia, the encampment of Nepalese peacekeepers has sanitation problems, and, reportedly, several of the peacekeepers have been diagnosed with cholera.
Haitians believe that Nepalese troops at a UN base beside the Artibonite river were the source of outbreak, which began last month. Suspicion that UN troops brought cholera to Haiti has come on top of long-standing resentment of the 12,000-member mission.

UN officials deny responsibility and say the protests were politically motivated to affect or disrupt national elections scheduled for 28 November.

Health experts have called for an independent investigation into whether Nepalese peacekeepers introduced the south Asian strain of cholera to Haiti. The soldiers arrived there in October following outbreaks in their home country and about a week before Haiti's epidemic was discovered.
That's not proof that the Nepalese peacekeepers brought the disease but it's enough for panicked people to react to.
Cholera, whose primary symptoms are vomiting and diarrhea of clear fluid, spreads easily without rigorous attention to sanitation. The post-earthquake conditions that continue to prevail in Haiti create a fertile breeding ground for the disease. Once an outbreak has begun it is difficult to eradicate the disease completely so it's likely that Haitian people will have to cope with cholera for many years to come.
As if the country didn't have enough problems.