Bipartisan Group Of Senators Proposes A DACA Fix, But Its Fate Is Unclear
A bipartisan group of Senators has proposed a largely reasonable fix to the DACA problem, but its fate remains unclear.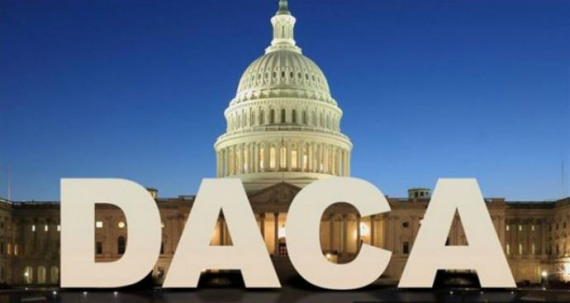 A bipartisan group of Senators says they've reached an agreement on a proposal to provide protection to the beneficiaries of the Deferred Action For Childhood Arrivals program. but its political fate remains highly uncertain:
WASHINGTON — A broad bipartisan group of senators reached agreement Wednesday on a narrow rewrite of the nation's immigration laws that would bolster border security and resolve the fate of the so-called Dreamers, even as President Trump suggested he would veto any plan that does not adhere to his harder-line approach.

Their compromise legislation sets up a clash pitting the political center of the Senate against Mr. Trump and the Republican congressional leadership.

Senators in both parties have been racing against a self-imposed end-of-the-week deadline to write legislation that could win wide support by increasing border security while at the same time offering a path to citizenship for young immigrants brought to the United States illegally as children.

Members of the bipartisan group, which calls itself the Common Sense Coalition, said their deal does just that. They were working Wednesday evening to determine whether their bill could garner the 60 votes necessary to break a filibuster.

"The president's going to have a vote on his concept. I don't think it will get 60 votes," said Senator Lindsey Graham, Republican of South Carolina and a member of the group, adding: "The bottom line then is: What do you do next? You can do what we've done for the last 35 years — blame each other. Or you can actually start fixing the broken immigration system. If you came out of this with strong border security — the president getting his wall and the Dream Act population being taken care of — most Americans would applaud."

The bipartisan measure, sponsored by eight Democrats, eight Republicans and one independent, would appropriate $25 billion for border security, including construction of the president's proposed wall at the Mexican border, over a 10-year period — not immediately, as Mr. Trump demands.

It would also offer an eventual path to citizenship, over 10 to 12 years, for 1.8 million of the young undocumented immigrants, but would preclude them from sponsoring their parents to become citizens. It would make no changes to the diversity visa lottery system, which Mr. Trump wants to end.

But in a morning statement, Mr. Trump urged senators to oppose any bill that did not also embrace the "four pillars" of his immigration approach, which includes a rewrite of the nation's immigration laws that would close the country's borders to many immigrants trying to come to the United States legally.

"I am asking all senators, in both parties, to support the Grassley bill and to oppose any legislation that fails to fulfill these four pillars," Mr. Trump said in the statement, referring to the chief sponsor of the measure, Senator Charles E. Grassley, Republican of Iowa.

The Grassley bill would provide a path to citizenship for 1.8 million young immigrants, end the visa lottery program, build a border wall and severely limit what he calls "chain migration," which is family-based immigration. It would also increase the use of radar and tower-based surveillance, sensors and drones mostly along the Southwest border, increase the number of border patrol officers and deploy the National Guard to help construct border fencing and operate some of the surveillance equipment.

Mr. Grassley said that in offering the young immigrants, known as Dreamers, a chance to become citizens, Mr. Trump had been "much more compassionate on a compromise than anybody thought."

Limiting family-based immigration — which Democrats call "family reunification" — and ending the diversity visa lottery are anathema to Democrats. But it was unclear how many Democrats would sign on to the compromise as an alternative.

Senate Democrats met in a closed-door session to talk about the coalition's plan, and lawmakers emerged saying that some of their colleagues, who favor improvements in border security but have been deeply opposed to building a wall, had reservations.

"I know that people want to get some certainty for these kids," said Senator Heidi Heitkamp, Democrat of North Dakota. She said she would support the Common Sense measure, but added, "We're being asked to make some tough compromises."

Mr. Trump's decision to weigh in forcefully called into question whether any compromise legislation would be dead on arrival at the president's desk. His statement came as the Senate was just beginning to debate immigration using a novel approach in which lawmakers are trying to build a bill from scratch on the floor.
On paper at least, the proposal that this bipartisan group of Senators has come up with seems to be a fairly good one. It would extend permanent protection to the current beneficiaries of the DACA program as well as other people who fall within the general parameters of the program but didn't qualify for protection under the program for one reason or another, typically the fact that they were too old to fall within DACA's protection. Giving these people who have been in the United States since they were children, and who were brought into the country by their parents, legal status is a sensible and fair idea that would allow them to continue to contribute to the only nation they've ever known as home. The law also provides that these people would eventually be able to apply for citizenship, but provides that they would have to wait somewhat longer than other people who are in the country legally. Currently, everyone who is a Permanent Resident Alien status (a/k/a a "Green Card") is able to apply for naturalization once they have resided in the United States for at least five years and met the other criteria that the law sets for. The Senate proposal would lengthen that period for DACA beneficiaries to 10-12 years. This seems like a fair compromise to the citizenship question to me, since it both makes it possible for these people to apply for citizenship at some point and recognize the fact that there should at least be some price to pay for having lived in the country illegally and that it would be unfair to treat DACA beneficiaries better than people seeking to immigrate legally. Finally, the border security measures are actually quite reasonable, and likely to be far more effective than the President's idiotic wall.
As a practical matter, though, it's not at all clear that this Senate proposal can make it through Congress. Even if it does pass the Senate, the fact that it includes any sense of a path to citizenship at all is going to be a non-starter for many Republicans in the House of Representatives. The same thing goes for the lack of any funding specifically addressed to the border wall. Additionally, the White House's statement yesterday that anything that doesn't include everything that the President is asking for, which includes things such as ending the visa lottery and placing limitations on so-called "chain migration" raises the prospect that the entire process could come to naught if President Trump chooses to veto a DACA bill that doesn't meet those criteria. In Trump's case, I suspect the veto threat is mostly a negotiating tool and that he'd ultimately accept something along the lines of what the Senate group is proposing, perhaps with the addition of some funding being designated for his wall. I don't believe the same thing, though, about the hardline immigration restrictionists in that make up a substantial part of the House GOP Caucus. As long as they're adamant when it comes to their position, it makes the odds that a DACA bill can pass Congress very unlikely.