Government Shutdown Now Seems Inevitable
There are still three days left, but it's looking less and less likely that a budget deal will be reached in time to avoid a government shutdown.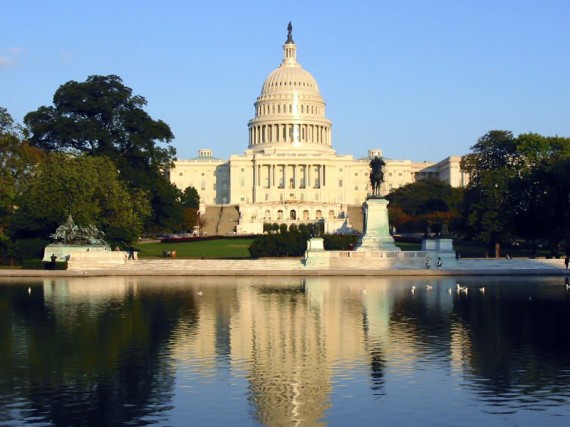 Negotiations are still ongoing, but reports out of the budget negotiations this morning are not encouraging. The Washington Post is reporting that the White House is moving forward with the planning for a Friday shutdown:
The process of shutting down the federal government is underway.

With the clock ticking towards Friday's federal budget deadline and President Obama hosting congressional leaders for budget talks at the White House on Tuesday, top administration officials have instructed agency officials to begin sharing details of shutdown contingency plans with top managers. This marks the next step toward both curtailing government operations if a budget impasse occurs and informing federal workers whether they are considered "essential" personnel who would stay on the job despite a shutdown.

Though Obama and congressional leaders remain committed to avoiding a shutdown, "given the realities of the calendar, good management requires that we continue contingency planning for an orderly shutdown should the negotiations not be completed by" Friday at midnight, Office of Management and Budget Deputy Director Jeffrey Zients said in a memo. The message was sent to the government's deputy secretaries and chiefs of staff, who handle day-to-day management issues for agencies and departments.
House Republicans are preparing their own shutdown plans:
Republican leaders are preparing the House for a government shutdown, as they plan to distribute a pamphlet about the mechanics of a partial congressional work-stoppage to all lawmakers' offices Tuesday morning, according to several senior House aides.

It's the strongest signal yet that House Speaker John Boehner believes the White House and Congress could fail to strike a deal on a long-term funding bill before the government's authority to spend money runs out on Friday. Talks came to a standstill Monday, amid amplified partisan recriminations.

To illustrate just how tense the situation has become, Boehner (R-Ohio) did not initially commit to a meeting President Barack Obama plans to host at the White House on Tuesday — the same day House Republicans plan to release their entitlement-slashing budget plan for the fiscal year that begins Oct. 1. Boehner's office confirmed late Monday that he will attend but arrive after it starts.

With that as a backdrop, House Administration Committee Chairman Dan Lungren (R-Calif.) has been tasked with compiling and distributing the pamphlet. It is designed to give guidance on which employees are considered essential and which are not allowed to work during a shutdown, advise congressional staff about the status of their benefits during a shutdown and outline which House services will continue to operate.

Democrats pounced on the news.

"The Republican leadership is preparing for a shutdown. Instead of coming to the table to work with Democrats and the White House, who have offered $33 billion in cuts, Speaker Boehner is taking his marching orders from the Tea Party, who want to 'cut it or shut it,'" said a House Democratic leadership aide.
The other way to look at both these stories, of course, is that planning of this type is necessary even if negotiations are going to continue simply because everyone needs to be prepared for the possibility of a shutdown on Friday. It doesn't necessarily mean a deal won't be made, but when you combine it with other developments it seems to suggest that both sides now recognize that a deal won't be made in time.
For example, there's the news that the GOP caucus seems to be looking forward to a shutdown:
House Republicans huddled late Monday and, according to a GOP aide, gave the speaker an ovation when he informed them that he was advising the House Administration Committee to begin preparing for a possible shutdown. That process includes alerting lawmakers and senior staff about which employees would not report to work if no agreement is reached.
At the same time, though, and in apparent recognition of the fact that a final deal is still far off, House Republicans are offering another Continuing Resolution to allow negotiations to continue:
House Appropriations Chairman Hal Rogers today introduced another temporary funding measure – known as a Continuing Resolution (CR) – to prevent a government shutdown for an additional week while cutting a total of $12 billion in discretionary spending. The measure also includes funding for the Department of Defense for the remainder of the current fiscal year. …

"We cannot let the unruly actions of one person cause a government-wide shutdown and unravel the efforts House Republicans have made to significantly reduce spending and rein in our historic deficits. Therefore, I am introducing a short-term continuing resolution today to keep the government open for another week. This bill will cut $12 billion to help chip away at ballooning budgets, and includes responsible funding for our national defense for the rest of the fiscal year.

"This bill is not the preferable way to go forward, and I would greatly prefer to come to a final agreement with the Senate to put this long-overdue budget work behind us. However, we must maintain critical programs and services for the American people and protect our nation's financial future. This legislation give us this option, while exacting a price for Leader Reid's delays and allowing time to finally begin honest negotiations."
The White House, however, is apparently rejecting this plan:
WASHINGTON — Congressional GOP leaders said on Tuesday that the Obama administration has informed them that it will oppose a last-ditch stopgap funding measure proposed by House Republicans to keep the government running for an additional week.

The Obama administration would neither confirm nor deny the reports. "That is getting ahead of the process," Press Secretary Jay Carney said, when asked about a one-week continuing resolution. "We believe that we can reach an agreement on funding for the full year if we sit around the table with good faith efforts to approach this in a reasonable way."

That said, on Tuesday morning, GOP lawmakers and aides from both parties on the Hill said that the administration had made its opposition to the measure clear.

"The White House has indicated now that they have already rejected that notion, which is raising the risk of government shutdown," House Majority Leader Eric Cantor (R-Va.) told reporters. "We in the House have said consistently that we don't want to shut government down, we just want to decrease spending."
And, seemingly confirming it all, it appears that today's meeting between President Obama and Congressional leadership failed to make any progress:
WASHINGTON — House Speaker John Boehner said Tuesday that private talks with President Barack Obama failed to produce a deal to avoid a government shutdown and warned that the House Republicans "will not be put in a box" of accepting options they refuse to endorse.

Short of an agreement to cover the rest of the budget year, Boehner said House Republicans want a stopgap bill that would keep the government running for one more week and slash another $12 billion in spending. The White House has shown no interest in that approach.

Friday is the deadline to avoid a shutdown. Boehner's account of the meeting between Obama and top lawmakers of both parties, released in a statement from his office, did nothing to suggest the White House and Congress were closer to reaching a deal.
There's still time to make a deal, of course, or agree to another CR, but the parties' positions have hardened to the point where that doesn't seem likely before Friday. So, we're probably headed for the first government shutdown in fifteen years. The last time that happened, it led to a political rebound for President Clinton and the beginnings of a Presidential sex scandal that led to impeachment. This time, what happens is anybody's guess.