Mitch McConnell's Shutdown
Both #TrumpShutdown and #SchumerShutdown put the blame in the wrong place.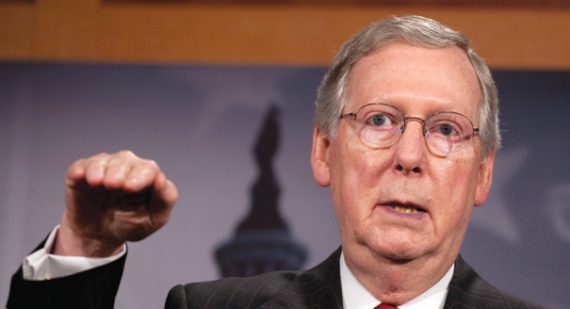 The #TrumpShutdown hashtag is trending on Twitter, despite the GOP's best efforts to brand this the Schumer Shutdown. In reality, it's neither. The blame here rests squarely on the shoulders of the Majority Leader, Mitch McConnell.
Former Republican Congressman and "Morning Joe" host Joe Scarborough argues, in a series of early morning tweets, that President Trump is the culprit. He makes three points:
"Democrats cannot strike a deal with Donald Trump when his own majority leader tells the world he still doesn't know where this confused, chaotic president stands."
"This is not Chuck Schumer's shutdown. This is not Mitch McConnell's shutdown. This is Donald Trump and Stephen Miller's shutdown. This is the result of a confused, chaotic White House."
"Trump keeps making offers before walking them back. He makes deals with Democrats before staff members break them."
With the exception of the analytic conclusions in the second of those tweets, I agree with all of that. But the analysis is predicated on the assumption that the United States has a parliamentary government. As Scarborough well knows, we don't. Trump's fecklessness is frustrating. But it should have no bearing whatsoever on the ability of McConnell to wrangle a deal with Schumer. Indeed, Schumer's negotiating directly with Trump is simply bizarre; the president is not a party to legislation until after the fact.
Yes, it's true that Trump ultimately has to sign the bill. But, bluster aside, it's almost inconceivable that he would veto a spending bill that passed the Republican House and passed the Republican Senate with enough Democratic votes to get to a near-veto-proof supermajority. So, really, Trump's views on the matter are irrelevant.
My initial instinct, then, was to blame Schumer. After all, the sticking point on getting yet another temporary deal to keep the government open a few more weeks is Schumer's insistence on including a controversial provision that would grant amnesty to a group of illegal aliens who came here as children. While I happen to support that measure, it has no place in a budget bill and thus has no place in this debate.
The problem, however, is two-fold. First, McConnell couldn't even get a bill on the floor that got unanimous support among his own caucus. Second, having previously used the extra-constitutional reconciliation workaround to pass a partial ObamaCare repeal—another measure that has no place in a budget bill—he's allowed himself to be held hostage by the minority party, needing 60 votes to pass a simple continuing resolution. That's a failure of both leadership and vision.
For the moment, the shutdown is all but symbolic. Most of those of us affected won't actually be furloughed until Monday morning. But the parties have painted themselves into corners that will be hard to get out of. Schumer and the Dems have pushed all their chips in on the DACA matter; I don't see how they back out now. Lindsey Graham and others are reportedly working on a separate DACA bill but Trump has said that he won't sign anything on that until the government is reopened, a position that frankly is not unreasonable.