Poll: GOP Bears Biggest Political Risk In Shutdown
The GOP seems perfectly fine with risking a shutdown, even though polling shows they'd pay the biggest price for it.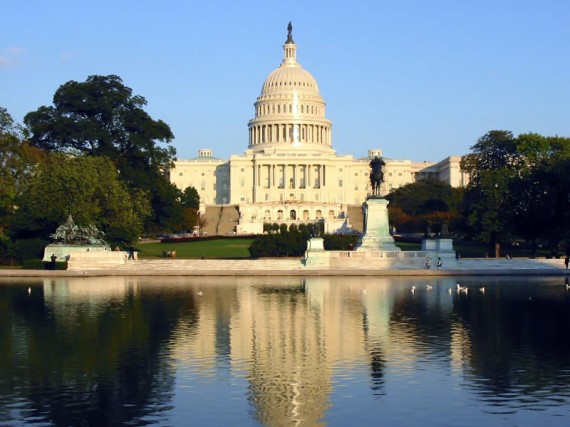 A new CNN/ORC poll shows that Republicans would seem to be bearing the biggest political risk if, as expected, the government shuts down in less 24 hours:
If the federal government shuts down starting Tuesday because of a bitter partisan battle over the new health care law, more people say congressional Republicans rather than President Barack Obama would be responsible, according to a new national survey.

A CNN/ORC International poll released Monday morning, hours before funding for the government is scheduled to run out, also indicates that most Americans think Republicans in Congress are acting like spoiled children in this fiscal fight, with the public divided on whether the president is acting like a spoiled child or a responsible adult.

And six in 10 questioned in the survey say they want Congress to approve a budget agreement to avoid a government shutdown, and if it happens, most people say a shutdown would be a bad thing for the country.

The poll's release comes one day after the GOP-dominated House of Representatives approved a spending plan to fund the government that would delay the Affordable Care Act, better known as Obamacare, for a year, and repeal its tax on medical devices.

(…)

According to the poll, which was conducted Friday through Sunday, 46% say they would blame congressional Republicans for a government shutdown, with 36% saying the president would be more responsible and 13% pointing fingers at both the GOP in Congress and Obama.

"The number who would hold congressional Republicans responsible has gone down by 5 points since early September, and the number who would blame Obama is up 3 points in that same time," said CNN Polling Director Keating Holland. "Those changes came among most demographic groups."

The CNN poll is similar to a CBS News/New York Times survey released late last week that indicated 44% blaming congressional Republicans and 35% pointing fingers at the president. Two other polls conducted in the past week and a half, from Pew Research Center and United Technologies/National Journal, showed a much closer margin but their questions mentioned Republicans in general rather than the GOP in Congress.

(…)

In a separate question, 49% of all people in the poll say that Obama is acting like a responsible adult in this budget battle, with 47% describing him as a spoiled child. While that's nothing to brag about, it's better than Congress.

According to the poll, 58% say congressional Democrats are acting like spoiled children, with that number rising to 69% for the GOP in Congress. Only one in four say congressional Republicans are acting like responsible adults.

Some 68% say a shutdown for a few days would be a bad thing for the country, with that number rising to nearly eight in 10 for a shutdown lasting a few weeks.

Six in 10 questioned in the CNN survey say that it is more important for Congress to avoid a shutdown than to make major changes to the new health care law, with only a third saying it is more important for lawmakers to prevent major provisions in the new health care law from taking effect by cutting the funds needed to implement them.
The reality, of course, is that large segments of House GOP, and the Republican base, don't really believe this. To listen to them, it's clear that they believe that they primary fault will end up in the lap of Harry Reid, President Obama, and the Democrats, and that public opposition to the Affordable Care Act will be the key to GOP victory in this confrontation. While it's true that the numbers above do indicate that Democrats would not be immune to public backlash from a shutdown, they also make clear that Republicans on the Hill seem to be the primary focus of the public ire at the moment. There's really no reason to believe that this will change at any point in the future. Until Republicans realize this fact, and I believe that many of them already do, then we're unlikely to see significant movement on the issue, which suggests that a shutdown would be something that lasts more than just a day or two.
In either case, if there's going to be a last minute deal that fixes this issue, it's going to have to happen in the coming hours. So far, there's absolutely no sign of movement on either side, or even that the two sides are talking to each other. Given that, it seems like a shutdown at 12:01am is pretty much a certainty. What happens after that is anyone's guess.