As Shutdown Continues, The President's Political Position Weakens
As the shutdown continues, the President's political position is becoming weaker. He doesn't seem to care, though.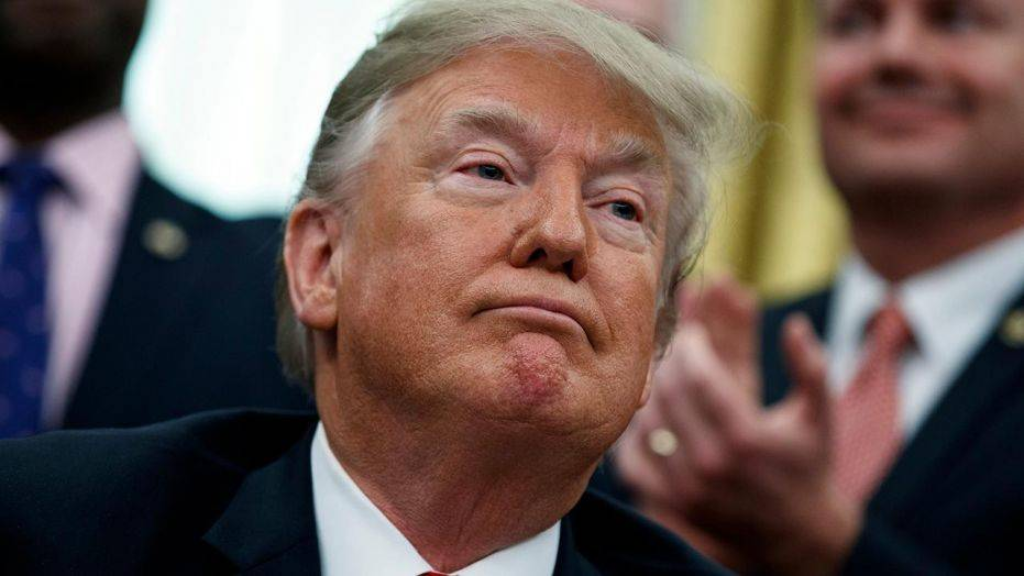 With the government shutdown in day thirty-three, new polling is showing that the President's political position is continuing to suffer notwithstanding the White House's effort to shift the blame to House and Senate Democrats:
President Donald Trump's disapproval rating is at an all-time high amid a historically long partial government shutdown and concerns about the president's relationship with Russian President Vladimir Putin, according to a new POLITICO/Morning Consult poll.

Nearly 6-in-10 voters — 57 percent — disapprove of Trump's job performance, compared to the 40 percent that approve. In addition, 54 percent of voters blame Trump and Republicans on Capitol Hill for the government shutdown. Only 35 percent blame congressional Democrats.

There has been no progress on negotiations between Republican and Democratic leaders, as well as the president, to end the government shutdown — the longest partial government shutdown in history. Trump has not backed down from his request of $5.7 billion for his border wall along the U.S.-Mexico border, which Democrats have not agreed to.

"As the government shutdown enters its second month, President Trump continues to carry the bulk of the blame among voters for the stalemate," said Tyler Sinclair, Morning Consult's vice president. "In this week's poll nearly half of voters (49 percent) say the president is responsible — up 6 points since the shutdown began. At the same time, 35 percent of voters blame congressional Democrats, up 4 points, while 4 percent of voters blame congressional Republicans, down 3 points."

While 43 percent support the construction of a border wall — compared to 49 percent who oppose construction — only 7 percent of voters said that they support dedicating funding to a border wall if it was the only way to end the government shutdown.

That's compared to 72 percent who oppose dedicating funding to a border wall if it was the only way.

When asked whether they will approve of dedicating funds to border security, but not a wall, to end the shutdown, 34 percent supported. Fifty-one percent, however, still opposed that plan.
A new poll from CBS News has similar numbers, and also shows that the vast majority of Americans do not believe that a border wall is worth forcing a government shutdown:
Seven in 10 Americans don't think the issue of a border wall is worth a government shutdown, which they say is now having a negative impact on the country. But partisans don't want their own side to budge: 65 percent of Republicans say President Trump should refuse a budget unless it includes wall funding, and 69 percent of Democrats think congressional Democrats should keep refusing to fund it.

Among Americans overall, and including independents, more want to see Mr. Trump give up wall funding than prefer the congressional Democrats agree to wall funding. Comparably more Americans feel House Speaker Nancy Pelosi is handling negotiations better than the president is so far.

(…)

Mr. Trump's overall approval rating has dipped three points from November to 36 percent today. Fifty-nine percent of Americans now disapprove of the job he is doing – a high for his presidency, although just one point above his previous high. The president's ratings have not varied much over the course of his term so far.

Overall, more Americans say congressional Democrats care about the needs and problems of people like them than say that about President Trump. Most younger Americans, women and racial minorities say Democrats in Congress care about their needs and problems.

On specific issues, Mr. Trump gets relatively stronger ratings on his handling of the economy and the threat of terrorism. He gets more negative ratings on immigration and health care. The president continues to get high approval from Republicans on these issues.

There is a bit of difference since the fall in the president's overall ratings among some groups that have supported him and voted for him in strong numbers, but these ratings have seen other small fluctuations up and down in the past two years, and many in these groups still think the president cares about people like them
Third, a new poll from the Associated Press and NORC shows the President's job approval hitting new polls:
A strong majority of Americans blame President Donald Trump for the record-long government shutdown and reject his primary rationale for a border wall, according to a new poll that shows the turmoil in Washington is dragging his approval rating to its lowest level in more than a year.

Overall, 34 percent of Americans approve of Trump's job performance in a survey conducted by The Associated Press-NORC Center for Public Affairs Research. That's down from 42 percent a month earlier and nears the lowest mark of his two-year presidency. The president's approval among Republicans remains close to 80 percent, but his standing with independents is among its lowest points of his time in office.

(…)

The drop in approval comes as Trump begins the third year of his presidency under the weight of the longest government shutdown in U.S. history, an international trade war that's straining the global economy and new revelations about his push for a real estate deal in Russia during his 2016 campaign.

Compared with earlier presidents, Trump's approval rating has been relatively stable over the course of his presidency, ranging from the mid-30s to the mid-40s.

By contrast, President Barack Obama never fell below 40 percent in polling by Gallup. Still, five presidents since Gallup began measuring presidential approval have had their rating fall into the 20s at least once, including Harry S. Truman, Richard Nixon, Jimmy Carter, George H.W. Bush and George W. Bush. Trump has never fallen into that range of historic lows, but he's also the only president never to have reached 50 percent in Gallup's polling.

The new AP-NORC poll shows most Americans see the shutdown as a major problem, and they blame Trump far more than congressional Democrats for the mess that has ensnared the lives of roughly 800,000 government workers who are going without pay.

Sixty percent of Americans say Trump bears a great deal of responsibility for the shutdown. About a third place the same amount of blame on congressional Democrats (31 percent) or Republicans (36 percent).

Sixty-five percent of Americans, including 86 percent of Democrats, 69 percent of independents and 33 percent of Republicans, call the shutdown a major problem.
As both of these polls show, the shutdown has had a particularly bad impact on the President's job approval, and this is shown in other polling as well:
It's worth noting that all of the polls cited above were taken either contemporaneously with or in the immediate wake of the President's speech on Saturday in which he purported to offer a compromise solution to the shutdown that Democrats have subsequently rejected.
Looking at the polling averages, it's clear that things are not looking good for the President. In the RealClearPolitics poll average, for example, the President's average job approval stands at 40.8% while his average disapproval stands at 55.8%, giving the President an -15.0 point gap in job approval.in the FiveThirtyEight average, the President stands at 39.7% while his disapproval stands at 55.6%, for a gap of -15.9%. While these numbers are consistent with what we've seen throughout the Trump Presidency, they also tend to indicate that there is no indication at all that the President is "winning" this argument, something that can clearly be seen in the RealClearPolitics chart: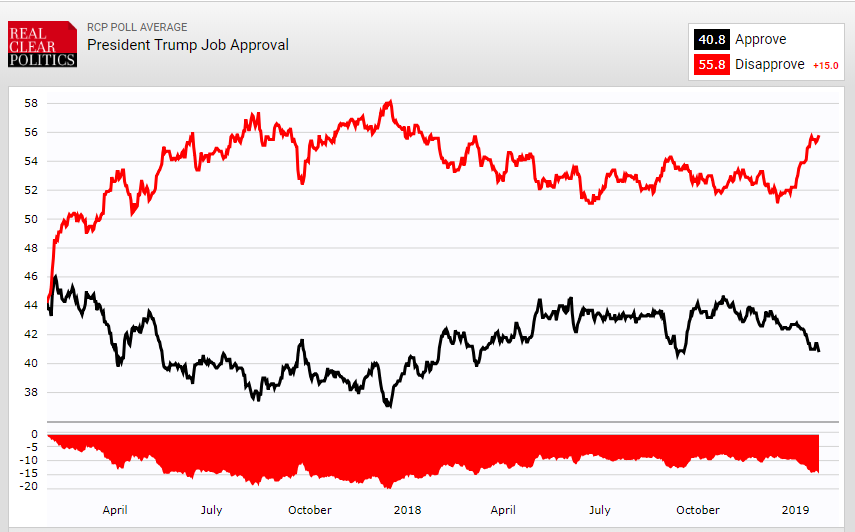 To put this in perspective, on December 18th, just prior to the shutdown, the Presidents average job approval stood at 42.6% and his disapproval stood at 51.9%, for a -9.3 point deficit. After just over a month, then, there has been a noticeable impact on the President's job approval, and it's only likely to get worse as time goes on.
Update (1/24/2019): To add to the polls above, a new Fox News poll was released last night that puts the President's job approval at 43% and his disapproval at 54% for a deficit. This changes the RealClearPolitics average to put Trump at 40.9% approve and 55.7 disapprove, for a net deficit of -14.8 points. In the FiveThirtyEight Average, the President's job approval now stands at 39.5% and his disapproval at 55.9% for a net deficit of -16.4 points.