Trump Slumping In The Polls Again
As the midterms get closer, the public's perception of the President's job performance is getting worse.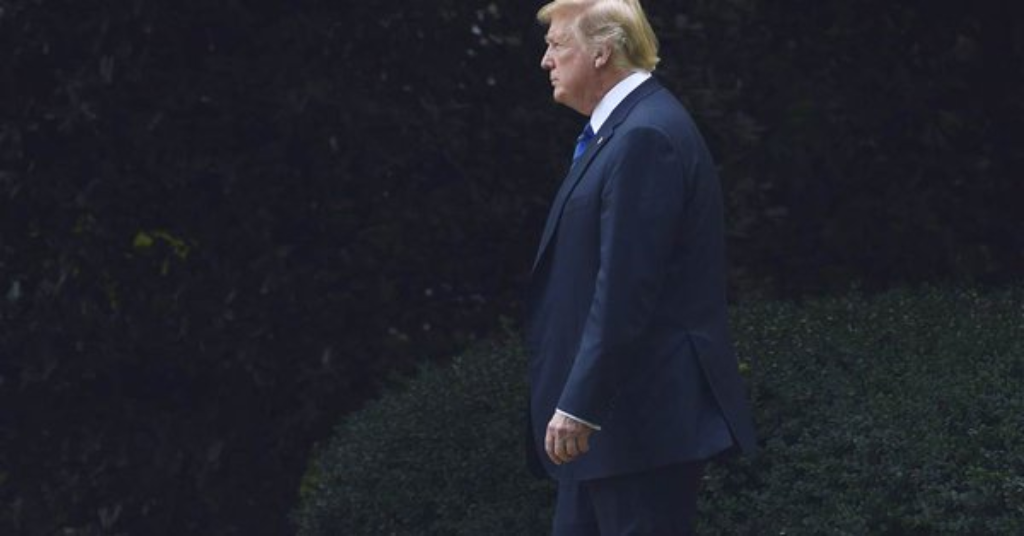 A new poll shows that President Trump's job disapproval appears to be spiking yet again at the same time that public support for Special Counsel Robert Mueller, the Russia investigation, and even the issue of impeachment of the President are all gaining in popularity:
President Trump's disapproval rating has hit a high point of 60 percent, according to a new Washington Post-ABC News poll that also finds that clear majorities of Americans support the special counsel's Russia investigation and say the president should not fire Attorney General Jeff Sessions.

At the dawn of the fall campaign sprint to the midterm elections, which will determine whether Democrats retake control of Congress, the poll finds a majority of the public has turned against Trump and is on guard against his efforts to influence the Justice Department and special counsel Robert S. Mueller III's wide-ranging probe.

Nearly half of Americans, 49 percent, say Congress should begin impeachment proceedings that could lead to Trump being removed from office, while 46 percent say Congress should not.

And a narrow majority — 53 percent — say they think Trump has tried to interfere with Mueller's investigation in a way that amounts to obstruction of justice; 35 percent say they do not think the president has tried to interfere.

Overall, 60 percent of Americans disapprove of Trump's job performance, with 36 percent approving, according to the poll. This is only a slight shift from the last Post-ABC survey, in April,which measured Trump's rating at 56 percent disapproval and 40 percent approval.

The new poll was conducted Aug. 26 to 29, in the week after former Trump campaign manager Paul Manafort was convicted of federal tax and bank fraud and after former Trump attorney Michael Cohen pleaded guilty and implicated the president in illegal payments to silence women who alleged sexual encounters with Trump.

The four-month gap between Post-ABC polls makes it difficult to attribute the modest uptick in disapproval of Trump to specific events. Other public polls have shown Trump's disapproval rating in the low- to mid-50s and have not tracked a rise since the Manafort conviction and Cohen guilty plea.

Trump has tried to rally support for Republican candidates in the Nov. 6 elections by pointing to his economic record. This week's poll finds that despite the president's unpopularity with voters, he gets better ratings when it comes to the economy: 45 percent of Americans approve and 47 percent disapprove of Trump's handling of the economy.

Trump's overall popularity breaks down along lines of partisanship, ethnicity and gender, according to the poll. While 78 percent of Republicans approve of his performance, 93 percent of Democrats and 59 percent of independents disapprove. More men support him than women, and while 45 percent of whites back him, 19 percent of nonwhites approve.

The poll finds that there are clear limitations to Trump's efforts all summer to politicize and discredit the Russia investigation. The president has fired a near-daily barrage of tweets labeling the probe a "witch hunt" and attacking the credibility of Mueller and several current and former Justice Department officials.

But 63 percent of Americans support Mueller's investigation of Russian interference in the 2016 election, with 52 percent saying they support it strongly; 29 percent oppose the probe.

Opinions on Mueller's work also break down on partisan lines, with 61 percent of Republicans opposing the probe but an even larger 85 percent of Democrats expressing support. Among independents, however, a two-thirds majority of 67 percent back the investigation.
Looking deeper into the poll, respondents were also asked questions regarding some of the latest developments in the Mueller investigation and the other legal issues surrounding the Trump Administration:
With respect to the case against Paul Manafort, which has resulted in one conviction on tax fraud charges in Virginia and is headed to a second trial next month in Washington, D.C., 67% of respondents think the cases are justified while just 17% say that they are unjustified;
Additionally, two-thirds of Americans say they would oppose a Presidential pardon for Manafort, with 53% saying they would strongly oppose it, and just 18% say they would support a pardon;
Additionally, notwithstanding the President's recent attacks on his own Attorney General, 64% of Americans do not think the President should fire Jeff Sessions and just 19% believe he should. Even among Republicans, 47% say the President should not fire Sessions and just 31% say that he should;
With further respect to Sessions, just 23% say they agree with the President's criticism of Session regarding the Mueller investigation and 62% say they believe Sessions is following the law;
With respect to the allegations against longtime Trump lawyer Michael Cohen, 61% of Americans say that they believe the President committed a crime if he directed Cohen to make hush payments to Stormy Daniels and Karen McDougal while 31% say he did not commit a crime;
Finally, and perhaps more significantly, 49% of those surveyed say that Congress should begin impeachment proceedings against the President. Predictably, though, those numbers differ significantly on partisan grounds with 75% of Democrats and 49% of Independents supporting impeachment while 82% of Republicans oppose it.
Getting back to the job approval numbers, these numbers show a rather surprising 22 point gap between the President's job approval and disapproval, which is somewhat higher than, although not entirely inconsistent with the numbers that have come out from other other polls conducted over the same time period:
The one outlier among the recent polls is, not surprisingly, the Rasmussen poll, which puts the President's job approval at 48% and his disapproval at 50%, for a deficit of just two points. Given the fact that these numbers are so far out of whack with the other polling, though, they ought to be easily dismissed as an outlier, which has so often been the case with Rasmussen in recent years.
In any case, looking at the poll averages, the numbers are about what you'd expect. RealClearPolitics, for example, puts the President's approval at 42.8% and his disapproval at 53.9%, for an average deficit of -11.1 points. In the Pollster average, Trump's job approval at 43.1% and his disapproval at 52.6% for a deficit of 9.5 points. Among Democrats, obviously, the President's disapproval is near 90%, while his job approval stands at a similarly high number among Republicans. Among Independents, meanwhile, the President's numbers are worse than they are among the public as a whole, with 57.4% disapproving of his job performance while 36.5% approve. Finally, the FiveThirtyEight poll average, which is weighted for poll accuracy and reliability, puts Trump's disapproval at 54.3% and his approval at 40.7% for a deficit of 13.6 points. All of these numbers are worse for Trump than they have been in recent months, a sign that he could be headed into a downward spiral as the midterm elections approach something we can also see the RealClearPolitics chart with respect to the upward trend in the President's disapproval numbers: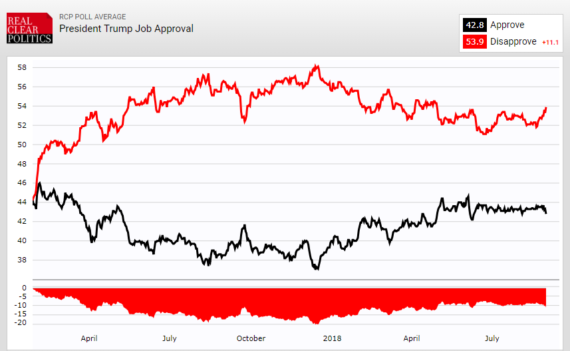 The fact that the President's disapproval numbers appear to be on the upswing is certainly something that should worry Republicans given the fact that we are almost within two months of the midterm elections. The fact that these numbers are rising at the same time that his approval numbers remain at levels that are historically low for a newly elected President at this point in their Presidency does not bode well for the incumbent party at the polls this year. This is especially true given the fact that other polling indicates that the Democrats may be opening up a gap in the race for control of the House of Representatives that could be indicative of the "blue wave" that Republicans fear.
At the same, time though, it is worth noting that this increase in the President's disapproval is not being accompanied by a significant drop in his job approval number. From the start of his Presidency, the President's poll numbers have largely fluctuated between the low 40s and the high 30s. This isn't entirely inconsistent with where he ended up in the popular vote in the 2016 election, where he ended up garnering 45.89% of the vote compared to 48.02% for Hillary Clinton. With those numbers in mind, a job approval number near 40% seems to be a fairly strong indication that the President continues to maintain the support of most of the people who voted for him, and while that may not be enough to garner a majority of the vote it could be enough to maintain a plurality that makes it hard to argue that he's really losing support to a significant degree. As long as that's the case, it's unlikely that we're going to see him change course or change his rhetoric. Additionally, Trump's base is staying loyal to him as we can see in the fact that nearly 90% of the public thinks the President is doing a good job and they support his rhetoric and his ongoing wars against the Justice Department, the Russia investigation, and all the other allegations swirling around this President. As long as that's the case, I wouldn't expect the President to change. Indeed I would expect him to ramp up the poisonous rhetoric and the appeals to the base as we get closer to Election Day.