Paul Ryan Unveils Plan To Cut Federal Spending By $6 Trillion Over Ten Years
Paul Ryan unveiled an ambitious plan to cut the deficit today. The question is whether it will be the beginning of a debate, or an opportunity for Democratic demagoguery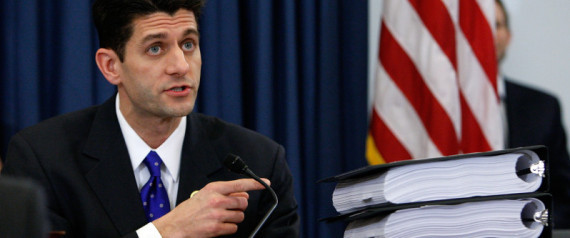 House Budget Committee Chairman Paul Ryan unveiled a budget plan today that marks the first serious attempt to bring Federal spending under control that I've seen in quite some time:
WASHINGTON — House Republicans on Tuesday unveiled a far-reaching budget proposal that cuts $5.8 trillion from anticipated spending levels over the next decade and is likely to provide the framework for both the fiscal and political fights of the next two years.

The ambitious plan, drafted principally by Representative Paul D. Ryan, the Wisconsin Republican who chairs the Budget Committee, proposes not only to limit federal spending and reconfigure major federal health programs, but also to rewrite the tax code, cutting the top tax rate for both individuals and corporations to 25 percent from 35 percent, reducing the number of income tax brackets and eliminating what it calls a "burdensome tangle of loopholes."

(…)

"This budget improves incentives for job creators to work, invest and innovate in the United States," said a summary of the proposal, which Republicans are calling the "Path to Prosperity."

The introduction to the proposal said the spending blueprint disavowed what it called the "relentless government spending, borrowing and taxing that are leading America, right at this moment, toward a debt-fueled economic crisis and the demise of America's exceptional promise."

Republicans say their proposal would reduce the size of the federal government to 20 percent of the overall economy by 2015 and 15 percent by 2050 while President Obama's plan introduced this year would not hold the size of government below 23 percent of economic output.

Democrats, however, say the emerging proposal amounts to a conservative ideological manifesto showing that Republicans intend to cut benefits and programs for the nation's retirees and neediest citizens while protecting corporate America and the wealthiest people from paying their share of taxes. They will be certain to challenge the budget plan and make its bold efforts to reshape Medicare and Medicaid — the health care programs for older Americans and the poor — a theme of their political argument to regain control of the House and hold the White House in 2012.

The budget resolution is not a binding law even if approved by Congress; if adopted, it would direct the relevant Congressional committees to draft spending legislation putting in place its dictates. Because Democrats control the Senate, the proposal is unlikely to be adopted. Even so, it will become the marker for Republican economic policy and Republican lawmakers and candidates are likely to be tested on where they stand on its many components.
In The Wall Street Journal this morning, Congressman Ryan has an Op-Ed outlining the proposal:
• Reducing spending: This budget proposes to bring spending on domestic government agencies to below 2008 levels, and it freezes this category of spending for five years. The savings proposals are numerous, and include reforming agricultural subsidies, shrinking the federal work force through a sensible attrition policy, and accepting Defense Secretary Robert Gates's plan to target inefficiencies at the Pentagon.

• Welfare reform: This budget will build upon the historic welfare reforms of the late 1990s by converting the federal share of Medicaid spending into a block grant that lets states create a range of options and gives Medicaid patients access to better care. It proposes similar reforms to the food-stamp program, ending the flawed incentive structure that rewards states for adding to the rolls. Finally, this budget recognizes that the best welfare program is one that ends with a job—it consolidates dozens of duplicative job-training programs into more accessible, accountable career scholarships that will better serve people looking for work.

• Budget enforcement: This budget recognizes that it is not enough to change how much government spends. We must also change how government spends. It proposes budget-process reforms—including real, enforceable caps on spending—to make sure government spends and taxes only as much as it needs to fulfill its constitutionally prescribed roles.

• Tax reform: This budget would focus on growth by reforming the nation's outdated tax code, consolidating brackets, lowering tax rates, and assuming top individual and corporate rates of 25%. It maintains a revenue-neutral approach by clearing out a burdensome tangle of deductions and loopholes that distort economic activity and leave some corporations paying no income taxes at all.
The most controversial part of the proposal, though, involves the ways in which the plan would revamp Social Security, Medicare, and Medicaid:
• Health and retirement security: This budget's reforms will protect health and retirement security. This starts with saving Medicare. The open-ended, blank-check nature of the Medicare subsidy threatens the solvency of this critical program and creates inexcusable levels of waste. This budget takes action where others have ducked. But because government should not force people to reorganize their lives, its reforms will not affect those in or near retirement in any way.

Starting in 2022, new Medicare beneficiaries will be enrolled in the same kind of health-care program that members of Congress enjoy. Future Medicare recipients will be able to choose a plan that works best for them from a list of guaranteed coverage options. This is not a voucher program but rather a premium-support model. A Medicare premium-support payment would be paid, by Medicare, to the plan chosen by the beneficiary, subsidizing its cost.

(…)

We must also reform Social Security to prevent severe cuts to future benefits. This budget forces policy makers to work together to enact common-sense reforms. The goal of this proposal is to save Social Security for current retirees and strengthen it for future generations by building upon ideas offered by the president's bipartisan fiscal commission
Ryan also explained the plan in a video released today:
The reactions from the punditocracy to all of this are about what you'd expect. Ezra Klein speculates this morning that the Ryan plan will actually make a future government shutdown amidst a battle over the FY 2012 budget almost inevitable:
It's also completely, almost gleefully, unacceptable to Democrats. Some thought that the introduction of Ryan's 2012 budget would make it easier for the GOP to compromise on funding for the rest of this year. I'm doubtful. By raising the stakes on next year's battle, it's just as likely to leave both sides less willing to show weakness on this year's battle. And then there's the question of how Republicans and Democrats will avoid a shutdown when 2012 rolls around: Republicans are committing themselves to, and getting their base excited about, a truly radical series of changes to the federal government. That's going to make it very difficult to agree on a more modest budget when the time comes. Federal officials who're getting information today on what to do in the event of a shutdown might want to hang onto that pamphlet. I suspect they're going to be consulting it a lot over the next few years.
In a later post, Klein speculates that the Ryan plan may actually have the (unintended?) effect of giving the Simpson-Bowles plan released last year new life:
I wouldn't be surprised if, a year from now, it's broadly agreed that the main thing Paul Ryan's budget did was persuade Democrats — and perhaps some Republicans — to adopt something pretty close to the Fiscal Commission's recommendations (which are currently being turned into legislation by a bipartisan group of senators).

There are real similarities between the two plans. Perhaps most importantly, the Ryan budget and the Fiscal Commission rely on similar mechanisms to reduce the deficit: They both cap stuff. But the Fiscal Commission's caps are more flexible and fair than those in the Ryan budget; the Fiscal Commission makes revenues part of the solution, where the Ryan budget includes a deficit-busting tax cut; and the Fiscal Commission doesn't try to sneak an ideological wish list into law under the cover of deficit reduction.

(…)

Is the Fiscal Commission's plan perfect? Not even close. But it's a lot more reasonable, and a lot less ideological, than Ryan's budget. And I think Ryan's budget is going to persuade a lot of Democrats to give it a second look.
This wouldn't necessarily be a bad development. The Simpson-Bowles plan had much to recommend to itself, as I noted when I wrote about it last year, but it went largely ignored as the political universe got hijacked by a tax cut debate and Don't Ask, Don't Tell during December's lame duck session of Congress. Additionally, if Democrats were to respond to Ryan's plan with a plan of their own, that would be a good thing overall. As I said back in November, what we need from Washington if we're going to solve the looming debt crisis is for both sides to act like adults:
If we lived in a country with adult political parties, the release of the Commission's report would serve as the beginning of a long overdue national conversation about how to get our fiscal house in order. Liberals would recognize that social spending would have to be cut, and conservatives would recognize that defense spending cuts and tax increases would have to be on the table. Instead, what we're likely to see is more of the same political gamesmanship — liberals accusing the GOP of wanting to starve Grandma, conservatives accusing liberals of just wanting to raise taxes so they can spend more. And the debt will continue to rise.

At some point we're going to be forced to deal with these problems, but it's not going to happen until we start feeling the pain that we could ward off if we'd just grow up already
So far, though, we aren't seeing many Democrats act like adults in response to the Ryan Plan. When it became public this morning House Minority Leader had this to say on Twitter: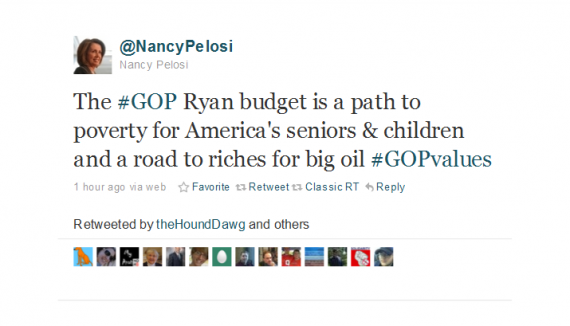 This is, of course, the standard Democratic line whenever someone wants to cut spending, and this talking about has already been picked up by Talking Points Memo, Atrios, and Paul Krugman among others. I'm sure we'll see it repeated tonight on MSNBC and elsewhere. It's unfortunate, really, because instead of demagoguery we could be starting an adult conservation about a serious problem. This being America, though, I think you can count on more demagoguery.
Ryan's plan isn't going to become law any time soon, if ever, and it isn't perfect. To my mind for example, it does far too little cutting with respect to the defense budget and expecting you'll be able to do this without reforming the tax code significantly strikes me as short-sighted at best. Nonetheless, it is a start and, as David Brooks notes today, a pretty gutsy one at that:
Today, Paul Ryan, the Republican chairman of the House Budget Committee, is scheduled to release the most comprehensive and most courageous budget reform proposal any of us have seen in our lifetimes. Ryan is expected to leap into the vacuum left by the president's passivity. The Ryan budget will not be enacted this year, but it will immediately reframe the domestic policy debate.

His proposal will set the standard of seriousness for anybody who wants to play in this discussion. It will become the 2012 Republican platform, no matter who is the nominee. Any candidate hoping to win that nomination will have to be able to talk about government programs with this degree of specificity, so it will improve the G.O.P. primary race.

The Ryan proposal will help settle the fight over the government shutdown and the 2011 budget because it will remind everybody that the real argument is not about cutting a few billion here or there. It is about the underlying architecture of domestic programs in 2012 and beyond.

The Ryan budget will put all future arguments in the proper context: The current welfare state is simply unsustainable and anybody who is serious, on left or right, has to have a new vision of the social contract.
I hope Brooks is right, because we're coming to the point where it will be too late.