Paul Ryan Reemerges, Offering The GOP An Obamacare-Free Way Out
Paul Ryan is back, and he has a plan his party ought to be paying attention to.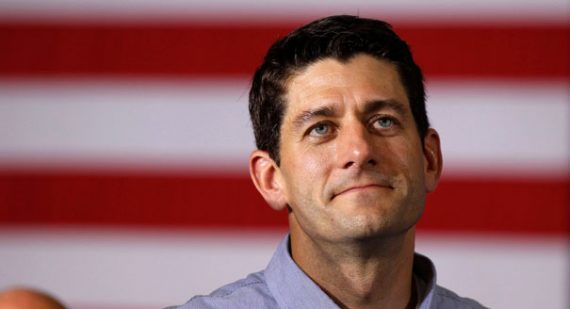 Throughout the past two weeks, there's been one face missing from most of the debate about the Continuing Resolution, the Affordable Care Act, and the debt ceiling, and it's a person who has been conspicuous by his absence. That person is House Budget Committee Chairman, and 2012 Republican Vice-Presidential nominee Paul Ryan, who has long been the House GOP's go-to voice when it comes to fiscal issues. Ryan did not completely disappear, of course, he was voting on the matters that came to the House floor and he could usually be seen among those standing behind either Speaker Boehner or Majority Leader Cantor at the nearly daily press conference that one or the other has held over the past two weeks or so. He hasn't spoken at those conferences, though, and at least as far as I've been able to tell, he has not been spoken much on the House floor. During that time, there have been reports that Ryan was working on a proposal of his own, and that there had even been some contact between him and Senate Budget Committee Chairwoman Patty Murray. Today, Ryan came forward in the form of a Wall Street Journal Op-Ed that puts forward a proposal on resolving the current crisis that has one noticeable omission:
If Mr. Obama decides to talk, he'll find that we actually agree on some things. For example, most of us agree that gradual, structural reforms are better than sudden, arbitrary cuts. For my Democratic colleagues, the discretionary spending levels in the Budget Control Act are a major concern. And the truth is, there's a better way to cut spending. We could provide relief from the discretionary spending levels in the Budget Control Act in exchange for structural reforms to entitlement programs.

These reforms are vital. Over the next 10 years, the Congressional Budget Office predicts discretionary spending—that is, everything except entitlement programs and debt payments—will grow by $202 billion, or roughly 17%. Meanwhile, mandatory spending—which mostly consists of funding for Medicare, Medicaid and Social Security—will grow by $1.6 trillion, or roughly 79%. The 2011 Budget Control Act largely ignored entitlement spending. But that is the nation's biggest challenge.

The two political parties have worked together on entitlements before. In 1982, Social Security's trustees warned Congress that the program would go bankrupt within a year. If it had, seniors would have seen an immediate cut in their benefits. Instead, Congress passed a package of reforms—the most important of which was an increase in the retirement age. Because Congress phased in this reform over time, there were no budget savings in the first five years. But through 2012, the savings were $100 billion. In the next 75 years, Social Security's actuaries expect that these reforms will save $4.6 trillion.

Just as a good investment gets higher returns through compound interest, structural reforms produce greater savings over time. Most important, they make the programs more secure. They protect them for current seniors and preserve them for the next generation. That's what the president and Congress should talk about.

Here are just a few ideas to get the conversation started. We could ask the better off to pay higher premiums for Medicare. We could reform Medigap plans to encourage efficiency and reduce costs. And we could ask federal employees to contribute more to their own retirement.

The president has embraced these ideas in budget proposals he has submitted to Congress. And in earlier talks with congressional Republicans, he has discussed combining Medicare's Part A and Part B, so the program will be less confusing for seniors. These ideas have the support of nonpartisan groups like the Bipartisan Policy Center and the Committee for a Responsible Federal Budget, and they would strengthen these critical programs. And all of them would help pay down the debt.

We should also enact pro-growth reforms that put people back to work—like opening up America's vast energy reserves to development. There is even some agreement on taxes across the aisle.

Rep. Dave Camp (R., Mich.) and Sen. Max Baucus (D., Mont.) have been working for more than a year now on a bipartisan plan to reform the tax code. They agree on the fundamental principles: Broaden the base, lower the rates and simplify the code. The president himself has argued for just such an approach to corporate taxes. So we should discuss how Congress can take up the Camp-Baucus plan when it's ready.

Reforms to entitlement programs and the tax code will spur economic growth—another goal that both parties share.
The most obvious thing about Ryan's proposal, in addition to the fact that it does in fact include ideas that both sides of the political aisle have endorsed at various times this year and in years past, is that it makes no mention at all of the Affordable Care Act. There's no defunding proposal, no proposal to delay implementation of the law as a whole or the individual mandate, no proposal to eliminate the non-existent "Congressional Exemption," and no proposal to eliminate the Medical Device Tax, all of which are items that the GOP controlled House has tried to insert in Continuing Resolutions over the past two weeks. Not surprisingly, that very fact has caused many on the right to jump up and attack Ryan, most notably Red State's Erick Erickson, who wrote this morning that conservatives must insist that Congress keep up what clearly seems to be a doomed effort to defund Obamacare. Indeed, that seems to be all that Erickson concerns himself with given the fact that he doesn't even address the specifics of what Ryan proposes.
Noah Rothman voices similar concerns:
Republicans want a way out of this crisis – a crisis most of the party's members in Congress never wanted in the first place. Ryan has offered them a way out. It is a solution that both Democrats and the president can live with – the path of least resistance. But it abandons the core goal of the shutdown from the perspective of those who thought this maneuver necessary.

If the GOP takes this route, it will only isolate the conservative members of the Congress who view the ACA as an existential threat to the country. They will be made more fractious, less amendable to reason and control, and may prevent the party from picking the next fight at a time of their choosing. It would also be a political setback for the party. There are few redeeming traits associated with this government shutdown, but Republicans appearing to mount a noble last stand against an unpopular law is one of them.

If the party goes Ryan's route, the GOP will receive accolades from the media and interest groups inside the Beltway. Meanwhile, millions of average Americans will be left to struggle on their own against rising health insurance premiums and deductibles without a champion in Washington.
The Ryan proposal has gotten a similarly dismissive reaction from many hard right conservatives on Twitter, who don't seem to understand that this round of the fight against Obamacare was over the minute the Senate vote to invoke cloture on the original House CR that included defunding language in it. That refusal to recognize reality is one of the primary reasons why we remain stuck where we are, in the middle of a government shutdown that seemingly has no end, and facing the prospect of breaching the debt ceiling in just under a week.
Leaving aside these conservatives, though, it seems clear that what Ryan is offering here is a path out of the briar patch for a Republican Party that has forced the nation into a shutdown, as well as a way out for President Obama and the Democrats. NBC's First Read puts it this way:
Yesterday, Republicans began floating proposals that had nothing to do with health care. Moreover, in a Wall Street Journal op-ed, House Budget Committee Chairman Paul Ryan argued for "both sides" to "agree to common-sense reforms of the country's entitlement programs and tax code." What he called for were some of the very things that Obama and Democrats have already put on the table. Medicare means-testing? Check. Further long-term entitlement cuts (like Chained CPI?)? Check. Bipartisan tax reform? Check. Most important, however, was what Ryan DIDN'T MENTION in the op-ed: any changes to the president's health-care law. So Ryan's op-ed is a pretty big deal; it's an olive branch (from its tone) and it lays a potential way out.

The big question, of course, is if conservatives will feel betrayed by this potential way out — that is, some legislative process fix that forces the White House into debt talks that will include zero real changes to health care. Already, Heritage Action's spokesman tweeted, "Much like White House press, Paul Ryan doesn't mention Obamacare in WSJ oped." The Senate Conservative Fund quipped, "@PRyan Obamacare is the #1 job killer and it will bankrupt our country. Your plan does nothing to stop it." And conservative commenatator Erick Erickson went off on Sen. Ron Johnson (R-WI) for reportedly criticizing Sen. Ted Cruz (R-TX) at a closed GOP meeting. Over the past few months, we've had this question for Republicans and conservatives: What is victory for them? Is it some compromise entitlement changes and tax reform? If so, that outcome looks attainable. Or is it a significant rollback to the president's health-care law? For the conservative leaders in Washington, it's clear they would prefer a focus on debt and entitlements. For some of these conservative grassroots leaders, it's Obamacare or bust. This is, of course, what Boehner's been worried about all along.
In a rational world, of course, the GOP would embrace Ryan's proposal and use it as the basis for future negotiations with the President and Senate Democrats. Quite obviously, there is no way that those negotiations could take place within the short amount of time that Congress has to act on the debt ceiling, and it would be next to largely unsustainable for the government shutdown to continue for the length of time that such negotiations are likely to take. This means that there would have to be some kind of agreement about how to handle both these issues, something I'm sure Ryan knows quite well. Whether that means passage of "clean" bills by the House and Senate, or the inclusion off short-term sweeteners such as the medical device tax that would act as a sop to the right is unclear, but it would have to happen for Ryan's plan to work at all. It's also obvious that Democrats aren't just going to agree to Ryan's ideas. Going into negotiations means that both sides are going to have to come to an agreement that they'd consider less than ideal, but that's what reality is in a world of divided government. Republicans ought to drop the Obamacare obsession that Ted Cruz, Freedomworks and other groups have compelled them to take up over the past several months, and get on board with Ryan's proposal, or something like it. It's likely far from perfect, but it's a start and you've got to start somewhere.