Donald Trump's Terrible, Horrible, No Good, Very Bad Week
It's been a bad week for Donald Trump, something he can ill-afford with less than 100 days left until Election Day.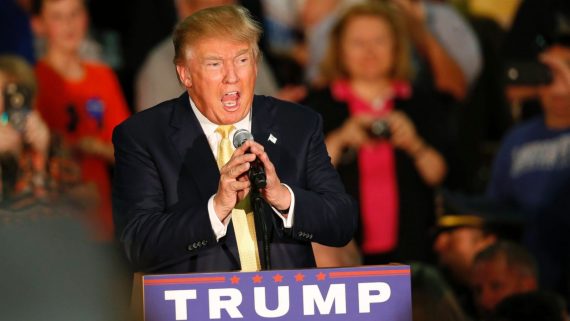 To say the least, it's been a rough week for the Trump campaign.  After letting himself get tied down in an unwinnable battle with a Gold Star Muslim-American family, Trump woke up early in the week to learn that the Democratic National Convention had given Hillary Clinton at least enough of a bounce in the polls to wipe out whatever gains Trump had received from the previous week's Republican National Convention. With Trump continuing to go off-message, reports began to circulate about the inevitable chaos inside the campaign itself and elsewhere in the Republican Party and even fanciful reports about RNC officials possibly moving to push him off the ticket while Trump himself began suggesting that the only reason he might lose is that the elections would be 'rigged' against him. In the meantime, new national polls showed Clinton's lead over Trump growing, and state-level polls showed that Trump's fortunes in the battleground states identified by his campaign were not going well at all. Now, to top the week off, another set of national polls shows Clinton continuing to expand her lead while Trump racks up numbers that suggest history-making losses and demonstrates just how difficult a job Trump has ahead of him.
First up, a new McClatchy/Marist poll gives Clinton a fifteen point lead, and puts Trump at levels not seen in some time:
Democratic presidential candidate Hillary Clinton has surged to a 15-point lead over reeling, gaffe-plagued Republican Donald Trump, according to a new McClatchy-Marist poll.

Clinton made strong gains with two constituencies crucial to a Republican victory – whites and men – while scoring important gains among fellow Democrats, the poll found.

Clinton not only went up, but Trump also went down. Clinton now has a 48-33 percent lead, a huge turnaround from her narrow 42-39 advantage last month.

The findings are particularly significant because the poll was taken after both political conventions ended and as Trump engaged in a war of words with the parents of Army Capt. Humayun Khan, who was killed in an explosion in Iraq 12 years ago while trying to rescue other soldiers.

"This is coming off the Democratic convention, where a bounce is expected," said Lee Miringoff, the director of the Marist Institute for Public Opinion in New York, which conducted the nationwide survey.

"What you don't want is to have the worst week of your campaign," a characterization many analysts use to describe Trump's recent days.

Other polls have shown Clinton in the lead, though Marist's is the largest so far.

Among poll respondents, Clinton was seen more often as a potential president. Fifty-three percent said they would find her acceptable; 39 percent felt that way about Trump.

Francis Duffy, 76, an Upper Darby, Pennsylvania, Republican, said she was voting for Clinton because she found Trump to be scary. "I just don't feel that Donald Trump is qualified. I think he's a loose cannon," she said.

In a four-way race, Clinton retains her lead. She gets 45 percent to Trump's 31 percent.Libertarian Gary Johnson has 10 percent, and the Green Party's Jill Stein has 6 percent.

The new survey showed Clinton has cut sharply into the Republican nominee's advantages in every ethnic and racial group.

After a bitter battle with rival Bernie Sanders, the independent Vermont senator whose supporters fought all the way to the convention, she has solidified her strength among Democrats, 90 percent of whom now back her, up from 83 percent last month.

Jorge Vietes, 78, a native of Argentina who lives in Stockton, California, sided with Sanders in the primary, and is not swayed by Trump's efforts to woo Sanders' voters.

"I have no choice but to go for Clinton," said Vietes, an independent voter. "Trump is kind of a crazy guy."

Trump gets the nod from just 79 percent of Republicans, down from 85 percent last month. Some top GOP officials have put distance between themselves and the billionaire businessman, with some saying they'll back Clinton.

Men had been the bedrock of Trump support. Last month, he was up by 14 percentage points among men; he's now down 8.

Clinton remains strong with women, among whom she holds a 20-point advantage.

(…)

Clinton wins moderates, 50-27 percent. She is far ahead with black voters, 93-2 percent, and with Latinos, 55-26 percent.

More encouraging for Clinton, 57 percent of her backers say their vote is for her, while 40 percent say it's largely an anti-Trump vote.
Next up, the new NBC News/Wall Street Journal Poll gives Clinton a nine point advantage:
Hillary Clinton has jumped out to a nine-point lead over Donald Trump, a new NBC News/Wall Street Journal national poll shows, nearly doubling the five-point advantage she held over her Republican foe before the political conventions.

In a head-to-head matchup, the Democratic ticket of Hillary Clinton and Tim Kaine receives the support of 47 percent of registered voters, while the Republican ticket of Donald Trump and Mike Pence gets 38 percent, the survey shows. Last month, Clinton led Trump by a margin of 46 percent to 41 percent.

In this latest poll, Clinton enjoys a significant advantage among women (51 percent to Trump's 35 percent), African Americans (91 percent to 1 percent), all non-white voters (69 percent to 17 percent), young voters (46 percent to 34 percent), and white voters with a college degree (47 percent to 40 percent).

Trump leads among white voters (45 percent to Clinton's 40 percent), seniors (46 percent to 43 percent), independents (36 percent to 32 percent) and white voters without a college degree (49 percent to 36 percent).

The two candidates are running nearly even among men, at 43 percent for Clinton and 42 percent for Trump.

When Libertarian Party candidate Gary Johnson and Green Party candidate Jill Stein are added to the mix, Clinton still retains a nine-point advantage over Trump: Clinton is at 43 percent, Trump at 34 percent, Johnson at ten percent and Stein at five percent.

The lead for Clinton comes not only after both parties held their nominating conventions, but also after Trump was blasted by critics on both sides of the aisle for his treatment of the parents of a Muslim American soldier killed in Iraq in 2004.

A nine-point lead in August of a presidential election year represents a significant gap compared to the past two election cycles.

In 2008, Barack Obama – who ultimately beat Republican John McCain by a 53 percent to 46 percent margin in the November election – did not show such a wide polling advantage over his Republican rival until late October, according to NBC/WSJ polls. In 2012, Obama's lead over Republican foe Mitt Romney in NBC/WSJ polls never reached nine points throughout the campaign.
These polls show several interesting tidbits, none of which are very good for Trump. First of all, both polls, as well as the Fox News poll show Trump falling below 40% even in head-to-head match-ups that do not include Libertarian Party nominee Gary Johnson and Green Party nominee Jill Stein. This puts Trump in territory last seen by Republican nominees such as Barry Goldwater, who got 38.5% of the popular vote in the 1964 Presidential Election, George McGovern, who got 37.5% of the popular vote eight years later in 1972, and George H.W. Bush who received 37.4% of the vote in the 1992 election thanks largely to the presence of Ross Perot in the race. This is significant because Trump had already been polling under 40% in polls that included Gary Johnson either alone or along with the Green Party's Stein, and it suggests real erosion in his levels of support that will require real work for him to be able to win back. Second, the last three polls have shown Trump getting historically low support from African-Americans of 1-2%. This compares quite unfavorably to George W. Bush, who got 11% of the African-American vote in 2004, and even John McCain, who got 4% of the African-American vote in a race where he was running against the man who would become the first African-American President, and Mitt Romney, who improved on McCain's numbers somewhat by getting 7% of the African-American vote in 2012. With Obama on the ballot, some Republicans hoped before this election cycle started that the GOP could improve on its numbers with this voting group in 2016. Instead, it stands to do much worse, and that could prove to be problematic both nationally, where the African-American vote accounts for anywhere between 11 to 13% of the electorate, in swing states such as Florida, Virginia, and Ohio, and even in traditionally red states such as Georgia that have large African-American voting age populations.
Looking at the national poll average, Clinton now has a lead of 6.7 points in the head-to-head match-up and 6.6 points in the four-way race, where Trump is now averaging 36.9% and Libertarian Party nominee Gary Johnson is averaging 8.0%, putting him closer to potential eligibility for the national debates in September and October. The numbers are similar for Pollster for both the head-to-head and three-way race with Johnson included. Perhaps the best way to illustrate the situation that Trump finds himself in, though, is to look at the graph of the poll average for the head-to-head race:
To put this in perspective, what we're seeing is that, as of today, Clinton is back to levels she last saw in May and Trump is down to levels he last saw in July just prior to the two conventions and in danger of falling back to where he was in June when his average fell below 40% as it had for a brief time in April. The difference between now and then, of course, is that we're far closer to the election today than we were back then and there's that much less time for Trump to bounce back or to pivot his campaign. Additionally, the fact that we're starting to see this trend move into the state-level polling suggests that we're fast approaching the time when voter opinions are going to solidify to the point where changing minds is going to become more and more difficult. This will become especially true as we get past Labor Day and many states begin to get ready for early voting and early absentee voting, meaning that once we get into September and early October when the debates are taking place many people will have not only made up their minds but also locked in their votes. This will be especially important in states such as Florida and Ohio, where early voting and absentee ballots have played a key role in past elections and are likely to do so again this year.
It's far too early to say that the race is over for Trump, of course. It's entirely possible, and indeed probable, that he'll have a good week at some point in this race or that Hillary Clinton's campaign will stumble in the way that it stumbled in the race for the Democratic nomination. We're fast approaching the point, however, where the opportunities to exploit those mistakes and build on any momentum will be short-lived at best. For Trump, the best opportunity to turn the race around may come at the debates, but given the fact that Clinton has proven herself quite adept in a debate with a small number of opponents against both Barack Obama and Barry Sanders, while Trump's debate experience is limited to the unwieldy multi-candidate debates that typified the GOP race for the nomination, I would not count Trump as a favorite to do well in a face-to-face encounter with the former Secretary of State. However, given the fact that the question heading into that first debate is likely to be whether or not Trump will implode, it's possible that he'll do well enough to turn the race around to some degree even if only for a short period of time. Of course, if the polls continue in the direction they've been going between now and then it may turn out to be a case of too little, too late.