Donald Trump's Electoral Map Isn't Growing, It's Shrinking
Post-convention polling at the state level holds some bad news for the Trump campaign.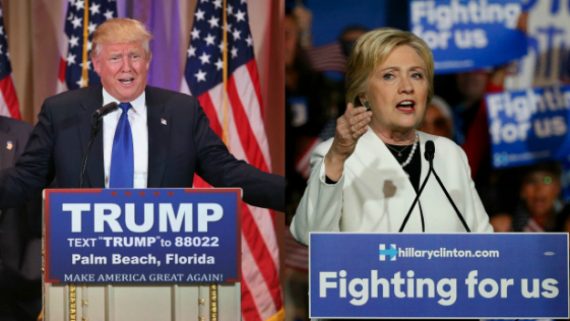 New polling from three states that are likely to be key to the outcome of the General Election in November, and which the Trump campaign itself has identified as part of a somewhat unconventional path to victory that relies upon winning states in the industrial Midwest that have traditionally gone for the Democratic candidate, seems to show the Trump campaign slipping behind Clinton and in real danger of being in Electoral College trouble before Labor Day.
First up, there's a new WBUR poll out of New Hampshire that shows Hillary Clinton leading Trump by double digits:
According to a new WBUR poll of New Hampshire voters, Hillary Clinton is enjoying a dramatic post-convention bump and now leads Donald Trump by 15 points. Our poll also shows Democrat Maggie Hassan with a big advantage in her bid to unseat Republican Sen. Kelly Ayotte.

>The last time we polled in New Hampshire, three months ago, the presidential contest was virtually tied. Our new poll (topline, crosstabs) of 609 likely New Hampshire voters, conducted July 29 through August 1, shows Clinton leading Trump 47 percent to 32 percent. When Libertarian Gary Johnson and Green Party candidate Jill Stein are omitted, Clinton's 15 point lead swells to 17 points.

Among the most important reasons Clinton has moved ahead so dramatically in this important swing state following last week's Democratic National Convention is that Democrats are uniting around her.

"After all the hand-wringing about whether Bernie Sanders supporters would end up supporting Hillary Clinton, she's now getting 86 percent of the Democratic vote," explained Steve Koczela, president of MassInc Polling, which conducted the WBUR survey. "Donald Trump, on the other hand, has slipped a bit among Republicans. He's now getting a bit less than two-thirds of the Republican vote."

Another big factor: The state's many undeclared voters favor Clinton over Trump by almost 2-1.

"Digging underneath that even further we see independent women is where the biggest margin of all is among groups that are actually in play," Koczela said. "So when you add it all together, Clinton has solidified Democrats, Donald Trump has not done the same among Republicans, and independents are starting to swing toward Hillary Clinton."

Post-convention polls can show big swings before settling down. But the WBUR poll suggests a dramatic development in a state where Trump won a decisive victory in the primary last February, and where Clinton was trounced by her opponent, Bernie Sanders.

The WBUR survey found that 48 percent of likely voters say Clinton is fit to be president, 46 percent say she's not. But with regard to Trump, less than a third say he's qualified to occupy the White House and more than 60 percent say he's not. Selena Katz, an elementary school teacher in Keene, is among that majority.

"It would be, I think, disaster to have him as president," Katz said.

When asked whether her vote is for Hillary Clinton or against Donald Trump, Katz says it's for Clinton. "I feel that she's very experienced, she's very knowledgeable, very rational, and because she works with other people in a cooperative manner — that's what we need as our president."

(…)

Less than 30 percent of New Hampshire voters view Trump favorably. Sixty percent view him unfavorably. He's a bit more unpopular today than he was three months ago, when WBUR conducted its last New Hampshire poll.

Clinton, on the other hand, has improved somewhat on this score — but she's still far from beloved: 45 percent have a positive view of her, but the same percentage of voters have a negative view. So there are still lots of people in New Hampshire ready to vote against her.
This was the first post-convention poll in New Hampshire, and the first in the state in nearly a month, so it's unclear if we're looking at an outlier or the beginning of a trend, but if it is accurate it poses real problems for Trump. As things stand today, Clinton has a 7.0 point lead in the head-to-head RealClearPolitics average, and a 7.5 point lead in a race that includes Libertarian Party nominee Gary Johnson (averaging  6.5%) and Green Party nominee Jill Stein (averaging 2.5%).  Clinton has a similar lead in the Pollster aggregation and average, albeit with a slightly smaller margin over Trump due no doubt to the numbers coming from polls that Pollster includes in its average that RCP does not. In any case, these numbers are significant for two reasons, neither one of which bodes well for Trump if he was planning on picking up the Granite State's four Electoral Votes. First of all, Clinton lost the New Hampshire Primary to Bernie Sanders quite spectacularly back in February, but the this poll shows that she has the vast majority of Sanders supporters, and the vast majority of the state's Democrats. On the other hand, notwithstanding the fact that Trump won the Republican Primary in New Hampshire quite handily it is apparent that he has failed to get the state's Republicans united behind him, with just 63% of self-identified Republicans saying that they will support him in November. Trump also trails Clinton among independents in the state, which could be crucial in deciding the outcome of the race. The second problem for Trump is that this poll seems to clearly show him being an albatross around the neck of freshman Republican Senator Kelly Ayotte, who the poll shows losing by ten points to Governor Maggie Hassan. If this is accurate, then national Republicans are going to be even more tempted to distance themselves from Trump in order to protect down ballot candidates.
The Trump campaign has also said publicly that one of its target states in the election will be Pennsylvania, which no Republican has won since George H.W. Bush did it in 1988 but which has constantly been a tempting target for Republican candidates in virtually every Republican campaign since then, especially since there are at least some signs that the state is indeed turning a bit more red in the areas outside the Philadelphia and Pittsburgh metropolitan areas. Recent polls, though, have shown quite the contrary. One poll conducted in part during and in part after the Democratic convention by Suffolk University shows Clinton leading by nine points, a Public Policy Polling poll that shows Clinton with a four point lead, and a new poll by in-state polling gurus at Franklin and Marshall College shows Clinton leading by double digits:
Hillary Clinton has opened up an 11-point lead over Donald Trump among likely voters in Pennsylvania, according to a new Franklin and Marshall College poll.

Clinton has 49 percent in the poll among likely Pennsylvania voters while Trump has 38 percent.

Among registered voters in the state, Clinton has a slightly larger lead, 48 to 35 percent.

Clinton is supported by 78 percent of registered Democrats and Trump is supported by 69 percent of registered Republicans.

Trump leads among white voters with a high school degree or less, but Clinton leads among college-educated whites. Trump also leads among white men, 45 to 35 percent, but Clinton leads among women, 57 to 29 percent.

The poll also found that 62 percent of respondents who watched the Democratic convention said they were more likely to vote for Clinton, but only 40 percent who watched the Republican convention said they were more likely to vote for Trump. Of those who watched the Republican convention, 53 percent of voters reported being less likely to vote for Trump.

Pollsters also found that more voters think Clinton has the experience to be president and is better prepared to handle foreign policy issues.

Voters are evenly divided on which candidate is more honest and trustworthy and which candidate can fix the country's economic problems.

Clinton is viewed favorably by 47 percent of registered voters and unfavorably by 49 percent. Trump is viewed favorably by 33 percent of registered voters and unfavorably by 62 percent.
This gives Clinton an eight point lead over Trump in a head-to-head race in the Keystone State. Her lead is only 3. 5 points in a four way race that includes Johnson and Stein, but that result is partly off because Franklin & Marshall does not appear to have polled a four way race for some reason. If there's any good news for the GOP, it lies in the fact that Senator Pat Toomey is holding his own in his re-election battle notwithstanding the troubles at the top of the ticket. In the new Franklin & Marshall poll, for example, Toomey is only trailing his Democratic opponent by one point, which is a strong contrast to the seven point deficit Toomey had in the recent Suffolk University poll. This suggests that Republicans still stand a chance of holding on to Toomey's Senate seat notwithstanding a likely Democratic win in the state.
Another state that Trump's campaign has identified as a target is Michigan, where Trump won the Republican primary and which is arguably rich in the kind of voters who might be attracted to Trump's message on immigration, outsourcing of jobs, and international trade. As with Pennsylvania, though, the GOP faces an uphill battle here in no small part because no Republican has won the Wolverine State's Electoral Votes since 1988. Clinton was already leading in Michigan prior to the conventions though, and a new Detroit News poll shows her with the same double digit lead we see in New Hampshire and Pennsylvania:
Democratic presidential nominee Hillary Clinton has widened her lead over Republican Donald Trump in Michigan as 3-in-5 likely voters say the New York businessman is not qualified to be president, according to a new poll conducted for The Detroit News and WDIV-TV.

Clinton led Trump 41 percent to 32 percent in the statewide survey of 600 likely voters conducted Saturday through Monday following Clinton's formal nomination at last week's Democratic National Convention.

The poll contains many troubling signs for Trump's White House campaign, including a "shocking" lead for Clinton in the Republican strongholds of west and southwest Michigan, pollster Richard Czuba said.

Sixty-one percent of likely general election voters said Trump is ill-prepared to be the nation's commander-in-chief. The figure grows to 67 percent among women, a group with whom Trump performs poorly. Clinton has a commanding 21-percentage-point lead among female voters.

"He's sitting in the cellar right now, and they're going to have to do something to dramatically turn this around," said Czuba, president of the Glengariff Group Inc. polling firm. "If I were a Republican running on this ticket right now, I'd be beyond nervous."

(…)

A 61 percent majority of those polled within the past week said Trump is not qualified to be president compared with 39 percent for Clinton. She is judged to be qualified by 57 percent of those surveyed. Sandy Cashat of Shelby Township described herself as a Republican who supports Trump and could not vote for Clinton.

"I think she only talks, only promises, but is not going to do anything," said Cashat, 23, a student and dental assistant. "Donald Trump is not like any other president who's only talking. I know sometimes he goes on and on, but I think he will understand his job."

Sharon Gooding, a 64-year-old Democrat from Harper Woods, said she plans to vote for Clinton because her policies "hold up to my values and how I live my life."

Gooding, who participated in the poll, called Trump "awful" and said she thinks he is unfit to be president.

McNeilly said the poll numbers aren't overwhelmingly positive for Clinton either. The poll's sample included 44 percent of voters who identify as Democrats, 34 percent Republican and 18.5 percent independent.

Clinton should have a double-digit lead over Trump following four straight nights of positive and nationally televised speeches about her at the Democratic National Convention in Philadelphia, McNeilly said.

"For Clinton to be under double digits that close to her convention is a big warning sign," he said. "But that doesn't whitewash Trump's challenges. He certainly has a lot of issues that he needs to address in order to win by addition."
Looking at the RealClearPolitics average, this gives Clinton a six point lead over Trump in a head-to-head matchup and a five point lead in a four-way race that includes Johnson and Stein. While there are still some three months left until Election Day, this suggests strongly that Michigan is unlikely to be quite as competitive as the Trump campaign would like to believe. Additionally, these polls come out at the same time that other reports are talking about Trump's shrinking Electoral College map, with many of the states that he needs to win seeming to already starting to slip through his fingers. This includes Colorado, where RealClearPolitics gives Clinton an 8.0 point lead in a head-to-head match and a 7.3 point lead in a four-way race, Virginia, where Clinton has a 5.3 point lead in the RCP head-to-head average and a 5.0 point lead in a four way race, and Wisconsin, where Clinton has a 5.6 point lead in RCP's head-to-head matchup and a 5.5 point lead in the a four-way race. If you give all of these states to Clinton, then she's already won the election without even taking Florida and Ohio into account: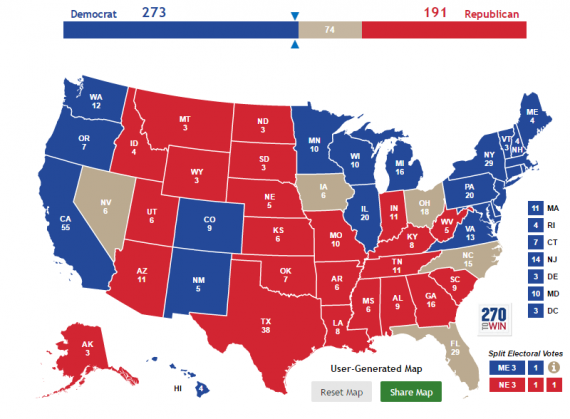 Obviously, these numbers represent a snapshot in time and there's a lot that could change between now and Election Day. As things stand today, though, things are looking quite challenging for Trump to say the least.