Fox News Sums Up Clinton-Trump Race Brilliantly
Most Americans distrust Clinton. More distrust Trump.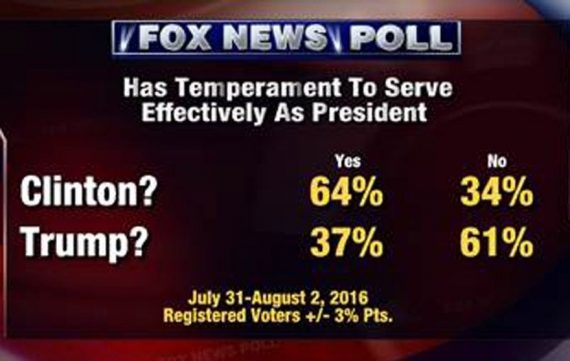 Hillary Clinton has opened up a 10-point lead over Donald Trump in the latest Fox News poll.  Dana Blanton's lede brilliantly encapsulates why:
Sixty-one percent of voters think Hillary Clinton is dishonest, yet she's opened up a big lead over Donald Trump in the latest Fox News Poll.

Here's why: majorities think Clinton is nevertheless qualified to be president, and has the temperament and knowledge to serve effectively. It's the opposite for Trump: over half feel he is not qualified, and lacks the temperament or knowledge to lead the country. And his 62 percent dishonesty rating tops hers.
While most of the commentariat here believes that the perception of Clinton's dishonesty is a function of nearly a quarter century of lies about her, it is regardless the baked-in wisdom of the American public. And, yet, that same public overwhelmingly believe she's more qualified to be president than Donald Trump.
There's a lot of goodness in Blanton's piece but a couple of things that stood out to me:
Qualified to be president? Sixty-five percent say Clinton is vs. 43 percent Trump. Fifty-eight percent feel he isn't qualified, including 45 percent who say "not at all."

On temperament, 64 percent say Clinton has it. Just 37 percent say Trump does. And 72 percent think Clinton has the knowledge to serve effectively, while 40 percent say the same for Trump.
And:
More Clinton supporters say their vote is for her rather than against Trump (49-47 percent). Among Trump supporters, a majority says their vote is better described as being against Clinton (52 percent), while less than half are voting because they like him (44 percent).
Given Trump's seemingly constant stream of bizarre and controversial statements, that's unlikely to change. I can't see anyone who doesn't currently support Trump coming around to the notion that he has the temperament to run American foreign policy.
At the same time, my premature judgment that the two conventions had no real impact on the race seems to be bearing out. Clinton currently has a 5.1 point lead over Trump in the RealClearPolitics average (46.8 to 41.7) and is leading in every poll except the LA Times/USC survey.  Almost all the polls aggregated commenced post-DNC. The conventions kicked off on July 18, at which point the race stood at 43.8 to 40.6.   Today's numbers are almost exactly where they were on July 13 (45.0 to 40.7).