Conventions Helped Trump More, Even Though His Was Awful and Hers Wasn't
The one with the better convention seems to have lost ground over the last two weeks.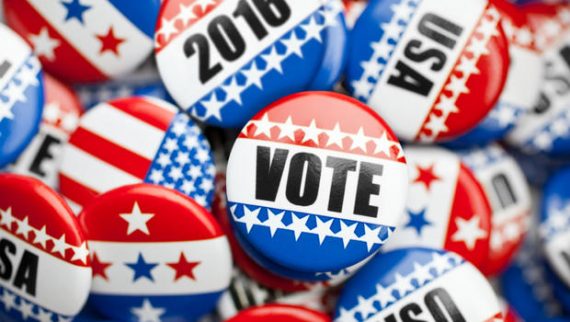 For the first time in decades, I didn't watch live television coverage of either convention. I've typically watched at least the big speeches and especially those of the two candidates but just couldn't bring myself to do so this year. From the social media buzz, news coverage, and sound bytes, though, it was pretty clear that the Republicans put on a much worse show. Despite the early protests by Bernie Sanders supporters, the Democrats were relatively unified and brought in all their big guns. The Republicans, by contrast, had C-list celebrities and almost none of their top draws. Further, while Sanders himself said all the right words in urging his supporters to back Clinton, GOP runner-up Ted Cruz was given the stage but refused to do so. And, of course, Trump has issued so many outrageous statements over the last few days that I've lost track of most of them.
Despite all that, the conventions appear to have been at best a wash and if anything helped him more than her. Trump got a modest if unexpected bounce. Clinton seems to have bounced back, but not to her previous height.
The latest Reuters poll shows her up six points nationally, albeit in a slightly different survey.
Democratic presidential candidate Hillary Clinton held a 6- percentage-point lead over Republican rival Donald Trump, according to a Reuters/Ipsos poll with new wording that was released on Friday, the day after she formally accepted her party's nomination for the Nov. 8 election.

Nearly 41 percent of likely voters favor Clinton, 35 percent favor Trump, and 25 percent picked "Other," according to the new July 25-29 online poll of 1,043 likely voters, which overlapped with the Democratic National Convention in Philadelphia.

The poll has a credibility interval of 4 percentage points.

The presidential tracking poll reflects a slight change of wording from previous surveys, replacing the "Neither/Other" option given to respondents with just "Other." An internal review had found the word "Neither" has, at times, siphoned support away from one or the other candidate.
We'll see with more clarity how much the wording matters when we get more post-convention polling. But Clinton got a similar bounce-back in the Rasmussen poll, too.
It should be noted that the same poll shows Clinton and Trump tied at 37 in the four-way, with Gary Johnson drawing 5 and Jill Stein 1.
The previous Reuters poll, released July 20, had it at Clinton 40, Trump 36 in the head-to-head and 39-35 with Johnson (9) and Stein (4) included.
Then again, the July 6 poll had Clinton leading 44-33 in the head-to-head and 42-33-6-4 in the four-way.
Looking at the RealClearPolitics collection of head-to-head polls, Clinton led pretty much every pre-convention poll not conducted by notoriously-Republican-leaning Rasmussen. Ditto the four-ways, although there are many fewer of those. Now, Trump is leading or tied in most of them.
I'm frankly baffled, as I have been all cycle, that Trump hasn't imploded. But Megan McArdle offers some useful reminders:
Some things to remember when you're posting about how a speech went, or a convention went:
1) If you're already planning to vote for the candidate, then the fact that you liked the speech is irrelevant. You're not the important audience.

2) If you hate the candidate, and would indeed drag yourself to the polling place by your tongue to vote against them if your arms and legs should happen to fail, then the fact that you hated the speech is irrelevant. You're not the important audience.

3) "That speech was effective (or ineffective)" is a statement with almost no analytical overlap with "This candidate would be a good (or bad)" president. The former is a positive analysis; the latter is a normative analysis. Most people fight about the former when they're really trying to argue about the latter. Candidates can win Argument B by delivering on Argument A. You, the Facebook poster, cannot. People like it or they don't. No amount of arguing that they should have liked it, or hated it, will change that visceral reaction.

4) Things play really differently to different audiences. Urban progressives love being told that people in other countries are horrified by Donald Trump. To people who don't have passports, that sounds teeth gratingly like "We should substitute the opinions of some foreigner for yours". Think about who the candidates need to win, not who they already have.

5) All sorts of things matter that shouldn't. Women have a handicap. Taller men have an advantage over shorter ones. People with less-than-sonorous speaking voices, unusual facial architecture (think Ted Cruz's smile, which is clearly just the way his face is made), male pattern baldness, less symmetrical features, wooden speech delivery, etc. all take a penalty for something over which they have no control. Liberals get a boost from the fact that urban professionals who make up the media, all else equal, feel more natural affinity with them than they do with conservatives, especially social conservatives, and that inevitably creeps into the way they assess and talk about the candidate. In a better world none of these things would be true, but in this one they are, and arguing that it shouldn't, to friends who are pretty likely to already agree with you, may be satisfying, but won't make those things less real.
Human beings have a remarkable capacity for reading what they want into a speech based on their preconceptions and biases. We'll naturally give the benefit of the doubt to our candidate and read the worst possible intentions into statements made by the opposition. And, yes, while Clinton gets some benefits from being a woman she's also penalized for it. Her voice and inflection can be grating.
Megan makes two other points:
6) Getting angry with folks who have different reactions from you, or who argue that something about a candidate is off-putting to voters, is really unhelpful. There are no refs in this election, so you cannot work them to skew things in favor of your candidate. Or rather, there are a couple hundred million refs, almost none of whom follow you on Facebook. And given the social architecture of Facebook, where most of your friends are going to end up being a lot like you, even mass Facebook activism is not going to reach the folks you want to convince that it's so unfair. Pour that energy into actually phone-banking or knocking on doors or otherwise making a palpable difference in the election outcome.

7) Take it from a longtime columnist: even if you had a bigger platform, most of the people you want to convince still wouldn't agree with you. Getting and staying angry about this is a surefire recipe for social sorrow and personal misery. So be nice to each other. Whoever gets elected may do bad things. But what you will still have is the people around you, and your connections to them. Don't fry those connections with overheated statements about the other side. Psychopaths are estimated to be about 1% of the population. The other 99% are decent people very much like yourself: trying to do the best they can with what they've got.
The commentariat here has, for a variety of reasons, not all of which I understand, shifted from one mostly to my right to one mostly to my left—even as I myself have shifted left. But most of the explanations I see in the threads fall into the category Megan mentions in point 6 above.  While outright bigotry surely explains some of Trump's appeal, it doesn't explain roughly 40 percent of the electorate. There's something more basic going on here but I can't put my finger on it.
My stock in trade as a political commentator has been an ability to simultaneously advocate a position and understand the opposition to it. I'm really having trouble doing that this cycle.  While I'm sympathetic to the frustrations about "the system," both in terms of the domestic system and the globalized economy, are making it very hard to compete, I'm baffled that Trump is seen as a viable alternative. And I'm not exactly living in a bubble.
While my Facebook and Twitter feeds are highly skewed to national security professions and those with advanced degrees, who are almost universally appalled by Trump, a goodly number of my old Army buddies and high school friends are enthusiastic supporters. Ditto a substantial number, if not an outright majority of my uniformed colleagues and students.  Most of them are extraordinarily good people who simply process the speeches, debates, and other stimuli of this campaign completely differently from me. I clearly need to spend more time and energy in trying to understand where they're coming from.