Donald Trump's Path To Potential Victory Is Already Narrowing
Looking at the Electoral College, it's already apparent that Donald Trump's campaign faces a daunting, perhaps impossible, path to victory.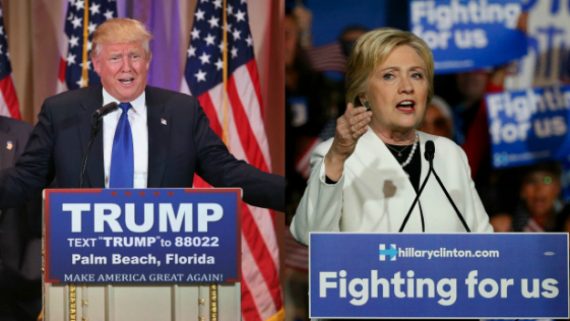 With the conventions over and the campaign for President entering its next phase, Donald Trump finds himself facing a daunting challenge in the Electoral College:
Donald J. Trump, confronting a daunting electoral map and a significant financial disadvantage, is preparing to fall back from an expansive national campaign and concentrate the bulk of his time and money on just three or four states that his campaign believes he must sweep in order to win the presidency.

Even as Mr. Trump has ticked up in national polls in recent weeks, senior Republicans say his path to the 270 Electoral College votes needed for election has remained narrow — and may have grown even more precarious. It now looks exceedingly difficult for him to assemble even the barest Electoral College majority without beating Hillary Clinton in a trifecta of the biggest swing states: Florida, Ohio and Pennsylvania.

President Obama won all three states in 2008 and 2012, and no Republican has won Pennsylvania in nearly three decades.

With a divisive campaign message that has alienated many women and Hispanics, Mr. Trump appears to have pushed several traditional swing states out of his own reach. According to strategists on both sides of the race, polling indicates that Mrs. Clinton has a solid upper hand in Colorado and Virginia, the home state of Senator Tim Kaine, her running mate. Both states voted twice for George W. Bush, who assiduously courted Hispanic voters and suburban moderates.

In addition, Trump allies have grown concerned about North Carolina, a Republican-leaning state that has large communities of black voters and college-educated whites — two audiences with which Mr. Trump is deeply unpopular.

While Mr. Trump is not ready to give up entirely on any of the major battlegrounds, advisers have become increasingly convinced that his most plausible route to the presidency, and perhaps his only realistic victory scenario, involves capturing all three of the biggest contested electoral prizes on the map, and keeping North Carolina in the Republican column.

Mr. Trump and his running mate, Gov. Mike Pence of Indiana, are expected to campaign intensively across those four must-win states, with Mr. Trump trumpeting a set of blunt slogans through mass media and Mr. Pence focused on shoring up support from conservatives and right-of-center whites.

There is no imminent plan, Trump advisers say, to match Mrs. Clinton's spending on television ads. Instead, they intend to aim Mr. Trump like a battering ram at a small number of targets, to keep delivering his provocative message on trade, terrorism and immigration.

(…)

Each of the key states presents a mix of larger cities and less populated agricultural and former industrial areas, where Mr. Trump has most often gained traction. Mr. Trump's message of clawing back lost jobs has resonate most in distressed manufacturing regions.

But with the exception of Pennsylvania, where joblessness is slightly higher, the unemployment rate in each swing state hovers near the national average of 4.9 percent or lower.

Democrats caution that they view Mr. Trump as a wild-card candidate with unpredictable pockets of support, potentially capable of warping the political landscape even late in the election season.

For now, though, Mr. Trump is grappling with a magnified version of the dilemma that threatens to stymie Republicans every four years. Democrats have won a consistent set of 18 states in every presidential election since 1992, giving them a base of 242 Electoral College votes even before counting some of the biggest swing states. As a result, the last two Republican nominees, Mitt Romney and John McCain, would have needed to capture nearly all the contested states on the map in order to win.
The idea that Trump, or indeed any Republican nominee, would face an uphill battle in the battle for Electoral Votes is hardly a new one, of course. The last several elections, including for that matter the two elections that George W. Bush won in 2000 and 2004, have shown that Democrats tend to start out a Presidential election with what basically amounts to a lock on states that amounts to anywhere between 217 and 247 Electoral Votes, while Republicans generally have a guaranteed win in states that amount to roughly 191 Electoral Votes. This means, of course, that a Democratic candidate would need somewhere between 23 and 53 additional Electoral Votes to win the election whereas a Republican would need no less than 79 Electoral Votes. In the past, I've noted that for a 2016 Republican candidate this would make the most likely path to victory one starts by winning all of the states that Mitt Romney won in 2012, winning Florida, Virginia, and Ohio, and winning one other state with at least four Electoral Votes. Among traditional swing states, that could mean winning New Hampshire, Iowa, Colorado, or Nevada. It's a daunting task for sure, made all the more so due to the fact that there is quite literally no margin for error and that losing even one of the states that Romney won in 2012 would mean that any victories anywhere else that didn't make up for that loss would mean the end of the game and victory for the Democrats.
The problem that Donald Trump faces is that his prospects do not look good in any of the states mentioned above even at this early stage in the process. In Virginia, for example, the most recent polling has Hillary Clinton leading Trump by 5.3 points, although its worth noting that all of that polling took place prior to either of the party conventions. Trump does have small leads in the polling averages in Ohio and Florida, but they are below 1 point in both states and, again, consist almost entirely of polling that took place prior to the national conventions. Trump also finds himself trailing in Colorado, New Hampshire, and Iowa. As the article notes, this is largely why the Trump campaign finds itself forced to find another path to Electoral College victory.
If you listen to the Trump campaign, the path to victory they've laid out seems to consist largely in the idea of becoming competitive in states that Republicans haven't been competitive in for quite some time. One path that some Trump supporters talk about involves winning in the industrial Midwest, specifically in states like Wisconsin, Michigan, Ohio, and Pennsylvania, which put together total 64 Electoral Votes and would put Trump within 15 votes of the 270 Electoral Votes needed to win the election. With the exception of Ohio, which is likely to remain close right through Election Day, this means winning in states that no Republican has won since 1988 in the case of Pennsylvania and Michigan, and since 1984 in the case of Wisconsin. Even taking into account the extent to which those three states have changed in the ensuing three decades, sweeping victory there for Republicans seems unlikely and the polls to date support that idea. Polling shows Hillary Clinton with a comfortable lead in Michigan, Pennsylvania, including two recent polls that show her with a nine point lead in the Keystone State, and in Wisconsin. Finally, in the past Trump himself has made the audacious claim that he will be competitive in solidly blue states like California, New York, and New Jersey. In reality, he is as a far behind the Democratic nominee in those three states as any Republican has ever been. If his campaign spends any money in states such as those, it will be a waste. While it's obviously still early in the process, all of this suggests that Donald Trump is very close to lacking a viable path to 270 Electoral Votes. If that happens, then this race could be over before it really starts. 0