New Polls Have Obama Ahead In Three Battleground States
Three new polls show President Obama leading in three key battleground states.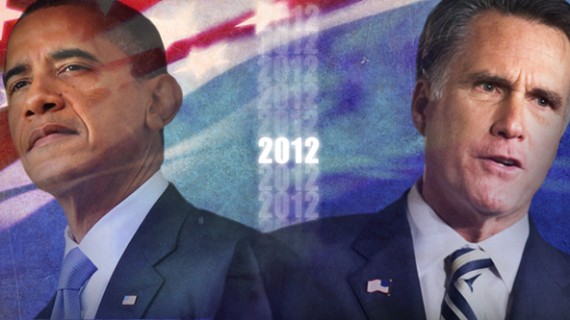 CBS News and The New York Times have teamed up with Quinnipiac University for a poll of three "battleground" that shows Obama with leads outside the martin of error in all three:
President Obama is struggling to persuade voters that he deserves to win re-election based on his handling of the economy, but his empathy and personal appeal give him an edge over Mitt Romney in Ohio, Florida and Pennsylvania, according to Quinnipiac University/New York Times/CBS News polls.

The contours of a deeply competitive presidential race, with three months remaining until the election, are highlighted in the new surveys of likely voters in the three battleground states. Mr. Romney drew fairly even with Mr. Obama when voters were asked about managing the nation's financial situation, but his candidacy remains tested by concerns over his business background and his reluctance to release more of his tax returns.

The polls in the three states, all of which Mr. Obama carried in 2008, offer a window into challenges and opportunities for both candidates as August begins and they prepare for their nominating conventions and the general election fight. Most paths to victory that the campaigns are pursuing include winning at least two of the states.

While independent voters break strongly for Mr. Obama in Pennsylvania, a state that Mr. Romney has been trying to make more competitive, they are closely split in Florida and Ohio. Of the coalition that Mr. Obama built to win the White House, independent voters remain a hurdle, with a little more than half in Florida and Ohio saying they disapprove of his job performance.

But a torrent of television advertising in the states, particularly in Ohio and Florida, appears to be resonating in Mr. Obama's quest to define his Republican rival. The polls found that more voters say Mr. Romney's experience was too focused on making profits at Bain Capital, the private equity firm he led, rather than the kind of experience that would help create jobs.

A snapshot of the race, taken during a burst of summer campaigning, found that Mr. Obama holds an advantage of 6 percentage points over Mr. Romney in Florida and Ohio. The president is stronger in Pennsylvania, leading by 11 percentage points. The margin of sampling of error is plus or minus three percentage points in each state
Perhaps the most significant finding from these state polls is the fact that, while voters have doubts about President Obama's handling of the economy and still see the economy doing poorly, it doesn't appear that Mitt Romney has yet been able to "close the deal" and convince voters to take a chance on him as President:
The polls found that Mr. Obama faces substantial hurdles of his own, most of them rooted in the electorate's deeply pessimistic outlook on the economy. By double-digit margins, voters in each state say his policies would hurt, rather than help, their personal financial situation if he won re-election, a worrisome sign considering the economy is ranked as voters' chief concern.

Still, more than half of voters in each state also say the administration's actions are either slowly improving the economy or will, if given more time.

"Romney does have business experience, but I wonder if his business experience would benefit the country or might harm it," said Peg Pagano, 72, a retiree in Holland, Pa., in a follow-up interview. "He was in business in order to make a profit. There's nothing wrong with that, but how would that help the country? I feel Obama needs to be given another four years."

(…)

Mr. Obama has a clear advantage on personal measures, and far more voters say he cares about the needs and problems of people like them.

Mr. Romney is seen as being able to do a comparable job on the economy. More voters in Florida say his economic policies would be better for their own financial situations. Among independent voters in the state, the poll found Mr. Romney outpacing Mr. Obama by 14 percentage points when asked who would perform better on the economy.

"We've seen Romney's track record with the Olympics and with his business, and I think that's what really swayed me," said Chris Rench, 47, who recently left his job as an equipment operator from Piqua, Ohio. "And I haven't seen anything in his past that has been questionable. There is nothing to make me doubt his ability to do the things he says he wants to do."

The president drew broad support from voters in each state for a proposal to raise income taxes on people whose household income is more than $250,000. The plan received the backing of 58 percent of likely voters in Florida, 60 percent in Ohio and 62 percent in Pennsylvania.

Mr. Romney has endured criticism for declining to release more than two years of his tax returns, and at least half the voters, including about half the independent voters, in each state say presidential candidates should release several years of returns.
In the CBS News write up, we see that Romney continues to have likability issues:
The president is viewed more favorably in all three swing states, and is far more likely to be seen as caring about voters' needs and problems. Voters are split on Romney's business background: While roughly 42 percent say it will help him create jobs, about half say it is too focused on profits. Less than one third of voters say either candidates' policies will help their financial situation, though Romney has a slight edge on this question. Voters are also slightly more likely to say Mr. Obama's policies will hurt them financially.

Mr. Obama's voters are significantly more likely to strongly favor him in all three states. Romney's support is substantially more likely to come from those who say they are motivated primarily by their dislike of the other candidate.

In Pennsylvania, for example, 59 percent of Obama voters strongly favor the president, while 41 percent of Romney voters strongly favor the former Massachusetts governor. While 22 percent of Romney voters say they are backing him because they dislike the president, only 7 percent are backing Mr. Obama because they dislike Romney.

(…)S

Mr. Obama's favorable rating is 50 percent or slightly higher in all three states. Romney's favorable rating, meanwhile, hovers around 40 percent. In all three states the president's favorable rating is higher than his unfavorable rating, while Romney's unfavorable rating is higher than his favorable rating. Meantime, Mr. Obama's job approval is split in all three states: in Florida and Ohio, 48 percent approve of the job he's doing, 48 percent disapprove; in Pennsylvania, 49 percent approve while 46 percent disapprove.
These numbers are actually fairly consistent with the state of the race right now, with one exception. Taking the Quinnipiac poll into account, Obama is ahead by an average of 4.8 points in Ohio according to the RealClearPolitics poll. This is likely a reflection of the act that the Obama campaign has been saturating the Ohio airwaves with anti-Romney ads (Bain, etc)
In Pennsylvania, the RCP Average is at 7.0 points, and the closest Romney has been in the past month is a Rasmussen poll that had him down by four points. Because of this, I tend to reject the idea that Pennsylvania should be considered a swing state right now. Republicans haven't won the state in a Presidential election since 1988. Also, while it's true that Republicans did well statewide in 2010 there, it's worth noting that 2010 turnout was more than two million voters less than the turnout in the 2008 Presidential election so I'm not sure what those results tell us about this year. Pennsylvania is a state that constantly teases the GOP in Presidential years but, for the past 20 years always disappoints. Perhaps the state will be competitive this year, but so far the polls aren't showing any signs of that. The one anomaly from this poll is the result in Florida. The RCP average for the state is a razor-thin 1.4 points in Obama's favor. The largest lead any poll has shown for Obama in two months is five points in a SurveyUSA poll, and no poll has shown a six point lead since a Quinnipiac poll all the way back in March. While many of those previous polls were of Registered rather than Likely Voters, that's nonetheless still something of an anomaly. This poll may be an outlier, and we'd need to see additional polling to see if Obama really is pulling away in the Sunshine State. If he is that could spell big trouble for Romney.
Several people on the right have reacted to these polls by pointing out supposed problems with their demographic samples. Ed Morrissey points out that the partisan breakdown seems to favor Democrats:
Now let's take a look at the partisan breakdown (D/R/I) in the sample data for each state, and compare them to 2008 and 2010 exit polling:

Florida: CBS/NYT 36/27/32, 2008 37/34/29, 2010 36/36/29
Ohio: CBS/NYT 35/27/32, 2008 39/31/30, 2010 36/37/28
Pennsylvania: CBS/NYT 38/32/26, 2008 44/37/18, 2010 40/37/23

The CBS/NYT model has Democrats a +9 in Florida when in 2008 they were only a +3 and an even split in the 2010 midterms.  Ohio's sample has exactly the split in 2008 (D+8), which is nine points better than Democrats did in the midterms.  Pennsylvania's numbers (D+6) come closest to a rational predictive model, somewhere between 2008-s D+7 and 2010-s D+3, but still looking mighty optimistic for Democratic turnout.
Jim Geraghty points out another difference based on the 2008 election results:
 When Quinnipiac asked its swing state samples, "Did you vote for Barack Obama or John McCain in 2008? Obama enjoys a 13 percentage point margin in Florida and a 15 percentage point margin in Ohio. Of course, in 2008, Obama won Florida by three percentage points and Ohio by 4.6 percentage points.
This is something worth paying attention to, because oversampling of Democrats and Republicans could have a huge impact on the topline numbers. However, I'd caution against using the 2010 exit polls as a guide for a 2012 likely voter model. As I noted above with regard to Pennsylvania, turnout for the midterms was below what we saw in 2012, and very heavily skewed in favor of Republicans and Independents. The people who stayed home in 2010 are probably not going to do the same thing in 2012, especially if they're Democrats. So, I'd say that the 2008 exits remain the best guide for these D/R/I breakdowns. In the case, the polls for Pennsylvania and Ohio were both largely in line with the 2008 model. The Florida poll was slightly out of line, especially for Independents, and this may explain why it's so different from other recent Florida polling.
Additionally, Sean Trende of RealClearPolitics noted on Twitter this morning that Party Identification is not necessarily the best thing to look at in judging the validity of a poll because it can vary so wildly from poll to poll and depending on where in the polling sequence the question is asked. (you can see Trende's discussion of these issues at his Twitter feed) Trende went on to note that all three polls were in line with the 2008 exits when it comes to self-described ideology:
Ohio — The 2008 Exit Poll had 20% Liberal/35% Moderate/34% Conservative. The poll has 21% Liberal/39% Moderate/35% Conservative
Pennsylvania — The 2008 Exit Poll had 23% Liberal/50% Moderate/27% Conservative. The poll has 20% Liberal/43% Moderate/35% Conservative
Florida — The 2008 Exit poll had 19% Liberal/47% Moderate/35% Conservative. The poll has 17% Liberal/40% Moderate/38% Conservative
To the extent there are differences between the 2008 exits and the polls, they tend to favor the "Moderate" and "Conservative" side of the equation, which you would think would benefit Romney at least somewhat.
The broader point is to not put too much weight on individual polls numbers but in the overall trends, which is why the Florida result here should be considered an outlier until backed up by other polling. In Ohio and, especially, Pennsylvania, though, these polls are generally consistent with the direction the race has been going over the past month or so. Obama is up in both states, and that should worry Team Romney.