Further Thoughts On Gun Control And Voter Intensity
The politics of gun control is not nearly as easy as its supporters believe it to be.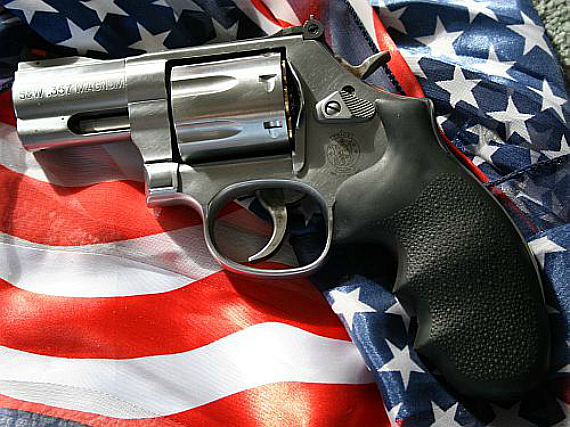 There's been a lot of push back in the comment thread to my post this morning pointing out that, while voters tell pollsters that they are strongly in favor of many types of gun regulations, polling and election results indicate quite strongly that it isn't an issue that they care strongly about, and certainly not one that is likely to have a significant impact on their vote on Election Day. Indeed, surveys have shown for some time that the most important issues for voters revolve around the economy, jobs, and, to some extent health care.  In times of international crisis, foreign policy will enter into the equation as well but not nearly to the same degree as it was during the Cold War when the GOP's advantages at the Presidential level were, in many ways, tied to the perception among voters that it was stronger on national defense issues. When it comes to gun control, though, it's never been apparent that it is a strong motivator for voters in Federal elections. Indeed, the 1994 elections, which took place in the wake of that year's "Assault Weapons" ban, showed once again that it was the gun rights side of the argument that seemed to have a more powerful voice at the box office, perhaps because that side of the argument does a better job of motivating its voters.
Many of the arguments in the comment thread pointed to the power of the National Rifle Association as the key explanation for the phenomenon I noted. As I said in the comments, though, while I don't deny that the NRA and other gun rights organizations  are powerful and very effective lobbying organizations, I think that pinning the entire explanation for the political failures of gun control on them misses the point. For one thing, the number of gun owners in the United States is far, far higher than the total membership of all of these organizations combined. That fact alone calls into question just how much influence the NRA and related organizations actually have among voters. Indeed, one wonders how some of the campaigning that the NRA does engage in doesn't end up further motivating those voters who are in favor of gun control. As many of you may be aware, many of those ads tend to be fairly inflammatory. The fact that they don't seem to provoke a backlash is another strong argument in favor of the argument that gun control is not a very important issue to them even though they say in polls that the support it.
Additionally, as Paul Waldman notes, the argument that the NRA's money advantage is a big favor in the gun debate simply doesn't hold water anymore:
[T]hough the NRA may spend a good deal of money in total, it spreads that money to multiple races across the country. In the last four elections, the median NRA House independent expenditure has spent less than $10,000, and the median Senate IE only around $30,000 – numbers too small to have a real impact.

All right, but is the organization spending token amounts on a large group of friendly candidates, but putting its real weight behind a few high-profile races and producing results? Yet again, the answer is no. In the last four elections, the NRA spent over $100,000 on an IE in 22 separate Senate races. The group's favored candidate won 10 times, and lost 12 times. This mediocre won-lost record, however, tells only part of the story. Let's take one example, the largest IE the NRA conducted over this period. In 2010, they spent $1.5 million on the 2010 Pennsylvania Senate race between Republican Pat Toomey and Democrat Joe Sestak. Toomey won by 2 points, but could the NRA claim credit? Toomey's campaign spent just under $17 million, over twice as much as Sestak's $7.5 million. The NRA was one of a remarkable 62 outside groups that poured a total of over $28 million into the Pennsylvania race. Put another way, in the NRA's single largest independent expenditure over this period, the group accounted for less than 3 percent of the money spent in the race.
In other words, the NRA is, in the end, just another lobbying and advocacy organization.
The key isn't the NRA, it's the voters.
In The Washington Post, Peyton Craighill and Chris Cillizza examine the results of a new poll that shows yet again why the political battle over gun control has been so difficult for gun control advocates:
Gun owners are far more politically engaged than are those in households without guns, according to a new Washington Post-ABC News poll, a chasm that goes a long way toward explaining the seeming disconnect between Congress and the American public when it comes to reforming the country's firearms laws.

One in five gun owners say they've called, written or emailed a public official to express their views on the gun issue. Just one in 10 of those in households without a gun say the same. The disparity is even greater when it comes to making donations to organizations involved in the issue; 19 percent of gun owners say they've given money while just 4 percent in non-gun households say the same.

And, for many of those politically active gun owners, opposition to gun rights is a disqualifying position for a politician. Four in 10 gun activists — defined as  those who have either contacted a politician or donated money — would rule out voting for a candidate with whom they disagree on gun policy but with whom they agree on other issues. That compares with just over a quarter of non-gun activists who would rule out a politician who took a position opposite theirs on guns.

(…)

All of these numbers illustrate the crux of the divide between public opinion and political action on guns. While majorities of the public support things like expanded background checks, banning or limiting high capacity magazines and reinstituting the assault weapons ban, they — by and large — don't feel passionately about any of it. Those opposed to such measures are smaller in numbers but extremely passionate.
To put it bluntly, gun owners and those who support gun rights have consistently been more passionate about the issue than advocates of gun control and, as Craighilland Cillizza note, passion is immensely important in political debates like this. After all, if Senators like Heidi Heitkamp, a red state Democrat who announced this afternoon that she would be opposing the Manchin/Toomey plan, look at the situation and see that there is more of a political risk in voting for the bill than voting against it, it shouldn't been too shocking what they are going to do.
As I noted in the Gallup poll that I cited this morning, in the wake of the Newtown shootings the percentage of the population for whom gun control was "the most important" issue went from non-existent to high of 6% in February before dropping back down to 4%. That's higher than where it was before the shootings, but the trend suggests that intensity will continue to wane, especially once public attention moves on to another topic either naturally or because a crisis, either domestic or international, has grabbed the public attention. Indeed, much of the attention that was being paid to the Manchin/Toomey bill on the day that it's fate is being decided has been diverted by events in Boston and the reports of poisoned letters in Washington, D.C. Once the bill is defeated, it's likely that gun control will slip even further away from the public mind as we concentrate on the follow-up to the Boston bombing and the upcoming debate on immigration.
Finally, there's simply political reality that significant gun control is not going to pass under the current political climate on Capitol Hill. If the American people want to change that, they will. So far, there seems to be no indication that this will happen.