Conservatives Double Down On 'No Hearing, No Votes' For SCOTUS Nominee
Conservatives are sending a message to Senate Republicans about the vacancy on the Supreme Court, and it may require them to initiate a suicidal game plan.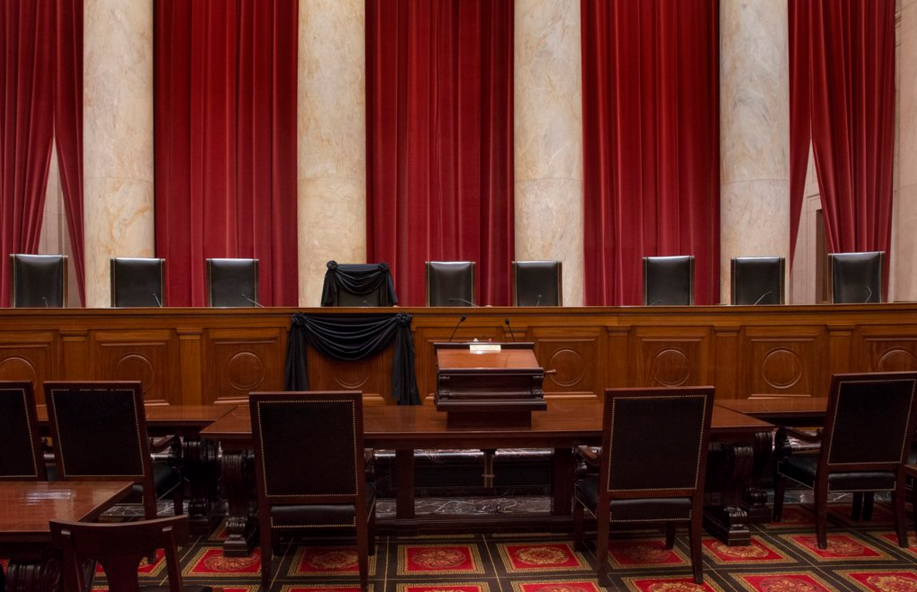 Conservative activists are doubling down on their efforts to convince the Senate to refuse to hold hearings or any votes regarding any Supreme Court nominee that President Obama may send to Capitol Hill:
Conservative leaders are sending a blunt message to Senate Majority Leader Mitch McConnell: The Supreme Court is more important than your majority.

McConnell's (R-Ky.) top priority since becoming majority leader last year has been to put his colleagues in a strong position to win reelection, in part by showing that Republicans can govern.

But bottling up President Obama's nominee to replace the late conservative Justice Antonin Scalia could bring the work of the chamber to a screeching halt if Democrats choose to retaliate.Conservatives say that's the risk McConnell has to take.

Taking action on a Supreme Court nominee — even through the Judiciary Committee — when Obama has less than a year left in his term would be a cardinal sin, conservative activists say.

They argue the ideological balance of the court is so important that it's not worth playing political games to take the pressure off vulnerable Republican incumbents.

"I would rank having a conservative justice as more important than having the majority in the Senate," said David Bozell, president of For America, a conservative advocacy group. "God knows this Republican majority in the Senate hasn't done much anyway for conservatism, period."

"If you look at some of the conservative movement's successes, it's in large part due to the court doing some decent things and making some good decisions," he added.

Two of the biggest court decisions in recent years, the District of Columbia v. Heller and Citizens United v. FEC, did far more to lift restrictions on gun ownership and political spending by outside groups — two conservative priorities — than anything passed by Republicans in Congress.

"The Senate isn't as important on a great number of issues as the Supreme Court. The Senate is not going to determine whether or not we have Second Amendment rights, the Supreme Court is. The Senate is not going to determine marriage, the Supreme Court did. The Supreme Court, not the Senate, determined abortion," said Mike Farris, chairman of the Home School Legal Defense Association.

"The issues that are of great concern to the conservative movement have all been decided by the Supreme Court," he added.

Democrats are hammering McConnell and his GOP colleagues for arguing right off the bat that confirming a successor to Scalia should wait until next year, when a new president is in office.

Senate Democratic Leader Harry Reid (Nev.) wrote in a Washington Post op-ed that if Republicans refused to hold hearings, they would be remembered as the "most nakedly obstructionist and irresponsible majority in history."

The Democratic Senatorial Campaign Committee is hitting vulnerable incumbents for not doing their jobs, and newspapers around the country are following suit.

The Concord Monitor wrote in a recent editorial that Sen. Kelly Ayotte (R-N.H.) — who is up for re-election — was "wrong" to echo McConnell "in knee-jerk fashion" by calling for a year-long postponement of confirmation hearings.

"Voters should consider such a refusal to perform their sworn constitutional responsibility to advise and consent, not merely obstruct, a disqualification for future Senate office," the paper wrote.

The Scranton-Times Tribune editorialized that Sen. Pat Toomey's (R-Pa.) support for McConnell's position is "naked obstruction" and that the vulnerable incumbent "should desist."

The chorus of criticism has put Republicans on the defensive and prompted an internal debate about whether the Senate should at least have hearings on Obama's nominee.

(…)

But conservatives warn that holding hearings on a nominee would open Pandora's box, potentially leading to a floor vote.

While it's unlikely that Democrats could muster the 14 votes necessary to overcome a filibuster, conservatives don't want to take any chances.

"People who argue that the Republicans should play footsy with President Obama and the Democrats on this Supreme Court opening are the same types of people who are simply tone deaf to the political moment we're experiencing," said Matt Schlapp, chairman of the American Conservative Union.

"The Senate should be more important to hold onto, but unfortunately with runaway interventionist court, the Supreme Court might be the most important governmental entity in the entire government," he said.

"When progressives get five votes they can do something as crazy as declaring carbon dioxide a pollutant. They can change the very nature and understanding of marriage."

While conservatives say Republicans should use their majority to defend the ideological composition of the court no matter the cost, they vehemently dispute that quashing Obama's nominee will hurt GOP candidates in November.

Instead, they warn that moving the nominee would provoke such a negative reaction from the party's base that the fallout on Election Day would be much worse.
While the President has yet to name a nominee, and according to reports is unlikely to do so until the Supreme Court's official mourning period for Justice Scalia has ended in mid-March, the renewed pressure comes as Congress returns to Washington after having been out of town for President's Day in the immediate aftermath of the announcement that Scalia had passed away. It was, of course, mere hours after that announcement that conservative pundits, Senate Majority Leader Mitch McConnell, Judiciary Committee Chairman Chuck Grassley, and all of the Republican candidates for President made comments that it would be inappropriate for the Senate to confirm a nominee so close to a Presidential election. Conservative activitsSeveral Senators, such as Alaska's Lisa Murkowski, implied that they were merely calling for an adherence to tradition, but an examination of history demonstrates that this simply is not the case and that history is replete with examples of Supreme Court nominations being made and confirmed in the year of a Presidential election. The only exception to this appears to be during the Presidency of John Tyler in the mid-19th Century when at least two Supreme Court seats were left vacant for more than a year at a time due to political disputes between Congress and the President. At the same time, it could also be argued that this is an historically unique situation in that it seems to be the first time since the ratification of the 22nd Amendment that a Supreme Court seat has become vacant during the final year of a lame duck President's term and within less than a year of the time in which a new President would take office. Nonetheless, as I've noted a political battle such as this over a seat held by one of the pillars of the Courts two ideological poles was to be expected, and one can find the roots of the partisan dispute that lies at the heart of it in comments and actions by Democrats during the final years of the Presidency of George W. Bush, not to mention some very familiar sounding comments made by then Senator Joe Biden back in 1992.
Notwithstanding these initial comments, though, there have been some signs that the wall of opposition to hearings for a potential nominee, and possibly even a vote, may not be as strong as many thought. Late last week, for example,Senator Grassley appeared to walk back his initial comments and suggested that he was not ruling out Judiciary Committee hearings for a potential nominee. Three other Senators — Thom Tillis of North Carolina, Ron Johnson of Wisconsin, and Dean Heller of Nevada— joined Grassley in arguing that the Senate should not shut the door on at least holding hearings for a nominee even if an up-or-down floor vote is never held due to a floor vote. No doubt, these Senators were motivated at least in some part by the rather obvious political risks that Senate Republicans could be taking here if the American public sees their actions as being obstructionist.
As I've said from the start, ultimately how Senate Republicans proceed here will depend on how the voters respond to this and whether Senate leadership believes there is a greater political risk in blocking the nomination, or in allowing it to go forward. Two early polls suggested that the American public as a whole was largely divided equally on whether or not the Republican Senate was taking the right position, but the most significant number out of those polls was the overwhelming opposition to hearings among self-identified Republicans. A Fox News poll released late in the week, meanwhile, found that 62% of those asked believed that the President and Senate should act immediately to fill the vacancy rather than waiting until a new President takes office. At the same time, a Reuters/Ipsos poll found that 54% believed action should be taken now to fill the vacancy while only 34% supported the idea of waiting. More recently, a new set of polling from Public Policy Polling shows that majorities in two states where Republican Senators will be battling for re-election oppose the idea of blocking a nominee until 2017:
-Strong majorities of voters- 58/35 in Ohio and 57/40 in Pennsylvania- think that the vacant seat on the Supreme Court should be filled this year. What's particularly noteworthy about those numbers- and concerning for Portman and Toomey- is how emphatic the support for approving a replacement is among independent voters. In Ohio they think a new Justice should be named this year 70/24 and in Pennsylvania it's 60/37. Those independent voters are going to make the difference in these tight Senate races, and they have no tolerance for obstructionism on the vacancy.

-Voters are particularly angry about Senators taking the stance that they're not going to approve anyone before even knowing who President Obama decides to put forward. By a 76/20 spread in Pennsylvania and a 74/18 one in Ohio, voters think the Senate should wait to see who is nominated to the Court before deciding whether or not to confirm that person. Toomey and Portman are out of line even with their own party base on that one- Republicans in Pennsylvania think 67/27 and in Ohio think 63/32 that the Senate should at least give President Obama's choice a chance before deciding whether or not to confirm them.

-This is an issue that really does have the potential to make Portman's and Toomey's lives even harder this fall if they don't change their tune. In both states the numbers are identical- 52% of voters say they'll be less likely to vote for either Portman or Toomey this fall if they refuse to confirm a replacement for Justice Scalia no matter who it is, compared to only 25% who say taking that stance makes them more likely to vote for them. In both cases the numbers reinforce how perilous it is with independents for Portman and Toomey to take the position that they're not confirming someone no matter what- in Ohio 59% of them say that makes them less likely to vote for Portman to just 15% more likely, and for Toomey it's 55% of independents less likely to vote for him based on that stance to only 24% more inclined to support him.
The concern for Republicans, obviously, is that holding adamantly to the line of "No Hearings, No Votes" could end up causing problems for vulnerable Senators such as Portman and Toomey in the fall. As it is, there are six Republicans running for re-election in states that Barack Obama won in 2008 and 2012, including not just Portman and Toomey but also Mark Kirk in Illinois, Ron Johnson in Wisconsin, Kelly Ayotte in New Hampshire, and the open seat currently held by Marco Rubio in Florida. If Democrats can win four of those and win the White House then they will control the Senate. If they win five, then they will control the Senate regardless of who wins the race for the Presidency. Despite that risk, though, conservatives appear more interested in fighting the battle over this Supreme Court seat than worrying about the future of the Senate.
Consider this from Hot Air's Jazz Shaw:
It seems to me that there are two separate but equally relevant questions in play here. First of all, is the threat to the Senate Majority real if the GOP holds the line? And second, even if we accept that it is, what price is too high to pay in exchange for keeping Barack Obama from naming Scalia's replacement?

On the first count, pardon me if I'm dubious. The Supreme Court is a huge issue for both parties because the effects of these appointments can last decades longer than the time any president will remain in office or the tenure of the person occupying the Senate Majority Leader's office. But that's the case in every election anyway. Even if there isn't a current vacancy, the highest bench tends to be populated with a significant number of people who are rather long in the tooth and who may retire or expire with no notice in any given year. Office holders and office seekers pushing to have a president from their own party make the next selection is nothing new and the nation has many larger fish to fry in the meantime.

But even if it did cost the GOP the majority in the Senate, what really would that mean when compared to the next decade or more of a majority on the court? I tend to be swayed a fair bit by David Bozell's comments on the subject.

"I would rank having a conservative justice as more important than having the majority in the Senate," said David Bozell, president of For America, a conservative advocacy group. "God knows this Republican majority in the Senate hasn't done much anyway for conservatism, period.
And this from conservative writer Kurt Schlichter at Town Hall:
OP senators, if you give whichever Constitution-shredding libfascist Obama nominates a hearing, much less a vote, we are gone. Out of the GOP. Finished. And that means you're finished too.

The "we" is us conservatives, and we are not in the mood for any pompous, delusional Senate-speak about how you can't do what we elected you to do and defy Obama. You need to take a stand and shut him down. And we don't care how much heat you have to take from the mainstream media and your distinguished commie colleagues across the aisle.

Man the hell up.

Our enemies keep blabbing about your alleged "duty" to act. Yeah, you have a Constitutional duty all right – to the freaking Constitution.

The reaction of Mitch McConnell was a pleasant surprise. After rolling over again and again, it seems to have dawned on Mitch that we conservatives are done with a submissive Senate going Gimp every time Obama demands something. Spending, Obamacare, illegal immigration – the GOP hasn't been seemed to be able to draw a line, much less hold one, and we conservatives have been wondering why we even bothered to retake the Senate in 2014. But now our right to freely exercise our religion, our right to keep and bear arms, and even our right to criticize politicians like Hillary Clinton are at stake. There's nowhere left to retreat to. Back, meet wall.

This is it. This is the moment you need to stop pretending the Senate is some sort of collegial debating society and realize that this is a life and death struggle for the future of our country. If the left gets its way, America is in serious trouble. And so are you, because if the GOP Senate can't even stop the left from turning the Supreme Court over to the kind of people who run safe space universities, then what damn use is a GOP Senate?

We'll be gone from your flailing party. We'll check out, and then you'll check out of the cloakroom for good. The revolt is already barreling down the highway; your weakness will only supercharge it. Do you think Donald Trump is some sort of accident? He's the result of you and the rest of the GOP talking a big game about liberal abstinence and then getting to D.C. and giving it up to the first smooth talking establishmentarian you meet at the bus station.

You should be afraid, because this is about your careers. And remember, K Street's not going to need you quite so much when there's a big Democrat Senate majority after you betray us again – you might have to (gasp!) go get your sorry rears real jobs.

Supersize this, squishes. Are you feeling me?

But most of you are smart enough to understand that and to cultivate a healthy fear of losing your cushy sinecures – the majority of you seem to get that you don't want to go home and run on not having stopped the SCOTUS nominee who just gave the thumbs up to trucks rumbling through your constituents' neighborhoods with a speaker blaring, "Bring out your guns!"
These are the competing pressures that Senate Republicans will be faced with as this battle goes forward. On the one side, there is the issue of overall public opinion on the question of whether it's acceptable to leave a Supreme Court seat vacant for blatantly political reasons, which is important given the fact that the GOP is already in danger of losing control of the Senate. On the other, there is the prospect of a revolt from the conservative base of the party that would likely make previous revolts pale by comparison. While it may ultimately prove to be entirely illogical, Greg Sargent believes that Senate Republicans will end up sticking with the demands of the base of their party notwithstanding the electoral risks they'd be taking:
As I've noted, Republicans are in a bind: if they do end up allowing hearings on Obama's nominee, that could give Donald Trump and/or Ted Cruz a boost, since they will likely excoriate "the establishment" for caving. Worse, allowing hearings could maximize public exposure to Obama's nominee, which (presuming he picks a moderate, which is in his interests, since he hopes to further shape the court as part of his legacy) could in turn make it harder still for Republicans to oppose that nominee.

So perhaps it's better for Republicans to do nothing, keeping the base happy and minimizing the visibility of Obama's pick among swing voters. The question would then become whether Democrats can make this politically painful enough to become untenable. The polling we have suggests some public skepticism towards the premise of the GOP argument. Whether that can be made to matter enough to get Republicans to enrage their base by surrendering (yes, it's absurd that merely holding hearings would be seen as surrender, but that's how conservatives will inevitably define it) is another question entirely.
In other words, the story of how this nomination will unfold will follow much the same script as many of the other battles we have seen on Capitol Hill over the past six years. Largely held captive by a base of the party that has arguably gone beyond the point of rational thought, something that can be seen clearly in the fact that two of the top candidates for President are Donald Trump and Ted Cruz, Republicans in the Senate may end up being willing to shoot themselves in the foot, and potentially contribute to the loss of Senate seats that they can hardly afford to lose, rather than enrage a base that either doesn't understand how politics actually works, or doesn't care to learn about that at all. This time, they've selected a new hill to die on, and one is quickly getting the impression that they truly mean it this time.
That doesn't sound like very smart politics to me.