Judiciary Committee Chairman Chuck Grassley Not Ruling Out Hearings On Obama SCOTUS Pick
A crack in the Republican wall?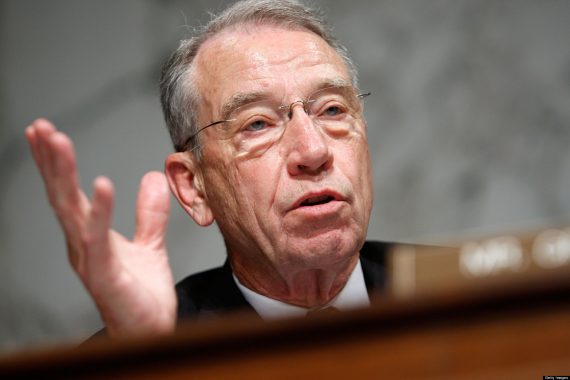 Notwithstanding previous statements and the position seemingly taken by Senate Majority Leader Mitch McConnell, Senate Judiciary Committee Chairman Chuck Grassley is now saying that he is not completely ruling out holding hearings for any potential success to the late Supreme Court Justice Antonin Scalia:
Senate Judiciary Chairman Chuck Grassley has not ruled out holding committee hearings on President Barack Obama's pick to replace Supreme Court Justice Antonin Scalia.

Though the longtime Iowa Republican agrees with Senate Majority Leader Mitch McConnell that the next president should select a new appointee to the nation's highest court, he also told Iowa reporters that he has not made a final decision regarding committee consideration of a future justice and would take things a "step at a time."

"I would wait until the nominee is made before I would make any decisions," Grassley said, according to Radio Iowa. "This is a very serious position to fill and it should be filled and debated during the campaign and filled by either Hillary Clinton, Senator Sanders or whoever's nominated by the Republicans."

If Grassley were to take up Obama's pick, it would transform the Senate into a circus during an election year. For example, Sen. Ted Cruz (R-Texas), a leading presidential contender, serves on Grassley's committee and was among the first Republicans to suggest barring any new nominee from confirmation.

Supreme Court nominee hearings and committee votes are among the most scrutinized events in Washington. If a potential Obama nominee received a vote in the committee, Senate Republicans could easily reject it given their two-vote edge on the Judiciary Committee over Democrats.
To many people following this matter, Grassley's remarks here may seem like he's stepping back from his initial comments, but that may not really be the case. The long-time Iowa Senator first spoke about the next Supreme Court Justice in the hours after Scalia's death on Saturday, and after Majority Leader McConnell had released his own statement saying that the choice of a new Justice should wait until the conclusion of the Presidential elections so that the American people, through, the new President and potentially a Senate made up of different membership, have the ability to be heard on the matter.In his case Grassley said that it was 'standard practice' not to confirm judicial nominees in the final year of a President's time in office and that the President and Senate should defer to the American people in making such a far-reaching decision as approving a lifetime appointment to the Supreme Court As I turns out, Grassley wasn't entirely correct as there are several examples of nominations to the Supreme Court being made and approved within the final year of a President's term, although only one of those, the nomination of Anthony Kennedy has occurred since ratification of the 22nd Amendment made the final year of a two-term President's term essentially a "lame duck" term. It's worth noting, though, that Grassley's initial statement did not rule out holding hearings even though that is how it was interpreted by the time by many who read it, including yours truly. It also appears to be the interpretation that many hard line conservatives gave to Grassley's comments, with many making "No Hearings, No Votes" something of a slogan during the hours and days after Scalia's death.
With President Obama certain to make an appointment to replace Scalia at some point, most likely within the next several weeks after Justice Scalia's funeral has taken place and a respectable period for mourning has passed for the Court and Scalia's family, the position that Grassley seemed to be taking that there would not even be hearings on a nomination always seemed as though it would be one that Republicans would find it hard to defend during the inevitable political firestorm that this nomination is likely to face in any case. This would seem to be especially true if President Obama ends up selecting someone who could fairly be classified as "moderate" with impeccable academic and professional credentials. It would appear that Grassley's comments today are anticipating that possibility as well as the potential blowback that the GOP could face in a scenario where it simply refused to act on the nomination at all. Indeed it could be that Grassley is anticipating a scenario similar to the one I laid out yesterday where the Senate ultimately considers an Obama pick, albeit at a much slower pace than in the past, only to see it rejected by the Senate a a whole at some point later in 2016 when it would be impractical or impossible for the President to submit another nomination that could be considered before the elections. Some have suggested that Republicans might end up forgoing such a scenario due to the possibility that a sufficiently "moderate" nominee could get enough Republican support to win a floor vote. In considering this possibility, though, it should be remembered that Democrats would need to get fourteen out of fifty-four Republicans to join them in invoking cloture in order to proceed to a floor vote. While it's possible that a handful of Republicans might join in invoking cloture on a nomination, it's unlikely that there would be as many a fourteen willing to do so under the overwhelming pressure from outside forces likely to be involved in the process at that hypothetical point.
To say the least, Grassley's comments aren't likely to sit well with the already restive Republican base.  As I noted above, many of these conservatives have already adopted the position that their should be neither hearings nor votes on any nomination submitted by President Obama. Any signs from Senate leadership that they may be backing away from the seemingly no compromise position that they took on this issue in the immediate aftermath of Justice Scalia's death as a sign of betrayal by the "establishment," and such maneuvers are likely to work in favor of Presidential candidates such as Donald Trump and Ted Cruz who have made running against the establishment a central part of their campaigns. Additionally, Grassley is running for re-election this year and does face what appears to be a token primary challenge from a former conservative talk radio host named Robert Rees. It's unclear, though, if there is still time for other candidates to challenge Grassley on the Republican ballot, something that could become a possibility if he ends up going ahead with hearings after all. Most of all, though, it appears that Grassley may realize the somewhat negative reaction that complete intransigence by the GOP could engender in voters nationwide and that he thinks that leaving the potential blowback the GOP could face in the coming weeks and months. Given that Grassley is Chairman of the Judiciary Committee and will ultimately determine largely on his own whether the committee takes up an Obama nomination and when it does so, this is something worth keeping an eye on.