The Political Battle Over Justice Scalia's Supreme Court Seat Has Begun
It didn't take long for the political battle over the seat held by the late Justice Antonin Scalia to become another part of the 2016 political battle.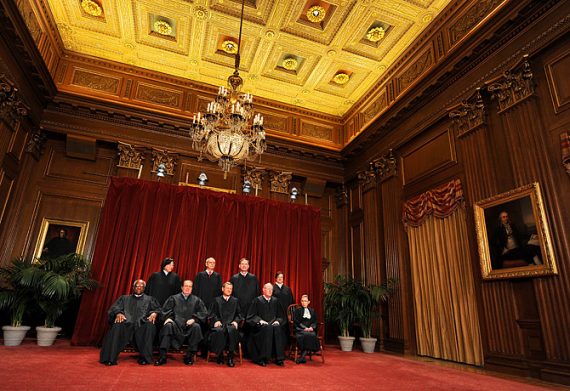 It didn't take long after the news of the death of Justice Antonin Scalia late yesterday afternoon for the political battle over his replace to begin. Even before the news had been confirmed, conservative pundits were saying on social media that the Senate should refuse to confirm any nominee until the next President takes office, arguing that the American people should have the opportunity to have a voice in who will make an appointment that could shape the American legal and political landscape for a generation or more. Shortly thereafter, Senate Majority Leader Mitch McConnell made clear in his own statement on Scalia's death that the Senate should not consider a nominee selected by President Obama, Iowa Senator Chuck Grassley, the Chairman of the Senate Judiciary Committee, agreed with Senator McConnell and argued that it has been 'standard practice' for the Senate to not confirm Judicial nominees during an election year. Given that McConnell controls the Senate calendar and Grassley heads the committee that would consider, or decline to consider any nominees, it's highly likely that they could bring about this result if they so desired. In addition to the Senators, each of the Republican candidates for President said during last night's debate that the Senate should decline to confirm any Obama nominee to fill Scalia's seat. President Obama, meanwhile, made clear during his statement last night on Scalia's death that he intends to appoint a replacement notwithstanding Republican protestations, arguing that he has a responsibility to do so as part of his duties under the Constitution, and Democratic Presidential candidates Hillary Clinton and Bernie Sanders blasted Republicans for the suggestion that they would block any nominee until after the election in November. What all this means, of course, is that the political battle over the Supreme Court is about to shift into high gear.
Republicans have argued since last night that confirming Supreme Court appointments in election years is a rarity and that the appropriate thing to do in this case would be to defer action until a new President is in office and the American people have had a chance to speak. As Amy Howe notes at SCOTUSBlog, that assertion isn't entirely true, although the instances in which a nominee was confirmed in an election year have generally been cases in which the Senate was controlled by the same party a the Presidency:
The first nomination during an election year in the twentieth century came on March 13, 1912, when  President William Taft (a Republican) nominated Mahlon Pitney to succeed John Marshall Harlan, who died on October 14, 1911.  The Republican-controlled Senate confirmed Pitney on March 18, 1912, by a vote of fifty to twenty-six.

President Woodrow Wilson (a Democrat) made two nominations during 1916.  On January 28, 1916, Wilson nominated Louis Brandeis to replace Joseph Lamar Rucker, who died on January 2, 1916; the Democratic-controlled Senate confirmed Brandeis on June 1, 1916, by a vote of forty-seven to twenty-two.  Charles Evans Hughes resigned from the Court on June 10, 1916 to run (unsuccessfully) for president as a Republican.  On July 14, 1916, Wilson nominated John Clarke to replace him; Clark was confirmed unanimously ten days later.

On February 15, 1932, President Herbert Hoover (a Republican) nominated Benjamin Cardozo to succeed Oliver Wendell Holmes, who retired on January 12, 1932.  A Republican-controlled Senate confirmed Cardozo by a unanimous voice vote on February 24, 1932.

On January 4, 1940, President Franklin Roosevelt (a Democrat) nominated Frank Murphy to replace Pierce Butler, who died on November 16, 1939; Murphy was confirmed by a heavily Democratic Senate on January 16, 1940, by a voice vote.

On November 30, 1987, President Ronald Reagan (a Republican) nominated Justice Anthony Kennedy to fill the vacancy created by the retirement of Louis Powell.  A Democratic-controlled Senate confirmed Kennedy (who followed Robert Bork and Douglas Ginsburg as nominees for that slot) on February 3, 1988, by a vote of ninety-seven to zero.
As you can see, all but one of these confirmations came in situations where the Senate was controlled by the same party as the Presidency. The one exception to that rule, the confirmation of Justice Kennedy in February 1988 is itself exceptional because it dealt with a situation where the seat in question had been open since the end of the previous term of the Court in June 1987 due to the retirement of Justice Lewis Powell. President Reagan, of course, initially appointed Judge Robert Bork to fill the seat, but he was rejected by the Senate in an October 1987 vote after a particularly contentious confirmation hearing. Soon after, Reagan selected Judge Douglas Ginisburg after Bork's rejected, but Ginsburg ended up withdrawing his name after revelations about marijuana use with students while he was a Professor at Yale. By the time Justice Kennedy was named on the eve of the 1987 Christmas holidays, there was little time left on the Congressional Calendar in 1987 to consider his nomination, thus pushing hearings and a vote to early 1988.
Additionally, as Howe notes, there have been instances in which a nomination during an election year was rejected by Senate, but neither one resulted in a long-term vacancy on the Court:
On September 7, 1956, Sherman Minton announced his intent to retire in a letter to President Dwight D. Eisenhower, and he served until October 15, 1956.  With the Senate already adjourned, Eisenhower made a recess appointment of William J. Brennan to the Court shortly thereafter; Brennan was formally nominated to the Court and confirmed in 1957.  The fact that Eisenhower put Brennan on the Court is inconsistent with any tradition of leaving a seat vacant.

And in 1968, President Lyndon B. Johnson nominated Abe Fortas, who was already sitting as an Associate Justice, to succeed Chief Justice Earl Warren, but Republicans filibustered the Fortas nomination – principally in reaction to the Warren Court's liberalism and ethical questions about Fortas, although objections were certainly also made that it was inappropriate to fill the seat in an election year.  That filibuster prompted Homer Thornberry, whom Johnson nominated to succeed Fortas as an Associate Justice, to withdraw his name from consideration in October 1968, because there was no vacancy to fill. Moreover, the failure to confirm Fortas as the Chief Justice did not leave the Court short a Justice, because Chief Justice Earl Warren remained on the bench.
On the other hand, it is worth noting that there have been examples of long periods during which a Supreme Court seat was vacant for a year or more due to the inability of the Senate to provide the Senate with an acceptable nominee, as Gabriel Malor and Tierney Sneed both point out. During the Presidency of John Tyler, for example, there were two seats on the Court that were vacant for more than a year due to the fact that President John Tyler, who had succeeded William Henry Harrison after he died after only 30 days in office, often had difficulty getting his appointment through the Senate. In no small part, that may have been because Tyler was the first Vice-President to succeed a President in office and often had difficulty establishing his own legitimacy in office. More recently, the seat that had been held by Justice Abe Fortas was vacant for more than a year before Justice Harry Blackman was confirmed due to the fact that two successive nominees presented by President Nixon were rejected by the Senate. In this case, Justice Scalia's seat would likely be vacant for well beyond a year if the Senate does indeed follow through on the threat to refuse to consider an Obama appointment. This would be unusual, but it would not be unprecedented, and in the end it would be up to the American people to decide how to treat the Senate's decision to act in this manner.
If we were talking about almost any other Supreme Court seat, then it's possible that we would not be seeing this battle. For example, if there were a vacancy in the seat held by Ruth Bader Ginsburg or Stephen Breyer then an appointment by President Obama would have little impact on the ideological balance of the Court going forward. In that instance, while some Republicans may object to consideration of a nominee in the hope that the next President would be a Republican, the argument that McConnell and Grassley would be making would be considerably less strong. Replacing Justice Scalia, though, has the potential to significantly change the ideological makeup of the Supreme Court for some time to come. The same would be true of the selection of a replacement for perennial swing vote Justice Anthony Kennedy. Given that, McConnell, Grassley, and others arguably have a good argument that the American people should have an opportunity to speak on who gets to make an appointment that could have a profound impact going forward given the fact that we are just some nine months from Election Day. In any case, since they obviously have the power to block the nomination, or to bring it up for a quick vote at which it would obviously be rejected, arguing about whether or not it is "right" or "wrong" depends entirely on ones pre-existing political biases. No doubt, this question will be polled in the coming weeks and it will be interesting to see how the American people feel, but I suspect that there will be a substantial number who will be sympathetic to the argument that it would not be appropriate for a lame duck President to make such a far reaching decision.
As a practical manner, it should be said that if the Senate leadership is truly united in declining to consider a nominee until after the Presidential election then there is little beyond public pressure that President Obama can do about the matter. The Judiciary Committee is under no legal obligation to schedule hearings on such a nomination, and the Senate is under no obligation to vote on it. Indeed, if such a vote were held it's likely that it would be scheduled in the manner of a perfunctory vote on a motion to reject the nomination, a motion that would not have to pass the sixty vote threshold of a cloture motion, and such a motion would likely pass by a majority vote. Even beyond that, though, the Republicans control the Senate calendar and, except in exceptional circumstances, there is little that a Democratic nominee can do to force a matter to a floor vote. So, when McConnell and Grassley say that there will be no vote, we should take them at their word that there will be no vote. At that point, the only question will be what impact that decision, and the fact that the future of the Supreme Court is likely to now play a more prominent role in the Presidential election and the battle for control of the Senate, is likely to have on the election and how the American people feel about the issue of leaving a seat on the Supreme Court vacant for a longer period than normal due to the upcoming election.