Chief Justice Roberts: Neither Scalia Nor Ginsburg Could Get Confirmed Today
Chief Justice Roberts lamented recently that an increasingly partisan confirmation process could mean that Justices who have contributed much to the Court would not be confirmed today. He's right.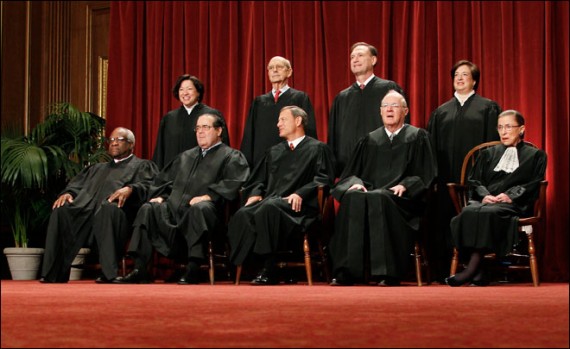 Speaking at a law school in Nebraska, Chief Justice John Roberts says that neither of the Supreme Court's two most prolific and ideologically engaging Justices would be confirmed to the Court in the current political environment:
United States Chief Justice John Roberts told a Nebraska audience he worries the partisanship that grips Washington will spill over onto the Supreme Court.

Roberts said he's concerned about the other two branches of government.

"They are not getting along very well these days," Roberts said during a question and answer period at the Nebraska College of Law. "It's a period of real partisan rancor that, I think, impedes their ability to carry out their functions"

A crowd of about 400 attended the visit of the Chief Justice to the College of Law, located on the East Campus of the University of Nebraska-Lincoln. Many others, including high schools throughout the state, listened via an Internet stream of the event.

Eighth Circunited States Court of Appeals Chief Judge William Riley asked Roberts questions during the hour-long session, admitting to the audience that Roberts had seen the questions ahead of time.

Many of the questions elicited advice from the Chief Justice to law school students, some dove into the inner workings of the court.

Roberts' worries about partisanship emerged when he was asked about challenges that face the judiciary.

Roberts asserted strongly the court isn't partisan, divided into Republicans and Democrats, though he conceded an intelligent lay observer of the confirmation process might come to a different conclusion.

"And how somebody as imminently qualified as our newest member, Justice (Elena) Kagan, is confirmed by almost a strict party-line vote. You think, well this must be a political entity, because they're putting people on or rejecting them on partisan, political lines when that's just not how it works," Roberts stated. "So, I'm worried about people having that perception."

Roberts claimed that hasn't always been the case, illustrating his point by focusing on the two Justices who represent perhaps the widest philosophical differences on the court.

"It's not like it's always been that way," Roberts said. "Justice (Antonin) Scalia, I think, was confirmed unanimously. I think Justice (Ruth Bader) Ginsburg was confirmed unanimously. Neither one of them would have a chance today. And that doesn't make any sense. That's bad for the judiciary."
Roberts is partly correct in that last statement. Justice Scalia was indeed confirmed unanimously in a 98-0 vote, on the same day that then Associate Justice William Rehnquist was confirmed as Chief Justice of the United States by a 65-33 on September 17, 1986. Ginsburg, on the other hand, was confirmed in 1993 by a 96-3 vote, the three Senators voting against her being Jesse Helms, Don Nickles, and Bob Smith. Notwithstanding this, Roberts points remains basically correct. In today's political environment it is highly unlikely that a Justice like Ginsburg or Scalia could get confirmed under current political condition.
Traditionally, and perhaps somewhat inappropriately given their importance, confirmations of Supreme Court Justices tended to be somewhat non-controversial. For the most part, when a President named someone to the Supreme Court the Senate had generally acted as something of a rubber stamp in considering the nomination even if the Senate and the White House were controlled by different parties. Since 1789, of the 151 people nominated to the Supreme Court, only 29 have not actually been confirmed to the post and, of that 29, only 12 of those were actually considered by the Senate and rejected (source). That's a failure rate of less than 20%, and less than 8% if you only count the people who had actually been considered by and voted on by the Senate. Not surprisingly, the phenomenon has gotten more attention, if not become more common1, in the past fifty years or so. Lyndon Johnson saw his attempt to elevate his good friend Abe Fortas to Chief Justice defeated in 1968 due both to Fortas's relationship with the White House and questions regarding the nominee's finances. Richard Nixon saw two nominees, Clement Haynsworth and G. Harrold Carswell, rejected. And, of course, Ronald Reagan saw his appointment of Robert Bork rejected in 1986.
More recently, though, the trend hasn't been rejection of nominees so much as it has been narrow and partisan confirmation votes. Chief Justice Roberts was confirmed by a vote of 78-22 in 2006. Justice Alito was confirmed by a much narrower 58-42 that same year. As Roberts, noted Elana Kagan was confirmed 63-37 in 2010 and, a year before her Justice Sonia Sotomayor was confirmed 68-31. What stands out about each of these close votes is the fact that, with the exception of Alito, who was appointed to replace Sandra Day O'Connor, none of these appointments could arguably have said to have any real impact on the ideological direction of the Court. Roberts was appointed to replace William Rehnquist, Sotomayor was appointed to replace David Souter, and Elena Kagan was appointed to replace John Paul Stevens. Perhaps if any of these appointments would have had the effect of significantly shifting the balance of the Court, the controversy and division over their appointments would be understandable. The fact that it happened when their appointments were, basically, just switching faces on the same side of that balance, suggests, as Roberts intimates, that partisan divisions on Capitol Hill are having an impact on the judiciary. Of course, that was already apparent in the backlog of nominations to the Circuit Courts of Appeal and District Courts, a topic that Roberts has also spoken out about in the past. 
Given this recent trend,  I believe that Roberts is correct that both Ginsburg and Scalia would have a hard time getting through the Senate confirmation process today. The reasons have little to do with their qualifications, because I don't think that there's anyone who could credibly argue that, both now and at the time they were nominated, their qualifications are impeccable. The main problem that a nominee like Ginsburg and Scalia would have today would be the long paper trail of academic papers, speeches, and judicial opinions that they brought to the confirmation. Of course, the fact that it was precisely this prior work that demonstrated the fact that these two nominees were eminently qualified for the Court just makes the process all the more maddening, because it basically guarantees that Presidents will be more inclined to nominate milquetoast candidates and people with little or no paper trail while passing over other obviously more qualified nominees because they might prove to be controversial. Before he was nominated, Scalia was a prolific writer on issues of originalism and the proper interpretation of the Constitution, and Ginsburg was a prominent advocate for abortion rights and other women's causes. In today's political environment, a Presidential candidate would probably not even nominate them to the Supreme Court, and if they did they would both have a far bumpier ride than they did in 1986 and 1993. That's unfortunate to say the very least, but it's unlikely to change no matter who controls the Senate and the White House.
Going forward, there are likely to be a series of Supreme Court nominations that a future President will make that are likely to be contentious. Justice Scalia is 78 and Justice Ginsburg is 81, and Ginsburg has dealt with health issues in the past and been the subject of numerous articles from people on the left suggesting that she ought to step aside for the good of the Democratic Party.  Justice Stephen Breyer, who has generally had a quiet and noncontroversial tenure on the Court, is 76 and, perhaps most importantly, Justice Anthony Kennedy is 78 years old and just a few months younger than Justice Scalia. Whether by choice or because health reasons make it necessary, it's inevitable that we'll see several of these step aside in the coming years. When that happens, and again no matter what happens with regard to control of the Senate or the White House, we're likely to see a contentious nomination process and, most likely, the selection of nominees who are basically ciphers in order to try to guarantee confirmation. Because of that, we're not likely to see Justices of the caliber of Scalia and Ginsburg come out of the process, and that's a loss for the nation.
1 Since 1968, there have been 23 nominations to the Court, 4 of which has been considered and rejected by the Senate, for a failure rate of 17.9%, roughly equivalent to the historical average