Republican Wall On "No Hearings, No Votes" For SCOTUS Nominee Appears To Be Cracking
The unity of the Republican Senate on the idea of no hearings or votes, if it ever really existed, appears to be cracking.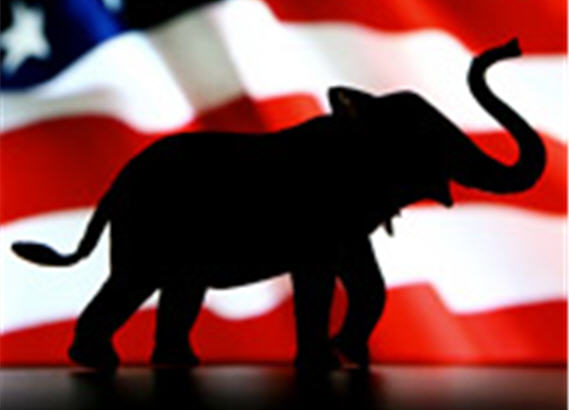 Two Republican Senators, including one up for re-election this year, seem to be splitting from the Republican line on the question of whether or not there should be a vote on whomever the President nominates to fill the Supreme Court seat made vacant by the death of Justice Antonin Scalia.
First up, North Carolina Senator Thom Tillis, who was elected in the Republican Senate wave in 2014, warned that the GOP risks being seen a obstructionist if it takes a hardline no-vote position regardless of who the President nominates:
Freshman GOP Sen. Thom Tillis warned Tuesday that his party risks being seen as "obstructionist" in a fight over Supreme Court nominations with President Obama.

The remarks from the North Carolina Republican are the first crack in GOP unity since Saturday's stunning news of Supreme Court Justice Antonin Scalia's death, whose passing has put the tilt of the court in question. Scalia's successor seems likely to determine whether its majority will lean liberal or conservative.

Republicans are under enormous pressure to block any nominee from Obama, and Senate Majority Leader Mitch McConnell (R-Ky.) quickly put out a statement after Scalia's death stating that the vacancy should not be filled until a new president takes office.

Yet the GOP also faces enormous risks with its strategy if it turns off independent voters already irritated by Washington's dysfunction.

Tillis's comments Tuesday on "The Tyler Cralle Show" seemed to acknowledge this dilemma.

"I think we fall into the trap, if we just simply say sight unseen — we fall into the trap of being obstructionist," he said in comments first noted by Think Progress, a left-leaning website.

Tillis added that he would not support a liberal nominee, and argued that Republicans should use "every device available" to block someone who is "in the mold of President Obama's vision for America."
Think Progress has further details on Tillis's remarks, which seem to make clear that while Tillis seems inclined to think the GOP should allow a vote to take place, it's unlikely that he'd support a nominee that President Obama would choose:
Tillis, who was elected to the Senate in 2014, did not sound like a man ready to vote a potential Obama nominee, even if he believes the person deserves a hearing. "If he puts forth someone that we think is in the mold of President Obama's vision for America, then we'll use every device available to block that nomination," Tillis said. He advised the president to nominate someone who has "an almost identical resume and capabilities of Justice Scalia."
Notwithstanding this part of Tillis's comments, it's noteworthy and potentially important that Tillis said what he did largely because he sits on the Senate Judiciary Committee. As I noted yesterday, the Chairman of that Committee, Iowa Senator Chuck Grassley, seemed to pull back from his initial comments in the wake of Scalia's death himself when he said on the radio in Iowa yesterday that he was not ruling out the possibility of holding hearings on whatever nominee the President sends to the Senate. This is a seeming change from the position that Senate Republican leadership seemed to take in the immediate wake of the news of Scalia's death that the Senate would not act on a nomination sent by the President during his lame duck year in office. This is also the position that has been adopted by hard-line Republicans and conservatives outside Congress, who are likely to be angered by these signs that the Republican Senate Caucus may not be as fully invested in the "No Hearings, No Votes" idea as may have seemed on Saturday evening.
In addition to Tills, Wisconsin Senator Ron Johnson is also saying that he would not oppose a Senate vote on a nominee sent by the President to fill Scalia's seat:
Sen. Ron Johnson (R-WI), who is running for re-election this year against former Sen. Russ Feingold (D-WI), on Tuesday said that he is not opposed to the Senate taking a vote on President Obama's nominee to replace Supreme Court Justice Antonin Scalia, who passed away over the weekend.

In a Sunday statement, Johnson echoed the calls of his fellow Republican senators, who have said that the next president should choose Scalia's replacement.

"I strongly agree that the American people should decide the future direction of the Supreme Court by their votes for president and the majority party in the U.S. Senate," Johnson said in a statement. "America needs Supreme Court justices who share Justice Scalia's commitment to applying the Constitution as written and to the freedom it secures."

Though he said he does not believe Obama should nominate the next justice, in two separate interviews on Tuesday, Johnson said that he is not against the Senate allowing the confirmation process to take place.

"I've never said that I wouldn't vote, or that we shouldn't vote," Johnson said in an interview on the "The Jerry Bader Show" highlighted by the Huffington Post. "I have no idea how the process plays out, I'm not in control of it. I'm not the majority leader, I'm not chairman of the Judiciary. By the time I would actually take the vote, if it comes to that, I'll take a vote."

During a Tuesday interview with Johnson reported by ThinkProgress, radio host John Howell said, "I think that you should go through the process. If you don't, I think the party winds up looking like obstructionists."

"Well, John, we might," Johnson responded. "What I've heard Leader McConnell say — and maybe he said something else — is let's, in the end, let the American people decide. So, if president Obama appoints a Justice Scalia clone, my guess is we confirm a Justice Scalia clone. That's not gonna happen. We already know the type of justices he put on the court. And so I doubt a liberal activist justice — judge would be confirmed by the Senate."

"And if we choose to not to confirm, either by not acting or by voting that choice down, either way it's an action. It's not giving consent to his nominee. And again, the advice is, let the American people decide the direction of this country," Johnson continued. "I think it's a very reasonable position."
Johnson's seeming backtracking is significant because he is one of the Republicans up for re-election that is deemed to be most vulnerable due to the fact that he is running in a state that President Obama won in both 2008 and 2012, and which Democrats have won in every Presidential election since 1988. Additionally, Johnson is running against popular former Senator Russ Feingold, who has been holding massive leads in the polls that have been taken in the state, although its worth noting that it has been three months since that Senate race was last polled. Nonetheless, the fact that Johnson is apparently approaching his re-election bid as the underdog is in no doubt motivating him to be rather careful in how he responds on this issue since its likely that an obstructionist anti-Obama position such as that being urged by hard-line conservatives.
In any case, comments such as these from Grassley, Tillis, and Johnson suggest that the Senate GOP may still be trying to feel out the politics that will play a large role in the nomination and attempted confirmation of any Supreme Court nominee that President Obama selects. Regardless of who that nominee is, and even if it ends up being someone who had previously been selected for a position on one of the Circuit Courts of Appeal, it's unlikely that the nominee will be confirmed for several reasons. First of all, even the Senators who have suggested that they support going forward with hearings and possibly even a vote on the floor have said that they oppose the idea of confirming a nomination made in the final year of a lame duck Presidency. Second, the fact that this is a vote to fill the seat held by Justice Scalia, and that doing so has the potential to significantly alter the ideological balance of the Court for as much as a generation to some, means that conservatives are likely to fight hard to keep the seat open on the chance that a Republican will win the White House in November and thus be able to fill the seat with someone more inclined to approach the law in the same way that Justice Scalia did. Finally, while the ideological pressure currently calling for no hearings or votes may abate somewhat, many Republicans would likely create long standing ill will if an Obama nominee were somehow confirmed by a Republican controlled Senate. For that reason, it still seems likely that things will unfold largely as I anticipated in my post earlier this week when I posited that the nomination will likely die when it fails to get the sixty votes needed to invoke cloture. That will be a vote, but its one that Democrats are unlikely to win.
Update: Senator Dean Heller, a Republican from Nevada, has joined Grassley, Johnson, and Tillis:
Nevada GOP Sen. Dean Heller is breaking sharply with his party's strategy on a Supreme Court nominee, calling on President Barack Obama to put forward a consensus candidate to replace Antonin Scalia while insisting that Nevadans should have a voice in the process.

The statement from the purple-state senator is the most direct rebuttal to Senate Majority Leader Mitch McConnell's plans to completely block a Supreme Court nominee. Though Heller says that a nominee is unlikely to be confirmed this year, he encouraged Obama to select a nonideological candidate. new nominee are slim, but Nevadans should have a voice in the process. That's why I encourage the President to use this opportunity to put the will of the people ahead of advancing a liberal agenda on the nation's highest court," Heller said on Wednesday in a statement to POLITICO.
One suspects these four Senators won't be alone for long.