Manchin-Toomey Background Checks Bill In Trouble
The prospects for gun control appear to be dimming.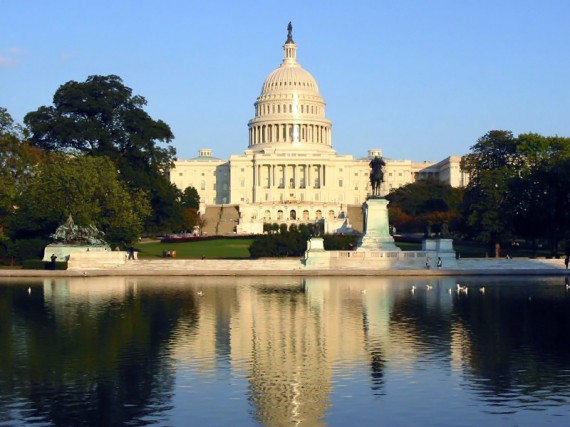 As we approach a vote some time later this week on the bill proposed by Senators Joe Manchin and Pat Toomey to expand the nation's background check laws for gun purchases, it's becoming less and less certain that the bill can make it through the Senate:
Uncertainty over the fate of the proposal, in the form of an amendment to the underlying gun bill, came as the National Rifle Association and other gun-rights proponents intensified their efforts to defeat the measure by warning that even some of the elements in the plan that are supposed to be "pro-gun" could undermine Second Amendment rights.

(…)

The amendment will require at least 60 votes to clear Senate procedural rules and ensure final passage, but it still lacks sufficient support, based on an analysis by The Washington Post. The votes of just 22 of 100 senators are in play, including the 16 Republicans who voted last week to proceed with debate on the gun bill and six moderate Democrats who face difficult reelections in 2014 or represent rural states with strong gun cultures and would face strong political pressure at home for supporting new gun-control legislation.

Among the Republicans, at least nine said said Monday that they plan to vote against the Manchin-Toomey deal: Lamar Alexander (Tenn.), Saxby Chambliss (Ga.), Tom Coburn (Okla.), Bob Corker (Tenn.), Jeff Flake (Ariz.), Lindsey O. Graham (S.C.), John Hoeven (N.D.), Johnny Isakson (Ga.) and Roger Wicker (Miss.).

Isakson's decision is especially disappointing to gun-control groups, who hoped he would vote in favor of the plan after supporting similar proposals when he served in the Georgia state legislature.

Among the six Democrats, Sen. Kay Hagan (N.C.) announced Monday that she will vote for the plan. Spokesmen for the five other Democrats — Max Baucus (Mont.), Begich, Heitkamp, Mary Landrieu (La.) and Mark Pryor (Ark.) — said Monday that the senators were reviewing the proposal and soliciting input from constituents before making a decision.

Another potential complication for Democrats is the ailing Sen. Frank Lautenberg (D-N.J.), who has been absent because of illness for most of the year. Democrats have mostly excluded Lautenberg's vote from potential whip counts and have said privately that they will work to bring him back to Washington only if his support is absolutely needed.

But amid growing pressure to explain his absence, Lautenberg spokeswoman Caley Gray said Monday that "Senator Lautenberg is feeling better and hopes to be in Washington for gun votes this week."

Among the undecided, the lobbying has been intense. Gun-rights and gun-control groups pursued an inside and outside game Monday on Capitol Hill as lobbyists for both sides huddled during the day, examining the possibilities of wooing one legislator or another to their side.

At one point Monday morning, proponents of the compromise measure thought the count was so close that they recommended a delay in the planned vote, according to people familiar with the talks. But Democratic aides said they remained confident that the proposal would eventually have sufficient support for passage.
The fact that Reid is unsure of the votes of as many as five members of his own caucus, all from red states, makes the problems I wrote about over the weekend all the more apparent. Without those five votes, he wouldn't be anywhere close to being able to invoke cloture and even the fate of the bill  on an up-or-down vote would be in doubt. It's likely for this reason that Manchin and Toomey are reportedly considering amendments to their proposal meant to address the concerns of wavering Senators:
WASHINGTON — Short of votes for their compromise gun legislation, Senators Joe Manchin III, Democrat of West Virginia, and Patrick J. Toomey, Republican of Pennsylvania, on Monday considered changes to their plan to expand background checks for gun buyers as they scrambled to win needed converts.

One approach designed to entice lawmakers representing large rural areas, particularly in Alaska, would exempt residents who live hundreds of miles from a gun dealer. Lawmakers are hoping that they can attract support from both Republicans and Democrats who are weighing the political costs and benefits of a bill against the perception that they are chipping away at gun rights.

Headed into votes this week, Senate Republicans and Democrats continued to negotiate how the legislation and its amendments, including the Toomey-Manchin measure, will be brought to the floor.

Some senators are advocating voting for a series of amendments in advance of the background check measure, allowing members to vote for or against proposals like a renewed assault weapons ban, a limit on high-capacity magazines and a new mental health provision before weighing in on the background check measure. Republicans are seeking their own amendments, including a measure that would make it easier to carry concealed weapons across state lines.

"I hope a few unreasonable extremists will not try to prevent an up-or-down vote on this legislation with a filibuster," Senator Harry Reid of Nevada, the majority leader, said on the Senate floor.

In a possible complication for supporters, Senator Tom Coburn, Republican of Oklahoma, will introduce his own background check measure. It would mandate universal background checks through the Internet without the paper trail that law enforcement says is needed to track illegal guns.

Mr. Coburn will promote the bill as bipartisan — although it will have no Democratic co-sponsor — in an appeal that Republicans hope will lure away members of their own party who were considering voting for Mr. Toomey and Mr. Manchin's amendment.

Mr. Coburn circulated a letter to Senate colleagues promoting his approach to background checks. Under the proposal, would-be gun purchasers would obtain "preclearance" before attending a gun show or shopping online by running a background check on themselves through a government-run Internet site. Mr. Coburn believes that if the Manchin-Toomey approach fails, his amendment will obtain broad, bipartisan support; critics suggest that the amendment would weaken current background check laws.
Greg Sargent looks at all this and, somewhat strangely, wonders why red state Democrats who may oppose the bill would also appose  invoking cloture:
[I]t needs to be restated that these Senators have the option of voting Yes on breaking the filibuster, while voting No on the final vote. In that scenario, the proposal would likely pass with a simple majority. And so, if these Senators continue to hold out, they need to be pressed on whether they really think a proposal that has the support of eight in 10 Americans doesn't deserve a straight up or down vote, at a time when the Newtown slayings have focused public attention on a problem that continues to claim the lives of thousands of Americans per year. Whatever their final vote, there's no excuse for them to enable and participate in GOP obstructionism of a proposal with near universal public support.
Yes, they could do that but, in doing so, they would pretty much defeat the purpose of their no votes. If these Senators do end up voting no on the bill, it's going to be for reasons of political survival as much as anything else. This is especially true of Senators Landrieu and Pryor, who both face tough re-election campaigns next year. Senator Baucus is also up for re-election next year but there's been some speculation that he may retire. Donnelly and and Heitkamp were both elected in 2012 and thus face less political pressure. However, to the extent any of them are facing such pressure, a no vote on the final bill is really pretty meaningless if they end up voting yes on the Cloture vote. If that happens, their opponents will spin it as a vote in favor of gun control, especially if the bill ends up passing. So, I understand where Sargent is coming from here but I think it exhibits a certain naivete about the partisan political forces at work here.
As for the Manchin-Toomey bill itself, we're now hearing rumors that any votes on the bill will be delayed until next week, which seems like a fairly good sign that it's in trouble.