Gun Control A Low Priority Issue Among American Voters
There's a very simple reason why gun control is stalling in Congress despite its popularity in the polls.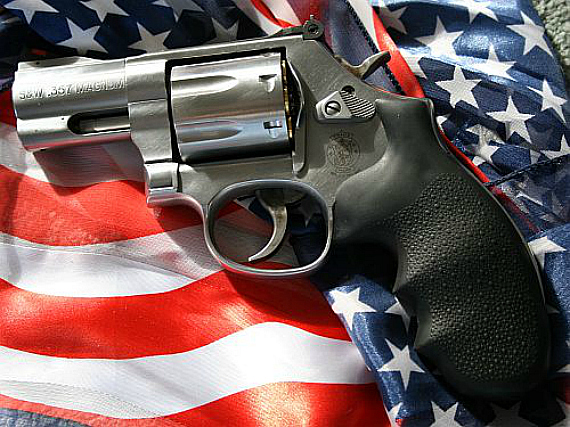 Today on Morning Joe, former Congressman Joe Scarborough, among on others on the early morning panel, expressed disbelief at the idea that pretty much every Republican, and likely at least a few red state Democrats, will end up voting against the Manchin/Toomey background checks bill despite the fact that poll after poll indicates that the vast majority of the public supports the bill. Indeed, as I noted several weeks ago, at least one poll has support for such measures at 88% nationwide, with similar numbers showing up in other polls and in polling at the statewide level. The logical question, then, and the one that was discussed on the Morning Joe panel, was why Republicans were so reticent to get behind a proposal that is so popular. The standard explanation, of course, is that all of these politicians are beholden to the National Rifle Association and other gun rights organizations.  Certainly, there is an element of truth in that given the fact that the NRA has proven effective in the past in taking on politicians who have voted in manners that they disapprove of an defeating them. Indeed, there are some who still contend that the 1994 Republican takeover of Congress was influenced more by the "Assault Weapons" ban passed that year as it was by the many mis-steps of the Clinton Administration during its first two years in office. So, in some sense, it is true that the political influence of gun owners does play a role in the way in which many politicians approach this issue.
The full story is more complicated than that, I think. After all, if these gun control measures really are as popular as the polls seem to indicate, then it would logically seem to be the case that the political power of groups like the NRA would be far less than it seems to be. The key lies in understanding the difference between what voters think about a particular issue and how important they consider it when making a decision at the ballot box. If there is high public support for a particular issue and a high sense among voters that it is an important issue to them, then that issue is going to play a large role in how they make their voting decisions. Conversely, an issue where there is high public support  that voters place a low lever of importance upon is unlikely to have a significant influence on who they decided to vote for. As it turns out, that's exactly the situation with gun control:
PRINCETON, NJ — Few Americans mention guns or immigration as the most important problems facing the nation today, despite the current attention lawmakers in Washington are giving to these issues. The economy still dominates as the top concern, followed by jobs and dissatisfaction with the general way in which Congress and the government work.

These data, from an April 4-7 survey, underscore the prominence of economic issues in Americans' minds, even as the economy continues its recovery from the recessionary depths of 2008.

In terms of specific economic issues, Americans most frequently name the economy in general (24%), jobs/unemployment (18%), and the deficit (11%). The percentage mentioning each of these economic issues is in the same broad range as has been the case each month this year so far, although a higher 20% mentioned the deficit as the nation's top problem in January.
As it turns out, the Newtown shootings did result in the issue of gun control becoming slightly more important for voters, but not to a very large degree: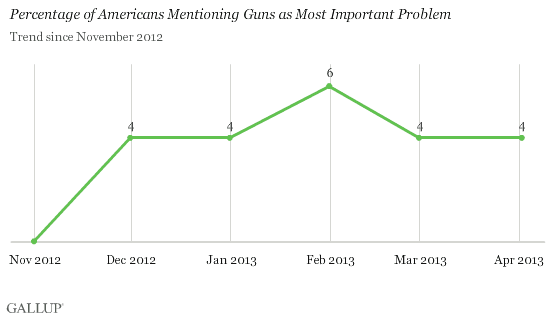 Clearly, the post-Newtown focus on this issue did increase its importance in the eyes of voters to some degree, but not by much. Even at the height of the post-Newtown political push, only 6% of Americans considered gun control the most important problem facing the nation. That's a far cry from the vast majority of voters who say that they support the various gun control measures that have been advocated over the past four months.
This isn't the first indication that gun control is a low intensity issue among American voters.  Back in January, just one month after Newtown, a similar Gallup poll showed the same results that we see in this month's release. At that time, I predicted that it would be difficult for gun control advocates to get the most ambitious parts of their agenda through even the Senate, but I thought at the time that at least something would be passed. In part, I thought this because it seemed as though the post-Newtown attention paid to the issue was going to make it inevitable and that a low-priority issue like background checks would be something that Congress could pass to make it appear that they're doing something, even though in reality the Manchin/Toomey bill would have done little to stop the massacres that have garnered much attention over the years. As it turned out, the politics of the issue were far more complicated, and public intensity on the issue of gun control was far less than many thought it might be after the events of Newtown.
Once you understand where the politics of gun control actually stand, the behavior of Republicans and red state Democrats becomes completely understandable. While voters say that they support things like background checks and magazine restrictions, polling and election results both demonstrate that it's unlikely that large numbers of voters are going to reject a candidate based solely on their positions on these issues. Conversely, there is a significant risk that a vote in favor of gun restrictions would result  in handing an issue to a political opponent that tends to be very important to gun owners, who vote both at the ballot box and with their wallets. Given the choice between facing a barrage of negative ads and not facing them, most politicians are going to take the politically safe approach. That's political reality, and it isn't going to change unless and until gun control becomes a far more important issue to voters than it historically had been. Given history, that seems unlikely for the foreseeable future.
Update: First Read posits another reason why the Manchin/Toomey bill is unlikely to pass the Senate:
But senators are realists, and some of those fence-sitters probably were swayed NOT to take what they believed would be a risky vote because the House was unlikely to pass it. The thinking being: Why cast a vote that will create a potential political problem when the bill's chances of ACTUALLY becoming law are so remote?
In other words, why take a politically risky vote when the bill is never going to become law anyway? Call it cynical or cowardly if you wish, but it's likely a smart political move and these Senators are, before all else, politicians.
Also, there's this from Kevin Drum:
Gun control proposals poll decently all the time. But the plain truth is that there are only a small number of people who feel really strongly about it, and they mostly live in urban blue districts already. Outside of that, pro-gun control opinion is about an inch deep. This is a classic case where poll literalism leads you completely astray. Without measuring intensity of feeling, that 90 percent number is meaningless.
Precisely my point.
Update #2: I've written a follow-up to this post.