Pro-Gun Control Legislators Voted Out In Colorado Recall Elections
A gun rights victory at the ballot box in Colorado.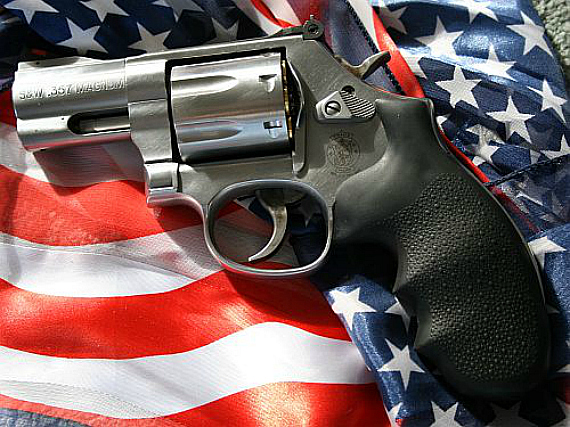 In the wake of the Sandy Hook shootings in December, Colorado was one among many of the states that enacted some form of gun control legislation, much to the consternation of groups such as the National Rifle Association. As a result of the Colorado effort, though, gun rights organizations went forward with recall efforts against legislators who had voted in favor of the legislation and were able to successfully get recall elections on the ballot for two such legislators. Last night, to the surprise of many, those recall elections were successful, including the one directed against the Democratic State Senate President:
COLORADO SPRINGS — Two Colorado Democrats who provided crucial support for a slate of tough new gun-control laws were voted out of office on Tuesday in a recall vote widely seen as a test of popular support for gun restrictions after mass shootings in a Colorado movie theater and a Connecticut elementary school.

The election, which came five months after the United States Senate defeated several gun restrictions, handed another loss to gun-control supporters. It also gave moderate lawmakers across the country a warning about the political risks of voting for tougher gun laws.

The recall elections ousted two Democratic state senators, John Morse and Angela Giron, and replaced them with Republicans. Both defeats were painful for Democrats – Mr. Morse's because he had been Senate president, and Ms. Giron's because she represented a heavily Democratic, working-class slice of southern Colorado.

In an emotional concession speech, Mr. Morse called the loss of his seat "purely symbolic" and defended the record of the last legislative session as "phenomenal."

"We made Colorado safer from gun violence," he said afterward, as his supporters trickled away from a hotel ballroom here in his district. "If it cost me my political career, that's a small price to pay."

For advocates on both sides, the stakes in Tuesday's elections were far bigger than the fates of two state politicians. As money and national attention poured into Colorado, a state of hunters that has been stained by two mass shootings, the races became a symbol of the nation's bitter fight over gun control, with one side bolstered by Mayor Michael R. Bloomberg of New York and the other by the National Rifle Association.

While both sides campaigned vigorously, knocking on doors, holding rallies and driving voters to the polls, gun-control advocates far outspent their opponents. A range of philanthropists, liberal political groups, unions and activists raised a total of $3 million to defend Mr. Morse and Ms. Giron. Mr. Bloomberg personally gave $350,000.

It was not enough to help Mr. Morse overcome the conservative outrage that erupted this winter as Colorado's Democratic-controlled statehouse passed several gun laws over near-unanimous opposition from Republicans and Second Amendment advocates. Among other things, the new laws require background checks for private gun sales and limit ammunition magazines to 15 rounds.

Mr. Morse's hand was on the tiller during much of that debate. A former police chief, he said he found himself in a position of not just rounding up votes, but actually explaining the mechanics of guns to fellow Democrats. He brought a magazine to show his colleagues how it worked. In an emotional speech in March, as the debate reached its peak, Mr. Morse stood on the Senate floor and spoke of gun violence and "cleansing a sickness from our souls."

His opponents pounced on the remark, framing it as a sign of Mr. Morse's disregard for his gun-owning constituents, as well as a symptom of the widening gap between Colorado's urban Democrats and its rural Republicans.

Mr. Morse represented a slice of Colorado Springs that straddles those fault lines. His district is closely split among Democrats, Republicans and unaffiliated voters. And on Tuesday, despite huge voter-turnout drives and Obama-style neighborhood canvassing, more of Mr. Morse's opponents showed up to cast him out.

The passions ignited by the vote were on full display on Tuesday, as opposing sides lined up side by side outside polling places here in Colorado's second-largest city. They spoke of knowing survivors of the mass shooting inside the Century 16 theater in Aurora, Colo. Two of Mr. Morse's sisters held up a banner, and complained that their brother's opponents were twisting his record and his words in bitter attack ads.
Over at The Washington Post, Sean Sullivan discusses the consequences of what this means for the gun control movement:
It's not every day that you see an incumbent recalled from office, let alone someone as high-profile as a state Senate president. The message the defeat of Morse and Giron sends to legislators all across the country is unmistakable: If you are thinking about pushing for new gun-control laws, you could face swift consequences.

"You could almost call it the bellwether state as far as what's going to happen down the road as far as gun-control and Second Amendment rights," Republican George Rivera, who will fill Giron's seat, told The Fix late last month.

The particulars of Tuesday's elections prompted some gun-control advocates to argue that the results shouldn't be over-read. For one thing, voters didn't receive mail ballots automatically, a substantial change of protocol in a state where the majority of voters cast their votes via mail. For another, the losses don't mean Republicans will control the Senate; nor do they mean the gun laws that Gov. John Hickenlooper (D) signed into law will be repealed.

"This election does not reflect the will of Coloradans, a majority of whom strongly support background checks and opposed these recalls," said Bloomberg in a statement distributed by Mayors Against Illegal Guns, the group he co-founded. "It was a reflection of a very small, carefully selected population of voters' views on the legislature's overall agenda this session."

But it shouldn't go overlooked that the two districts where voters cast ballots tilt more Democratic than Republican. And the anti-recall side easily outraised the pro-recall interests. The Democratic losses are a reflection of the fact that enthusiasm was squarely on the opposite side of Morse and Giron.

"The National Rifle Association Political Victory Fund (NRA-PVF) is proud to have stood with the men and women in Colorado who sent a clear message that their Second Amendment rights are not for sale," the NRA's political arm said in a statement.

While the long-term significance of the election will assuredly be be debated, it's hard to argue against the proposition that lawmakers in other states will have Colorado somewhere in their minds the next time a push to tighten gun laws begins ramping up.

In the larger debate over gun laws, Tuesday was another victory for the NRA and its allies, who earlier this year demonstrated the power they wield in the campaign to prevent the passage of tighter gun restrictions in Congress.
In the specific context of Colorado, it's unlikely that this will have an immediate impact on the state's gun control laws. Even with these two losses, Democrats will still hold a one seat majority in the State Senate as well as a majority in the lower house of the legislature. Additionally, Governor Hickenlooper is likely to veto any effort to repeal the recently enacted gun control laws as long as he's in office. However, next year is an election year and Hickenlooper will be up for re-election along with at least some portion of the state legislature. No doubt, this victory will embolden gun rights groups in Colorado and elsewhere, who will see it as a sign that the time may be ripe for them to make the type of political gains necessary to change the laws that were passed only a few months ago. It's also likely to serve as impetus to similar organizations in other states as we get closer to mid-term elections that will decide not only the makeup of Congress but also control of Governor's Mansions and Statehouses throughout the country
What was particularly significant about this victory, though, was the fact that the victory came even though gun control groups from outside the state had outspent gun rights groups in the two elections:
[T]he anti-recall side could hardly plead the underdog on this one. Bloomberg contributed $350,000, philanthropist Eli Broad kicked in another $250,000, rank and file gun control supporters sent countless checks from across the country and the broadening of the race to other issues brought in other progressive groups, such as Planned Parenthood.
This was supposed to have been the big test for Bloomberg's group and other gun control advocacy groups that have sprung up in the wake of Sandy Hook. Previously, that side of the argument was massively outspent by the NRA and other groups. This time, though, the tables were reversed and, still, the gun rights groups were able to pull off a victory. Granted, there are several caveats to take note of here. Gun rights groups had carefully selected the legislators that were targeted in the recall to ensure they were from areas where voters sympathetic to their arguments resided. Additionally, recall elections typically result in far lower turnout than General Elections, thus making it easier for a smaller group of voters to have an disproportional impact on the outcome of the election. Finally, as David Kopel notes in a lengthy post at The Volokh Conspiracy that is worth reading, there was much more at issue in these elections than just the gun control issue, not the least of them being the manner in which many gun rights advocates felt as though State Senate Democrats had conducted hearings on the legislation in a manner that shut their voices out of the process.
Notwithstanding all of those qualifications, though, it's fairly clear that these recall victory will be seen, and should be considered, as victories for the the gun rights side of the ongoing argument over gun control. Where it heads from here only time will tell.