New Poll Shows Strong Support For A Variety Of Gun Control Measures
New polling shows that public support for several gun control proposals continue to increase in the wake of February's shooting at a Parkland, Florida High School.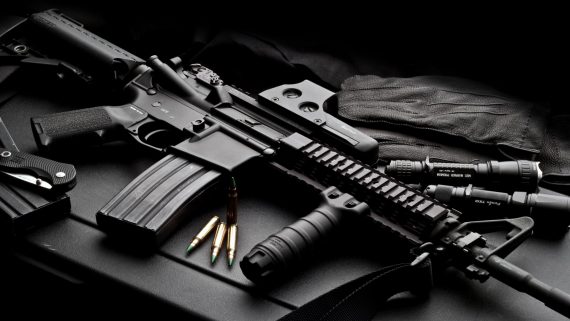 A new poll from Fox News Channel shows rising support for some gun control measures, but voters remain unsure that Congress will act:
Voters prioritize protecting citizens from gun violence over protecting the rights of gun owners.  And while majorities support a variety of gun control proposals, the latest Fox News poll also finds doubt Congress will act — or that it would make any difference if it does.

By a 13-point margin, voters consider protecting against gun violence more important than protecting gun rights (53-40 percent).

In addition, there's substantial support for specific measures to reduce gun violence, including: requiring criminal background checks on all gun buyers (91 percent), requiring mental health checks on all gun buyers (84 percent), raising the age to buy all guns to 21 (72 percent), putting armed guards in schools (69 percent), and banning assault rifles and semi-automatic weapons (60 percent).

The proposal a majority rejects is allowing teachers and school officials to carry guns on school grounds (57 percent oppose).  That was also the case in 2013 (52 percent opposed.)

The Fox News poll asked about these measures in January 2013, a month after the Newtown Connecticut school shooting that killed 26.

Compared to that time, support for putting armed guards at schools is up nine points, a ban on assault weapons is up six, and requiring mental health checks is up one.  Support for universal background checks is unchanged — and about 9-in-10 Democrats, Republicans, and independents favor them.

Nearly half of those living in a gun-owner household favor banning assault weapons:  47 percent favor, 50 percent oppose.

(…)

Some 38 percent say it is "extremely" important for Congress to pass gun legislation this year, but only 7 percent think that's "extremely" likely to happen.

And if Congress takes action, more voters are concerned the changes it makes won't go far enough than it will go too far (50-36 percent).

Meanwhile, there's increasing ambivalence about stricter gun control laws: 42 percent say they won't make a difference, up from 20 percent two years ago.  And while 44 percent think stricter laws would make the country safer, that's down eight points from 52 percent in 2016.  Twelve percent think stricter laws would make the country less safe, down from 24 percent.

When asked about President Trump's positions on guns, 39 percent say they are "about right," yet almost as many, 34 percent, think he's too close to gun owners.  Thirteen percent feel he goes too far in supporting gun control.

Voters give the president some of his worst ratings for the job he's doing on guns:  40 percent approve, while 54 percent disapprove.  That puts him underwater by 14 points.  He receives similar marks on immigration (-14 points) and the opioid crisis (-13).

Overall, 45 percent report someone in their household owns a gun, and those voters are more likely to think stricter laws won't make a difference to safety (50 percent) and worry new gun laws would "go too far" (53 percent).  Voters in gun households are also more likely to be Republicans (59 percent), live in rural areas (57 percent), and be Southerners (55 percent).

Those most likely to prioritize protecting citizens against gun violence include Democrats (79 percent), non-whites, suburban women, and non-gun owners (each 70 percent), and voters under 30 (57 percent).  Voters who say it's more important to protect the right to own guns include Republicans (67 percent), white men without a college degree (60 percent), white evangelical Christians (58 percent), and gun-owner households (57 percent).
Looking deeper into the poll, there are not unexpected partisan differences:
On the question of whether it is more important to protect gun rights or protect citizens from gun violence, a majority of Democrats (79%) and a plurality of Independents (47%) say it is more important to protect citizens from gun violence while a majority of Republicans (67%) say it is more important to protect gun rights;
On the question of arming teachers as a response to school violence, a majority of Democrats (81%) and Independents (59%) oppose such an idea while a majority of Republicans (64%) say they are in favor of it;
Placing armed guards in schools, on the other hand, is supported by a majority of Democrats (58%), Independents (68%). and Republicans (81%);
Expanding background checks to include private sales and other sales currently outside the background check system is overwhelmingly supported by Democrats (94%), Independents (90%), and Republicans (89%);
Mental health checks on gun buyers are also supported across the board by Democrats (89%), Independents (84%), and Republicans (80%);
On the issue of banning assault rifles and semi-automatic weapons, such a measure is supported by a majority of Democrats (79%) and Independents (57%) but opposed by a majority of Republicans (56%) while 41% of Republicans say they would support such a measure;
Raising the minimum age to purchase any weapon from 18 to 21 is supported by a majority of Democrats (86%), Independents (71%), and Republicans (57%);
These numbers are consistent with other polling that has been taken in the wake of the February 14th shooting at  Marjory Stoneman Douglas High School, an event that has resulted in increased awareness of the issue that culminated most recently in the protests that took place in Washington, D.C. and elsewhere around the country on Saturday. Another poll released this weekend from CBS and YouGov finds a strong majority of voters say that gun policy is an important issue when it comes to deciding how they will vote:
Two-thirds of Americans say a candidate must agree with their views on gun policy to earn their vote, according to a poll released Sunday.

The CBS News poll, conducted by YouGov from March 19-21, found 66 percent of respondents believe a candidate must share their views on guns. The other 34 percent said a candidate can hold differing views on gun legislation and still earn their vote.

Sixty-eight percent of Republicans and the same percentage of Democrats said a candidate must share their views on guns. Sixty-five percent of independents said they would only vote for a candidate with similar views on the issue, according to the poll.
While this last poll may give some hope to advocates for gun control, it's worth noting that voters saying that gun policy is important to them in deciding whether to support a candidate applies to virtually all demographic groups, including those that are less inclined to support gun control measures. Additionally, as I've noted in the past, we've seen increases in perceived support for gun control measures after other mass shooting incidents only to find that this increase in support is short-lived and that it ends up having little impact at the policy level and almost no impact on the outcome of elections.
For example, polling indicated increased support for certain gun control measures in the wake of the mass shooting in Las Vegas in October that resulted in the death of 59 people and more than eight hundred injured, making it the worse such event in American history. Despite this, there was no movement on the issue in Congress on even the seemingly straightforward idea of banning bump stocks, the devices which allow semi-automatic weapons to act as if they are fully automatic. Although there has been some action in that regard by the Department of Justice that may or may not survive a future court challenge.
We saw the same thing happen after the shooting in December 2012 at Sandy Hook Elementary School in Newtown, Connecticut. In the immediate aftermath of the attack that resulted in the death of 27, including many young children, many Americans voiced support for stricter gun control laws. Even in the wake of that horrific tragedy, though, it was clear from those same polls that gun control was not a high priority issue even when it came to issues such as stricter background checks or banning so-called "assault weapons."  Inevitably, as time passed and the memory of Sandy Hook or other similar mass shooting events faded into memory, the polls showed support for stricter gun control began to fade. Within three months of Sandy Hook, for example, polling was already showing that gun control was slipping as a priority for voters. Within a year after the shooting, support for most gun control measures had fallen back levels they were at prior to the shooting. By the second anniversary of Sandy Hook, polling indicated that more Americans supported protecting gun rights than passing new gun control measures. By the time of the third anniversary of the tragedy, polling showed a majority of Americans opposing a ban on the type of weapon used in the Sandy Hook shooting, If history is any guide, then this is what is likely to happen this time as well.
All of this brings to mind something Kevin Drum wrote in the wake of the defeat of the Manchin-Toomey bill, which was put before the Senate mere months after the Sandy Hook shooting That bill would have expanded background checks and purported to close other loopholes in the background check system, It also happened to be an issue that enjoyed at the time, and continues to enjoy, widespread public support even among Republicans, conservatives, and gun owners:
about 80 percent of those Americans think it sounds like a reasonable idea but don't really care much. I doubt that one single senator will suffer at the polls in 2014 for voting against Manchin-Toomey.

Gun control proposals poll decently all the time. But the plain truth is that there are only a small number of people who feel really strongly about it, and they mostly live in urban blue districts already. Outside of that, pro-gun control opinion is about an inch deep. This is a classic case where poll literalism leads you completely astray. Without measuring intensity of feeling, that 90 percent number is meaningless.
I made a similar observation at the time:
Even at the height of the post-Newtown political push, only 6% of Americans considered gun control the most important problem facing the nation. That's a far cry from the vast majority of voters who say that they support the various gun control measures that have been advocated over the past four months.

This isn't the first indication that gun control is a low intensity issue among American voters.  Back in January, just one month after Newtown, a similar Gallup poll showed the same results that we see in this month's release. At that time, I predicted that it would be difficult for gun control advocates to get the most ambitious parts of their agenda through even the Senate, but I thought at the time that at least something would be passed. In part, I thought this because it seemed as though the post-Newtown attention paid to the issue was going to make it inevitable and that a low-priority issue like background checks would be something that Congress could pass to make it appear that they're doing something, even though in reality the Manchin/Toomey bill would have done little to stop the massacres that have garnered much attention over the years. As it turned out, the politics of the issue were far more complicated, and public intensity on the issue of gun control was far less than many thought it might be after the events of Newtown.

Once you understand where the politics of gun control actually stand, the behavior of Republicans and red state Democrats becomes completely understandable.
Perhaps this time will be different. The activism of the students from Stoneman Douglas and others has been surprisingly effective in keeping the issue in the forefront of public attention even as it competes for public attention from a wide variety of corners. We can see evidence of that in both the walkouts that occurred across the country on the one month anniversary of the attacks and Saturday's protests. Additionally, several national retailers such as  Dick's Sporting Goods, Walmart, Kroger, and L.L. Bean have changed their policies and are no longer selling any weapons to anyone under 21. Additionally, Florida enacted a series of gun control and school security measures that didn't seem as if they would be possible beforehand. Not surprisingly, lawsuits have already been filed against the private retailers and against the Florida law. However, the fact that these developments took place at all is significant and could be an indication that the political momentum that the gun control side of the debate has received in the wake of the Parkland shooting will not fade as has happened in the past, and that could have an interesting impact on the outcome of elections at the state and Federal levels in November.