Michigan Man Sues Dick's Over Gun Age Restriction Policy
Another lawsuit has been filed against Dick's Sporting Goods over its policy barring gun sales based on age.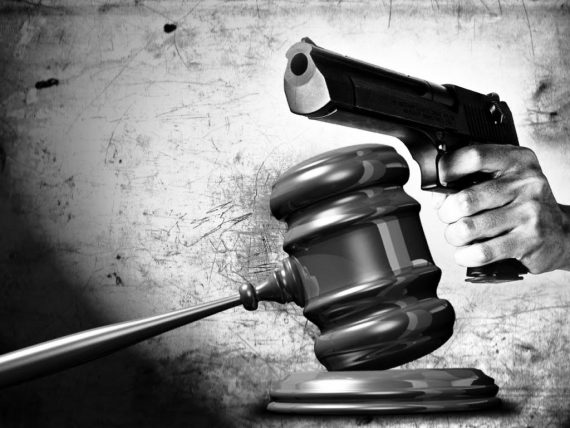 A Michigan man has filed a lawsuit alleging that the decision by Dick's Sporting Goods to bar sales of all guns to anyone under 21 years of age violates that state's age discrimination laws:
A Michigan teen is suing sporting goods store chain Dick's for refusing to sell him a gun after the retailer changed its policy in the aftermath of the deadly Parkland school shooting.

The store announced last Wednesday that it was raising the age to purchase a firearm to 21 years old at its stores.

A high school senior in Battle Creek, 18-year-old Triston Fulton visited the Dick's store in Oakland Mall in Troy to buy a rifle but when he showed his ID, he wasn't even allowed to look at a rifle.  A Dick's worker told him that was the policy.

"Dick's corporate policy is not to sell to anyone under 21 years of age, even though Michigan allows for anyone over 18 year to purchase a firearm," said James Makowski.

Fulton's attorney says that the teen would have passed a federal background check, which legally qualifies him to buy a rifle in Michigan.

"Stores should be able to violate people's civil rights? Are we going to stop allowing black people firearms? Are we going to stop allowing Mexicans to buy firearms? No."

Specifically, Makowski is suing Dick's for violation of Michigan's Elliot Larson law, which he says prevents discrimination based on age.

"Retailers are not responsible for what happens to a product. What's wrong with it, is that it is a constitutionally protected right and the law allows it, and they are discriminating against a whole group of people based on age," he said.
This case joins a lawsuit filed earlier this week by a 20-year-old man in Oregon against the retailer, which James Joyner made note of in a post on Tuesday. The Oregonian notes that the same person who filed that lawsuit has filed a similar lawsuit against Walmart raising essentially the same legal claims under the Beaver State's age discrimination that he raised in the lawsuit against Dick's, namely that the policy restricting sales of all weapons to anyone under 21 violates state laws against discrimination based on age. Eugene Volokh has posted comments about both the Oregon and Michigan lawsuits and reaches the conclusion that, in both cases, the Plaintiffs appear to have fairly strong cases under their state's existing laws. Based on the portions of the applicable statutes in question, I tend to agree with Volokh's conclusion with respect to both cases. In these two states at least, it would appear that the policy change by these private retailers does run afoul of the laws in question, although there could be state law precedent in one or both states that the retailers could point to as supporting the legality of their policies.
As I noted in my post on age restrictions on gun sales posted prior to the lawsuits being filed, it's clear that. at least under Federal law, there is no legal basis for a claim against a retailer for age discrimination. The Second Amendment obviously doesn't apply here since that Amendment applies only to government action, not the private action of retailers. Therefore, we must look to the statutes to determine if these policies are valid. In the case of Federal law, though, the principal Federal anti-discrimination law, the Civil Rights Act of 1964, does not cover retail sales and also does not bar discrimination based on age. As I noted at the time, though, there are laws on the books in roughly one-third of the states that do bar age discrimination and which do not appear to have exemptions for retail sales in general or gun sales in particular, meaning that the decisions by Dick's, Walmart, or other retailers to bar gun sales based on age could be subject to legal challenge. At the time, I expressed doubt that such a lawsuit would be successful and that the retailers could make an at least credible argument that their policies are well-founded and should not subject them to liability under the stated law. All of these cases will need to be fully litigated, of course, so it will be interesting to see what the Judges at the state level have to say on the matter. As it stands, though, the language of the laws in both states appear to strongly favor the Plaintiffs in both cases.
These lawsuits would largely be moot, of course, if there is legislation drafted at either the state or Federal level that would restrict gun sales based on age as a matter of law. On the Federal level, while it does appear that there is at least some verbal support for this kind of legislation from President Trump and from both Republican and Democratic Senators and Members of Congress However,  it's unclear that Congress will be strongly motivated on that or any other issue related to gun control at any point this year. At the same time, though, Governors on both sides of the aisle have voiced support for the idea of changing state law on the issue and it seems likely that many of those states will actually follow through on action regardless of what happens at the Federal level. This is easier said than done in many states, of course, and it seems more likely to happen in states controlled by Democrats than in those where the legislature and/or the Governor's Mansions are controlled by Democrats. With respect to the two states where lawsuits have been filed, Michigan currently has a Republican-controlled legislature and a Republican Governor, so it's unclear whether any kind of state-based age restriction bill would even be considered. Oregon, on the other hand, has both a Democratic Governor and a state legislature under Democratic control, so that state may be more ripe for reform. In that regard, though, it's worth noting that both states have a strong hunting tradition that could make any move to further restrict gun sales difficult even for Democrats. If such state laws are passed, though, then any legal claims of age discrimination would appear to be moot, and lawsuits against the laws restricting gun sales based on age are unlikely to be well-received by courts.
Here's the Complaint in Watson v. Dick's Sporting Goods that was filed earlier this week:
Watson v. Dick's Sporting Goods by Doug Mataconis on Scribd
And here's the Complaint that was filed against Walmart by the same Oregon Plaintiff that has sued Dick's:
Watson v. Walmart by Doug Mataconis on Scribd
Finally, here's the Complaint against Dick's filed in Michigan:
Fulton v. Dick's Sporting Goods by Doug Mataconis on Scribd