Prospects For Congressional Action On Guns Are As Dim As Ever
Despite the activism we've seen in the wake of the school shooting in Florida, it's unlikely that we'll see significant Congressional action on guns.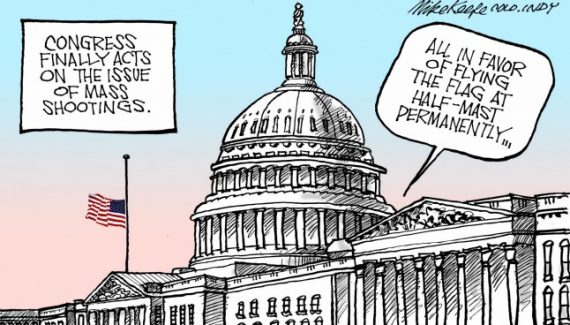 While the horrific school shooting in Parkland, Florida has led to a rise in activism by students and others and a measurable increase in public support for some sort of gun control, the actual prospects for any such measures at the Federal level remain as dim as they have been for many years now:
WASHINGTON — Lawmakers will return to Washington on Monday facing intense public pressure to break their decades-long gridlock on gun control, a demand fortified by a bipartisan group of governors calling for Congress to take action to protect against mass shootings.

But even as members of both parties said it might be difficult for Congress to remain on the sidelines after the school massacre this month in Parkland, Fla., lawmakers have no clear consensus on even incremental changes to gun restrictions, let alone more sweeping legislation.

Over a weeklong recess, Republican leaders in both the House and the Senate remained largely silent on gun legislation, a reflection of the significant obstacles to passing even modest measures this year.

Many Republicans fear primary challenges from the right in the midterm elections this fall and do not want to be pushed into difficult votes. Democrats are not eager for legislation that they deem too incremental. And with lawmakers of both parties looking to wrap up their work to focus on their campaigns for re-election, the time to pass any significant legislation is running short.

If the past is prologue, Congress will do nothing.

But governors who gathered in Washington for their annual winter meeting warned of the perils of inaction. Animated by a wave of polling since the Florida massacre, Democratic governors warned that candidates would pay a political price for opposing new gun regulations, and some of their Republican counterparts conceded that the pleas of voters could no longer be ignored as they increasingly abandon the party.

"I think for Republicans our challenge in the next race is going to be about appealing to the suburban vote that hasn't been so good for Republicans the last few races," said Gov. Bill Haslam of Tennessee, citing in particular suburban women. It is clear, he added, that "people want to see action."

The combination of political pressure from the governors and moves by President Trump to embrace certain limited measures opposed by the National Rifle Association could set up a congressional showdown with the powerful firearms lobby not seen since the gun debate that followed the deadly school shooting in 2012 in Newtown, Conn.

The sudden focus on guns is likely to complicate an already busy agenda. Congress left Washington without coming up with a replacement for the Deferred Action for Childhood Arrivals program, which protects hundreds of thousands of young immigrants from deportation and expires next week. A contentious debate over gun legislation could push immigration to the back burner.

While the Newtown massacre and the many that have followed have produced familiar scenes in which Democrats push for tough new gun restrictions and Republicans dig in and resist, the latest mass shooting appears to have shifted the landscape, even if just slightly, as the Parkland students have become overnight gun control advocates and media fixtures.

A smattering of congressional Republicans — including some who have been staunchly opposed to gun control legislation — now suggest that they would be willing to take at least small steps toward restricting gun rights.

After being jeered at a forum televised on CNN, Senator Marco Rubio, Republican of Florida, said last week that he would reconsider his opposition to limiting high-capacity magazines. Another Florida Republican, Representative Brian Mast, an Army veteran who lost both of his legs to a roadside bomb in Afghanistan, called for a ban on the purchase of assault weapons.

Gun control advocates are looking toward the changing political climate in Florida, where the Republican governor, Rick Scott, and state lawmakers defied the N.R.A. in proposing to raise to 21 the minimum age to buy any firearm.

Senator Jeff Flake, Republican of Arizona, is teaming up with Senator Dianne Feinstein, Democrat of California, on legislation that would raise to 21 from 18 the age threshold for purchasing assault weapons like the AR-15 used to kill 17 people in Parkland.

A poll released by CNN on Sunday, which showed support for stricter gun laws at levels not seen since the early 1990s, found that 71 percent of Americans backed barring those under 21 from buying any type of firearm.

"I don't know if crossing the Rubicon is the right historical analogy, but there is a sense that this is different," Mr. Flake said, adding, "Where the public is and where some Republicans have been on some of these issues just doesn't match, and I do think we're going to have to deal with it."

Senator Pat Roberts, Republican of Kansas, a longtime ally of the N.R.A., has said he would back such an age-restriction proposal. "Certainly nobody under 21 should have an AR-15," he told reporters in Kansas last week.

Mr. Flake, however, is not seeking re-election, and Mr. Roberts, 81, is unlikely to run again in 2020.

(…)

Some Republicans, warning against a rush to enact new laws, appeared inclined to respect the wishes of the N.R.A., even as the group came under pressure from some corporate leaders, who were moving to cut ties with it.

"I think there's a temptation just to do a whole host of things that are not really addressing the fundamental problem but would make people feel better that they've done things," said Gov. Asa Hutchinson of Arkansas, who has deep ties to the N.R.A., explaining his opposition to raising the age limit.
An assessment of the prospects for gun control measures in Congress in The Washington Post is similarly pessimistic:
House Republican leaders on Tuesday ruled out acting swiftly to respond to the shooting that killed 17 at a Florida high school, spurring the surviving students to lead calls for legislative action.

With President Trump and the Senate also moving deliberately on the issue, neither House Speaker Paul D. Ryan (Wis.) nor other top GOP leaders would commit to holding a vote on modest gun-related measures that have broad bipartisan support.

The Fix NICS Act would create incentives and penalties to improve reporting to the National Instant Criminal Background Check System and has the backing of the National Rifle Association. Another bill would ban "bump stock" accessories that allow a semiautomatic rifle to mimic the rapid fire of a machine gun.

The House passed a version of the Fix NICS measure in December, in conjunction with a controversial provision that would force states to recognize concealed-carry licenses from other states. The Senate is exploring passing Fix NICS as a standalone measure as soon as this week, but Ryan would not say Tuesday whether he would bring that or a bump-stock ban up for a vote.

"We're waiting to see what the Senate can do," he said, adding, "We obviously think the Senate should take our whole bill, but if the Senate cannot do that, then we'll discuss and cross that bridge when we get to it."

Speaking on the Senate floor shortly afterward, Sen. John Cornyn (R-Tex.) — the majority whip and a co-sponsor of the Fix NICS bill — called on his colleagues to pass the legislation.

"There's a lot of other things we can do, but the one thing we can do this week before we go home is to pass the Fix NICS bill and to send it to the House and then to the president and sign it into law," he said. "It will save lives."

But there are obstacles. One Republican senator, Mike Lee (Utah), is blocking the bill from rapid consideration because of constitutional objections, while in the House, hard-line conservatives have similar concerns that could make it tricky for Ryan to move the measure through the chamber.

Democrats, meanwhile, are pushing for broader legislation to improve background checks, although they are not openly threatening to block Cornyn's bill.

"What will prevent future tragedy? Comprehensive background checks will; the Fix NICS bill will not," said Senate Minority Leader Charles E. Schumer (D-N.Y.). "Let's not set our sights too narrow or squander this moment."

(…)

House Majority Whip Steve Scalise (R-La.), who was shot last year by a would-be assassin who targeted Republican lawmakers practicing for a charity baseball game, also focused on the law enforcement failures. Scalise met Monday with a group of surviving students from Marjory Stoneman Douglas High School in Parkland, where the Feb. 14 massacre occurred, in a discussion that, he said, touched on the policy responses to the shooting and the institutional breakdowns that preceded it.

"As people are contemplating new laws, I think the most important thing we can look at is: What about all the laws that are already on the books that were not enforced, that were not properly implemented?" he said, adding of accused Parkland killer Nikolas Cruz, 19, "The FBI has this guy's name on a silver platter."

But neither Ryan nor Scalise announced any formal inquiry into the shooting by the relevant House committees, which requested an FBI briefing on the failures in the immediate aftermath of the massacre, but have taken no public action since.

The Douglas High students, approached by a reporter Monday, declined to speak about their advocacy efforts on Capitol Hill. They have attended meetings with lawmakers from both parties, including House Minority Leader Nancy Pelosi (D-Calif.), and a Tuesday morning meeting of the House Democratic Caucus. Schumer said he planned to meet with them Tuesday.

Since the shooting, students have called for new gun restrictions as part of any legislative response, including a new age limit of 21 for buyers of long guns, matching the federal limit for handgun buyers. But Republican lawmakers have sought to turn the discussion toward law enforcement failures, mental health and school security.
As things stand, the prospects of any quick action at all on Capitol Hill are fairly dim. While both houses were originally scheduled to be in session all week, the House at least will not have any further votes or Committee meetings after today due to the ceremonies and other events connected to the Rev. Billy Graham lying in honor in the Capitol Rotunda beginning tomorrow. The Senate is scheduled to be in session later in the week, but there currently aren't any plans for that body to address the gun issue at all this week or for the foreseeable future. In addition to the scheduling issues, the prospect of significant action on gun control measures being considered by Congress were further dimmed by this morning's statement by House Speaker Paul Ryan, who dismissed some of the broader ideas such as expanded background checks or raising the minimum age to purchase weapons such as the AR-15 from 18 to 21 to match the age limit that is already in place for purchasing a handgun or pistol. Instead, Ryan repeated standard Republican talking points about mental health as well as citing the numerous reports about the failure of law enforcement at both the state and Federal level to pick up on signals that Nikolas Cruz, the shooter in the Parkland case, was a threat to others and particularly to students at Marjorie Stoneman Douglas High School, which he had attended before being expelled for several reasons that didn't seem to come to the attention of law enforcement. Indeed, Cruz purchased the AR-15 that was used in the shooting just one month after being expelled last year. While these are important issues that ought to be addressed, they fall far short of the kind of action that the people who are being motivated by the Parkland shooting are looking for.
As things stand, the best hope for any legislation on the issue would seem to lie in small steps rather than anything major. One idea that does appear to have some momentum behind it is the idea of fixes to the background check system that would address issues that have become apparent in recent mass shooting events. The church shooting in Texas, for example, revealed that the shooters convictions for domestic violence while in the Air  Force were never reported to the national database, a development that has led some cities to file suit against the Air Force. Had they been, as the law requires, that shooter would have been blocked from purchasing any weapon including the gun that was involved in the shooting. Additionally, the shooter in the church shooting in Charleston had been charged with multiple crimes prior to purchasing the weapon that he used in that shooting but due to apparent clerical errors, it took several days for his background check to find those charges. By that time the three day period that current Federal law provides for a background check to be completed and the shooter was allowed to pick up the gun rather than wait for the check to come back.
The so-called Fix NICS Act that is currently pending in both the House and the Senate would address at least some of those problems, but it falls far short of what some are calling for in the wake of the Parkland shooting. Additionally, the version of the bill that is pending in the House is currently tied to a bill that would mandate that a concealed carry license issued by one state be recognized by all states nationally. Congress is permitted by the Constitution to pass such a law by virtue of the Full Faith And Credit Clause in Article IV of the Constitution, but the measure isn't universally supported by Republicans in the House and would most certainly be opposed by Democrats in both the House and the Senate, making an effort to pass that part of the law or anything it's attached to essentially impossible to pass.
As Sarah Binder notes in The Washington Post, the reasons why we're unlikely to see any real progress on Capitol Hill are fairly easy to understand.
First, there's the fact that many Republican legislators in both the House and the Senate honestly do not believe that gun control is an effective way of preventing the kind of mass shooting event we saw in Florida. In contrast, they tend to back notions such as measures that would capture more data on the violently mentally ill and place it into the NICS system or school security measures, including the controversial idea of allowing teachers and other non-police adults to carry weapons on public school grounds. Additionally, these legislators face strong public pressure from voters back home that are strongly motivated by their own support for Second Amendment rights and, of course, by the tremendous lobbying and electoral pressure that the National Rifle Association and other gun rights organizations such as Gun Owners Of America can bring to bear, especially in deeply red states and Congressional Districts. As long as this remains the case, it's unlikely that Republican leadership in either the House or the Senate will push gun control measures and highly likely that they will seek to block any such legislation even if they end up in the minority in either the House or the Senate after the 2018 election.
In addition to the strong disincentives for action on the Republican side, there's also the fact that guns and gun control have long been an effective wedge issue for the GOP in the past. This is true not only in strongly red districts and states but also in battleground areas where concerns over gun rights have proven successful in motivating Republicans to come to the polls and vote against Democrats. Given the problems that the GOP is likely to face in holding on to seats in the midterm elections, turnout is likely to be a significant factor in many races, and to the extent that gun rights can be used to convince a GOP base that might otherwise be demoralized in November to come out to vote it could prove to be a factor in helping the GOP stem what is increasingly appearing to be the approach of a blue wave that could make things difficult for the GOP heading into the 2020 election.
The final factor that makes progress on gun control unlikely is the President of the United States. While President Trump did say in his initial response to the Parkland shooting that he was willing to look at some measures that the NRA does not support such as raising the age to purchase a rifle from 18 to 21, his statements in more recent days have cast doubts on that. Additionally, Trump continues to push ideas such as arming school teachers while appearing to be opposed to any proposals to expand background checks or other stronger measures. The President also does not seem inclined to push Republicans on Capitol Hill to act on any control measures at all. As long as this is the case, the momentum for any kind of action related to guns by Congress is practically non-existent and likely to remain so absent some change in the political climate that causes Republicans to be more willing to address the issue.
Post image via Colorado Independent