Breakdown In Background Check System Tied To Texas Church Shooting
The shooter in the Texas church shooting was apparently able to get his weapons because the Air Force failed to report his domestic violence conviction.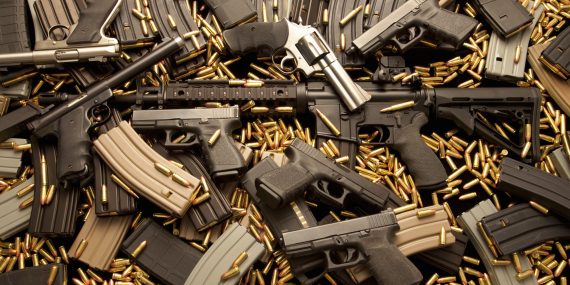 One of the major questions that was lingering the the wake of Sunday's mass shooting at a Baptist Church in a small town in South Texas was the question of how the shooter, Devin P. Kelley, was able to legally purchase any firearms at all given the reports that he had faced a court-martial and convicted of domestic violence while serving in the Air Force some five years ago. When I wrote about the attack yesterday morning, it was unclear what exactly Kelley had been convicted of, whether it qualified as a conviction that would have otherwise barred him from purchasing a weapon, and whether his discharge constituted a "Dishonorable Discharge," which also would have been a disqualifying mark on a background check, or a "Bad Conduct Discharge," which would apparently would not. As the day went on, it became apparent that Kelley should not have been allowed to legally purchase a weapon and that there was a breakdown in the background check system at some point along the way. For example, we learned that the assault that formed the basis of the charges against Kelley were quite serious, specifically that he severely beat his ex-wife and broke the skull of his infant stepson. Additionally, Kelley served approximately one year in a military prison for the offense before being released from the military. There have also been reports of other incidents of violent behavior, including threats of violence against his in-laws from his second marriage, who were members of the church he attacked but apparently not in attendance at the time of the attack. This included threatening text messages sent to his mother-in-law in the weeks before the attack. It's unclear, though, whether those threats were reported to law enforcement and, if they were, what police did in response. Based on all of this, it's clear that Kelley should not have been permitted to purchase a weapon under current law and that the fact that he did was due to some kind of breakdown in the background check system.
This morning, we're learning that the Air Force never properly reported Kelley's convictions to the F.B.I.'s centralized database, which meant that his name was never flagged when he purchased both the weapon that was used in the attack and the other weapons that were found in his car after the attack:
SUTHERLAND SPRINGS, Tex. — A day after a gunman massacred parishioners in a small Texas church, the Air Force admitted on Monday that it had failed to enter the man's domestic violence court-martial into a federal database that could have blocked him from buying the rifle he used to kill 26 people.

Under federal law, the conviction of the gunman, Devin P. Kelley, for domestic assault on his wife and toddler stepson — he had cracked the child's skull — should have stopped Mr. Kelley from legally purchasing the military-style rifle and three other guns he acquired in the last four years.

"The Air Force has launched a review of how the service handled the criminal records of former Airman Devin P. Kelley following his 2012 domestic violence conviction," the Air Force said in a statement.

The statement said Heather Wilson, the Air Force secretary, and Gen. David Goldfein, the Air Force chief of staff, had ordered the Air Force inspector general to "conduct a complete review of the Kelley case."

The Air Force also said it was looking into whether other convictions had been improperly left unreported to the federal database for firearms background checks.

(…)

The immediate question on Monday was how Mr. Kelley had been able to legally purchase his weapons. In his 2012 court-martial, Mr. Kelley admitted that he had repeatedly struck, kicked and choked his wife beginning just months into their marriage. He also said he had repeatedly hit his young stepson's head with his hands, cracking his skull, said Don Christensen, a retired colonel who was the chief prosecutor for the Air Force.

Federal law lists 11 criteria that would bar someone from buying a gun, including two that would seem to apply to Mr. Kelley: conviction of a crime punishable by more than a year in prison — assaulting his stepson, which carried a maximum sentence of five years — and conviction of a domestic violence misdemeanor.

The Department of Defense has reported only one domestic violence case to the federal database for gun purchase background checks, records show. It has reported 11,000 service members to the database, but almost all of them were because of dishonorable discharges, which prohibit gun purchases. Mr. Kelley, after serving 12 months in a Navy brig in California, received a "bad conduct" discharge, which is not by itself an automatic bar to gun purchases.

Elise Hasbrook, a spokeswoman for Academy Sports + Outdoors, which owns two San Antonio shops that each sold Mr. Kelley a gun in the last two years, said "both sales were approved by the National Instant Criminal Background Check System." Mr. Kelley had bought two other guns since his court-martial, both in Colorado, the authorities said.

Gov. Greg Abbott of Texas told CNN that Mr. Kelley had been rejected when he applied for a license to carry a handgun in Texas. State officials did not specify why he was rejected, and a carrying license is not required to purchase a firearm from a gun shop so long as the buyer passes the federal background check.

"By all the facts that we seem to know, he was not supposed to have access to a gun, so how did this happen?" Mr. Abbott said.
Apparently, it happened because the Air Force didn't properly report Kelley's convictions. Had it done so, then his purchase would have been flagged and the background check would have revealed that he was ineligible to purchase a firearm of any kind. Whether that would have actually prevented Sunday's tragedy or merely delayed it until Kelley was able to obtain a weapon by illegal means is unclear, but the fact that he was able to do so meant that there was essentially no barrier to him being able to carry out Sunday's attack.  Additionally, it's worth noting that Kelley apparently checked the box on the background check form indicating that he had not been convicted of an offense that would disqualify him from purchasing a weapon. In and of itself this is a somewhat meaningless act since the background check law doesn't allow a seller to rely solely on the attestation of the purchaser before allowing a sale to go through. However, lying on the form is, in and of itself, a criminal offense that Kelley could have been charged with had his previous convictions been properly reported.
Think Progress's Addy Baird contends that this points to fundamental problems with the background check system itself:
Kelley's case isn't a one-off. A 2014 paper from the Center for American Progressfound that domestic violence records reviewed for background checks in order to purchase a gun are often woefully incomplete. (ThinkProgress is an editorially independent news site housed in the Center for American Progress.)

The paper estimated that just three states — Connecticut, New Hampshire, and New Mexico — submit complete domestic violence records for background checks.

Additionally, a report Thursday report from The Trace found that the military is reporting almost no domestic abusers to the database.

According to the report, the Department of Defense has just a single misdemeanor conviction for domestic violence on file, and the military has not submitted a single record for members subject to domestic violence restraining orders.
Properly speaking, of course, this isn't a flaw in the background check system itself so much as it is flaw in the way that convictions in the military justice system in general are reported to the national database, and what appears to be a failure by a large number of other jurisdictions when it comes to reporting domestic violence convictions to the national database. In the case of the Air Force, this appears to be more than just an oversight given the fact the service had apparently only reported one such conviction to the F.B.I. in recent years, apparently neglecting to report thousands of other domestic violence convictions. If the report cited by Baird is correct, this is apparently true of the other service branches as well and it leaves open the question of what other criminal convictions in the military might not be being properly reported to the national database, and whether that has led to other people with a violent criminal record being able to purchase guns legally when they should not have been able to had their convictions been properly reported.
For what its worth, both Federal law and Pentagon regulations require the military branches to report military convictions to the national database, so it's inaccurate to say that changes to the law would have had any impact on Sunday's tragedy. Instead, it appears that existing laws are not being followed, which of course would also be possible even if additional laws were passed. That being said, this incident does raise serious questions about holes in the existing background check system that need to be addressed. The apparent failure of the military to properly report domestic violence convictions in particular seems to be something worthy of investigation, and perhaps disciplinary action of some kind against appropriate officials. The interesting question in all of this is what consequences, if any, could follow from this failure to report Kelley's convictions. As a general rule, it's difficult to succeed in civil claims against the Federal Government, but given the clear negligence on the part of the Air Force in this situation, one can assume that such claims will be pursued if there is any basis for them.