Air Force Repeatedly Failed To Report Crimes To National Gun Database
Big problems for the Air Force.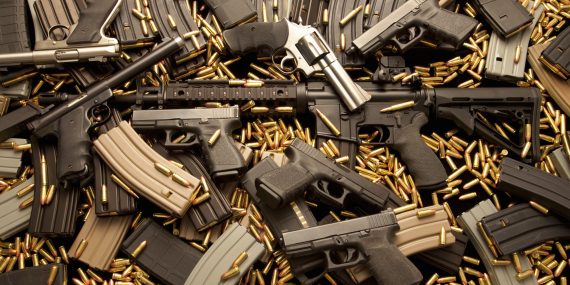 The New York Times is reporting that the Air Force has failed to properly report numerous convictions for domestic violence and other violent crimes committed by service members to the F.B.I. database used in connection with the background checks every person who purchases a gun has to undergo:
Dozens of Air Force service members charged with or convicted of serious crimes were never reported to the federal gun background-check database as required, Air Force officials said on Tuesday.

The revelation came after the Air Force disclosed that it had failed to report the domestic violence conviction of Devin P. Kelley, the gunman who opened fire at a church in Texas this month. Under federal law, Mr. Kelley's court-martial conviction for domestic assault should have prevented him from purchasing at a gun store the rifle he used in the attack, as well as other guns he acquired over the past four years.

After the Air Force admitted on Nov. 6 that officials at Holloman Air Force Base in New Mexico had failed to report the results of Mr. Kelley's court-martial to the federal background database, it began an investigation into how many other serious incidents had not been reported.

Although officials have only examined a portion of the cases, several dozen have already surfaced that were not reported but should have been.

"The error in the Kelley case was not an isolated incident and similar reporting lapses occurred at other locations," the Air Force said in a statement. "Although policies and procedures requiring reporting were in place, training and compliance measures were lacking."

Air Force officials say they are reviewing the results of the inquiry to date to assess whether to take any punitive action against personnel who failed to report Mr. Kelley's conviction.

The Air Force review is only one part of a wide-ranging investigation into the background-check reporting process underway inside the military and the Justice Department in the aftermath of the church massacre. Mr. Kelley, who pleaded guilty at a 2012 court-martial to assaulting his wife at the time and fracturing his stepson's skull, killed 25 people in Sutherland Springs, Tex., on Nov. 5. The victims included a pregnant women whose fetus also died.

Attorney General Jeff Sessions, citing the lapses in the Kelley case, last week ordered a federal review of the background-check database by the F.B.I. and the Bureau of Alcohol, Tobacco, Firearms and Explosives to ensure that the military and other federal agencies are reporting all required cases.

"The National Instant Criminal Background Check System is critical for us to be able to keep guns out of the hands of those that are prohibited from owning them," Mr. Sessions said. "The recent shooting in Sutherland Springs, Texas, revealed that relevant information may not be getting reported to the N.I.C.S. — this is alarming and it is unacceptable."

In addition to the Air Force investigation, the Pentagon's inspector general is looking into the handling of Mr. Kelley's court-martial conviction records and whether procedures are in place to ensure cases from other service branches are also sent to the database as required. The Army chief of staff, Gen. Mark Milley, said that he believed there were also a significant number of omissions of soldiers' records that should have been sent to the federal database.

And the number of cases that were not properly reported by the Air Force could grow: There have been about 60,000 incidents in the Air Force since 2002 involving service members that potentially should have been reported to the federal background-check database. All of those incidents are now being reviewed by Air Force officials to see which ones were required to be reported, and how many of those actually were. Air Force officials were unable to say on Tuesday how many of those 60,000 cases have gone through the review process so far.

While that review is expected to continue for several months, Air Force officials say they are moving to fix problems that prevented Mr. Kelley's conviction from being reported. And officials emphasized that they would continue to send previously unreported cases to the federal database as soon as they discover them.

Among other things, the new directive includes a requirement that personnel at the Air Force Office of Special Investigations must confirm that reportable cases have been entered into the federal database by seeing either a printout or a screenshot from the database.

Don Christensen, who was the chief prosecutor in the Air Force and is now president of Protect Our Defenders, a nonprofit group that supports greater protections for victims of sexual assault and domestic violence in the military, said the measures were long overdue.

"I'm not surprised that they are finding these lapses, because this was clearly never a priority in the past," Mr. Christensen said. "Earlier inspector general investigations found that they were not doing this properly, and the leadership never made it a priority to correct it."
This news, of course, comes in the wake of the shooting at a church in rural Texas several weeks ago that left dozens dead and dozens more injured. Shortly after that incident, it was revealed that the shooter, Devin P. Kelly, had been convicted on multiple charges of domestic violence while serving the Air Force at a base in New Mexico. Specifically, Kelly was charged because he had severely beaten his ex-wife and broken the skull of his infant stepson. Kelley served approximately one year in a military prison for the offense before being released from the military. There were reports of other incidents of violent behavior, including threats of violence against his in-laws from his second marriage, who were members of the church he attacked but apparently not in attendance at the time of the attack. Had these convictions been properly reported to the database, Kelly would have been failed the background check that was conducted when he purchased the weapons in the months before the attack. That didn't happen, though, because the Air Force had failed to report the convictions at all, meaning that Kelly passed the check and was allowed to purchase weapons that he should have been barred from purchasing had the offenses been reported. Had the Air Force done what it was required to do, that would have happened and, quite probably, the tragedy that unfolded in Texas would have been averted.
With these reports about the Air Force, it's not unfair to ask whether similar problems exist in other branches of the military. If one branch of the military is lax in reporting eligible convictions to the database, then it's not unfair to conclude that there could be similar problems affecting the Army, Navy, and Marine Corps. At the very least, one would hope that these revelations will cause those branches of the military to open their own compliance investigations to see if they have similar problems, and to fix them if they do. Additionally, it leads one to wonder if state and local jurisdictions are properly reporting convictions themselves. The entire system of background checks is grounded in the expectation that eligible convictions will be properly reported so that people who aren't allowed to buy weapons under the law are prevented from buying them. If convictions aren't being properly reported, the system isn't going to work the way it's supposed no matter how stringent and far-reaching the background check requirement is extended.
As the Times report linked above notes, one family member who had eight members of her family killed in the church shooting has already taken the first steps necessary to make a claim against the Air Force for its failure and it appears likely that other family members will do the same. Claims of this type aginst the Federal Government aren't easy to puruse, of course, but if there ever was a case where such a claim was justified this would surely be one. If the Air Force had complied with its own policies, then Kelly would not have been able to purchase a gun and this whole tragedy would have likely been prevented. In addition to compensation for the families for this negligence, the people responsible for this failure need to be properly discinplined and the failures that led to this need to be addressed.